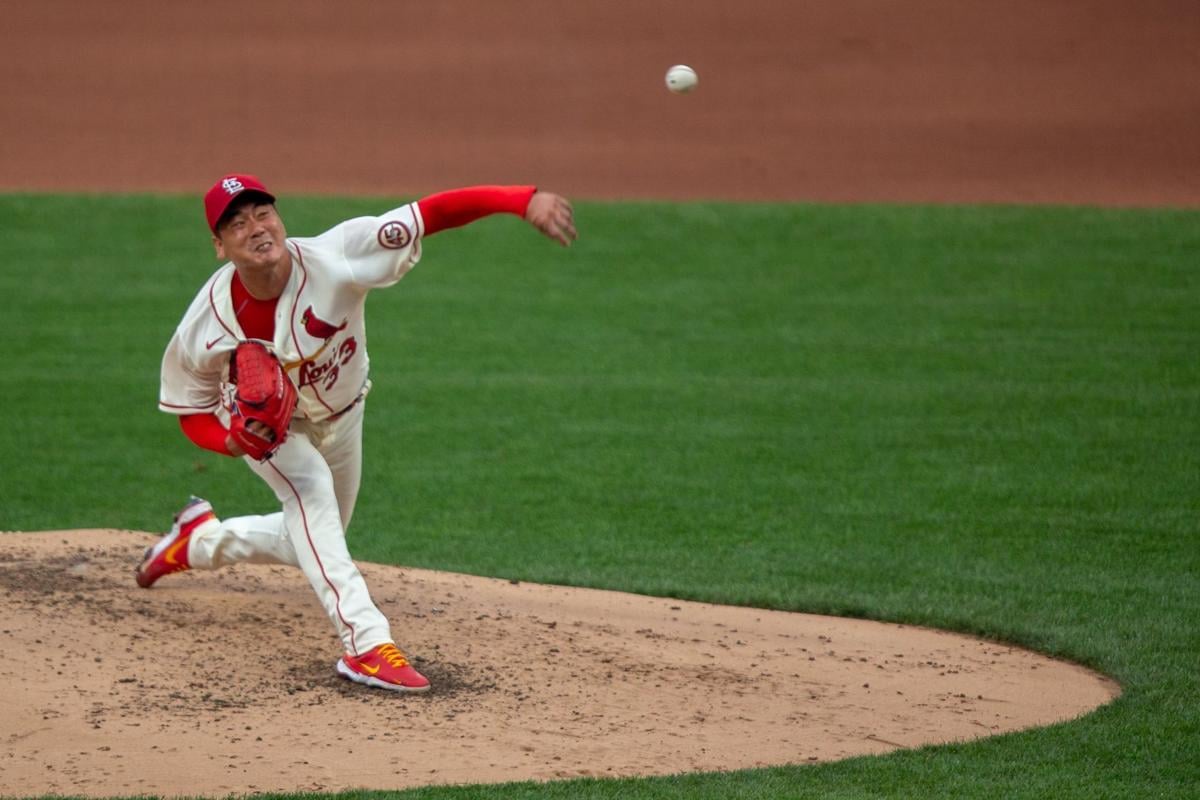 During the game, I kept thinking about how cool this must all be for his family.
Kwang Hyun Kim, the Korean Cardinal, pitched Saturday in front of his family for the first time in St. Louis. His mother made the trip, along with his wife, two children and his mother-in-law. And it was a simply resplendent summer evening. Game time temperature at 84. And the humidity, overworked in recent days, took the night off. The crowd was just great. Forty-thousand-plus. If there were any Ric Flair woos, I didn't even hear them. Just a nice night at the ballpark, and Kim pitched masterfully, the southpaw's slider his masterstroke.
Six scoreless innings in the win — and 21-consecutive scoreless innings overall.
And after the game, Kim was in a fun mood, sharing a lot of details about his family and life in the United States.
He spoke to the media for 18 minutes, though he said he was excited to head back to his apartment. Because there's nothing like home cookin' … even if home is 6,675 miles away.
"I'll go back to my apartment and eat Korean food made by my mother," Kim said through interpreter Craig Choi, who lives in the same building. "And normally when my family was not in town, I used to do the cooking and Craig does the dishes. But I realized that was not real Korean food until my mother made homemade food for me. So since we won today, I'll be in a really great mood to have Korean homemade food tonight."
So what's Kim's favorite Korean meal?
"It is kimchi soup, which is a fermented cabbage soup," Kim said. "And it's kind of hard to find fresh seafood in St. Louis. But fortunately, there is frozen seafood. So I like the frozen (options). I like mackerel. My mother and I used the same oven, but for some reason, she makes it way better than I do."
Kim said that even packed games in the KBO, Korea's top baseball league, only have about 30,000 in the stands.
"And since my children haven't been to a place where there's a lot of people (since the pandemic), I think it was a really meaningful day for them today," he said.
Kim playfully explained that the people that live upstairs have kids and "we could hear stomping every day. But since my kids are out here, they're running up and down, as well. So the good thing is I can't hear them stomping anymore."
In 2020, the pitcher didn't see his family from spring training through the playoffs. And after arriving to spring training this year, he hadn't seen his family until they flew in this month. He actually pitches next Thursday on his birthday at home, but the Cardinals fly out right after that game. So Kim said the plan is to take his family to the airport that morning and do proper goodbyes.
Kim also used the opportunity to reach out to the fans in Korea: "I know the COVID cases are going down because people are getting vaccinated in the United States, but back in Korea for some reason, it's actually getting bad and worse. So I just want to say to the baseball fans and from the people in Korea that things will get better."