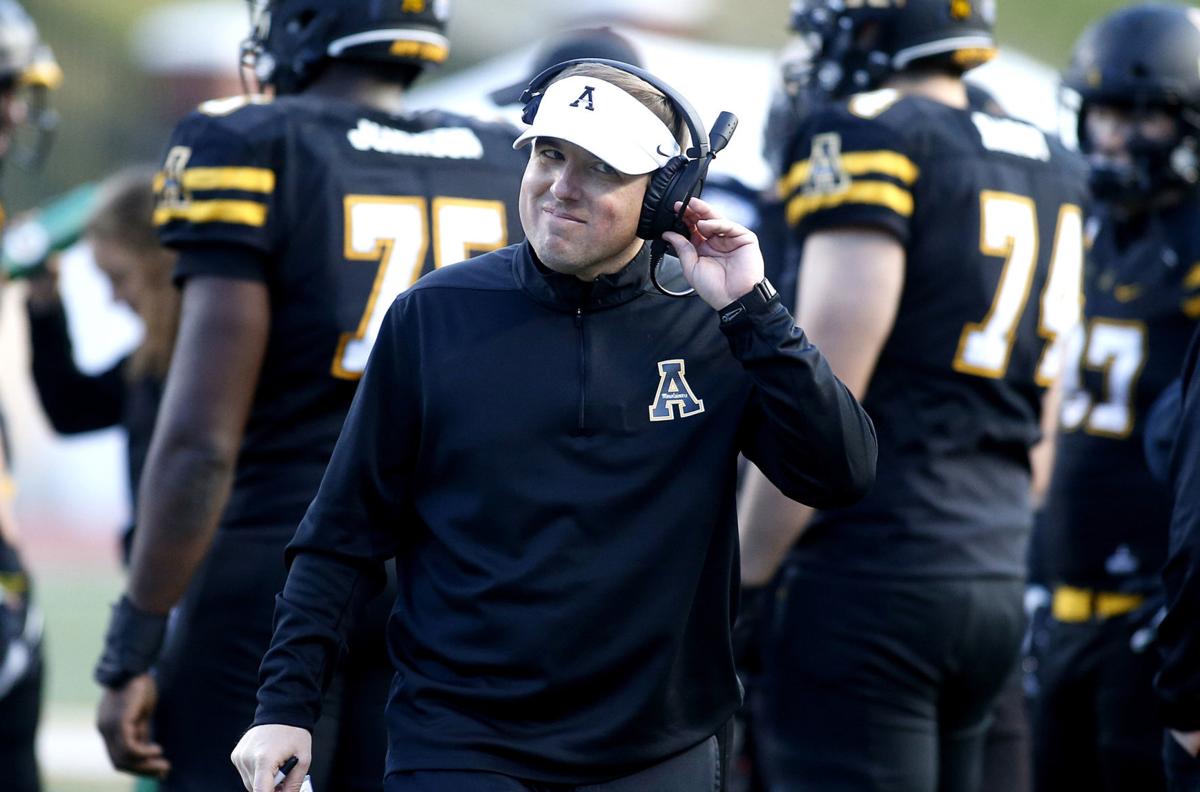 When athletics director Jim Sterk raises his glass, it's half full.
Mizzou football has a sparkling new south end and facilities. This is a football program with talent in it — the Tigers went to a bowl in 2017 and 2018 and won six games in 2019, and they should've won more if the coaching staff didn't fumble away some wins and momentum.
But when realists take a look at Sterk's glass, it's half empty.
Mizzou football is maddeningly average, and after going .500 in the past four years under Barry Odom (25-25), Mizzou is stuck in the bottom half (bottom third?) of the Southeastern Conference. And while there were some glimpses of hope, Mizzou just "Mizzous" too often.
Here's the thing, either way you look at that glass, you should drink to the new coaching hire (not drink because of it). Eli Drinkwitz is enticing.
"He's worked his way up the ranks quickly, but I always saw it in him to be one of these very intellectual coaches," said former Auburn coach Gene Chizik, for whom Drinkwitz was a graduate assistant on the 2010 national champions, by phone Sunday night. "He's one of these innovative guys who's a really good teacher. I think you're going to see a guy offensively who is what you want to see, as far as new-age football."
Mizzou wasn't going to get Urban Meyer. Mizzou wasn't even going to get Mike Norvell from Memphis. Mizzou needed to hire someone who was a current winning head coach with a successful offensive background — and a high ceiling. The 36-year-old Drinkwitz (36!) checks these boxes. He's one of those coaches, you hope, that a couple years later you're saying: "Luckily, our team got him when it did, because he's good enough to coach anywhere."
Some people thought that about Odom. Shoot, some people, this columnist included, thought that about Odom as recently as October 12, when the Tigers were 5-1 overall and 2-0 in SEC play. Kelly Bryant was looking good, the defense discovered its swagger, and surely Mizzou would knock off Vanderbilt and Kentucky heading into the big Georgia game, which could define Odom's coaching career at Mizzou.
Turned out, the Vanderbilt and Kentucky games defined Odom's coaching career at Mizzou.
The hire is about what Drinkwitz can possibly bring to the program, but the hire also is about what the program is. What is Mizzou? It's not a nice, little school that should be happy with mid-December bowl appearances. And even though it's in the SEC, it's not a job that any coach would flock to, just to get in the fraternity. Basically, Mizzou is a glass with a drink halfway to the top, and it's up to Sterk and now Drinkwitz to determine if that glass is half full or half empty.
"(Drinkwitz) came through Auburn recruiting in 2017," recalled Chizik, who still lives in the area and works for the SEC Network. "I said, 'Let's sit down and talk some ball.' We actually sat and talked for hours. He brought his film. And I really grinded him and picked his brain on different things he was doing when he was the offensive coordinator at N.C. State, in the run-pass option world. … He's really formatted some of his own concepts in what he does offensively. … He's going to take advantage of what the defense is willing to give you, and that's what the run-pass option world is, right? He's got it simplified to the point where they can take advantage of what defenses give you. And he's really good at executing it and teaching it. He makes it really simple on the quarterback and lets his athletic ability take over."
What's really scary is Sterk almost spilled the glass.
What was all that stuff about Skip Holtz? Or the Army coach? Are you kidding with that? Did the Board of Curators save Sterk from himself? Those folks put their feet down and reportedly showed ire about those potential hires. Did the board spark Sterk into finding more alluring young candidates? Those potential hires seemed inconsistent with what made (and makes) Sterk so likable — his dissatisfaction with average, his inner hunger to be great and surround himself with people just as hungry. We don't know much literally about Eli Drinkwitz just yet, but we do know that the concept of Eli Drinkwitz mirrors what Sterk desires. So, pretty good hire.
Drinkwitz has a fascinating story — he was a hungry high school coach who hitched his wagon to the right mentors. He's coached in high school and college in the state of Arkansas — some talented Mizzou Tigers in recent years have hailed from that state down south. At college, he was part of winning SEC football at a young age, working as a quality control coach for the 2010 national champs from Auburn.
As an offensive coordinator at Boise State for one season, 2015, Drinkwitz turned that blue turf into his own playground — his offense averaged 39.1 points and 501.3 yards per game. That landed him a gig at North Carolina State to run the offense there. And every year, the offense got statistically better. Hard to ask for much else. Oh, and he's got a pedigree of developing an NFL quarterback — Ryan Finley, with the bungling Bengals, was a fourth-round pick last season out of N.C. State.
Finally, of course, Drinkwitz took over at Appalachian State, a budding program forever lodged in lore after its knockout of Michigan in 2007. In his lone season there, and first as a head coach, Drinkwitz went 12-1. Mizzou yearns to be a nationally ranked program. Well, this guy turned Appalachian State into a Top 25 team this season.
Mizzou needed to hire someone clearly on an upward trajectory. Someone with stops at big schools and the ability to maximize at a small school. Somebody who exudes energy. Somebody who's going to get people to buy ticket packages for the south end zone. Eli Drinkwitz has to prove it — his coaching staff will be vital to this first year, because Mizzou faithful can't stomach a rebuild. Drinkwitz should have these guys bowl eligible next season.
Appalachian State went 12-1 and finished 20th in the College Football Playoff rankings. The Mountaineers will play in the New Orleans Bowl on Dec. 21. The goal is for Mizzou to someday play in a different bowl game in New Orleans. Or maybe Atlanta or Miami.
But right now, Mizzou needs to confirm its identity. Mizzou needs to be the school with the glass half full and the goal of being an annual Top 25 team. Drinkwitz should quench this thirst.