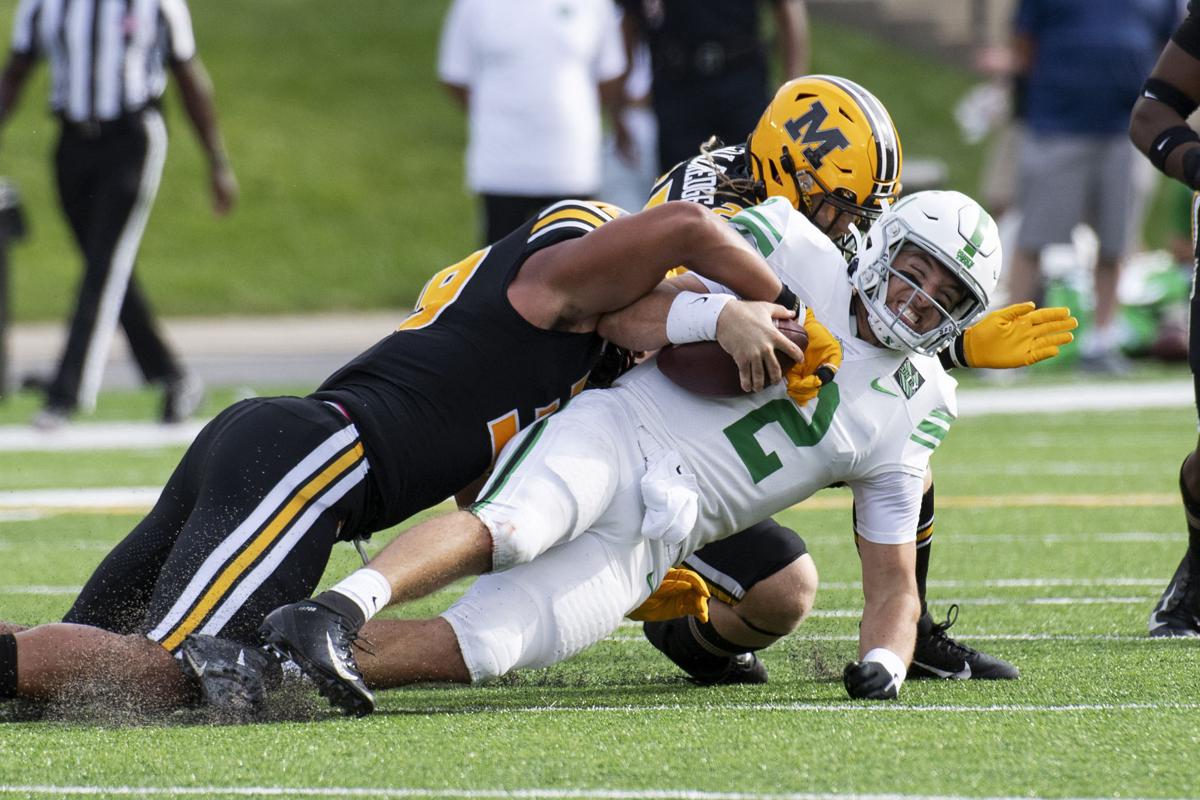 COLUMBIA, MO. — Turns out that Jethro Franklin wasn't the only person who lost his job. When Missouri's defense took the field here Saturday, a fellow named Chad Bailey was in at linebacker. Blaze Alldredge, the hyped grad transfer with NFL aspirations, had lost his starting gig.
Coach Eli Drinkwitz had already fired Franklin, the defensive line coach, after Mizzou allowed a couple kilometers of yards to Tennessee. Did he bench Alldredge and start Bailey to make a point to his vulnerable team?
"That's no motivational tactic — this ain't 'Ted Lasso,'" Drinkwitz said of the feel-good sports show. "It was earned."
The extinguishing of Blaze sure was symbolic, though. It showed every player that no player is secure and stable in his job. Still, this defense remains unstable. Mizzou did knock off North Texas of Conference USA, 48-35, but the "D" didn't look ready for any Southeastern Conference opponent, including the dadgum Aggies of Texas A&M. Those guys come to town next Saturday.
"Whoever practices the best is going to play, period," said Drinkwitz, who also started St. Louis native Mehki Wingo over defensive lineman Akial Byers. "This program is going to be built on competition. And that's who we are in our core. That's what we're going to be."
The problem is — Mizzou (3-3) just doesn't have much depth on defense. It's not like they can just replace all the starters with four-stars. Other problems? Recognizing plays, making open-field tackles and holding down an opponent for long stretches. Mizzou's defense allowed 28 second-half points. North Texas lost, but its offensive coordinator should feel accomplished, just as Mizzou won, but defensive coordinator Steve Wilks shouldn't feel satisfied.
"Obviously a little bit more exciting at the end than we wanted … we gave up some explosive plays," Drinkwitz said.
Perhaps the most egregious came in the third quarter. It began bad and ended worse. A running back broke free into the secondary — but not on a run. DeAndre Torrey came out of the backfield looking to catch a pass, and once he did, he darted toward the end zone. Mizzou's Martez Manuel arrived just in time, but Torrey unleashed a spin-move out that made Manuel miss. Touchdown.
The visitors finished with nearly 500 yards of total offense — 493, which was more than Mizzou's total of 474.
And this is North Texas … not Texas A&M.
In North Texas' past three games, the Mean Green scored 35 combined points, the same total scored at Mizzou on Saturday.
There were, to be fair, some positives for the Tiger defense, but it's hard to say they were improvements until proven effective against SEC opponents. The defensive line did make more plays this game. Impact plays. Drive-altering plays.
"There was just a response, I don't know if there were new calls or anything," Drinkwitz said of the maligned line. "It was just execution and focusing on the details. When you're asked to crash, you get into the D-gap and get up field. When you're asked to chase, you chase the puller. Akial Byers was able to get a negative-yardage play there. It's just making sure those guys understood the importance of playing for each other, with each other — and I look forward a lot of growth again this week."
On early downs, the defensive line just hadn't stopped the run consistently in previous games. When it did against North Texas, wouldn't you know, the opponent was forced to pass on third down. And the Mizzou linemen could anticipate the pass, plan for the pass. It led to some key stops.
"We've got a group of a lot older guys, and they just kept us together," said Wingo, who actually scored a touchdown after grabbing a batted pass from midair and chugging 40 yards to pay dirt. "They've been the business part of this you know a few times. So they were really just keeping my head straight and a few other younger guys. We just worked really hard in practice. If we practice better, we played better."
Overall, Drinkwitz seemed pleased with some of the defensive strides made. Kris Abrams-Draine gobbled up two turnovers, including an interception. Chris Turner and Kobie Whiteside had a couple stretches of playmaking. Trajan Jeffcoat, stymied at times by opposing lines, was able to get in the mix in the trenches (and backfield). And Bailey, the backup linebacker now in the starting lineup, finished with five tackles. It was something. But it wasn't enough. At least not enough to head into the SEC schedule with confidence in the defense.
"There were steps. It wasn't perfect," Drinkwitz said. "But you know, we didn't think we're going to transform into the '85 Bears overnight. We're working towards it. And I thought we took a big step in the process. Still had a couple of busts that we got to get cleaned up."