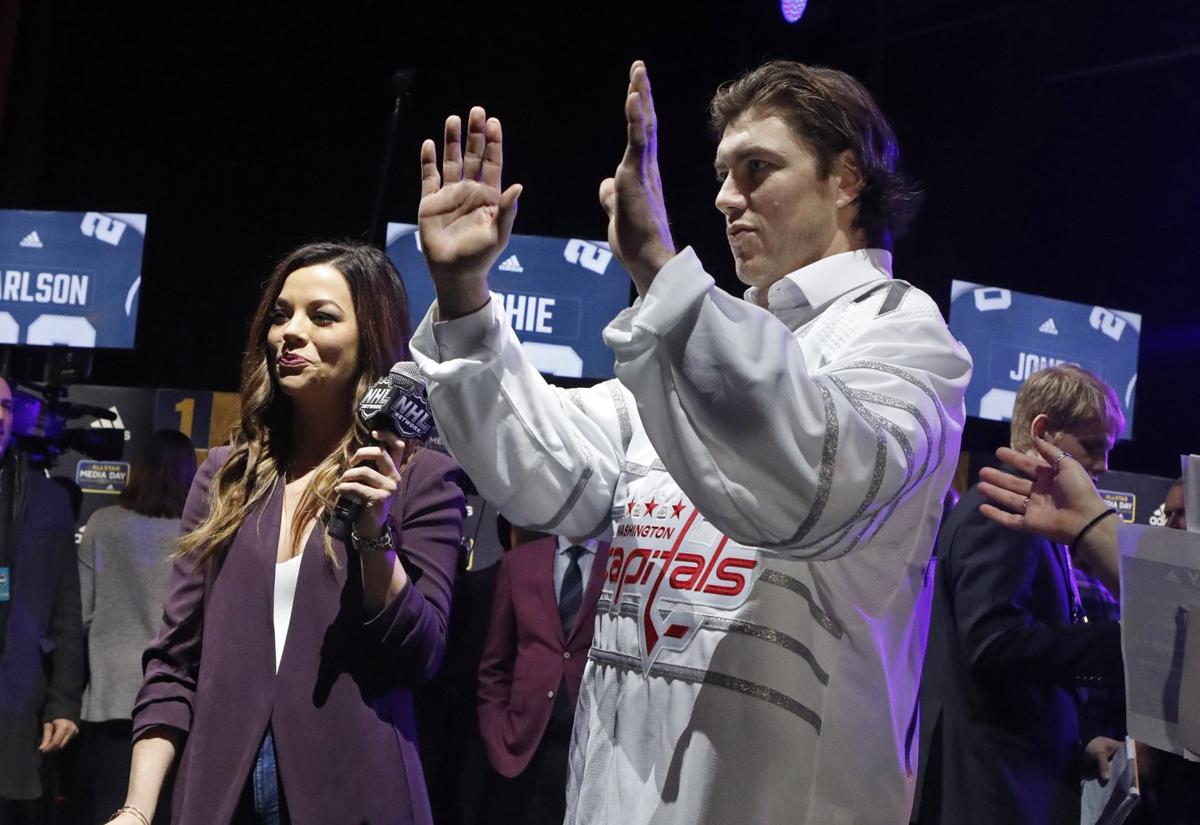 They came to watch people talk to other people.
Hundreds of hockey fans, many in Blues sweaters, arrived at the Stifel Theatre on Thursday to watch Media Day for the NHL All-Star Game.
Eight at a time, All-Stars were stationed at podiums on the stage. And as journalists flocked to interview them, fans in the audience chose which player's audio feed to listen to via headsets.
It was arguably like watching paint dry, except if these walls could talk, they'd have Canadian accents.
But, the NHL occasionally trotted a star to the stage front – and the NHL Network's Jackie Redmond interviewed the player specifically for the fans. And when T.J. Oshie took center stage, well, Stifel rocked like Enterprise Center – actually, if we're doing this, like Scottrade Center.
"I respect their support through thick and thin," Oshie said of the St. Louis fans, who cheered the former Blue and current Washington Capital.
In his 12th NHL season, Oshie is in his first NHL All-Star Game, and it's in St. Louis – "Sometimes it's funny how things work out," Blues All-Star Alex Pietrangelo said. "He deserves to be here."
Oshie, 33, was the Blues' first-round pick in 2005 (24th overall), and finished eighth in the Calder Trophy voting as a rookie. His best statistical season of his seven in St. Louis was 2013-14, when he scored 21 goals with 39 assists. His 60 points were second on the team to Alexander Steen (62), and that was another one of those seasons where the Blues lost in the first round. Oshie was traded in the summer of 2015 for Troy Brouwer, who symbolized the Blues' first-round breakthrough with his Game 7 goal against Chicago in 2016.
Oshie himself broke through in Washington, scoring more goals in his first season there (26) than he had in any of his seven in St. Louis. In 2016-17, Oshie scored 33 goals in just 68 games – his shooting percentage (23.1) was best in the National Hockey League. And the Olympic hero became a Stanley Cup champion in 2018. The next year, his buddies did, too.
"I talked to those guys – I was on the way to the golf course, and they were still out partying the night they won," Oshie said of a call in June of 2019, after the Blues won it all. "And had a nice FaceTime with (former Blue) Barrett Jackman – he was with a bunch of the guys. It was cool to talk to them and tell them congratulations. … A lot of the guys here (at All-Star) are in that core group, I know what type of guys and players they are. They're leading the charge."
This season, Oshie has 18 goals and 16 assists (34 points) in 49 games for Washington, which is in first place in its division. Oshie was one of those "last men in" to the All-Star Game, voted fittingly by the fans, some who were surely at Stifel on Thursday.
"I don't think there's another place that would be more fitting for me to go to my first All-Star Game," Oshie said. "Obviously DC is where my career really started to take off, and I've had more success there, but to come back here to where I really started growing my family and have a lot of special memories in the place I was drafted to, it's a pretty cool story. I'll be able to tell my kids when they're older and grandkids after that."
Visit the Stanley Cup again — or for the first time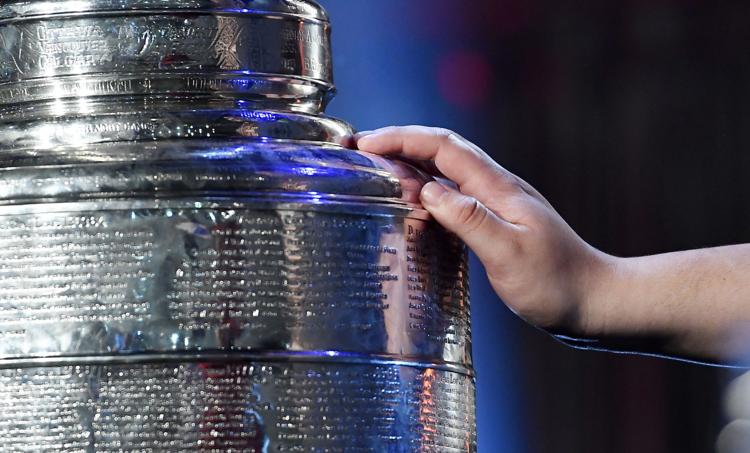 Lord Stanley's Cup has certainly made the rounds since the Blues won the Stanley Cup Final in June. If you didn't catch the famous trophy — or if you want to see it again — the hardware will be on display in front of a cool, hockey-themed background at the Fan Fair, Jan. 23-26. "We made this plan to come to St. Louis for the All-Star Game well before the Blues won the Stanley Cup," says Steve Mayer, the NHL's chief content officer. "So this is super-exciting and very, very, very unusual that the All-Star city is also the host of the Stanley Cup champion." The NHL tries to tailor each Fan Fair to the fans and venues of the hosting city, and this is about as personal as it gets.
Download the NHL Fan Access app
If you're going to the Fan Fair, a hall of activities inside Union Station, NHL Fan Access is a necessary download: It will be updated with last-minute changes and additions of player and alumni appearances and other special events. The app includes maps, chances to win prizes, and filters and frames for sharing your photos on social media (#NHLallstar). "The fans have really appreciated the minute-by-minute real-time updates they get with that app to understand what's going on, not only at the Fan Fair but also at all of our events in St. Louis," Mayer says.
Get a grip, and take a shot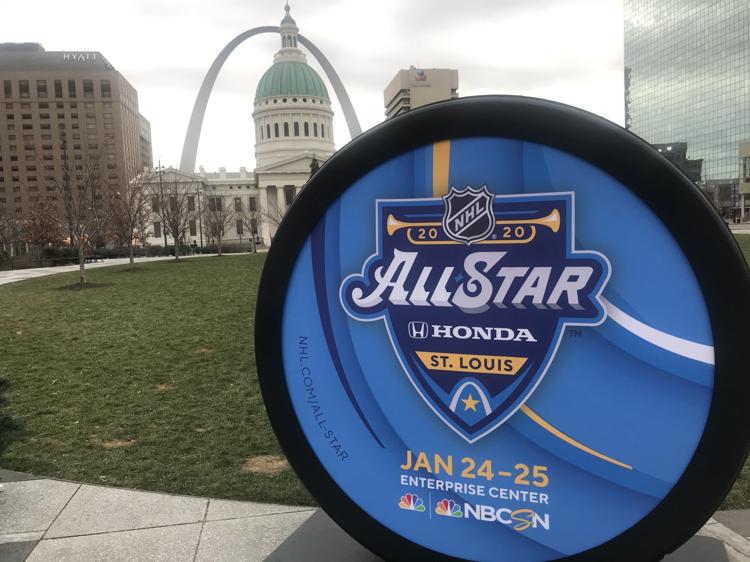 The Fan Fair will give visitors plenty of chances to play hockey in all types of venues — from air and bubble hockey games inside the Dunkin' Hockey House to a chance to shoot pucks into stacked washer-and-dryer units at the NHL Network Target Practice. An area for kids will include activities such as a ball hockey rink, and guests can test their aim at the Ticketmaster NHL Accuracy Challenge or show off their slapshot at the GEICO Speed Shot Challenge. "We always get the great smiles on anything that we put together where somebody puts a stick in their hands and shoots a puck," Mayer says. "They're something families can do together. They're interactive. They love that stuff."
Visit (or buy) a piece of hockey history
The Hockey Hall of Fame brings an exhibit to the Fan Fair that showcases the history of the Blues and professional hockey in St. Louis, along with the history of the All-Star Game. Oooh and ahh all you want, but items there aren't for sale — visit the Fanatics booth and the official merchandise shop for that. You can take home the usual hockey memorabilia, along with items such as limited-edition, inscribed and game-used items from NHL Auctions. And you'll be able to snag a piece of fresh history, like game-worn gear from All-Star Weekend. S. Preston Art + Designs will offer limited-edition sketch prints and hockey-themed artwork.
Cheer for Louie — or 28 other team mascots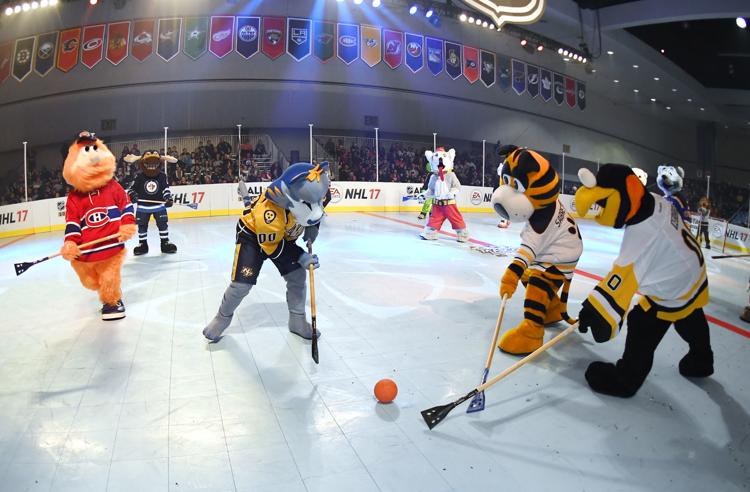 Players from all the NHL teams come together to play in the All-Star Game, and so do their mascots: Louie from the Blues, of course, along with Bernie, Bailey, Sparky, Gritty, S.J. Sharkie — all 29 of them (two teams don't have mascots). The costumed creatures will compete in four days of relay races, musical chairs, jousting and actual ice hockey, which, as you'd imagine, gets awkward. In between competitions, the mascots will roam the Fan Fair, greeting fans and posing for photos. "There's a lot of people in St. Louis who are fans from other cities — fans of other teams," Mayer says. "(The All-Star Game) sort of brings out a lot of different uniforms and people's allegiances."
The mascot roster:
Western Conference, Central Division • Tommy Hawk (Chicago Blackhawks); Bernie (Colorado Avalanche); Victor E. Green (Dallas Stars); Nordy (Minnesota Wild); Gnash (Nashville Predators); Louie (Blues); Moose (Winnipeg Jets)
Western Conference, Pacific Division • Wild Wing (Anaheim Ducks); Howler (Arizona Coyotes); Harvey the Hound (Calgary Flames); Hunter (Edmonton Oilers); Bailey (Los Angeles Kings); S.J. Sharkie (San Jose Sharks); Fin (Vancouver Canucks); Chance (Vegas Golden Knights)
Eastern Conference, Metropolitan Division • Stormy (Carolina Hurricanes); Stinger (Columbus Blue Jackets); NJ Devil (New Jersey Devils); Sparky (New York Islanders); Gritty (Philadelphia Flyers); Iceburgh (Pittsburgh Penguins); Slapshot (Washington Capitals)
Eastern Conference, Atlantic Division • Blades (Boston Bruins); Sabretooth (Buffalo Sabres); Stanley C. Panther (Florida Panthers); Youppi (Montreal Canadiens); SpartaCat (Ottawa Senators); ThunderBug (Tampa Bay Lightning); Carlton (Toronto Maple Leafs)
Visit our favorite blue lobster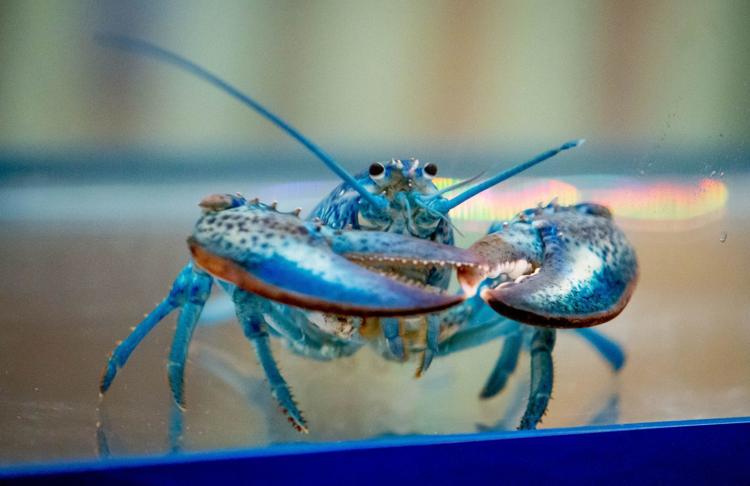 While the Fan Fair will take over the midway, ballroom and other portions of Union Station, Lord Stanley will hold court from his tank on the second level of St. Louis Aquarium, which opened last month at Union Station. The owner of a Massachusetts restaurant discovered the blue lobster among a seafood shipment and gifted the rare crustacean to the aquarium in honor of the Blues' 2019 Stanley Cup Final victory. The lobster is one in 2 million, its coloring the result of a genetic mutation. Fans selected Lord Stanley's name in an online vote, and his likeness is found on shirts and as stuffed animals at the aquarium's gift shop.
Where St. Louis Aquarium at Union Station, 201 South 18th Street • How much $18-$25 • More info 314-923-3900; stlouisaquarium.com
Learn about the Blues at the Missouri History Museum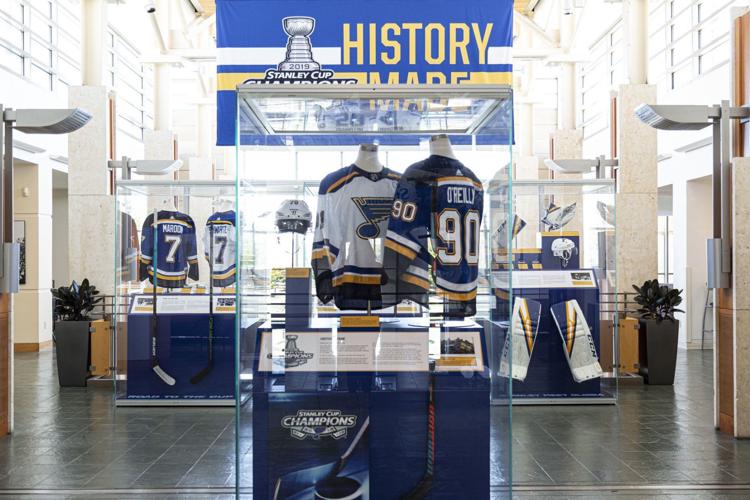 After the Blues won the Stanley Cup, Missouri History Museum historians worked with the team to assemble an exhibition that told the story of the underdog team and its path to "Gloria." "History Made" includes more than 20 objects on loan from the Blues and is on view through Jan. 26; on that day, 10 a.m.-5 p.m., visitors can also stop by the Black History Hockey Tour Truck. Both the museum exhibit and the truck are free.
Where Missouri History Museum, 5700 Lindell Boulevard • How much Free • More info 314-746-4599; mohistory.org/society
Learn more about black hockey history
The NHL's American Legacy Black History Hockey Tour Truck will make several local stops during All-Star Weekend. The 525-square-foot mobile museum celebrates more than 200 years of achievement in black hockey. Every black NHL player is represented on a "Wall of Pucks," and the truck gives a look ahead to the next generation of players, officials, broadcasters and women in hockey. The truck is touring the country through March.
Sing 'Gloria' — or sing along with Green Day and O.A.R.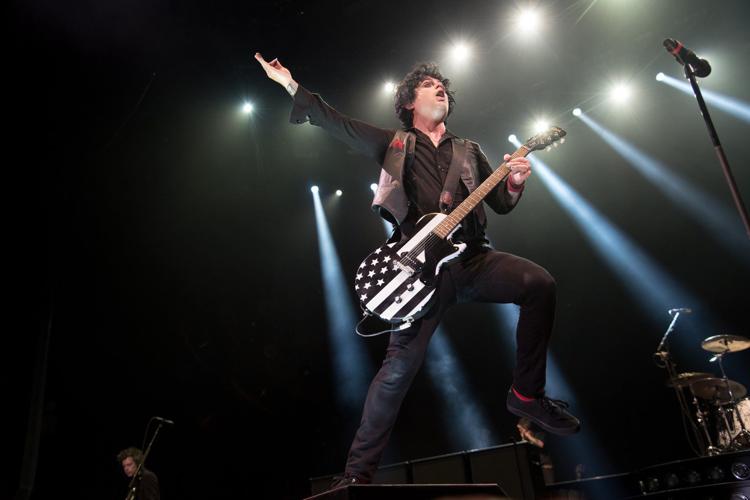 Fans already know Green Day will perform during the All-Star Game on Jan. 25. It'll be a brief show during the second intermission, during which the band will perform "Fire, Ready, Aim," the season's theme song for NBC Sports Wednesday Night Hockey.
Green Day also will perform a mini-concert outside, at 14th and Market streets, at the 5 p.m. pregame event Jan. 25. The rock band O.A.R. performs Jan. 24 at the NHL All-Star Skills Pregame Event, which starts at 3:30 p.m. at the same location; fans can enter the area at 2:30.
Even more acts were added on Thursday.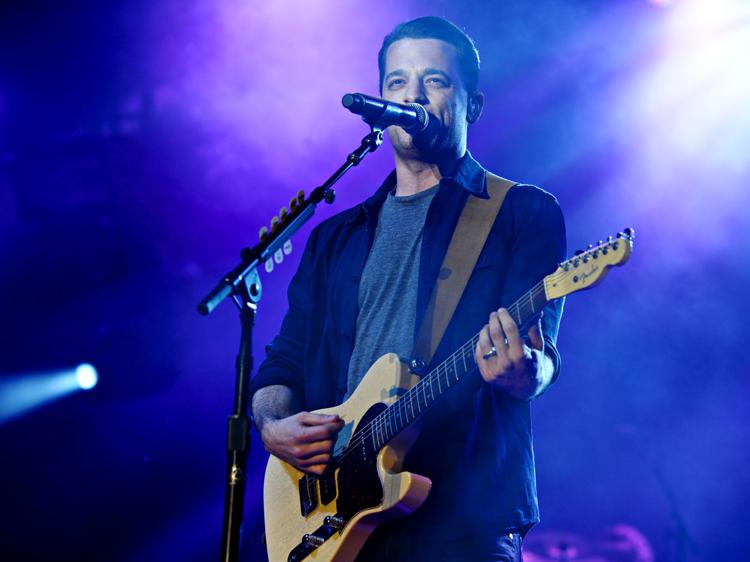 Get your blood pumping before the big game
Why not get warmed up before the All-Star Game? This downtown 5K is as Bluesy as you can get. NHL All-Star 5K participants will get a blue, All-Star Game-themed race shirt and bib, a medal for finishing, an electronic timing chip, refreshments and a chance to win Blues prizes.
When 9 a.m. Jan. 25 • Where Starts at 18th and Market streets • How much $35-$45 • More info nhl.com/blues/fans/all-star-5k
Cheer for our Blues and a St. Louis native
St. Louis is the starring, hosting city, so we've gotta cheer for our stars in the game: Blues goalie Jordan Binnington, defenseman Alex Pietrangelo, forward Ryan O'Reilly and forward David Perron were chosen to play for the Central Division. Matthew Tkachuk, who grew up in Chesterfield and attended Chaminade, plays for the Calgary Flames and represents the Pacific Division.
When 7 p.m. Saturday • Where Enterprise Center, 1401 Clark Avenue • How much Sold out • More info stlblues.com
Hit the ice for yourself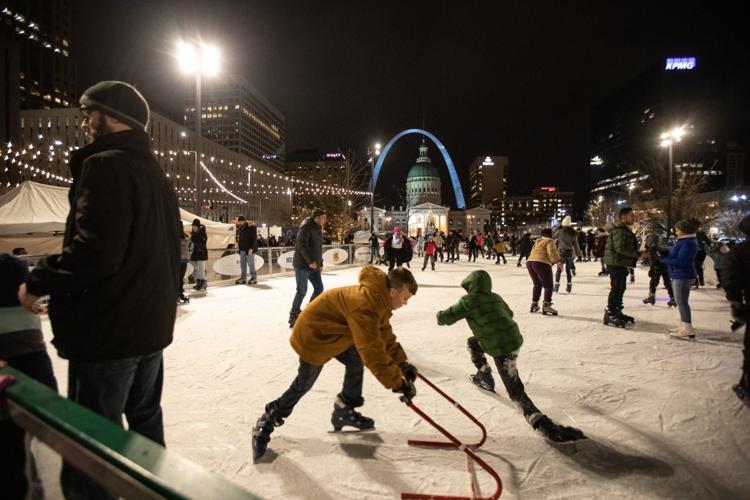 Kiener Plaza serves as "celebration point east" for NHL All-Star Week, with events centered on a temporary ice rink.
From noon to 2 p.m. Jan. 26, St. Louis Blues Youth Hockey invites kids ages 4 to 9 to learn basic hockey skills such as passing, stick-handling and shooting, and they will get a chance to play some pond hockey. The experience is free, but registration is required at nhl.com/blues/community/winterfest-hockey.
Players will compete in Winterfest 3-on-3 Hockey Classic games throughout the week, with a championship this Saturday. Games are played from 8:30 a.m. to 1 p.m.
From Jan. 22-26, the rink will be open daily for public skating. Admission is free, and skate rental is $12 adults and $7 for ages 3-15. The rink is open 4-8 p.m. Wednesday and Thursday, 1 to 8 p.m. Friday, 3 to 9:30 p.m. Saturday and 2 to 8 p.m. Sunday. Kids can rent skates for free on Friday, courtesy of the Blues.
There will be a Blues All-Star Watch Party from 6 to 9:30 p.m. Saturday with puck-drop fireworks, face painters, food and drinks and more. 
Where Kiener Plaza • How much $7-$12 • More info archpark.org/events/winterfest
This portion of the story was update Jan. 23 with new information and times. 
Were you there? Looking back at past All-Star Games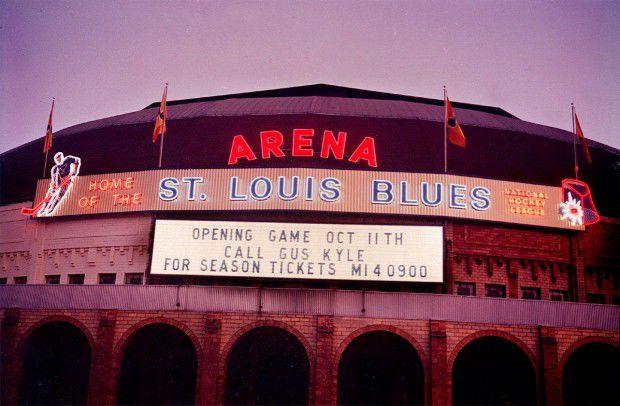 The only other NHL All-Star Games in St. Louis were in 1970 and 1988 at the St. Louis Arena, which was demolished in 1999. In 1970, seven Blues players played in the All-Star game, including Jacques Plante, Barclay Plager and Red Berenson. An All-Star Game dinner was held the night before the game at the Khorassan Room at the Chase Park Plaza; that year, for the first time, the $25 tickets were available to the public.
The 1988 game was dedicated to Plager, who had become a coach but died at age 46 of a brain tumor, three days before the game.
The Arena got a bit of a makeover before the All-Star Game, with yellow paint on outside handrails and updates to the bathrooms and press box. "It looks good for a 58-year-old facility," a general manager told the Post-Dispatch at the time. "The comments we hear is that it looks clean and it smells clean."
Enterprise Center, the Blues' home arena since 1994, thankfully has raised that bar. (The venue previously has been named Scottrade Center, Savvis Center and Kiel Center.)
NHL All-Star Weekend schedule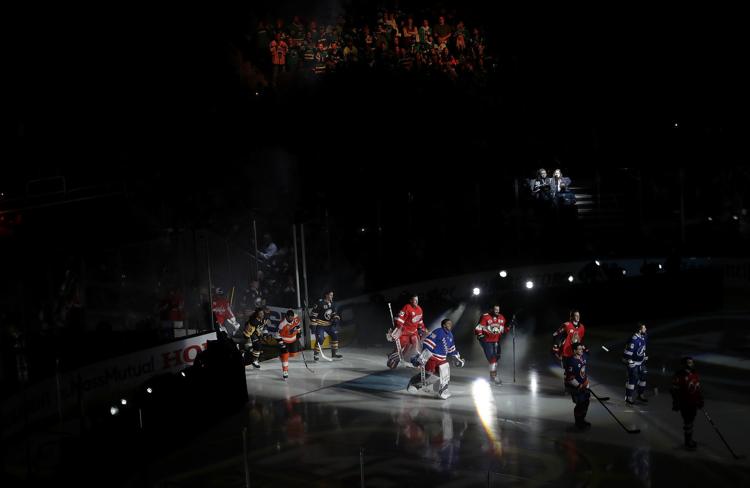 Jan. 23
2-4 p.m. • Black History Hockey Tour Truck (Matthews-Dickey Boys and Girls Club, 4245 North Kingshighway)
3-10 p.m. • NHL Fan Fair (Union Station)
5 p.m. • Mascot Showdown (All-Star Rink, Fan Fair at Union Station)
7 p.m. • NHL Alumni Game (Centene Community Ice Center, 750 Casino Center Drive, Maryland Heights)
7 p.m. • Mascot Showdown (All-Star Rink, Union Station)
Jan. 24
10 a.m. • NHL Mini 1 v. 1 Shootout (Centene Community Ice Center)
11:30 a.m. • NHL Learn-to-Play Skills Jamboree (Winterfest Rink at Kiener Plaza)
2-6 p.m. • Black Hockey History Tour Truck (Boys and Girls Club Teen Center for Excellence, 9200 West Florissant Avenue, Ferguson)
3-10 p.m. • NHL Fan Fair (Union Station)
3:30 p.m. • NHL All-Star Skills Pregame Event and O.A.R. concert (14th and Market streets)
7 p.m. • All-Star Skills Competition and Mascot Showdown (Enterprise Center; broadcast on NBC Sports Network)
Jan. 25
9 a.m. • NHL All-Star 5K (starts at 18th and Market streets)
10 a.m.-7 p.m. • NHL Fan Fair (Union Station)
Noon • NHL Learn-to-Play Skills Jamboree (Winterfest Rink at Kiener Plaza)
Noon and 2 p.m. • Mascot Showdown (All-Star Rink, Fan Fair at Union Station)
Noon-9:30 p.m. • Black Hockey History Tour Truck (Kiener Plaza)
5 p.m. • NHL All-Star Pregame Event with Green Day concert (14th and Market streets)
5:30 p.m. • Mascot Showdown before the All-Star Game (Enterprise Center)
7 p.m. • All-Star Game (Enterprise Center; broadcast on NBC Sports Network)
Jan. 26
10 a.m.-4 p.m. • NHL Fan Fair (Union Station)
10 a.m.-5 p.m. • Black History Hockey Tour Truck (Missouri History Museum, 5700 Lindell Boulevard, Forest Park)
Noon • Try Hockey for Free (Winterfest Rink at Kiener Plaza)
Noon and 2 p.m. • Mascot Showdown (All-Star Rink, Fan Fair at Union Station)
The latest STL Blues hockey news, NHL headlines, scores, standings and rosters.