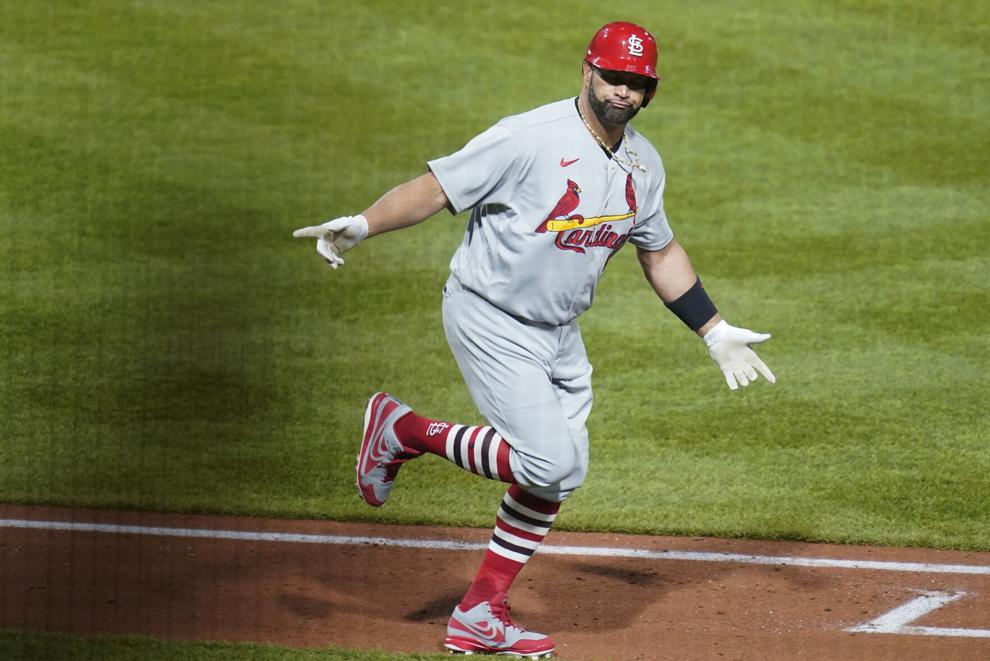 One of the neatest pieces of Cardinals memorabilia isn't in Cooperstown or the team museum — it's safe in a safe at a home in rural Clinton County.
"It's something that I immensely enjoy having," said Mike Hutcheson, 55, who was raised in Belleville and now lives near Trenton. "And of everything, I'm most proud that I caught that sucker barehanded."
A lifelong Cardinals fan, Hutcheson traveled to Pittsburgh in October to catch Albert Pujols' final regular-season games. And sure enough, what did he catch? Albert's final home run, No. 703. The ball also accounted for career RBIs 2,215 and 2,216, a total that passed Babe Ruth's for second-most all-time (trailing only Hank Aaron and his 2,297 RBIs).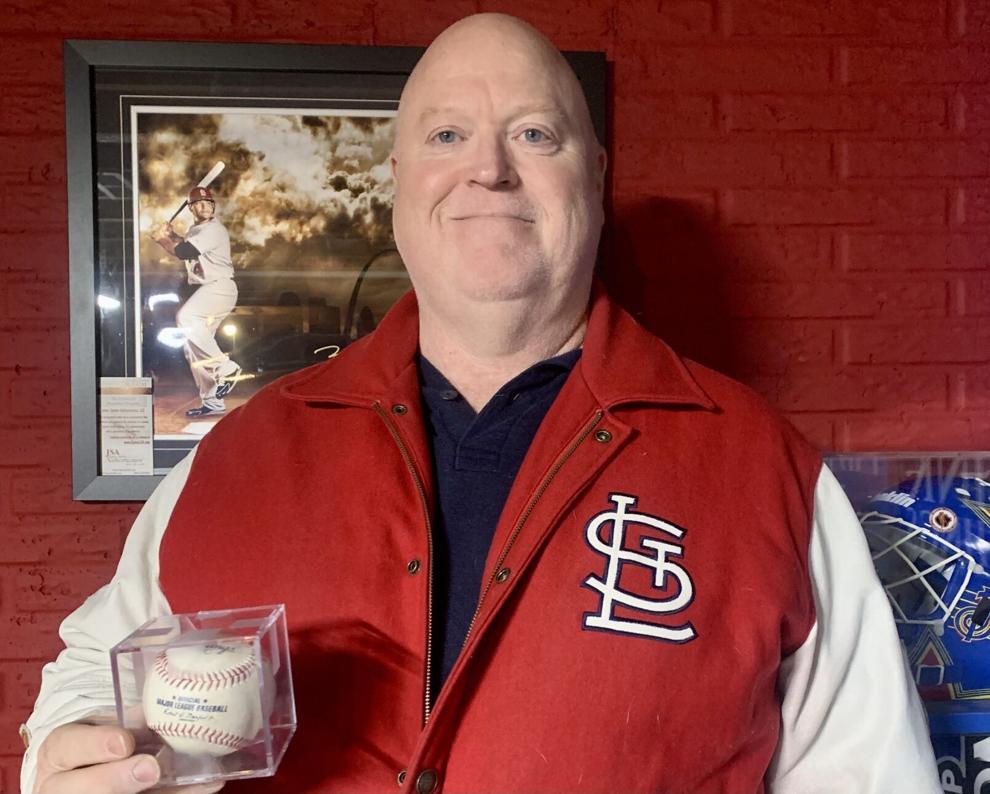 Pujols' 700th home run ball sold for $360,000.
We may never know the value of No. 703.
For one, Hutcheson said he never planned on selling it, except for "life-changing money." He confirmed that $360,000 sold through an auction house (with fees and taxes) would not be "life-changing money."
But second, Hutcheson didn't get the ball authenticated.
During the chaos that Oct. 3 night, he was continually swarmed by congratulatory and frenzied fans, as well as some media for interviews. Over the phone recently, Hutcheson stated he asked an usher three different times for the location of the stadium authenticator. Each time, he didn't get a clear answer.
So when the game ended, he left the stadium after witnessing history, procuring history and, quite possibly, devaluing history.
Which, understandably, ticks him off. He knows he caught it — there is so much video of him catching it — and he knows he's had the ball secured ever since catching it. Yet the lack of an in-stadium authentication causes some consternation.
"Everybody talks about the fact that I didn't get it authenticated," he said, even describing whispers he heard while in line at the Pittsburgh airport. "And I really think I kind of find it funny. Because, one, I know what I went through. And I wonder if any of them would know where to go (to get it authenticated)? ... If nothing else, I know that ball has not left my possession. Anybody else can question whether or not that's the ball. But that's what's important to me."
Hutcheson returned to PNC Park the following afternoon with the ball in a case, which he bought at a memorabilia store (the shopkeeper bluntly told him the ball lost its value the second he left the stadium). Hutcheson went to the players' entrance and spotted a Pirates videographer from the previous night.
Hutcheson told him he wanted to speak to the authenticator. That guy went and got a guy. Then that guy went and got another guy, who was the "manager of operations," per Hutcheson. The manager told him he was "out of luck."
Yes, Hutcheson was the one who ultimately left the stadium with the ball unauthenticated. But he felt that the Pirates — somebody, anybody with the organization — could have been more accommodating and proactive that night of the catch (or even the next day).
Finally, Hutcheson talked to the authenticator by the dugout.
"He said, 'I heard you were looking for me,'" Hutcheson recalled. "He said, 'I can't do anything for you now. And even if you were to come to me yesterday, all I could do was put a sticker on it and identify it as a game-used ball. ... Once it leaves the field of play, and I can't see it anymore, then I can no longer identify the (specific batted-ball) situation. It could be any of the balls that were lost out of the field yesterday.'"
Major League Baseball did go to extra authentication lengths for Pujols' potential 700th home run ball — but not after No. 700. Michael Posner, MLB's senior director of authentication and memorabilia, told Derrick Goold of the Post-Dispatch about the process — after Pujols hit No. 699, every pitched ball to Pujols had an "overt marking," as well as an invisible marking, which could only be spotted by proprietary technology.
But the No. 703 ball was just, if you will, a regular ball.
Still, even without a hologram sticker, it's not a regular ball.
And let's not forget: a ball the Cardinal fan Hutcheson said he wanted to keep all along.
"But, I really would like to meet Albert and have him sign it — and it would be worth money to me to do that ..." Hutcheson said, while he wondered aloud if a nice donation to the Pujols Family Foundation would offer him the chance to meet Pujols. "I just think that for some reason, that's validation. And I think that it makes it even that much cooler. ... Even if nobody ever believed it was the ball, with it hanging on my wall I can say, 'That is his last home run — and he signed it. And there's the number 703 on the bottom.' People could argue about whether or not that's the one or not, but that's the one."
Asked what he meant by "validation," Hutcheson said: "It's validation of the whole thing. Albert's not going to validate the ball. But maybe validation of that it's something historic. ... I've been asked what I'm going to do with it, and right now, all I'm going to do is make a display and display it. If Cooperstown called and said they wanted it as part of an Albert display, I'd be hard-pressed not to loan it to them."
As for now, the historic ball sits in the Illinois safe of a devoted Cardinals fan whose Oct. 3 memories, if anything, are authentic.
---