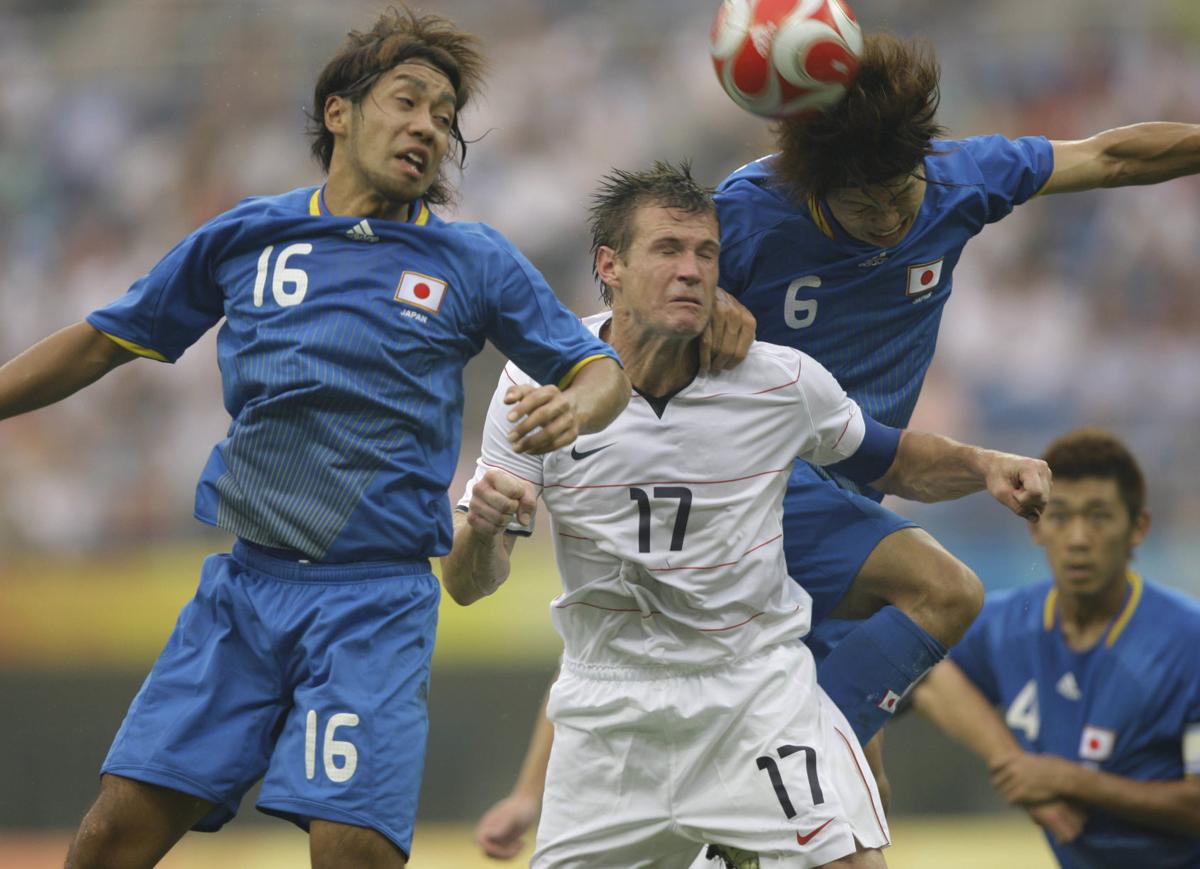 Brian McBride, the St. Louis University soccer legend, will try to become soccer's Theo Epstein.
McBride was just named general manager of the U.S. Men's National Soccer Team, and if you thought bringing a championship to the Red Sox or Cubs was a daunting task, leading the U.S. to a FIFA World Cup title is an impossible ask. It might never happen in our lifetimes. But the SLU hero, who became a national team fixture, has the right qualities for someone to help resuscitate and elevate the USMNT.
McBride was on the 2002 team, which benefited from an abundance of talent and ideal matchups, to reach the World Cup quarterfinals. Considering the U.S. didn't even qualify for the most recent World Cup, if general manager McBride can spearhead a team that someday reaches the quarterfinals again, his tenure will be deemed a triumph.
OK, so that's really far away.
He probably doesn't even have business cards yet. But he's already had numerous preliminary talks with U.S. soccer sporting director Earnie Stewart, another former USMNT standout. And this wasn't Stewart just picking an old soccer buddy to have around the office. The hiring process was meticulous, beginning with 20 names, finishing with one — Brian Robert McBride.
The three-time World Cup player, who played professionally domestically and abroad for 17 years, has a winning personality, one developed on the campus of SLU in the early 1990s. Smart soccer people say he's smart. He has international experience that'll be crucial in his interactions with soccer clubs. And so McBride, 47, will oversee the development of the player pool — and try to build a culture.
"If I didn't think I could make an impact, I wouldn't be the right person, and I shouldn't take the job," McBride said Monday in a teleconference. "So certainly, I feel like I can make a positive impact.
"And when you touch on what's gone wrong, I think we have to remember that we're going through a period where we have a first-year new coach and a lot of young players. I mean, there are 15 Olympic-eligible players that appeared for the men's national team this past year (age 23 and under). . . . It's sometimes hard to see from the outside. But having said that, there have definitely been times when we've been lacking in some things, whether it's been a half of soccer — first half good and the second half not so good —or maybe, at a time, there was lack of real focus and determination. I think I can help with those things."
When the USMNT team played at Busch Stadium in September, there was a fitting pair of images: The team on the field and the Ballpark Village buildings in the background — incomplete and building from the ground up.
It was interesting to hear McBride's take on the national team coach, Gregg Berhalter, who is an accomplished coach with his possession-style strategies, but isn't universally beloved by the soccer fans of our nation. McBride had watched Berhalter over the years — coincidentally, Berhalter coached Major League Soccer's Columbus Crew, the club for which McBride previously played.
"Having a close eye on Columbus, being an alumnus, you could always see how organized Gregg's teams were," McBride said. "That was there to be seen this past year (with the USMNT). . . . Sometimes it takes a little bit. You definitely have to have a good soccer brain and understand what the ideas are. Sometimes, maybe there wasn't necessarily those connections in certain games.
"The results have been good. Went 11-5-2. Went to the Gold Cup (tournament) final. In that final, you (saw) a difference in halves. And advancing to the (Nations League) knockout round, those are all big things. Having said that, certainly I think there was a need for some pride. Sometimes, and I said this as a player, when I didn't have it (that day), I made sure I did everything I possibly could. And had pride in that. I think sometimes we may have lacked that effort, and that could've been for many different reasons. Whether they were trying to play a certain way and not necessarily having that come off, but that's something that I think I can help with. That's the culture side of things."
That's not just with the current players on the team, but with the next generation.
It's something Stewart and McBride talk about during their daily January drives in Florida, to the national team practices.
"How I see soccer (developing) in the U.S.? Gosh. It's a great question," McBride said. "We have these conversations of a pyramid, and understanding the youth setup and how to make things move smoother through it. It really becomes a top-down effect. We have to make sure that we're doing a good job with what we've set up here in the national team, through the youth national teams. We'll collaborate . . . to try and build relationships and work through the aspect of finding the talent and nurturing it."
Developing relationships is McBride's forte, they say. His next challenge will be developing relationships with international clubs. It's vital. These relationships involve sharing information and analytics about the U.S. players abroad, and in regards to managing workloads and the players' standings with the club.
One of those players is the St. Louis area native Josh Sargent, the resplendent redhead, who plays internationally in Germany's top league. He turns 20 in 2020. Whatever success McBride and Berhalter have, it probably will be tied to their developing of Sargent and his peers.
"Certainly I view him as an extreme talent," said McBride, a former soccer television host. "And I think people may have seen me on TV raving about him."