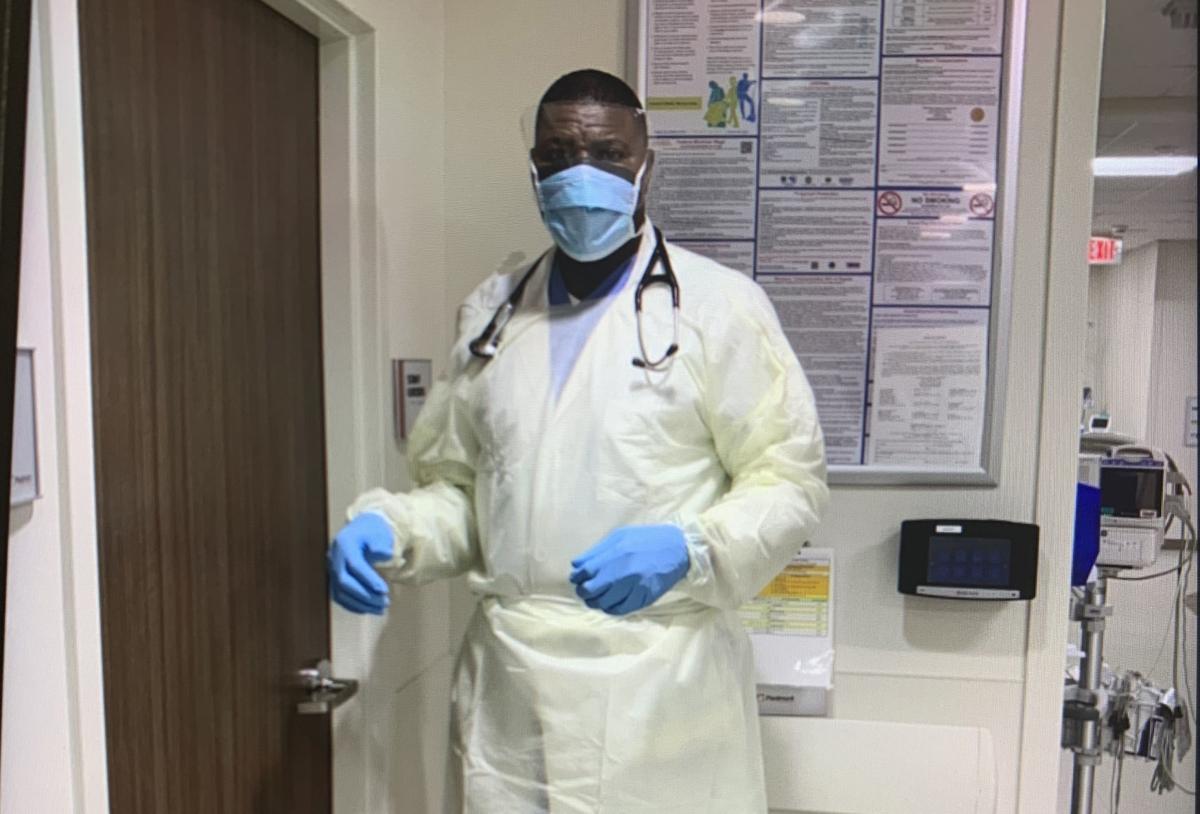 The front line forever will mean something different to the former Mizzou basketball center who once played on it.
Tajudeen "TJ" Soyoye, who played alongside Arthur Johnson two decades ago, is now Dr. Soyoye. He's in Columbus, Ga., about 90 miles from Atlanta. He's treating emergency room patients who have COVID-19.
"We are the front line," Soyoye said by phone Monday. "It's been emotional. I know people who have died from this disease."
"A man had lost a daughter, 34 years old," Soyoye said. "Because of that situation, they moved out of their house, just to kind of escape from that virus, and they moved into a hotel — and guess what? On a Monday morning, he got sick and caught it. So EMS was called. They worked on him for 15 minutes, got him to me, I worked on him for about 25 minutes. I wasn't able to get him back. He died. So this is serious. People die from this. . . .
"Of course, it's all very difficult. Seeing those patients is difficult, but relaying the news to the loved one? It's the most difficult thing in my job. Even though I kind of love my job, but, man — there's no best way to prepare for that, you know? How do you do it? How do you get that statement started? But we just have to do it. We have to do it, move on and start taking care of the next patient."
This is the sudden, sobering reality for Soyoye and thousands of medical workers across the country, as the coronavirus pandemic continues to spread.
"I'm very thankful for the sacrifices TJ and medical professionals around the world are making to battle this pandemic," Mizzou basketball coach Cuonzo Martin said Monday. "We owe them all immense gratitude for their commitment to saving lives and helping us get through this."
Soyoye said he still has a home in Columbia, Mo. For years, he was a family practice doctor at University Hospital, across the street from the old Hearnes Center, where he started both of his two Mizzou seasons for coach Quin Snyder. The 6-foot-9 Soyoye averaged 7.8 points per game and 6.5 rebounds for two teams (1999-2000 and 2000-01) that made it to the NCAA Tournament. Soyoye still commutes for shifts in Jefferson City, at Capital Region Medical Center, through TeamHeath.
But in Georgia, he resides with his wife, Sukkie, and their five children. He works emergency room shifts at Piedmont Columbus Regional Northside Hospital.
"It's hard, it's hard on the family," said Soyoye, who knows for sure he's had three patients with COVID-19. "You have to talk to your wife and kids and kind of reassure them that you will maintain your maximum safety. Everybody's worried. Everyone is sheltered at home. And I have to go to work. I say, 'This is the call. This is what I signed up for. I have to go.' I reassure the family that we're going to be OK. And they continue to pray for us. We are on the forefront. Somebody has to take care of those patients."
He texted the Post-Dispatch a photo from the Georgia hospital. He had on two masks and a see-through shield over his face. Gloves on his hands. The only exposed skin was his neck and the upper half of his face.
"This is what I wear to see any patient now," he said. "We assume you have COVID-19, until proven otherwise, especially if you have some respiratory symptoms. Something that looks like a cold or a flu, we assume you have COVID-19. . . .
"When you work in the emergency room, you've seen a whole lot of things. You don't know what will come to you, from somebody having a heart attack or a stroke to somebody having just ordinary flu or just a rash. You don't know what's going to walk into your emergency room at any time. So we are prepared. It's just kind of strange. We are learning as we go with this virus. We didn't know much about it until January. We're learning a whole lot about it, just like everybody else."
Greg Flaker always has been in awe of Soyoye.
Flaker played for coach Norm Stewart in the late 1960s and early 1970s and averaged 13 points per game his senior season. Flaker became a cardiologist in Columbia. And Flaker later became a mentor to this new basketball player from Lagos, Nigeria, with a keen interest in medicine.
"When he graduated," Flaker said by phone Monday night, "TJ says, 'I want to work with you on a research project.' I was doing some pacemaker studies at that time, and he helped me analyze EKGs for pacemaker patients. He was really, really good. He translated that work ethic from basketball to work ethic in medical school. And subsequently to his residency. A real success story. . . .
"So here's a guy who's on the front line, taking care of people — he doesn't know if they have it. He has to make the diagnosis and protect himself, too. What's TJ going to do if he ends up getting COVID? He's got his wife, his kids. That's a challenge. You've got to hand it to a guy like TJ who's on the front lines of medicine. I'm really proud of him."
Dave Matter brings you the latest updates from the Mizzou sports scene.