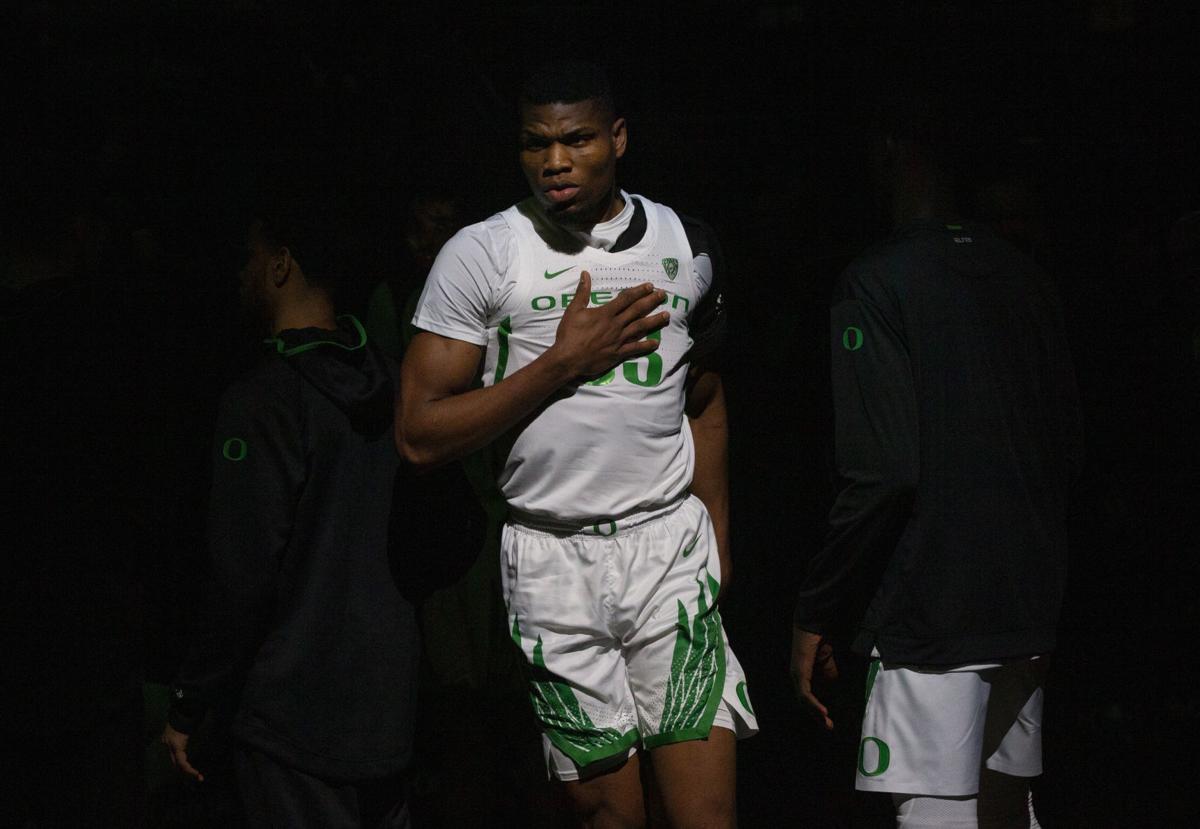 A place? A feeling? A state of mind?
Can you have multiple homes? Or is it singular — it's here, until it's somewhere else?
Francis Okoro left home to find a home. He's found a few.
Okoro grew up in Nigeria. His immediate family is still there. As a teenager, he came to the United States, assimilating in this abnormal world, settling into, of all towns, Normal, Illinois. His guardians — his aunt and uncle — are still there.
He grew. And grew into a basketball star. A four-star. The touted recruit moved to his new home at the University of Oregon.
And then, "I needed to go home." Okoro said. "Because after the death of my father, I was a different person."
During the 2019-20 college basketball season, Francis Okoro Sr. died in Nigeria. It was unexpected.
"I became worried, scared and I was thinking a lot," Okoro said by phone this past week. "Basketball was also hard because I was playing with injuries. Everything was just going down. I wasn't right mentally. I went home to see my brothers, and it made things better, just being around them. I was just excited to see my mom. But it was also emotional …"
"Seeing my dad laying down. The last time he saw me was about six years ago. Me seeing him after six years, laying down, that stuck in my head. I came back and was just trying to push. It was a tough, tough time."
A lot of times, as we analyze the growth of athletes, we get caught up in the physical growth, and it's generally always going up. Step-by-step, year-by-year, incrementally or substantially, a player improves.
And we forget how the outside world — sometimes things we know about, others that we don't — can affect an athlete's performance. If he or she starts to descend, it doesn't necessarily mean the player's growth is doomed. Sometimes, life's roller coaster takes your game on a roller coaster, too. And some of Okoro's performances in January and February, around the time of his trip to Nigeria, weren't that great. Okoro hoped that he'd rejuvenate in March. Oregon was a top-15 team, but the Ducks had some injuries. They needed new (or renewed) guys to step up.
Okoro decided: "I wanted to stay closer to home."
He meant where his aunt and uncle lived, where he went after the coronavirus pandemic ended the college year. He wanted a new basketball home, one that was close to normal and close to Normal.
"When I went to Oregon, it was kind of hard to get back home and all of that," Okoro said. "I just wanted to stay a little bit closer. And just have fun again. Start over. Get back to the gym, work as hard as I can, lift my team up when I'm not playing and getting back at it again."
Okoro officially transferred to become a Billiken. He will sit out the 2020-2021 season for St. Louis University, due to the NCAA transfer rule, but will have two seasons after that. It's a new school, but old teammates — Okoro played with current Billikens Yuri Collins, Fred Thatch Jr. and Terrence Hargrove Jr. on the St. Louis-based Bradley Beal Elite, which played in the Nike Elite Youth Basketball League.
"We had recruited him," SLU coach Travis Ford said by phone, "so that was helpful during this time period when you can't really bring kids to campus, you can't meet them face-to-face, everything's by Zoom calls or telephone. For a young man like Francis, he was already comfortable with us as a coaching staff and with several of our players. I think that helped our process along really quickly, for a young man who was getting recruited like he was getting recruited after he decided to leave."
Okoro is, as Ford put it, a "legit 6-foot-9." When he left high school — he reclassified to graduate with the class of 2018 — ESPN had him ranked as the eighth-best center in the nation.
"There is a lot of excitement for Francis, for our team," Ford said, "and the excitement I think comes from just how good I think Francis can become.
"I say that because, obviously he came out of high school with a great reputation, one of the top players. But he reclassified so he skipped his senior year. Then he goes to Oregon and plays great, starts a lot of games, but he was never featured. He wasn't one of these guys that was included in their offensive game plan a whole lot. They had really good guards around him. So for all those reasons, especially with the year sitting out (in 2020-21), his best days are ahead of him, for the fact that he kind of gets that year back that he skipped his senior year. And then he'll become a more focal point in our offense."
By phone, Okoro listed reasons he picked SLU, notably the coaches to the offensive system to a chance to go to the NCAA Tournament. And he also said something you don't always hear from athletes: "The school has my major."
Some guys pick a school and then pick a major. Okoro picked SLU in part because they had his major — geospatial information science.
"Basically," he said, "you're using computers to get data and creating maps. Just using locations to solve problems."
His guardians are proud. Doctors Emeka and Nweze Nnakwe stated in an email that "Francis has an outstanding sense of duty and initiative. We are very proud of how he takes his studies seriously. He is as hardworking in the classroom as he is in the basketball court and that makes us feel very proud of him. He is dependable, conscientious and empathetic. We are impressed with his analytical skills when making important decisions."
Such as his decision to come home … to a new home.
Be the first to know
Get local news delivered to your inbox!