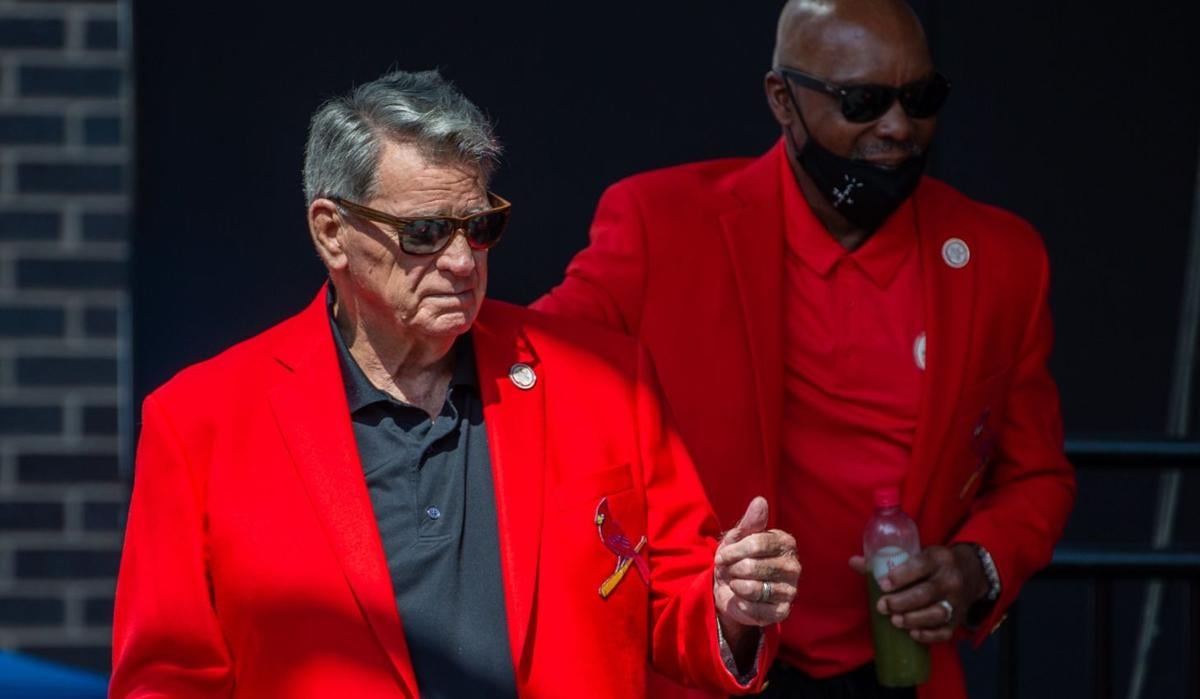 Mike Shannon is befittingly and undeniably St. Louis … and St. Louis'. He's been ours for hours and hours of innings and innings, throughout seasons of the calendars and seasons of the Cardinals. He's just always been there, the narrator of Cardinals baseball, infusing our city with his enthusiasm, permeating our culture with his personality.
And now, it's the bottom of the ninth. After 50 years in the broadcast booth, following nine seasons as a Cardinals player, the St. Louis native enters his final week of calling games on KMOX. He is leaving us, but he is leaving us with memories of moments and moments that became memories.
Still, our daily lives won't be the same. He was the connecter to the present, while he simultaneously connected with the past. His cadence is part of the cadence of our days. His great guffaw — heh-heh-heh — is the comfort food of laughs. His colloquialism is quintessentially local. Fly balls, verbally baptized as babies, no longer will "get up."
"Mike is a tremendous person who holds a special place in my heart," said another local legend, the great Olympian Jackie Joyner-Kersee. "Fifty years is an unbelievable amount time to give to any craft. His undeniable talent is a credit to his love for the game and the Cardinals family. He's going to be missed."
"Two down, sax jammed. Lavelle at the belt … Brummer's stealing home — he is saa-aafe! And the Cardinals win. Brummer stole home! The dugout comes out and they congratulate him. You wouldn't believe it! Glenn Brummer!"
I wanted to talk about Shannon with someone who knew him, sure, but also grew up on him. So, I met up at Sportsman's Park in Ladue with Tom Ackerman, the sports director at KMOX (1120 AM). Of course, we each had a cold frosty Budweiser.
"Nobody has sold more Budweisers, more hotel rooms, more Cardinals tickets than Mike," Ackerman said. "He has been an ambassador of St. Louis for a long, long, long time. … His knowledge of the game, the way he talks about the game, is so infectious. Everyone just sort of latched on to it. And he became this voice, like, you couldn't do without. I'm 46, so my entire life, when I've turned on the radio, Mike Shannon was on."
Like so many of us do, Ackerman loves the little things that make up the fabric of the broadcasts. The station break for the fine folks in Paducah, Kentucky, or Little Rock, Arkansas, or some map dot in Cardinals Nation; the playful banter between pitches; the references to longtime producer Jim Jackson; the casual name-drops of Hall of Famers who Shannon calls contemporaries.
"And I love the exchange, right before first pitch," Ackerman said. "John Rooney will talk it up, talk it up, however he frames it, and then he says: 'And with the first pitch, the voice of the Cardinals, Mike Shannon.' I … love that. I just love it. …
"It's very, very comforting to hear Mike Shannon call a game. I remember the first game we played on KMOX after the pandemic started. We started replaying games from the 2011 season. I was listening to it at home and I started tearing up, just hearing Shannon calling a 2011 game, because I missed it so much I wondered what was going on in the world, would we have baseball again and broadcast on the air is just such a familiar feeling."
"Swing and a long one, there it is baby, the Cardinals take the lead as Albert Pujols comes through! And the Redbirds lead this baby, 5 to 4! … What did I tell you folks? David Eckstein, the man. This could be a crushing blow — a crushing blow — to the Houston club. Albert Pujols — you talk about most valuable player, how is that? Woooo!"
The artist Dan Zettwoch first came to St. Louis in 1995 to attend Washington University.
"I was always a big Cardinals fan," the Louisville native said, "but the thing that turned me into a super fan was going to art school and listening to all the games on radio in the Delmar Loop. Working all those nights in the studio, I'd listen to KMOX."
Zettwoch became a successful freelance illustrator and cartoonist. He created a classic piece about Game 6 of the 2011 World Series. At one point, he was commissioned by the Missouri History Museum to do 35 wall-sized murals for the exhibit called "A Walk In 1875 St. Louis." And he once painted an homage to that voice from the art-studio radio. It's a smiling Shannon behind a microphone, and he's surrounded by his own words — dozens of "Shannonisms."
"That piece was born out of all those years listening to him," Zettwoch said. "That's actually what I like about baseball. I'm not in it for the dignified, classy. I'm here for the weird folk stories and the humor and the kind of oddball side of it."
Dubbed "The Moon Man," Shannon, now 82, is both down-to-earth and out there. He's got an authenticity that speaks to this city. He's good for at least one laugh-out-louder per game (and sometimes he'll heh-heh-heh right along with you).
He's got his standards. He'll say something like, "Ol' Abner's done it again," in reference to Abner Doubleday, inaccurately credited with inventing baseball — though, to be fair, "Ol' Alexander" is clunky. And he's got his classics, such as, "I wish you folks back in St. Louis could see this moon!" (To his credit, he later pointed out in an interview with stweekly that it could've been too foggy back home to see the moon).
"Swing and a long one into right, get up baby, get up, get up! It's at the wall, it is — off the wall! One run in! Here comes Berkman! Over to third goes Freese — we're tied, 7 to 7! … Listen to this crowd, they have gone bananas!"
Before he became a Cardinals World Series hero, the boy from St. Louis would listen to the boy from St. Louis who became a Cardinals World Series hero.
"Mute the TV and turn on Shannon! That's what people did," David Freese said. "He's just been around forever. We'd see him all the time, after games he'd come down, hang out. He was just a big part of this team in the city."
Shannon hit key homers in the 1964 and 1967 World Series, and later captured World Series moments with his calls. Shannon the broadcaster is a ballplayer first. He gets the ballplayer. Understands the game. For however quirky Shannon can be, he's quite the baseball intellectual. In this city, we all have become smarter baseball thinkers by listening to Thomas Michael Shannon.
"He has a great understanding of what's important in the game — he really gets to the heart of the matter," said Lance Berkman, who starred on the 2011 Cardinals. "His voice, the quality of his voice — there was no doubt about who is broadcasting the game. And it's kind of synonymous with St. Louis.
"And I think back to even old Busch Stadium, coming to St. Louis as an opposing player, and they would obviously always have the broadcast on in the visiting clubhouse. There was no bathroom next to the dugout, so you had to go all the way back up into the clubhouse, and you'd walk in there and Shannon's calling the action. I just remember being in that old clubhouse and hearing that kind of gruff voice."
And then, like so many of have done, Berkman did a Mike Shannon impersonation.