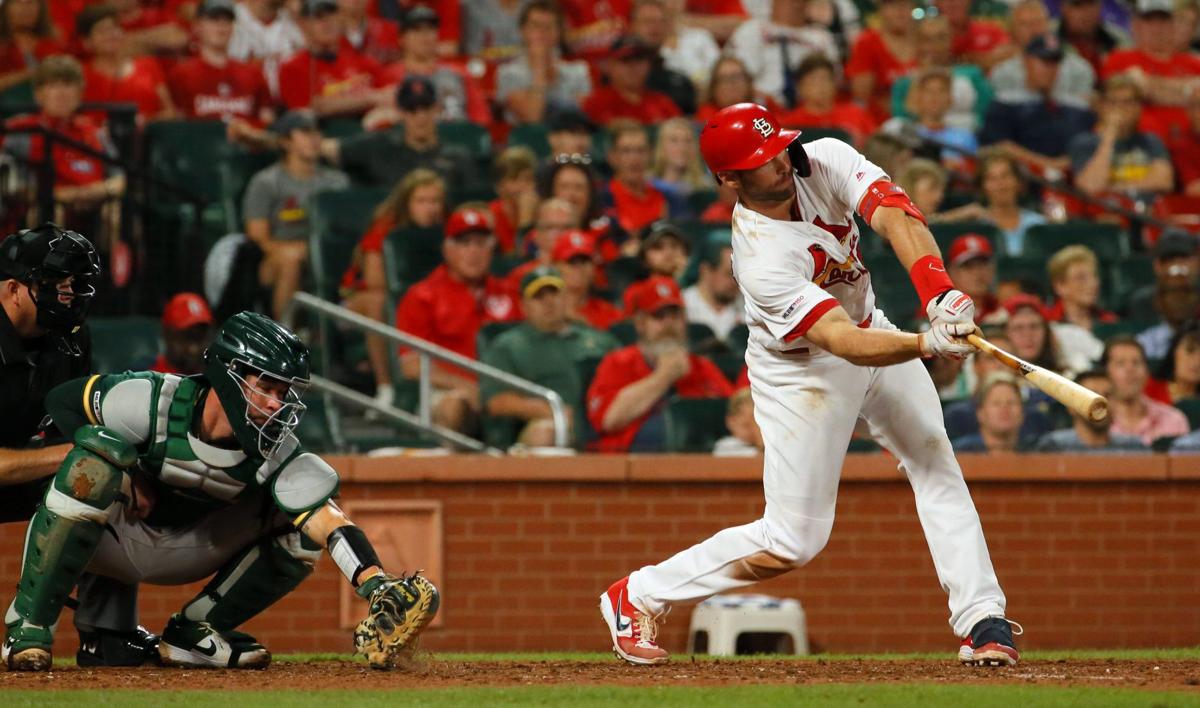 St. Louis treads somewhat lightly, perhaps because of his past production, because he chose to sign a long-term extension and because he is one of baseball's good guys. But it's got to be said — more than halfway through the Cardinals' season, Paul Goldschmidt's offense has been offensive.
He's like a Tino Martinez out there.
Clearly, Goldschmidt is not the only Cardinal who can't hit consistently. But he's the Cardinal the club could least-afford to have slumping in lieu of slugging. He was signed to be the face of the rejuvenated Cardinals, no longer this team with a win total and delusions of grandeur stuck in the '80s.
Instead, Goldschmidt is the face of mediocrity.
Of course — and for the fans who have suffered through the past 3½ seasons, here's hoping — he could have a great second half.
It happens in baseball. All the time.
Maybe Goldschmidt put too much pressure on himself to try to be Albert Pujols or some St. Louis savior. Maybe he's still adjusting to St. Louis' bigger ballpark. Maybe the new No. 46 on his back has caused psychological and spiritual misalignment, and he simply needs the 4 under GOLD and the 4 under SCHMIDT again for balance.
But 82 games into this season, the Cardinals are 41-41, and their prized acquisition is just as average.
Fans from Arizona must think his stats are typos. The Cardinals' first baseman is hitting .246 with a .336 on-base percentage. His slugging percentage is .405. From 2013 through 2018, his on-base percentage was .406!
It's all rather inexplicable. Most everyone thought he was an ideal acquisition. Yes, he's in his 30s (at 31). But at 30, he was sixth in the MVP voting. This drop is stunning. The good news for him is the Cards' final games before the All-Star break are against Seattle and San Francisco, teams that are not good at winning. Maybe it's just what "Goldy" needs — he mashes at the Giants' park, slugging a career .569. But at this point, you can't really speculate anything with Goldschmidt. Or any of the Cards' hitters.
Even with the 5-3 win on Sunday, there was so much to pick apart. Jose Martinez's slow play in right field, which led to Fernando Tatis Jr. dashing from first to home on a single, as if Tatis Jr. was a descendant of a different former Cardinal (be it Enos Slaughter or Miguel Mejia). Meanwhile, Goldschmidt swung on a 3-0 pitch in extra innings and grounded out. And what was with that decision for Yairo Munoz to try to steal second with a key runner on third base?
And even though they won, stealing a game from San Diego, it took them 11 innings to tally nine hits. And that included one from a pitcher and a couple of infield squibbers that turned into singles, one by Goldschmidt.
Incidentally, he grounds out a lot. His ground ball percentage is 43.1 this year, compared to 38.6 last year. And while he's been in the low 40s before, that's been complemented with much mash.
This season, Paul Goldschmidt has 14 homers and 31 RBIs.
And Goldschmidt tallied three of the 14 homers in just one game — in Milwaukee, in the first series of the season. That was one of the more-magical performances fans had seen in years. Alas, it was no dinger-binge harbinger.
From April 23 to now, he's played 60 games. He's hit five home runs.
The Cardinals are 12th in the National League in homers, with 97, and this is in a year, across baseball, with the most homers ever hit before the All-Star break. The onus isn't only on him.
Goldschmidt's June was particularly paltry. He hit .181 with a .274 OBP and a slugging percentage of .309. While the rest of the country will celebrate when it becomes the Fourth of July, Goldschmidt might just celebrate that it's the First of July.
And all the fancy advanced stats back up the fact that Goldschmidt has been a bust so far. Yes, his glove has been an upgrade. Baserunning, too. In Sunday's win, a head's up play while rounding third base led to a key run.
But at this point, it's all rather frightening. When can he turn it around? The same can be said for Matt Carpenter. Or Dexter Fowler. Or Harrison Bader. Or Kolten Wong. Or even All-Star Paul DeJong, who made the All-Star team Sunday despite a .632 OPS (on-base plus slugging percentage) in the past 40 games.
It's easy, natural and sometimes even cliché to call for the head of the hitting coach. Yes, as the season progresses, we'll continue to monitor and analyze Jeff Albert's role in the Cardinals' offensive slide. He arrived as a heralded hitting guru of sorts. Now, the whole offense is out of sorts.
But the accountability, first and foremost, goes on the players. And nobody has underachieved more spectacularly than Goldschmidt. Yes, other guys have worse numbers, but no one was expected to do more — and has done less — than No. 46. Again, we're talking about 82 games here, compared to seven previous seasons of great baseball. This is not giving up on Goldschmidt. It's wondering: What must be done to make him play at least somewhat like his old self?
With the addition of Goldschmidt, the Cardinals looked like a playoff team. But according to the playoff odds on baseball-reference.com, the Cards entered Sunday with an 11.3 percent chance to make the playoffs (and an 0.3 percent chance to win the World Series).
If there's any city that can find hope in a team's awful start, it's St. Louis in 2019.
But if there's any fan base that deserves to be awfully mad, it's also St. Louis in 2019.
SAN DIEGO — It wouldn't have mattered how far Matt Wieters' home run traveled or how many stories it climbed up the Western Metal Supply Co. b…
WHO'S FIRST AMONG ALL THE GREATS?
Paul Goldschmidt figures to be the latest star in the pantheon of Cardinals first basemen. That position, which probably has had more standout players than any other position in club history, encompasses the likes of Pujols, Musial, Bottomley, McGwire, Hernandez, Mize, Clark, Cepeda and White. Then add on Collins, Torre, Guerrero and Allen.
Ranking them is a challenge but, when in doubt, I will err on the side of longevity at the position while those players wore Cardinals red.
Spoiler alert: Neither Tino Martinez nor Bob Horner nor Joe Hague made the cut. Not even Matty Alou. Here are the 15 best:
15. ALLEN CRAIG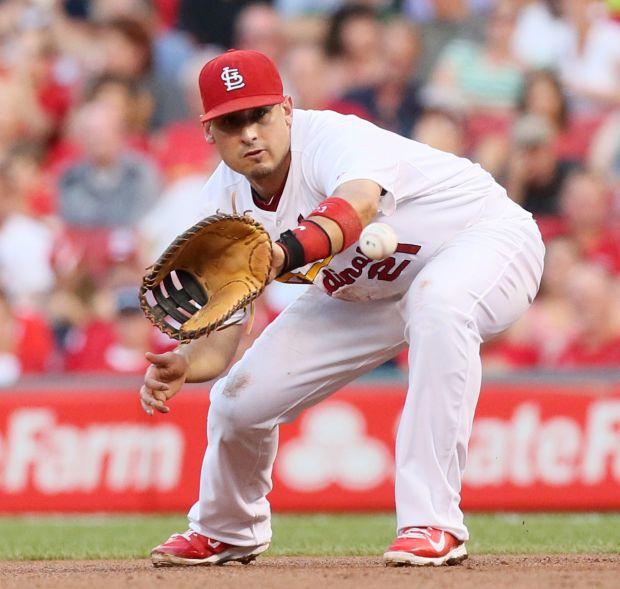 COMMISH ON CRAIG: In 2012 and 2013, Craig played mostly first base for the Cardinals and unequivocally was the best clutch hitter in baseball, hitting .400 with runners in scoring position in 2012 and .454 in their World Series season of 2013, driving in more than 90 runs both years and hitting .307 and .315, respectively. But his career took a left turn after a late-season foot injury as he tried to avoid an umpire at first base in 2013. He was traded to Boston, struggled there and now is a San Diego minor leaguer.  
14. DICK ALLEN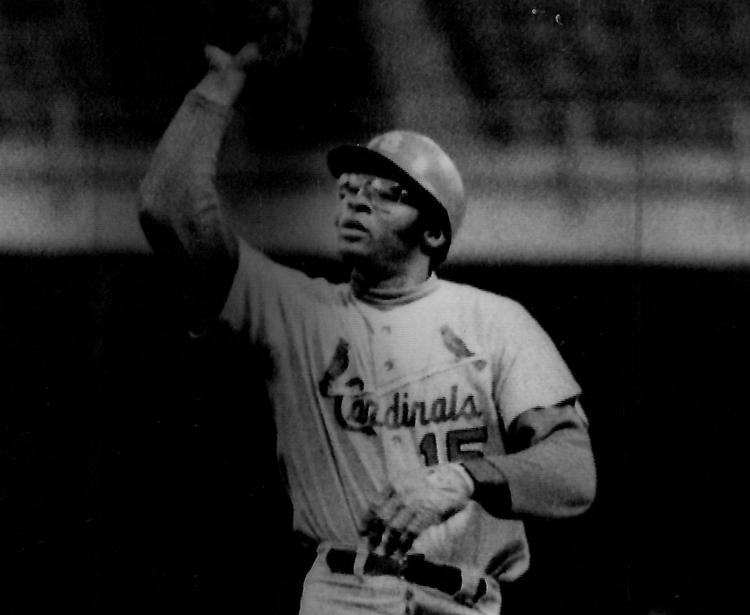 COMMISH ON ALLEN: Just one season here, punctuated by injuries which cost him 40 games. But when fairly new Busch Stadium II was at its biggest, he was McGwire before McGwire, hitting 17 homers at home, besides the 17 on the road. He was traded by the Phillies to the Cardinals after the 1970 season in a deal which sent four players to Philadelphia, including Curt Flood, who famously didn't report and ultimately sued baseball over the reserve clause. 
13. PEDRO GUERRERO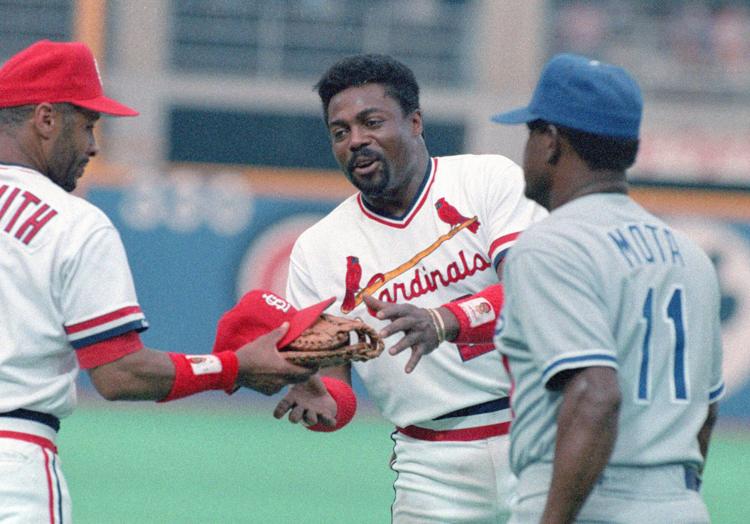 COMMISH ON GUERRERO: The Cardinals' regular first baseman from 1988-92, Guerrero's best was his 1989 season, when he coaxed 117 RBIs out of 17 home runs although he had a league-leading 42 doubles. Guerrero, a potential free agent after the 1991 season, was offered salary arbitration, with the Cardinals assuming he would reject it and they would get a draft pick for him if he signed elsewhere. But Guerrero surprised them, accepted it and became a Cardinal again in 1992 but played only 43 games because of a shoulder injury. He wanted to pinch hit here on the final day, but didn't want to if an out would put his career below .300. Guerrero flied out but his final average rounded up to .300. 
12. GREGG JEFFERIES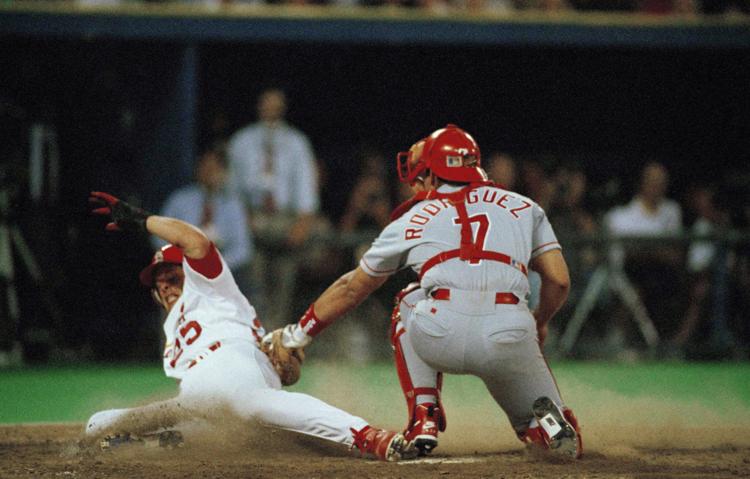 COMMISH ON JEFFERIES: A sneaky entry here. Hardly a glove man _ that's why he was at first base rather than his accustomed second or third _ Jefferies could hit. And run. His .342 season with 46 stolen bases, 83 RBIs and just 32 strikeouts in 544 at-bats in 1993 was one of the most efficient offensive seasons in the last 25 years by a Cardinals hitter. Then, he hit .325 in an abbreviated strike season in 1994 before signing with the Philadelphia Phillies. He never had another season rivaling his two here. 
11. JACK CLARK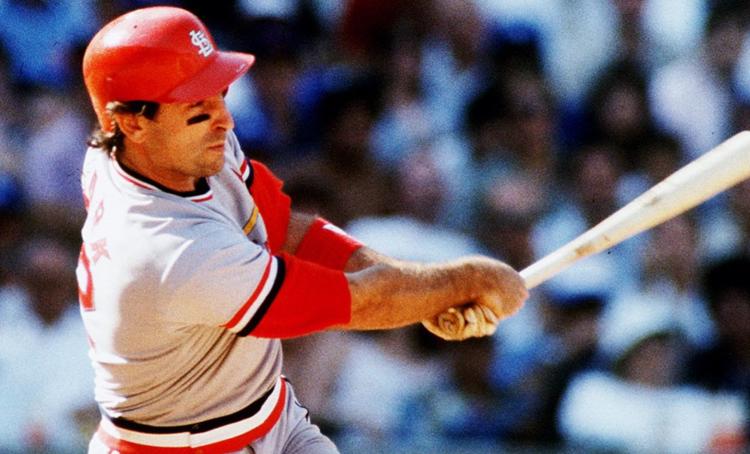 COMMISH ON CLARK: What if Clark hadn't injured himself awkwardly sliding into first base in a one-sided September, 1987 game in Montreal? He would have been able to play in the World Series, that's what. And he would have had some 20 plate appearances in the cozy Metrodome in Minnesota, where the Cardinals lost four games in a seven-game Series. Surely one or two would have been home runs. As it was, this "Ripper" hit 35 home runs and drove in 106 that year while missing 31 games. 
10. RIPPER COLLINS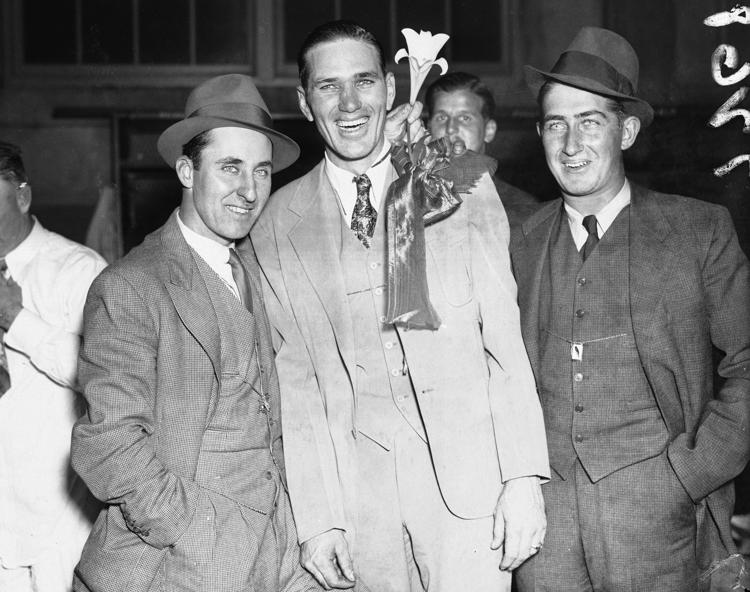 COMMISH ON COLLINS: James "Ripper" Collins was one of the prime power sources for the 1934 "Gas House Gang" World Series champions with 35 homers, 12 triples, 40 doubles, a .333 batting average, 128 RBIs and a 1.008 OPS. In six seasons with the Cardinals as Bottomley's successor, Collins batted .306. Collins, a 5-foot-9, 165-pounder, is the only first baseman to twice go an entire nine-inning game without a putout.
9. ORLANDO CEPEDA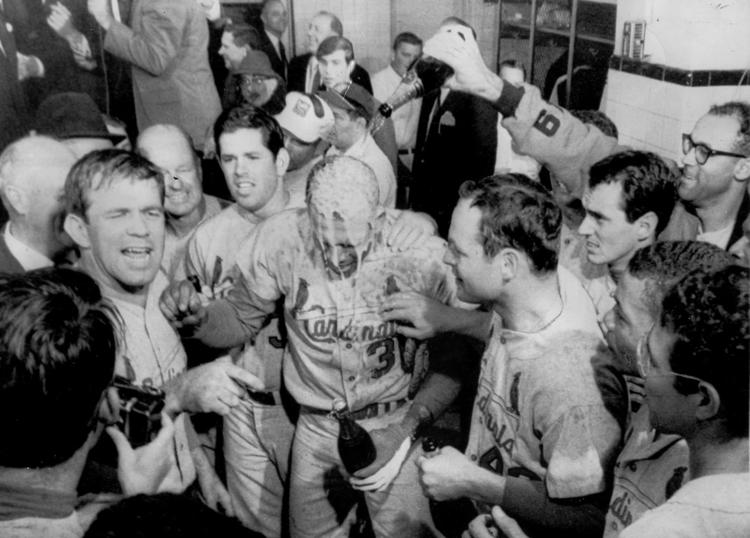 COMMISH ON "CHA-CHA": Also known as "Baby Bull," Cepeda was here for only two full seasons and part of another, but the two full seasons resulted in two National League pennants, one World Series title and an MVP selection in 1967 when he hit .325 and drove in 111 runs. He was the epitome of "El Birdos" until he was traded after the 1968 season to Atlanta for future MVP and fellow Hall of Famer Torre. 
8. JOE TORRE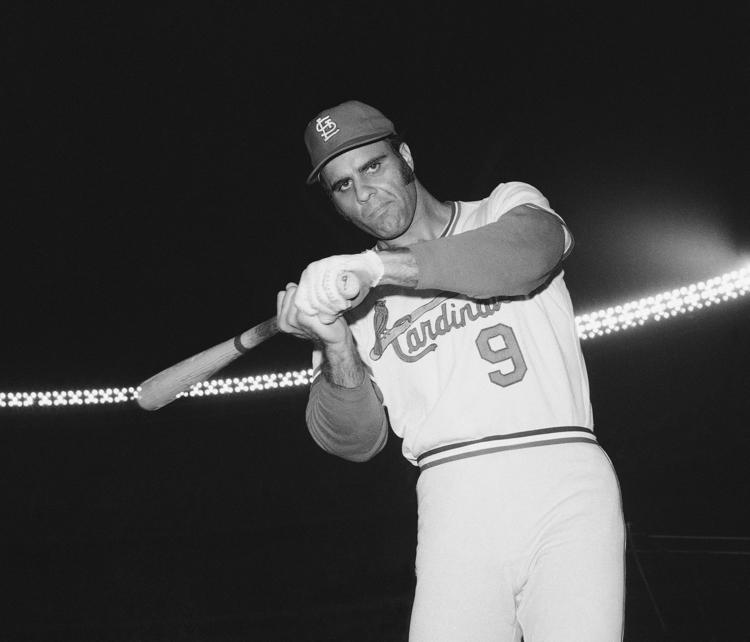 COMMISH ON TORRE: Also the club's regular catcher and third baseman at times during his seven-season playing career with the Cardinals. Torre actually enjoyed his top season while playing third in 1971 when he won the league batting title at .363 and the MVP award. Torre was traded to the New York Mets, clearing the way for Hernandez in 1975. Later, Torre, a future Hall of Famer, returned to manage the Cardinals from 1990-95 but didn't win a championship as a player or manager with the Cardinals, although he won four World Series as Yankees manager.
7. BILL WHITE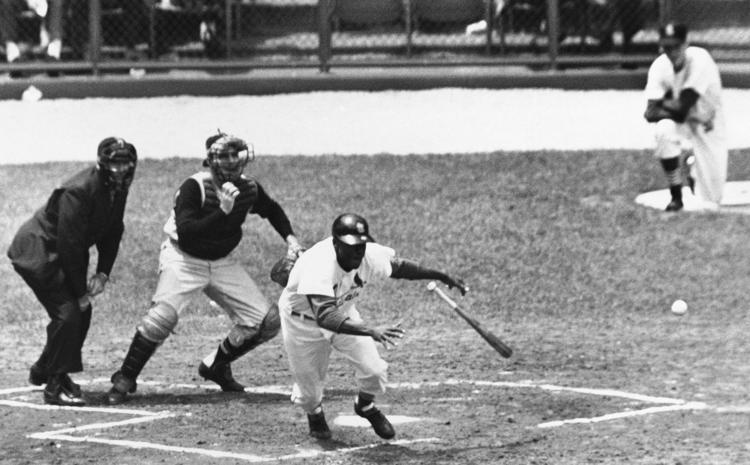 COMMISH ON WHITE: The Cardinals' first baseman for seven years, including the 1964 World Series champions, White also six Gold Gloves as a Cardinal and drove in more than 100 runs three times here while averaging .298. One of the most durable players of his time, White missed just 15 games in a four-season stretch from 1961-64.  He broadcast the New York Yankees for 18 seasons and then became NL president in 1989, becoming the first African-American to hold that high an office in pro sports.
6. KEITH HERNANDEZ
COMMISH ON HERNANDEZ: He didn't have the power numbers of the first basemen ranked ahead of him, but he did win the batting title (.344) and shared the Most Valuable Player award with Willie Stargell in 1979. He also drove in the tying runs in the Cardinals' seventh-game World Series win over Milwaukee in 1982. Defensively, might have been the best in this group, winning six of his 11 Gold Gloves as a Cardinal. 
5. MARK MCGWIRE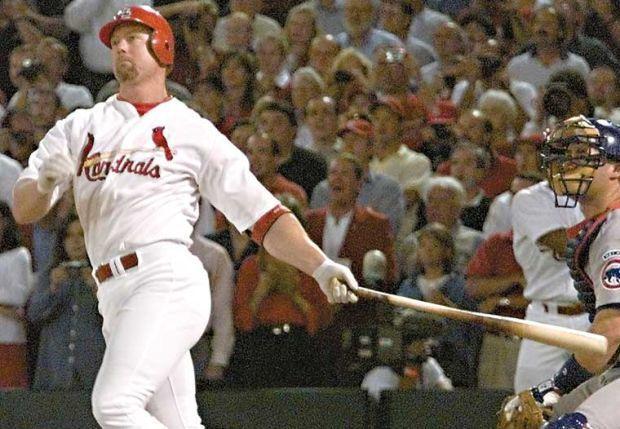 COMMISH ON BIG MAC: Only four full seasons here but what an impact he made. After hitting 24 home runs in 51 games after coming in trade from Oakland, McGwire exploded for a then-record 70 and then 65 in the next two seasons. Even in his final two years, this fan favorite  banged a total of 61 although he played in only 186 games in that span. Left $30 million on the table when he retired after 2001 season. 
4. JOHNNY MIZE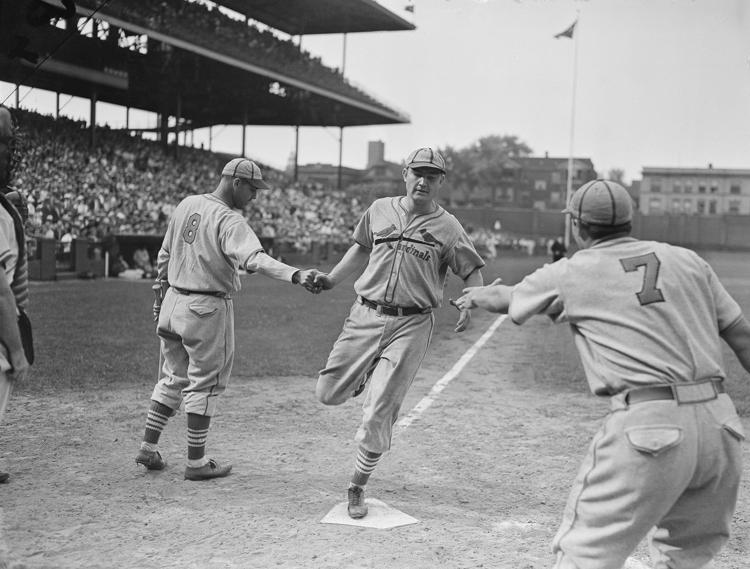 COMMISH ON MIZE: In six seasons with the Cardinals, "The Big Cat" hit 158 home runs, averaged.336 and had a whopping 1.018 OPS, going over 1.000 in four seasons, the final three leading the league. In his best year, 1940, the future Hall of Famer topped the NL with 43 homers and 137 RBIs. Mize was dealt to the New York Giants for three players and, more importantly, $50,000, before the 1942 season, so he missed the Cardinals winning four pennants in five years. 
3. JIM BOTTOMLEY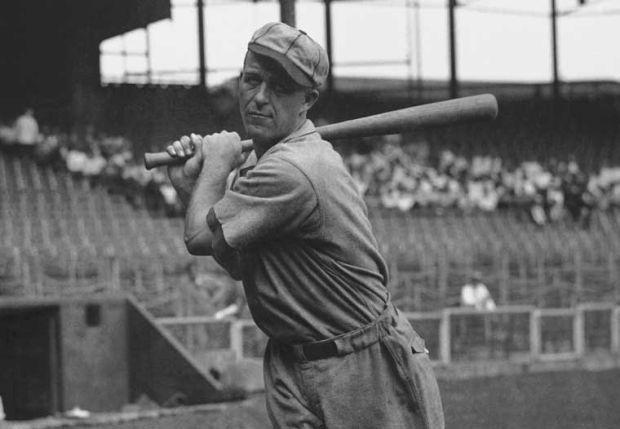 COMMISH ON "SUNNY JIM": Except for three innings at second base in 1924, first base was all this Hall of Famer played for the Cardinals from 1922-32, a period when he was on two World Series champions. Bottomley's best season was his MVP season of 1928 when he hit .325 and led the league in triples (20), homers (31) and RBIs (136). Did you know that he finished his career with the Browns in 1936-37 and, at age 36 in 1936 he had 11 triples and drove in 95 runs? As you might suspect, he was so nicknamed because of his cheerful disposition. 
2. STAN MUSIAL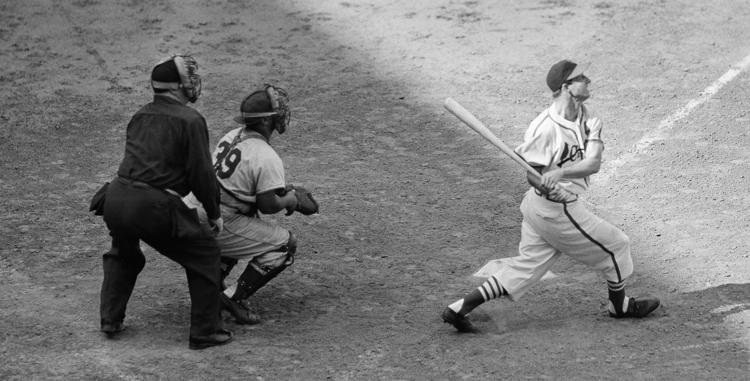 COMMISH ON THE MAN: This may be the only category Musial will rank second to anyone in Cardinals history but he played more games in the outfield than at first at 1,890 to 1,016.  Musial's best season as a first baseman came in 1946 when he led the league in batting average (.365), runs (124), hits (228), doubles (50), triples (20), slugging (.557) and OPS at 1.021. He also was the league MVP that year, one of three such awards The Man would won on his way to the Hall of Fame.
1. ALBERT PUJOLS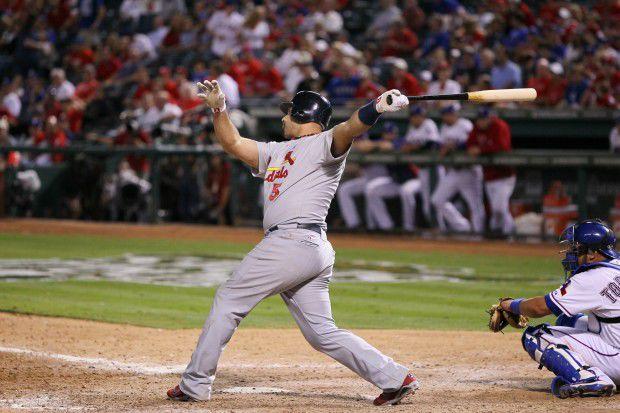 COMMISH ON PUJOLS: First base was his primary position from 2004-11 with the Cardinals. Included in that time were Most Valuable Player awards in 2005, 2008 and 2009 with the 2009 season his all-round best at .327 with 47 homers, 135 RBIs and a 1.101 OPS.  Pujols also bagged Gold Gloves in 2006 and 2010 and gets the nod over Stan Musial because Pujols played 300-plus more games than Musial at that position here.