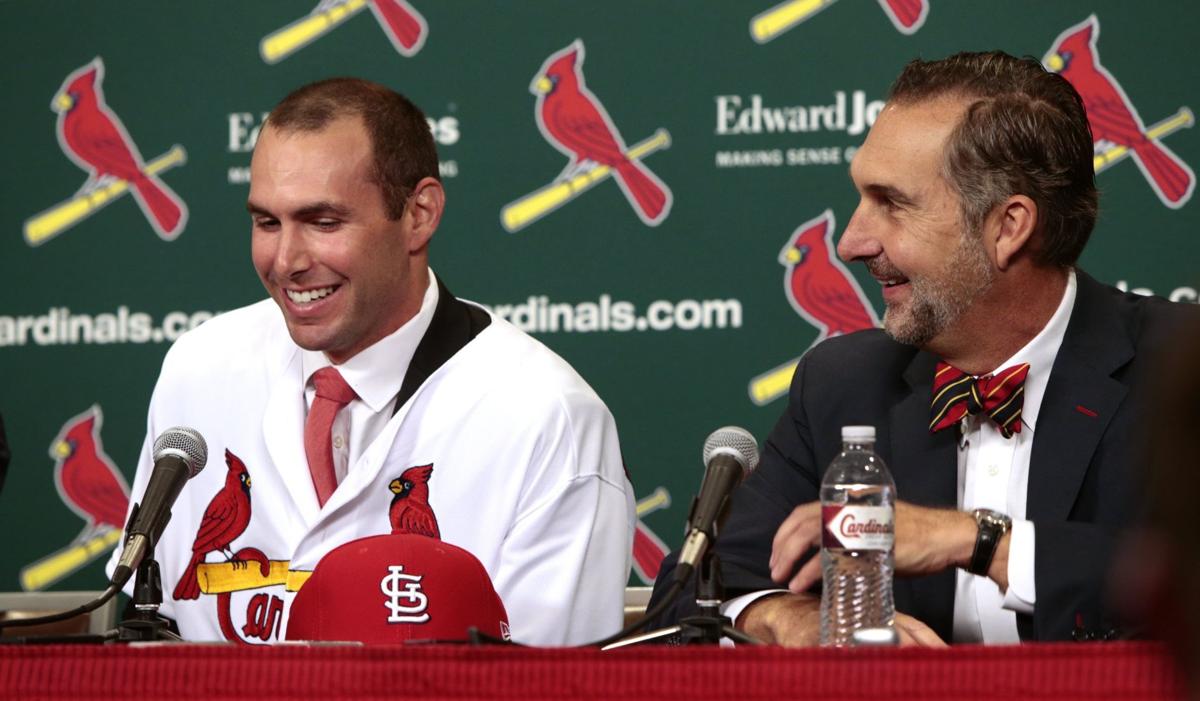 Now looking back, of course it was a ornithological omen.
Earlier in 2018, a golden cardinal was spotted in Alabaster, Ala. It made the news. A bird curator at Auburn University called it a "one in a million" genetic mutation that made its red feathers a different color.
And now, there's another golden Cardinal — the glistening superstar and Gold Glove winner, Paul Goldschmidt.
He was spotted Friday in St. Louis. There he is. It was quite a spectacle as the Cardinals announced the acquisition of the first baseman. And wearing a jersey with the red birds on the gold bat, Goldschmidt finally spoke about his new role here.
He was asked about his resumé, resplendent in almost every way, except for one omission.
He's here to try to win a World Series.
"That's 100 percent where my focus is," the first baseman said. "And there's some world champions on this team  I'm ready to learn from them and see areas I can improve and ways I can help — and try to carry on the tradition of this organization."
Paul Goldschmidt puts the Cardinals closer to the playoffs than they have been since 2015. This is not to say anything is guaranteed. But the trade for this perennial MVP candidate gives St. Louis the on-paper power to compete with the Cubs and Brewers. To get into the tournament.
It could be the ultimate win-win for the ultimate win — a player and a franchise uniting to win it all.
"We felt like an additional impact player could put us over the top," Cardinals chairman Bill DeWitt Jr. said Friday, while wearing a red tie, as did Goldschmidt and execs Michael Girsch and John Mozeliak (though Mo's was a bow). "Paul is a perfect fit for our club. last year, we won 88 games, had a wonderful second half – struggled in the first half – and were so close to the playoffs."
Goldschmidt, multiple times Friday, described his desire to win a title. He spoke of his trips to the postseason with Arizona. "And there's nothing better than that," he said. "Those are my fondest memories with the Diamondbacks. It's probably my one regret — that we couldn't bring a championship to Arizona when I was there."
Goldschmidt's "team," however, has gone to the World Series before. He was 17 in the fall of 2005, a teenager sitting in center field with some buddies at Game 5 of the National League Championship Series. Yes, Goldschmidt grew up an Astros fan in the Houston area.
"I just remember it being really loud, everyone's on their feet," Goldschmidt shared Friday. "There's two outs and the Astros were about to go to their first World Series … and Albert hit a three-run homer off (Brad) Lidge, who was a one of the best closers in the game of the time."
Yup, Paul Goldschmidt was a teenager in the stands when Albert Pujols hit his famous homer.
"So the place got silent in a hurry," Goldschmidt said. "And I remember walking out of there, ripping up my ticket and being mad. But the Astros were able to win the next game. I didn't get to go watch them (in person) in the World Series, but it was a cool moment for that organization — and they were able to win it all a couple years ago. St Louis and Houston, when I was growing up, those are two of the better teams they were always going back and forth. I got to see a lot of the Cardinals. I'll definitely remember that as a kid."
Of course, it's been well-documented how much Tony La Russa adored both first basemen. La Russa managed Pujols here and then was an executive with Arizona, and he often compared Paul to Pujols.
Pujols got his first World Series championship in 2006 and added to his legacy with another ring in 2011.
Goldschmidt now plays his position over at first base. A rare bird where another rare bird was once perched.
Be the first to know
Get local news delivered to your inbox!