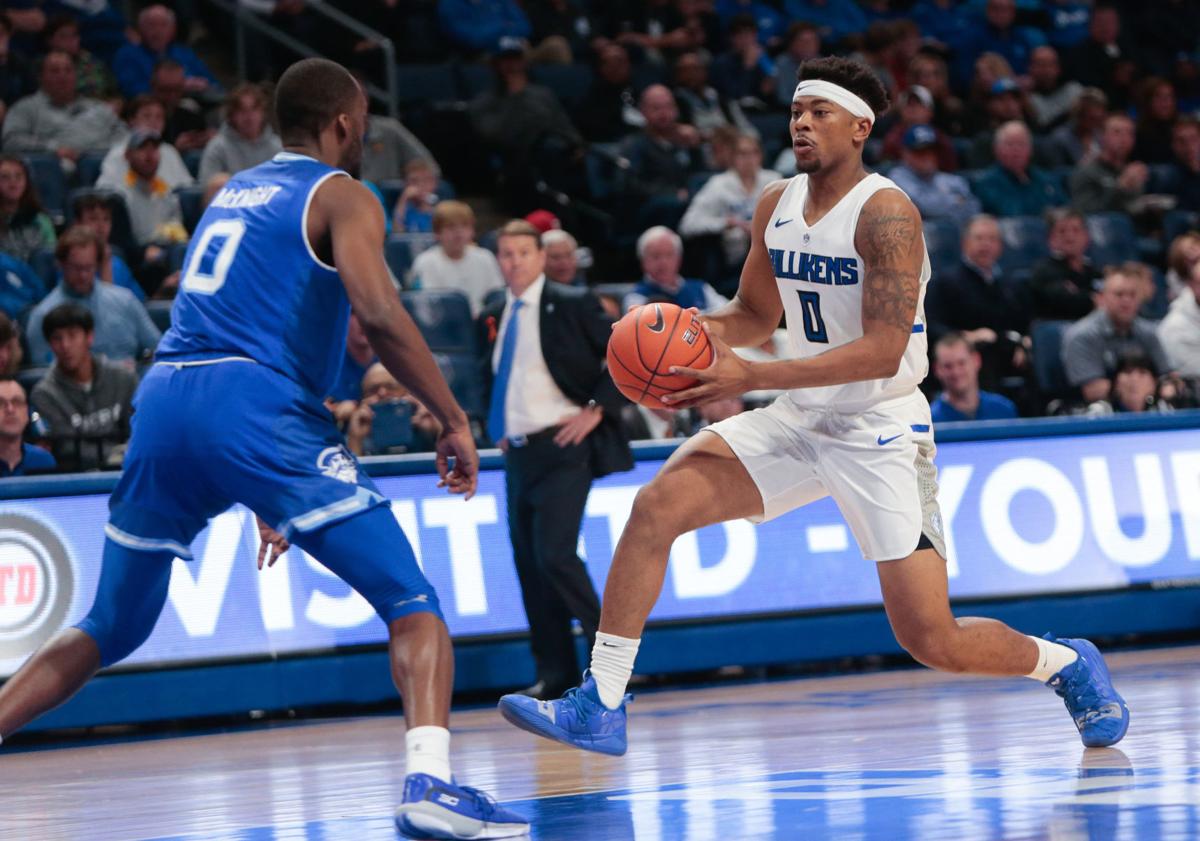 Jordan Goodwin leads the Billikens in points per game (15.2), rebounds (11.4), steals (2.2) and minutes (33.9), but one of his more important contributions isn't quantifiable.
See, he leads the team in leading.
That said, St. Louis University coach Travis Ford tried to put it into numbers.
"I think his leadership has probably attributed to four to five wins," Ford said. "Just his leadership alone."
It's easy to be wary about another column about some sports team's leader. It's almost become a cliched topic. And every team, even the bad, bad ones, has some sort of leader. Why is this particular leader that much more interesting than any other leader?
Well, here's the thing about Goodwin. If you spend time around the Billikens, everyone brings up his leadership — it's his identity, more than being one of the rare players in the country who averages a double-double. And what's cool about his story is he wasn't preordained to preach and teach. He's evolved — and is still evolving — as a leader.
"In high school, my coach gave me a leadership role, but I didn't take it too seriously," said the former Althoff Catholic High School star. "I didn't really give it any thought, because I didn't know how to become a leader. So coming here, when I saw Javon (Bess) get the leadership role, I just learned a lot. I really took that challenge upon myself to see how guys reacted and how could I talk to them. Just talking to them different ways, because you can't talk to every person the same. ...
"I'm just going to keep playing my role as a player/coach."
A player/coach! How often do you hear a player refer to himself or herself as that? And he's only a junior.
The Billikens are 11-2 and enter conference play Thursday at Duquesne (10-2). SLU's record is sterling, but not all 11 were blowouts. Many, in fact, were grind-it-outs. That's where the player/coach came in to play (and coach).
"There are games we had to figure out how to win," said Ford, whose team plays sometimes up to seven newcomers. "The Maryville game. He's really stayed positive within the huddle. He's leading guys and trying to figure out just how to get through it. Positive leadership. Not worrying about how he's playing. And this is a progression for him — so much maturity from him and growing. 'I'm not worrying about how I'm playing — I'm going to lead.'
"And I get on him a lot during games. He takes it, moves on and continues to lead other guys. I can go on and on about what his leadership has meant and how impressive it's been. There have been several games we haven't played well but figured it out. Boston College, we got off to a tough start. He just kept everybody together."
Another cliché about leadership is the ol' "leading by example." How often do you hear that in sports? Sometimes it's just code for "a guy who scores a lot but isn't vocal." But if there was ever an example of someone actually, truly, categorically leading by example, it would be Goodwin. Because how hard does this guy play? He is 6-foot-3, and he's ninth in the nation in rebounds per game (11.4). And on the list of the top-100 rebounders in the country, he is the only player 6-foot-3 or shorter. And he's ninth overall!
"I use him as an example every day," Ford said. "He plays hard and he competes — it's not that he's out-jumping people. Everybody can do what he does — if they had his motor of competitiveness. And not everybody does."
Ford reveres Goodwin, often comparing him to Marcus Smart, the best college player Ford ever coached. And Goodwin reveres Ford, often talking about how the coach has brought out these cool, Smart-like characteristics in Goodwin. But sometimes during a SLU game, you'll see Ford screaming his head off at Goodwin. It's almost over-the-top. What's that all about?
"Sometimes when he's got to get on somebody, I take it upon myself to talk to the player that he wants to talk to," Goodwin said. "That does a lot of things to my teammate, just so he can hear it from someone else, instead of always hearing it from coach.
"And I feel like coach has so much to worry about, I can cancel out a little five-second deal, and coach can concentrate on something else. … I'm just trying to do anything I can do to possibly lead these guys. Just keep our heads high. But make sure we don't get too high on wins and not too low on losses, because we'll probably have a game in the next two days. My main thing is keeping these young guys focused and level-headed — and showing them that every possession counts."
Terrence Hargrove Jr. is one of those young guys. The SLU true freshman has known Goodwin since high school, back when Hargrove was a young, budding player in East St. Louis. Hargrove said that Goodwin and fellow junior Hasahn French "steer the boat." That Goodwin is like a "big brother" to the younger players. That Goodwin's key role on the team is "to lead."
"What he does in practice is amazing," Hargrove said. "How he talks and keeps us tight whenever we're going through lulls. And in the game, too. He makes us better as a team. You couldn't ask for a better leader.
"Bottom line, he plays hard. Gives it his all. He has a goal in life. He wanted to make it. He wants to put on for his family. Coming from Illinois, where it's hard, Centreville, Illinois, it's hard. So he wants to see better and give his family better. So that motivates him to go out and play hard."