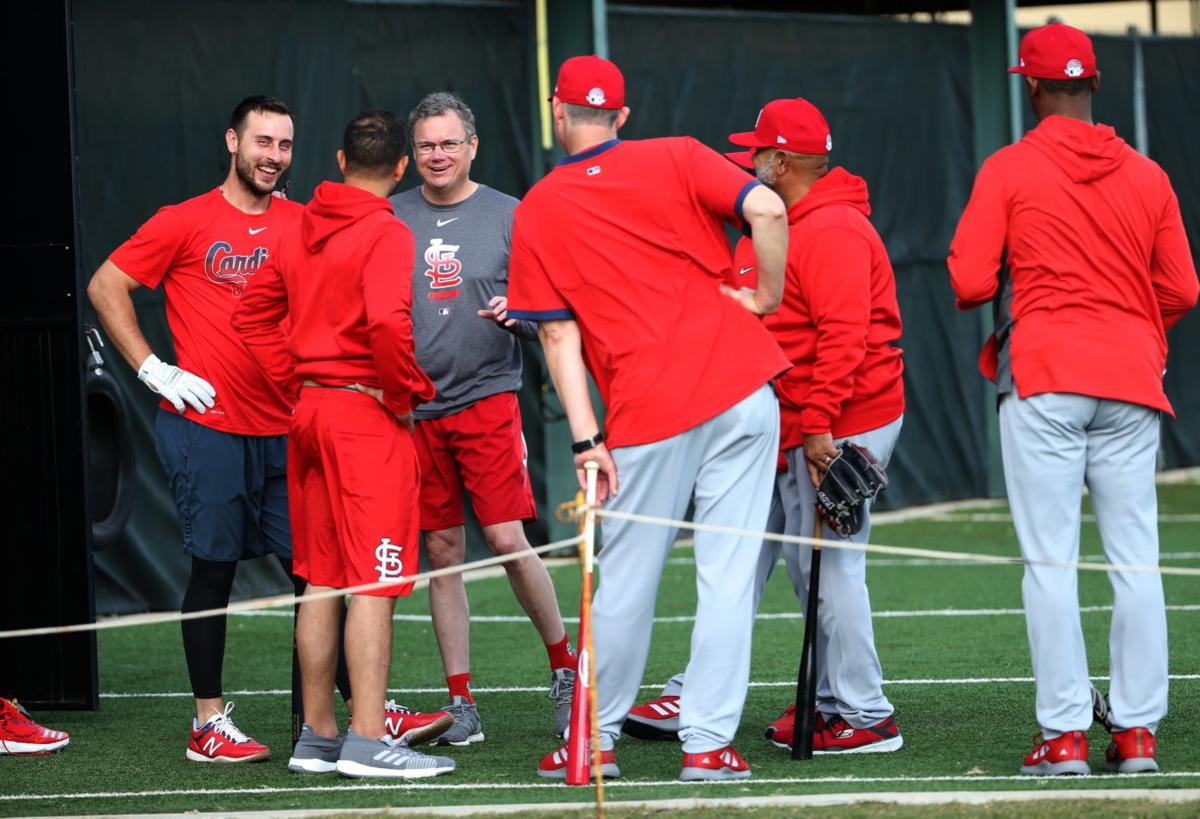 JUPITER, Fla. — The year 2019 was a triumph in cinematography. Roger Deakins' envelope-pushing in "1917," with Deakins' innovative "single shot" recreating history and making history, got his name inside an Oscar envelope. Robert Richardson shot "Once Upon A Time In … Hollywood" on 35mm film, a twist as delightful as those in the movie itself.
But perhaps 2019's most raw and revealing cinematography came from an outsider in the field (and, as it was, an outfielder in the field). Randy Arozarena took viewers inside the Cardinals' clubhouse as he live-streamed a celebratory speech by manager Mike Shildt … who cursed seven singeing times.
The Cards had just won the heated National League Division Series in Atlanta. The Cuban rookie Arozarena didn't speak much English and didn't realize what he was sharing over social media. The video went viral and Shildt apologized the next day — not for his passion, but for his language.
Four months later, the Oscar-snubbed Arozarena is now with Tampa Bay, and here in Jupiter, Shildt enters his second camp as Cardinals manager — and the reigning NL manager of the year. Shildt was described by John Mozeliak, the president of baseball operations, as "someone that definitely has a very reserved side to him." But the video changed a lot of people's perception of the manager. In a weird way — did Randy Arozarena accidentally do Mike Shildt a favor?
"I definitely think it helped Shildt, for sure," Cardinals second baseman Kolten Wong said Thursday. "Just to kind of show people like, you look at him and he has the glasses and people always take him as this quiet, easy-going guy. You see him on the field, he doesn't really move from his position (in the dugout), doesn't get too excited. But when you're in the clubhouse, you know what kind of fire that guy's got, and it pumps us all up. Because you've got to be able to be professional, but behind closed doors, you've got to be able to turn it up for the boys."
Turns out you can't hide the "Hyde." There are two Shildts. And it's wonderful. The combination is ideal for this Cardinals club, which is made up of both types of personalities. Sure, yes — most clubs have a mixture of personalities. But the more we learn about Shildt, the more we learn that he fits with this roster because he's able to chameleon into the right role for the right guy without losing any authenticity — since both "Shildts" are Shildt.
"You got to be able to back up your players like Shildt has proven to us," said Wong, a reigning Gold Glove winner. "You also have the ability to be a fatherly figure. Because, man, it gets tough. You're playing every day and if things aren't going well for stretches at a time, you need somebody to have your back and say, 'Hey man, it's OK. We're all human. You're going to get through it.' Shildt does it all."
Mozeliak praised Shildt for knowing "what buttons to push" with his team and, even, with the media and fans. Shildt can come across as bookish, which isn't a bad thing, it's just a thing. A student of the game, he's a measured baseball thinker who likes communal talk about the game with his players. And he speaks softly in media sessions (often with his hat bill low, which actually is a topic of conversation among some fans, as if he's trying to conceal his eyes). He is a rare manager who never played professional baseball, so fans also don't have old memories of him as a ballplayer, which might've changed the perception of him.
But "the other Shildt," Randy's Shildt, does change perceptions. And the reality is, Mike Shildt is a fiery guy who was raised on baseball but also raised in baseball — as a boy, he worked in an Orioles' minor-league clubhouse, so he's heard some shildt over the years. As Cards' manager, Shildt has his players' back with as much pride he wears the birds on the bat on his front. He'll stand up for his players in front of an umpire — sometimes, to make sure he's ejected instead of the player. He will speak his mind loudly (yes, loudly). His players love him for that. And he sure loves his players.
His famous line is that he's not here to judge you, he's here to love you. But, Shildt shared, there are times where he passionately has to motivate a player.
"It's still love. Love doesn't always mean hugs," he said. "There's tough love, too. Some of the personal things, some of the best love someone's shown me is when they told me something I didn't want to hear — but I needed to hear. Because they cared about me. And then followed it up with some action or something that says, 'Hey, I can help support you.' It has a lot of different connotations, I suppose."
Carlos Martinez, the resplendent young talent who's been irresponsible at times, speaks highly of Shildt because "he believes in me, and I believe in him," Martinez said. "I text him and he texts me all days (in the) offseason. We have good communication, me, him, Mo. We're trying to be more focused and be smart. … We are texting like friends."
Shildt cherishes the personal touch that comes with managing — perhaps his favorite button to push. Pitcher Alex Reyes said Shildt "texts me a lot of Bible things. He sends me one every day — I pretty much wake up and read them."
As the skipper of the defending division champs, Shildt understands what it takes to win as a major league manager. Sometimes, it takes two versions of him to do it.