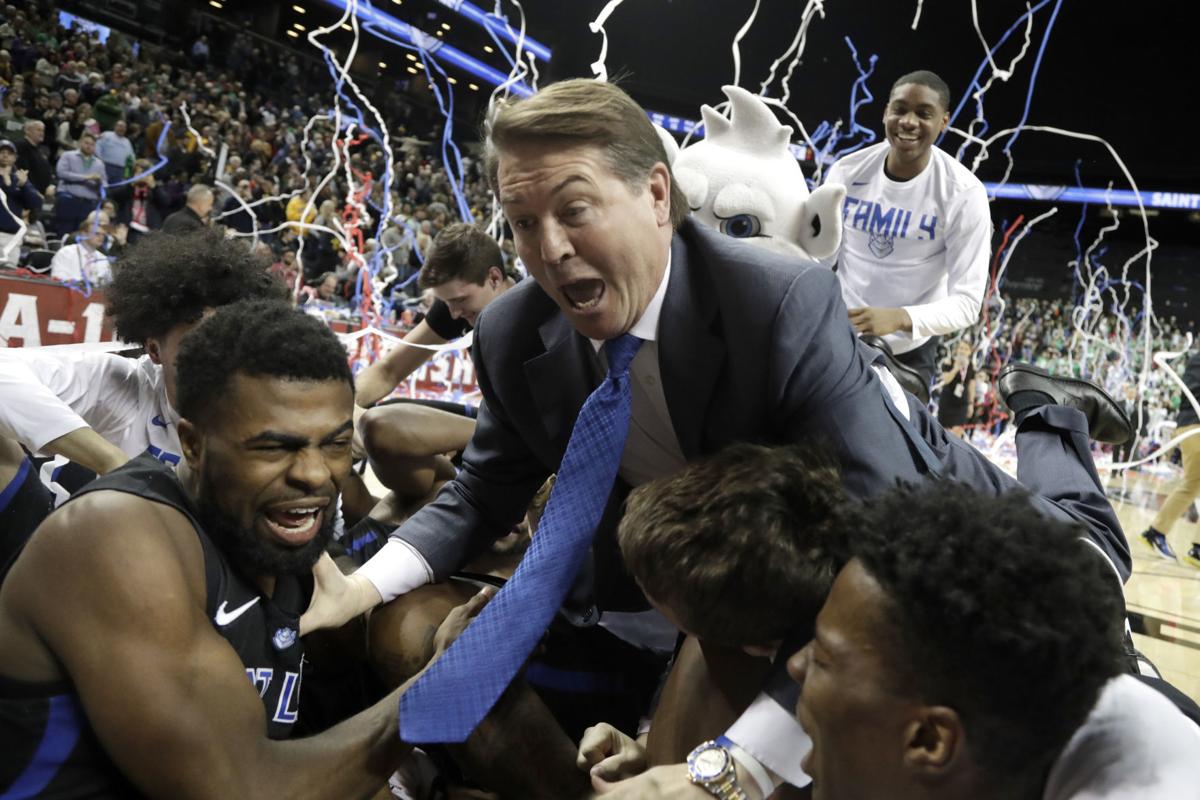 We are currently in the third month of the year, the 31 allocated days between February and April. But this isn't March.
It's not March if there aren't brackets and buzzer-beaters and a 12 beating a 5-seed and that CBS intro music and Kansas underachieving and your sudden irrational fandom for a college you can't even locate and some new hero entering our sports orbit and, of course, "One Shining Moment."
The ball won't be tipped. Conference basketball tournaments and the NCAA Tournament itself have been canceled. Right away, the decision is right. These games would've otherwise perpetuated the spread of coronavirus. For those who say it's all an overreaction, go tell your favorite player's grandma that there would've been nothing to worry about with her cramped in the arena stands. Still, it's all rather emotional that the Big Dance is canceled, that this month is madness-less.
"The one and only thing that matters is the health and safety of people, but beyond that, there's still so much to feel sad about," said Frank Viverito, president of the St. Louis Sports Commission, which was responsible for bringing the now-canceled NCAA Tournament games to Enterprise Center this month. "The people who work, the fans who cheer, the kids who play. Just from the little world of sports, how many dreams are out there that can't be realized? There are many dreams that that won't be realized, but how many dreams now can't be realized? And that's not to minimize the overriding concern for safety and health. But our little corner of the world is a sad place right now."
It really is. Think about the hardest physical thing you ever prepared for. The amount of energy and effort expended, the perspiration and pain, the drive and the doubt and the doubling-downing on the drive. That's the life of a college basketball player. And the season is such a journey, such a test. And the reward, for 68 teams of players, is this acclaimed, time-honored tournament.
To get so close … and then to not even get to experience March?
And with some conference tournaments a week earlier, some seniors had already won a trip to the 2020 NCAA Tournament … and without playing another game, their seasons were over. Their college careers were over. Suddenly and startling.
And you think of the local teams, notably Illinois, which should've made it in the Big Dance regardless, and St. Louis University, which had a double-bye and a chance to repeat as Atlantic-10 Conference champs.
There are no more dreams — there is nothing that can be made come true.
"I went to college at Rutgers," Viverito said Thursday. "We haven't gotten a bid to the NCAA Tournament since 1991. And our team was pulled off the floor against Michigan this morning. And we were going to get that bid, I felt it in my bones! … I know it sounds selfish, but that's kind of the essence of sports, that it brings us joy that it brings us diversion. It's part of who we are, especially in a place like St. Louis. And so, I just naturally think beyond next week's event. I can't even sort of like process what this looks and feels like going forward. …
"And in St. Louis, we've lost not just the men's basketball tournament. We were going to do the men's and women's Division II golf championship, the men's and women's Division II tennis championship, the women's Division II lacrosse champions, the NCAA men's and women's Division III women's tennis championships — all in the next two months. And every one of those events are full of those dreams. So it's not 'woe is us' because we're not going to have an event in town. And sure, the fans come and they spend and people work and they own restaurants and they drive Ubers and they need the money and all those things. But it's the kids and their dreams that I have a hard time getting past."
You're allowed to feel sad for the athletes and also glad they canceled the tournament. Lives will likely be saved because the games have ceased. So let's all acknowledge that … and then it's recommended that you drown your sorrows in a YouTube rabbit hole. Watch some old videos of "One Shining Moment" montages or highlights from your team's greatest tournament accomplishments. Or watch the movie "Hoosiers." On second thought, maybe all of this would just make it worse – the character Jimmy Chitwood saying "I'll make it" might make you miss it all that much more.
Because March isn't March this year.
Dave Matter brings you the latest updates from the Mizzou sports scene.