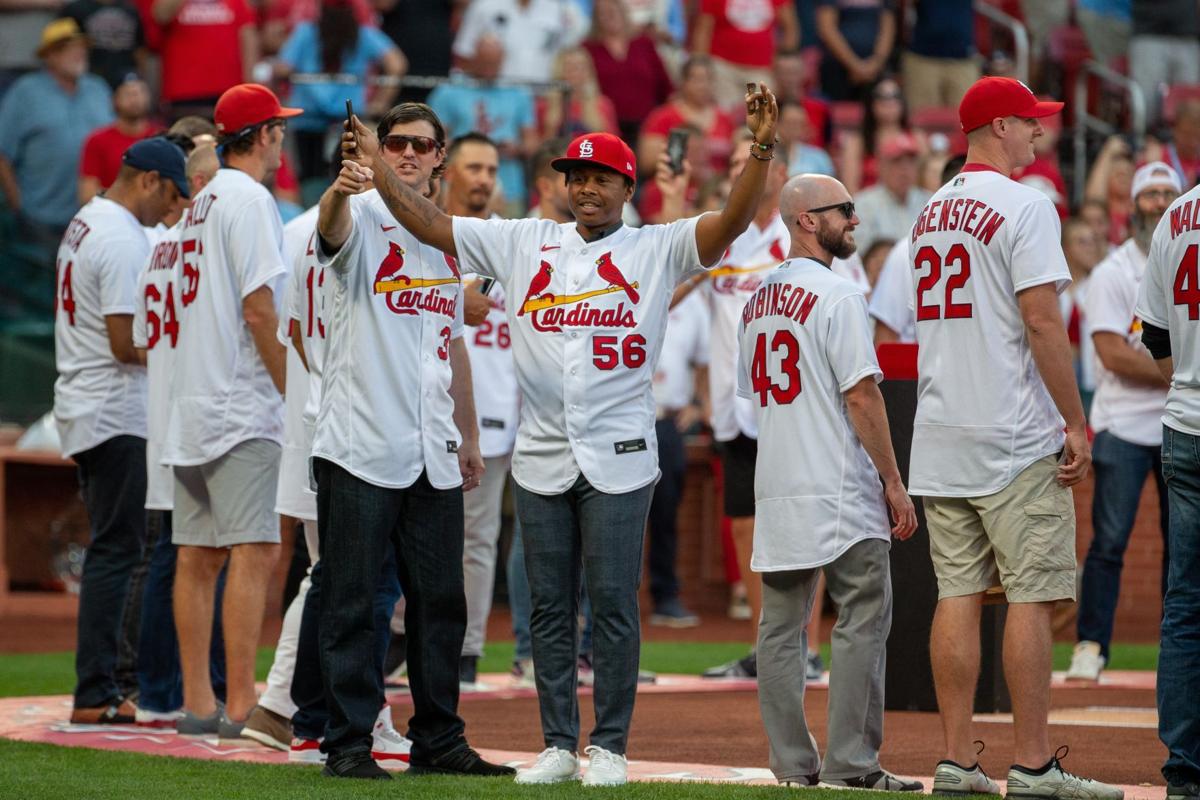 The ballplayer's daughter was born during the 2011 World Series season.
His son had yet to come into the world.
So on Friday, as former Cardinal Kyle McClellan headed to a 10-year reunion event, he turned to his children in the car.
"I'm going to introduce you to a lot of people," daddy told 10-year-old Olivia and 7-year-old Rhett, "and this is important to me. I haven't seen a lot of these guys in 10 years."
The 2011 season was a shared experience for St. Louisans. "Where were you for Game 6?" is St. Louis' new "Where did you go to high school?" And on this magically nostalgic weekend, the 2011 reunion was a shared experience for team itself — and a chance for those players to share their experiences with loved ones. Some who weren't even alive.
"I've got this permanent smile on my face," said Nick Punto, an infielder on the legendary team that — you know the story — was 10½ games out in late August and came back to make the playoffs and win it all.
On Saturday at the Loews Hotel in Ballpark Village, during a reunion breakfast, Punto stood in a hallway outside of a banquet room. Inside, memories stirred.
"In that room, it's like just a bunch of 8-year-olds, so giddy," Punto said of his former teammates (though surely some actual 8-year-olds in there also were so giddy). "It was just such a fun group to be a part of. ... That season, we knew we were good, we just weren't playing good. … And people were like: 'Why are they average? You're better than that.' It's almost like this (2021) team looking in the mirror this team, right?
"But we just held together — chemistry helps in those situations — and we had a close-knit group. Chemistry is not important when you're winning. That's easy. Winning creates chemistry. But when you're just playing OK, that's when you need to stay together. And we did. It was just a magical year for sure."
The magicians have gone gray. Lance Berkman. Chris Carpenter. Even David Freese has some gray speckled in there.
It's been 10 years. A decade. Baby Olivia McClellan now is a fifth-grader. Jon Jay played his first full year in the bigs in 2011 — he's since reached the 10-year mark of service time, played a little this 2021 season and currently is not on a team. Adam Wainwright and Yadier Molina were the Cardinals' starting pitcher and catcher on Saturday, as their 2011 teammates watched from a suite. Skip Schumaker, a beloved 2011 team member, watched from the visitors' dugout — he's the associate manager of the San Diego Padres.
In baseball, Barry gave the word "bonds" such a negative connotation. Bonds was unnatural and disingenuous, but at their best, baseball bonds are natural and genuine and unite teams worthy of reuniting every 10 years. Maybe the best bonds that baseball could create were those on this 2011 team. Beautiful friendships. Everlasting memories. A championship won in a unique way. Schumaker has said the 2011 team would've been his favorite, even if it didn't win the championship.
"I think about the team all the time," said Jake Westbrook, the winning pitcher in Game 6 of the 2011 World Series. "Just seems like the majority of the guys on this team all had a lot of fun together. Normally, it's like the little handful of guys, 10 or 12 guys at the most, but this is like pretty much the whole team, which made it such a blast. That's what I remember the most. There wasn't one person who didn't fit in."
The guys may get old, but the stories never do. This weekend, they swapped whoppers of tales from a decade prior, while telling suitable ones to the next generation. They drank some drinks and surely toasted to Tony. On Friday, a foursome at Boone Valley Golf Club was made up of the guy who caught the final out in the 2011 World Series, the 2011 World Series MVP and two guys who got on base in the famous Game 6 10th inning. They played as two teams: Jay and Daniel Descalso vs. Allen Craig and Freese. It wasn't a fair fight, though — after all, Freese historically plays better in the fall.
"Also, Jay did set a record out there on the golf course," Descalso shared. "I don't think I've ever seen anybody lose more balls. But we had a blast.
"We got a couple of people stopped us, wanted to say 'hi' to Freese — and then realized it was all four of us together. They instantly recalled some of the stuff from 2011 World Series. They were excited."
Before Saturday's game, the Cardinals pulled off a sharp ceremony with the 2011 team. The players were unveiled, two at a time, in the back of a pickup truck, driving the perimeter of the field. Jaime Garcia, the Game 6 starter, was in the same truck with Westbrook, the Game 6 winner. Jason Motte, who threw the final pitch in Game 7, was in the same truck as Craig, who caught that final out.
Freese threw out the first pitch to current Card Nolan Arenado, who was in the Arizona Fall League during the fall of 2011. "Carp" threw out the first pitch to current card Jack Flaherty, who turned 16 that October.
The 2011 players and staff posed for a photo at home plate. Even Wainwright took a minute from his meticulous routine to say "cheese." Minus a couple notables — the White Sox (Tony La Russa) and Dodgers (Albert Pujols) had games on Saturday — they were together again, the famous faces who stood upon the stage on that very field, 10 autumns ago.
They'd leave town later this weekend (except for McClellan, the local who never left), but these men are forever connected. Bonds of champions don't break.
"I don't think there's another team that could have did what we did," said backup catcher Gerald Laird of the 2011 Cards. "I just think the personalities and the character we had on this team just spoke volumes about our clubhouse. And to this day, I still get goosebumps watching Game 6."