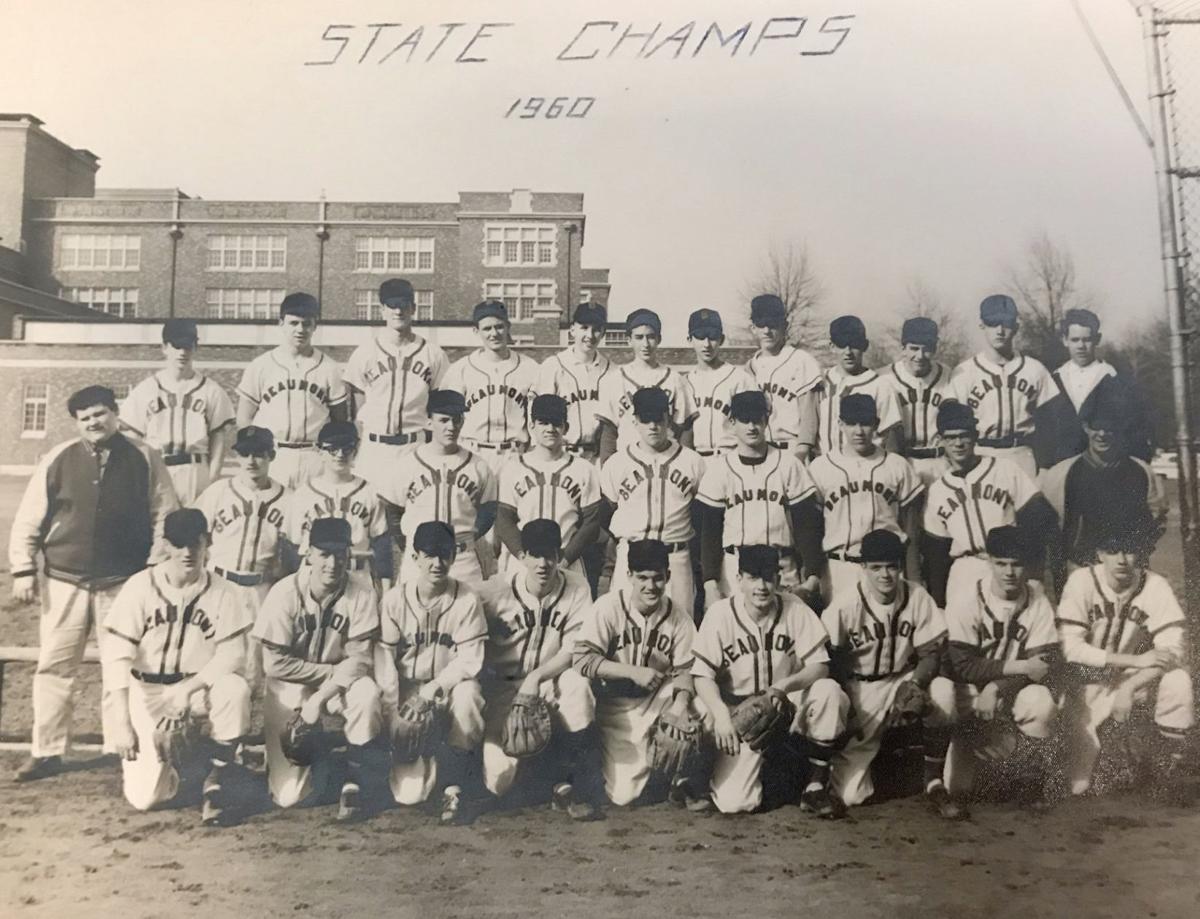 Each time the old ballplayer said a name from his past, it was like he was opening a chocolate bar in foil, carefully unwrapping this delicious nostalgia.
"The catcher was Art McBride. Tom Robards was the first baseman. Second baseman was John Caulfield."
"Shortstop was Walter Thoele. Third baseman was Jerry Jones. Ron Voss was the center fielder."
"Chris George played left field. Chris Werstein played right field. And pitcher? We had Larry Scoggins, who was exceptionally good."
Sixty springs ago, in '60, Beaumont High School won the Missouri state baseball title. Last team from the St. Louis Public High League to do so.
While on the phone, Darrell LaMar looked at the team picture in his yearbook.
"It's in black and white," said LaMar, 77. "But I can see it in color in my mind's eye."
Like old phone numbers, many of us don't forget the lineups from our childhood, regardless of how good or bad the ballclub was. But this ballclub happened to be really good. The Beaumont Bluejackets, who could win a game with a bash or a bunt, drilled by their sergeant of a coach in practices.
"We won that title, as far as I'm concerned, because of coach Elliott's attention to detail," said Jim Anderson of Ray Elliott, a coach who's enshrined in the Greater St Louis Amateur Baseball Hall of Fame. "The man never wasted a second. If you had 28-30 guys, no one was standing around at a practice. He was a master at that. . . .
"There were a lot of innovations coach had that were above and beyond what most players in high school would experience. For instance, all the guys in the starting lineup had individual steal signs, which would come from coach Elliott. He controlled everything. I never appreciated all the nuances and things until I went to coach some of my own kids."
Beaumont is an integral part of St. Louis baseball history, but many of St. Louis' biggest baseball aficionados don't know Beaumont. The school closed in 2014. But the city schools used to have some of St. Louis' best baseball talent, and Elliott's Bluejackets won seven Public High League titles from 1944-1957. In 1950, Missouri began its state tournament. The Bluejackets won in 1956 and, yes, 1960.
Beaumont High, fittingly, was built on the corner of Natural Bridge and Vandeventer, the previous site of the Cardinals' ballpark, Robison Field (1892-1920).
Elliott was the high school coach of a boy who became one of sports' greatest leaders — Earl Weaver, the Hall of Fame Orioles manager. Roy Sievers played for Elliott — he won the American League rookie of the year in 1949. Lee Thomas played for him, too — he was an AL All-Star in 1962.
Elliott coached at Beaumont for two decades. When he passed away, in 2000, his son discovered a folded-up paper in his father's wallet. As described in Ed Wheatley's book, "Baseball in St. Louis – From Little Leagues to Major Leagues," the paper listed the names of Elliott's 53 players who signed pro contracts.
In the spring of '60, the Bluejackets won it all, but they almost didn't even get past sectionals. Playing rival Riverview, Beaumont was down 4-2 in the bottom of the final inning. Thoele singled and "a flurry of things followed," Anderson said, "and as the dust settled, the game was tied (with) a runner on third — and still nobody out. And Art McBride's comin' up.
"He was our de facto captain, a senior. Our slugger. He put down his bats and Robards is coming up on deck, and he picks up about three bats. I was close to the on-deck circle, and McBride just stopped, looked at him and said: 'You won't need those.'"
And Robards indeed didn't get to hit, but it probably didn't happen the way you think.
McBride didn't slug a homer; he bunted home the winning run in a squeeze play.
"Elliott had a theory," LaMar said. "If we got a runner on third base with less than two out, you could almost always count on a squeeze play. He did that quite often — successfully."
The title game was played at the famed Sportsman's Park, though by then it was called Busch Stadium. It was Beaumont vs. Ladue.
"(Elliott) made the comment about the championship game," LaMar recalled. "He said, 'Ladue showed up in their Cadillacs and Lincolns and Beaumont showed up riding the streetcar and their bicycles.'"
The pitcher Scoggins battled the heat and the heat of the moment. Bluejackets teammate Ron Voss drove in two runs, one via a bunt. And Beaumont High School won it all, this time for the final time.
How do the memories make LaMar feel?
"They make me feel old," he said with a laugh.
But they also make him feel young again.
Be the first to know
Get local news delivered to your inbox!