Even if Patrick Maroon's job in life was a big rig driver — and not being the NHL's "Big Rig" — the Blues winning the Stanley Cup would've been a massive moment for him and his family. They're from St. Louis. They love the St. Louis Blues. Patrick's father father was an original season ticket holder. Years later, Patrick's father would take his three little boys to the games. They only had two seats — two boys in one seat, Patrick on dad's lap.
So, even days after the parade, it remains mind-bending that Patrick Maroon was on the St. Louis Blues — and helped them win their first Stanley Cup. Oh, and that the kid from Oakville scored two game-winning goals in the postseason, including the historic double-overtime series-winner against Dallas.
Seemingly every hour, my favorite memory from the Blues parade changes. Different images pop into the forefront of my mind. Some of them might fade, but I'll never forget the Maroon family at last Saturday's parade. Bliss – in real time.
The parade was simultaneously for Patrick, for them and for their friends. And they were floating. And on a float! Well, actually, the Maroon family float was, fittingly, a blue big rig.
"It was magical," Patrick's brother, Phil, said Tuesday. "Running the streets with Pat while watching the looks of happiness on every fans face was something I will never forget. The entire city came together. The fans were incredible, the way the players interacted with the fans was even more special. No way it gets much better than that."
The images are indelible.
• Maroon carrying the Stanley Cup over to shrieking fans of all ages, who reached over a railing and screamed his name as if they were old acquaintances (some, actually, might've been old acquaintances).
• Maroon's fiancee, the St. Louisan Francesca Vangel, seated atop the truck, her feet dangling above the windshield. A fan tossed her a mini bottle of Fireball. She caught it like she was Isaac Bruce, and then downed it with intense glee.
• Maroon's son, 10-year-old Anthony, standing next to his father on Market Street as they hoisted the Cup together (later, Patrick told the Fox Sports Midwest telecast that Anthony was even signing autographs!).
• Maroon's parents on the float, his father seated and smiling as he held a granddaughter who was, inexplicably, asleep — surely wiped out from the surreal week.
From Phil: "My 4-year-old daughter wants to know when the next parade is. She said on the way home, 'Daddy, I really felt like a princess today.' It was so special for everyone in a different way."
• Catching Maroon in his blue Blues jersey at a certain angle, as the red St Louis flag was flapping directly behind him.
• Maroon spotting and acknowledging the fans standing on the roof of the old Mike Shannon's.
• Maroon purposefully placing the Stanley Cup on top of a Rams rug, which someone creatively placed on the parade route to be stomped upon.
• And finally, Maroon bringing the Stanley Cup over to two older fans, seated in the front row on Market. It was Katie and Doug Brooking of Town and Country. Katie is 81. Doug is 89.
"It's fantastic, wonderful!" Katie said after they touched the Stanley Cup. "I think we're the oldest ones here today!"
Scenes from Blues Stanley Victory Parade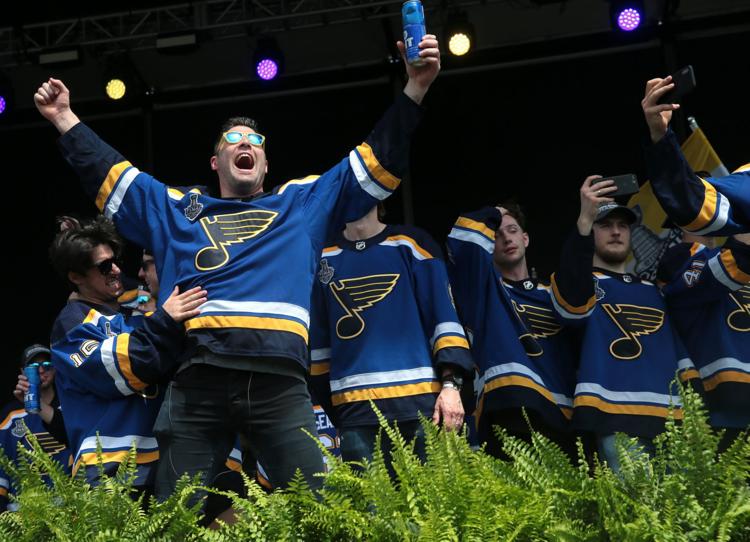 Scenes from Blues Stanley Victory Parade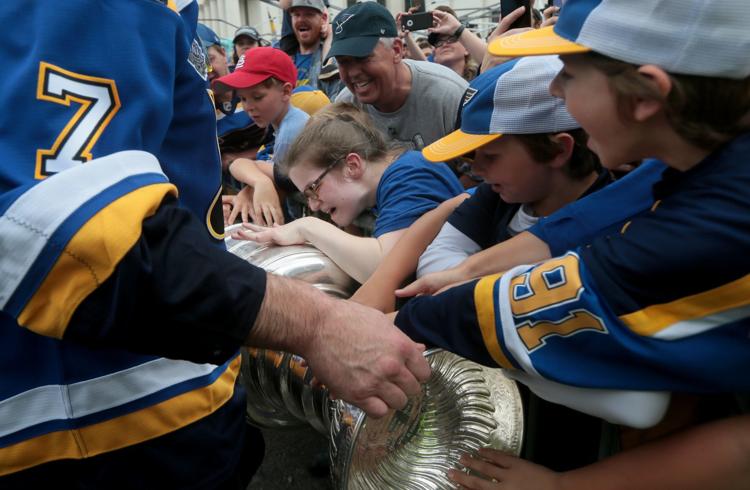 Scenes from Blues Stanley Victory Parade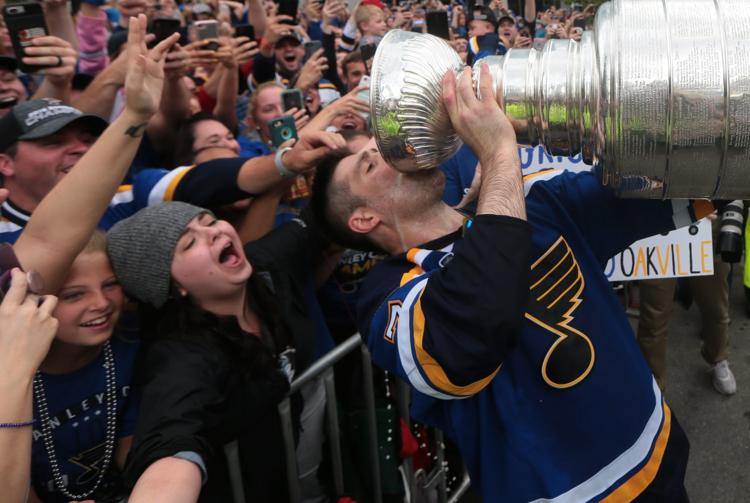 Scenes from Blues Stanley Victory Parade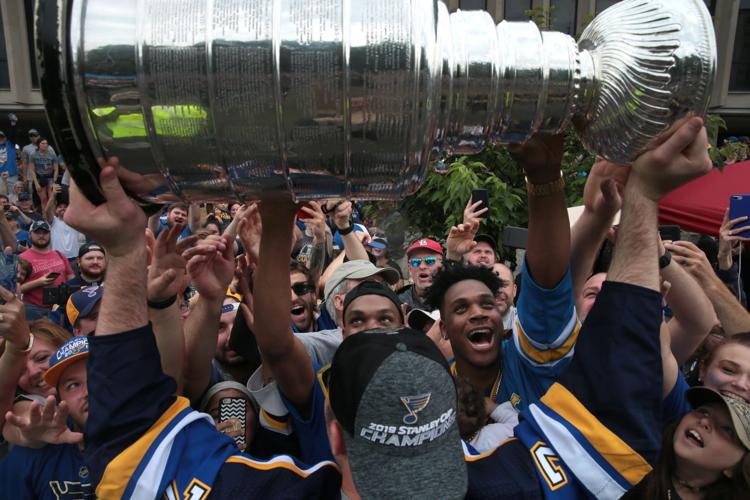 St. Louis Blues, fans celebrate Stanley Cup victory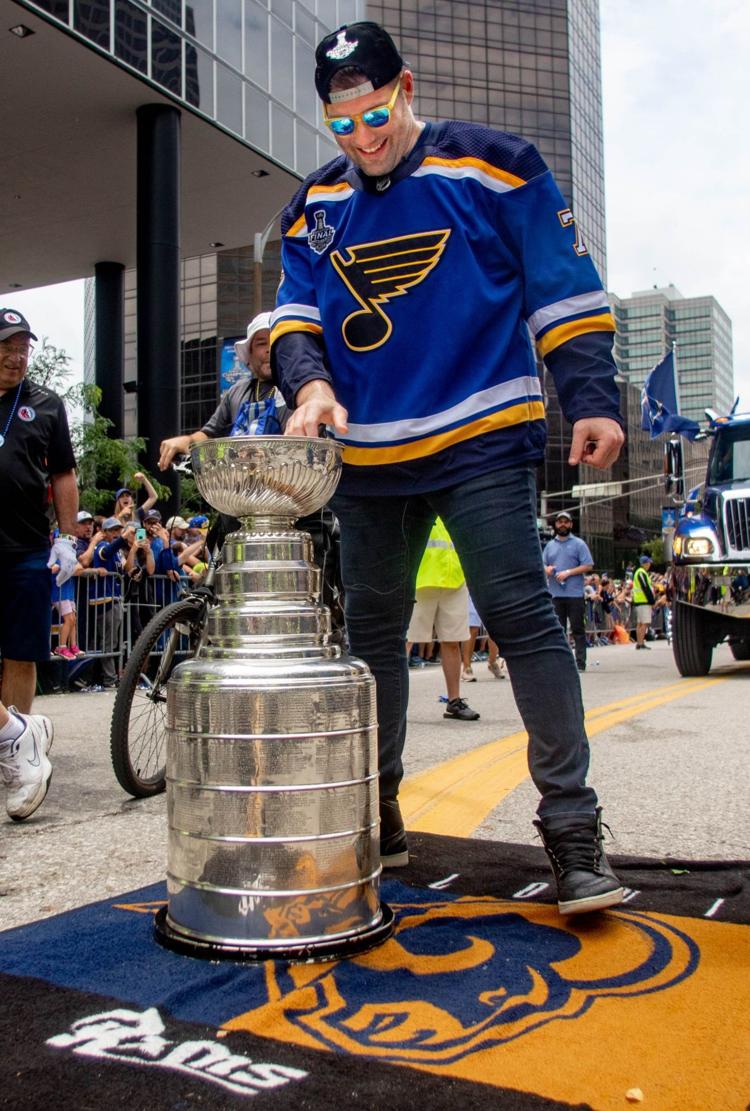 St. Louis Blues, fans celebrate Stanley Cup victory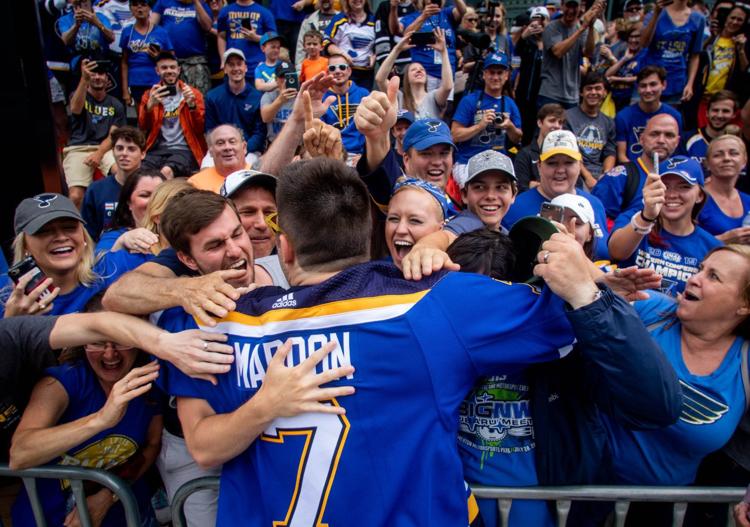 St. Louis Blues, fans celebrate Stanley Cup victory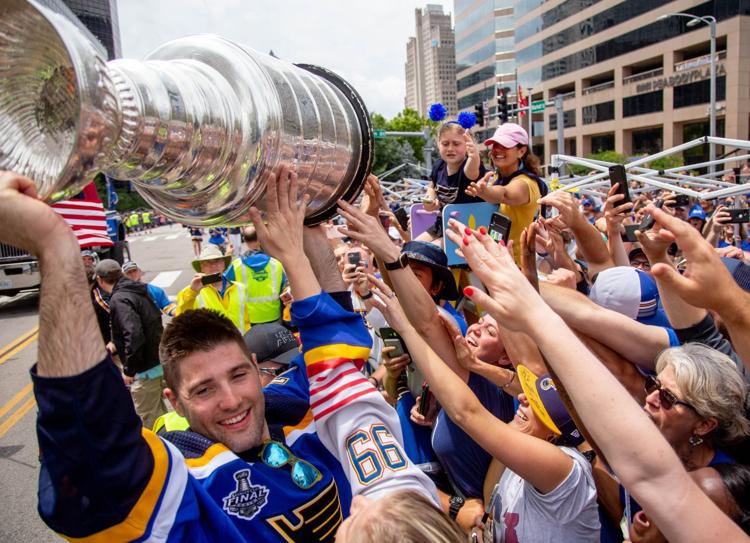 St. Louis Blues, fans celebrate Stanley Cup victory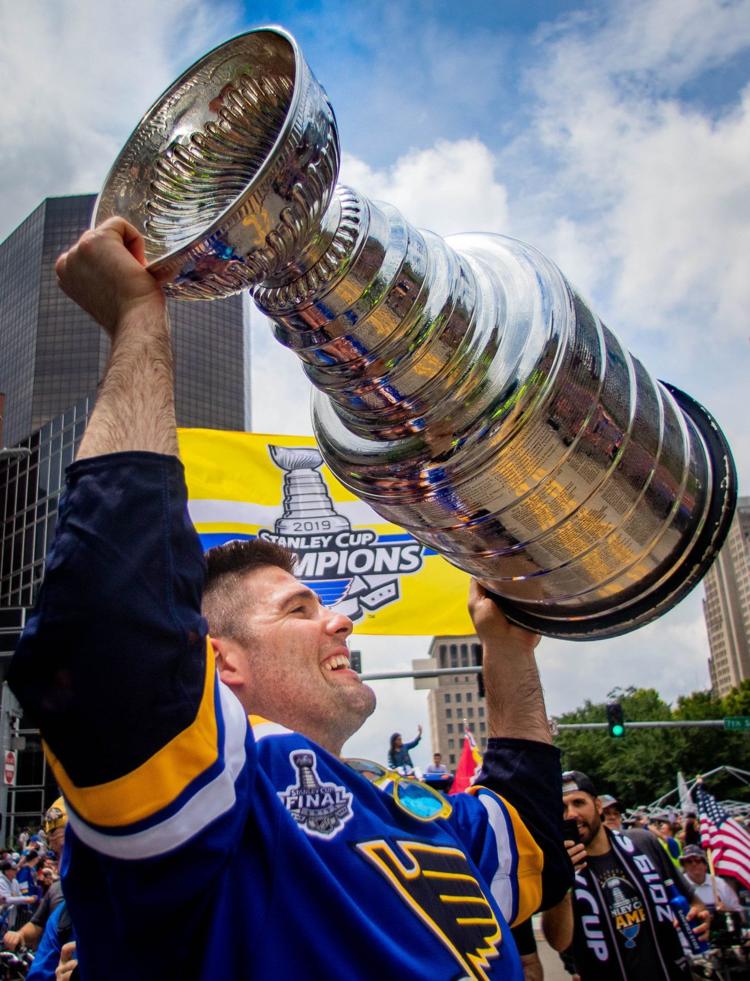 St. Louis Blues, fans celebrate Stanley Cup victory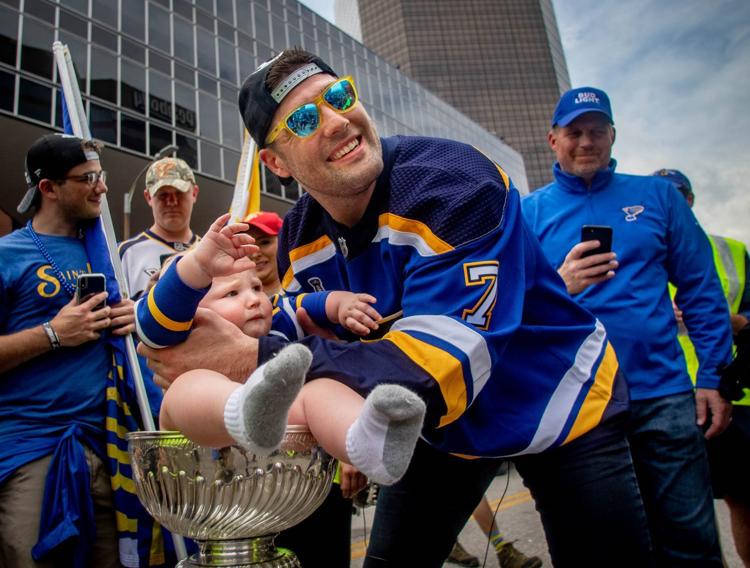 St. Louis Blues, fans celebrate Stanley Cup victory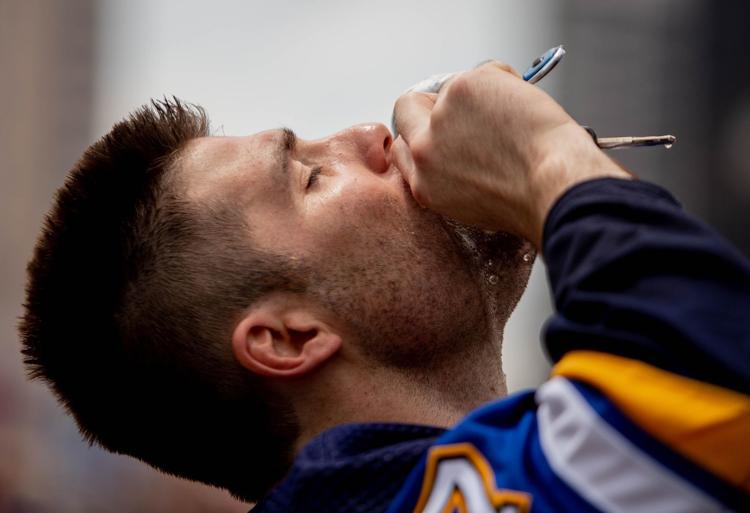 St. Louis Blues, fans celebrate Stanley Cup victory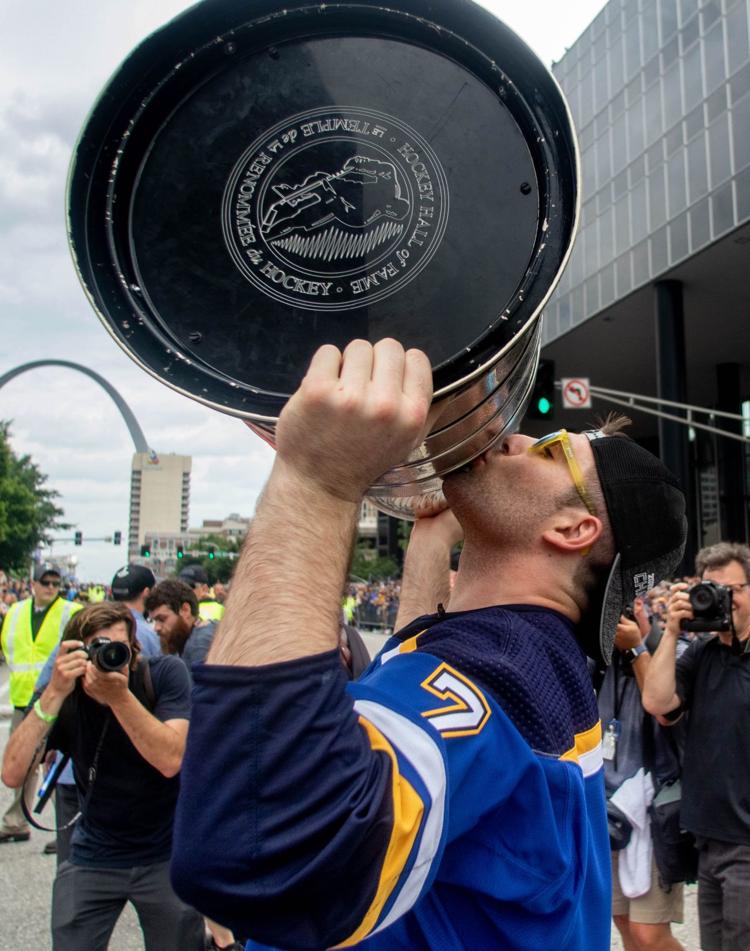 St. Louis Blues, fans celebrate Stanley Cup victory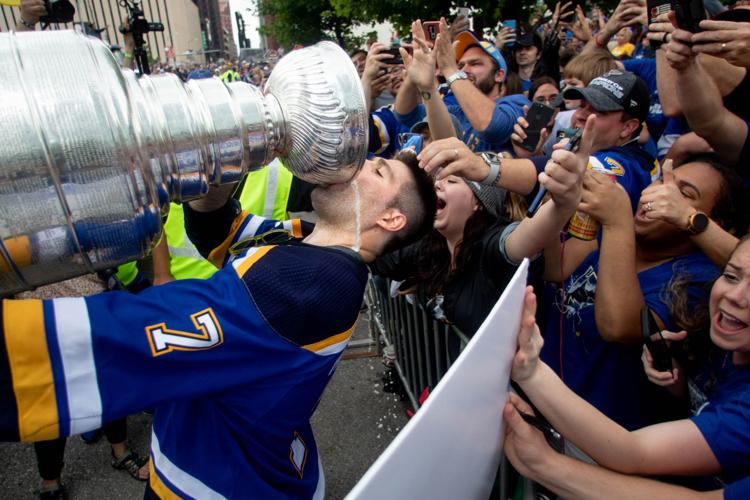 Blues, fans celebrate Stanley Cup victory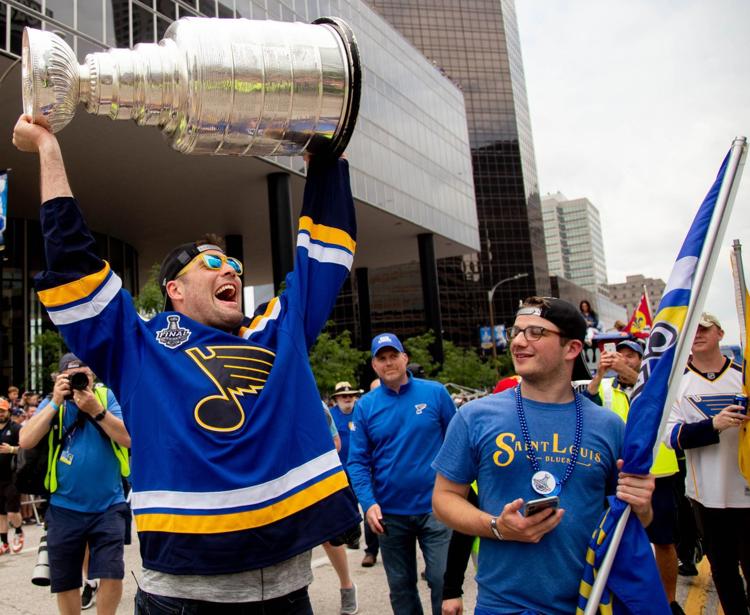 The Blues party on the Arch grounds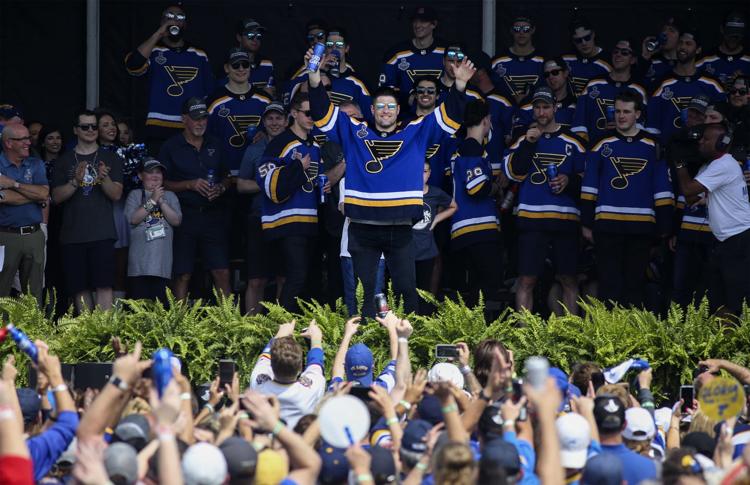 Blues fans parade like champions as St. Louis Blues capture first Stanley Cup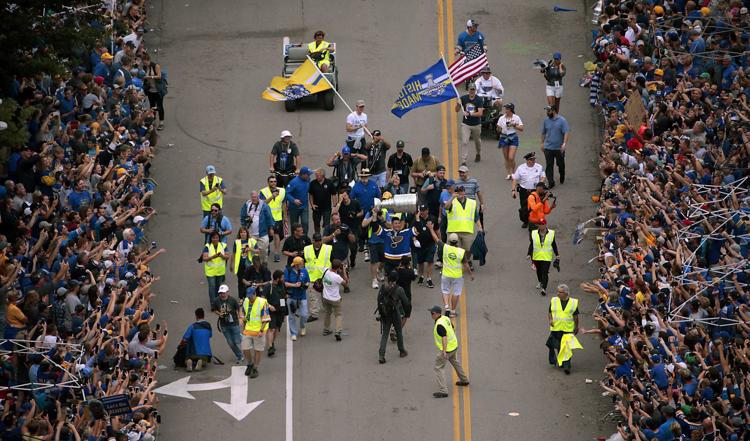 St. Louis Blues victory parade