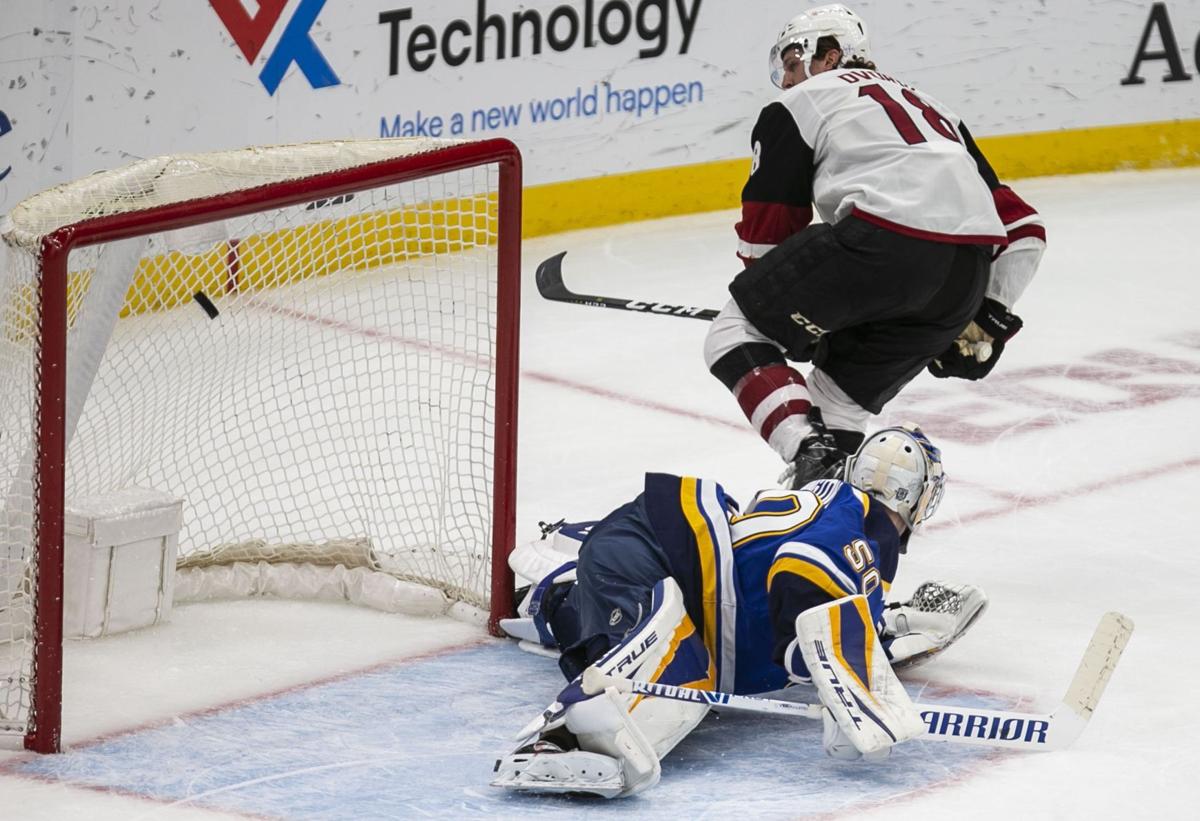 I don't know how many goalies would've done what he did in San Jose. Actually, I don't know how many professional athletes would've done what he did in San Jose. Replaced in net during a play stoppage, Blues goalie Jordan Binnington approached the home bench and shoved the Sharks' Radim Simek. Then, Binnington skated toward Sharks star Erik Karlsson and faked like he was going to punch him in the face. Finally, before exiting the ice, Binnington went right at Devan Dubnyk, pushing the opposing goalie before two refs intervened.
It was weird behavior. But it also captured what makes Binnington rare. And great. He's a live wire. He plays with fire, but that fires up his play. He never backs down, and backs it up with his play. In a pressurized job, he's a maverick like Mel Gibson in "Lethal Weapon" or, well, Tom Cruise's "Maverick" in "Top Gun." He is dangerously confident.
This made him a season-saver and franchise-savior in 2019. An All-Star in 2020. And now, in 2021, Binnington's backbone made him the Blues' backbone for six more seasons. The goalie's new contract (six years, $36 million) is well-deserved and well-structured — the Blues didn't do anything financially irresponsible to make sure they didn't lose the guy.
And similar to his basketball namesake, he sounds like someone who won't let fame and fortune get in the way of the grit and grinding that got him here in the first place.
"I like to keep it interesting, I like to set short-term goals that, in the end, hopefully turn into big goals," Binnington, 27, said in a Zoom conference. "For me, we already have built such a great history in St. Louis and I want to make the city proud, I want to continue to make my family proud. So I'm going to keep pushing myself to be the best athlete and person I can be. I think that's what keeps you alive. I'll continue to find motivations that work for me."
The signing of Binnington is reminiscent of another St. Louis sports legend. When the Rams drafted and signed left tackle Orlando Pace, it was like — OK, they've got their protection for years to come. He's locked up, you don't have to worry about that important position, he'll be there for a while and be reliable.
"(Binnington) is a wonderful person, great locker room guy, great friend and an absolute pillar of this team," Blues defenseman Marco Scandella said on a Zoom conference. "He's a game-breaker. It's just a great move by the organization — and I'm really happy to be playing with him for the next few years.
"When you need a big save, he's just that guy who brings that type of energy. You see the fire in him, from the San Jose game. And obviously the Cup run. He's special. He has something special. He has that confidence — and it's motivating to the team. It's contagious."
That's another thing about the San Jose shenanigans. It pumped up his teammates. To some, it may have come across a little reckless or perhaps even a little inappropriate. It was peculiar behavior. But, hey, it paid dividends — numerous teammates said it lit a fire. San Jose took a 4-3 lead with the goal that ended Binnington's night on Feb. 27, but the Blues won the crazy road game, 7-6. That was the first game of a six-game road trip. A loss could've set a deflated and defeated tone. Instead, the Blues won and proceeded to earn at least one point in all six games, going 4-0-2 on the trip. I think it'll be a swing we look back upon. The Blues had a lot of injuries at the time (still do) and were dropping some frustrating games. The trip out West refreshed the fellows.
Of course, Binnington's actual play helped, too. He fared particularly well in the 3-2 win at Anaheim and also kept the boys in the game in the eventual 4-3 overtime loss at Los Angeles.
"He's obviously one of the best goalies in the league — and he gives us a chance to win every night when he's in the net," St. Louis center Oskar Sundqvist said on a Zoom conference. "Obviously a lot of excitement yesterday getting this news (of the contract). I think we all were very happy that he decided to sign a long-term contract. We're lucky to have him. … On the ice, he's very competitive. He's a winner. He's one of the best goalies in this league and we're lucky to have him."
The story of Jordan Binnington just keeps getting better (and longer). But really, he could've retired that night in Boston and been a folk hero forever. Find me a better sports story: A franchise for over 50 seasons never wins a championship, though continually makes the playoffs — the longest stretch the team ever went without making the playoffs was three years. Heartbreaks after heartbreaks for the thumping hearts pumping blue blood. And then, the 2018-19 season appears to be their worst season ever — they enter January 3 with the fewest points in the National Hockey League. But they call up a rookie goalie. He gets a shutout in his first start. He's impossibly impenetrable. For that season, he goes 24-5-1. His goals-against average is 1.89. He leads his team through the playoffs. And in Game 7 of the Stanley Cup Final — on the road — he makes a historic save with his team up only 2-0 at the time in the third period. He wins the game and wins the first Stanley Cup for the city.
And now, with a six-year contract extension, he gives the St. Louis Blues a fighting chance to win one again.