Tom Nestor: Power of 'Big Daddy Pineapple'
My father's name: Edward M. Nestor. Nickname: "Big Daddy Pineapple" (BDP).
A Chesterfield police captain, he was diagnosed with stage IV pancreatic cancer on April 22, 2018. He had battled unknown, miserable, internal pain since New Year's Eve. If you are not familiar with the disease, it is known as the world's deadliest cancer, perhaps a close tie with ovarian cancer, due to early detection being nearly non-existent.
Ed was given a prognosis of 18-36 months with treatment by Siteman Cancer Center, a great outlook considering the disease has a five-year survival rate of only 9%. He kept a positive attitude, protecting friends, family, and co-workers from the truth — which was constant suffering with what seemed to be untreatable internal pain.
My father and I, like many fathers and sons, enjoyed many Blues games together. He used to take me to a few games each year at the Old Barn. Up to the present day, if we had to pick between the Cardinals, Blues and Rams (still bitter about Stan), we always picked the Blues. My dad told me around Jan. 10, 2019, well before the Blues' turnaround: "Just watch, I'm going to die, and the Blues will win the Stanley Cup."
He didn't just say it to me. He said it separately to all our family, including my mother, wife and both of his sisters. He also mentioned it to some of his buddies who were major Blues followers.
On Jan. 23, the Blues won their first game of the 11-game streak. My father — accompanied by myself, my sister, my wife and mother — was informed by Siteman doctors that they recommended he cease treatment. And enter into the hospice care of our choosing.
Once he began hospice, he lost full consciousness after only two days. He remained in a semi-coma until his death. He passed away in the comfort of home the morning of Jan. 30, 2019.
The day of his funeral — Saturday, Feb. 2, 2019 — the Blues won again. The wake and funeral were held at De Smet Jesuit High School, his alma mater as well as mine, and we estimated a total of around 1,500 attended either one or the other. He was a still-active police captain and 40-year veteran of law enforcement.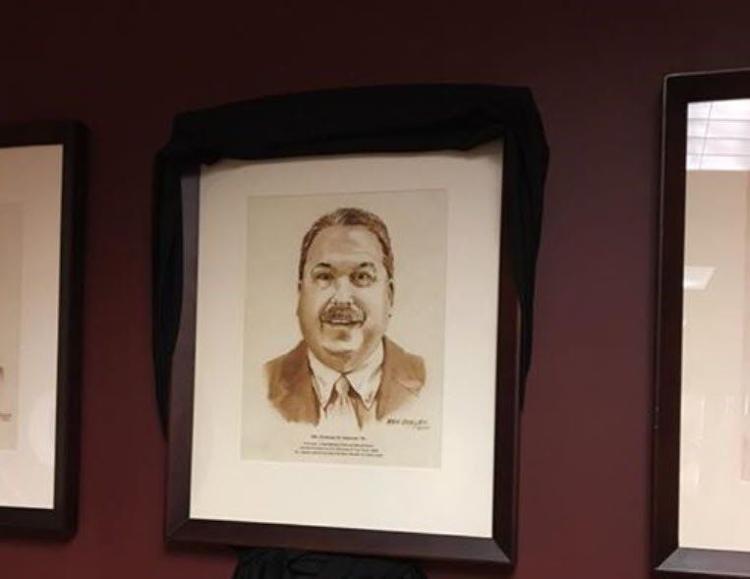 As the Blues' streak continued, friends, family, police officers began to feel Ed's presence. There was no way that the Blues could have such a historic turnaround. Could what dad predicted be true? We started to recognize there was something special. I began to use #LGB4BDP in all of my Blues-related Facebook posts. It caught on. The rest of our family did the same (search #LGB4BDP on Facebook to see).
Old friends and co-workers of my father's began to jump on the bandwagon too, sending me messages from across the country. Everyone wanted Ed to win the Cup for St. Louis, or the Blues to win the Cup for Ed! He did it for us.
Addendum by Cathy Nestor, Ed's wife: The run to the Cup became so much bigger for us. It became a story of our own as this historic run bonded our family in ways we would not have bonded had he been here. It was a way for his wife, his kids, his sisters, his nieces and nephews and friends could hold on to a piece of BDP just a little bit longer!
Clayton Dowd: The impromptu pep talk
I am a frequent attendee at Charlie Gitto's downtown where I drink some beers. I have gotten to know Pat Maroon a little bit, as he goes to Gitto's quite often to hang out with his fiancée. 
On Jan. 1, 2019, at approximately 1 a.m., I was at Scape in Central West End for a New Year's Eve party. It turns out the Blues were also celebrating at Scape. I have been a die-hard Blues fan my entire life. As I sat at our table, on a three-step stage dinning area overlooking about 15-20 Blues players, I was compelled by an urge from within ... to stand up and say a few words to the boys.
In order to not completely embarrass myself and be ignored, I knew I had to get their attention before beginning my speech. So once the urge was irresistible, I stood up, clapped as loudly as I could, and requested the team's attention: "Hey boys, I just wanna say one thing real quickly, and I'll leave you alone: St. Louis loves you. We are behind you  We will never stop supporting you. We have plenty of hockey left to play. Let's goooooo!"
I sat down, got my jacket and headed to the restroom. When I got back, Pat Maroon yelled "Clay, come down here." So I went down and talked to Pat Maroon, David Perron, and Brayden Schenn. I made sure to tell David that St. Louis was happy to have him home.  
The Blues were in last place on Jan. 1. As we all know, the Blues have more points than any other team since that date. 
Some say our success stems from Craig Berube. Others say Jordan Binnington. But I say it stems from my drunken pep talk that conveyed the love and support of our city to our team ... (I don't actually believe that).
Eric Jablonski: Blues win for mom, and her brother
E-mail No. 1, May 25, 2019: In the 1990s, in my teenage years, mom and dad were divorced — and that created a lot of tension between me and my mom. We really didn't get along, but once the puck dropped, it all went away. We lived and died with the Blues. Some of those playoff failures still hurt just like yesterday.
Fast forward to 2010-2012. My mom was sick and dying from COPD, and the Blues were really good. Sure there's always that fear that the Blues will fail, but I've never pulled harder for them to win, because I knew my mom's time was limited.
Unfortunately, the last time she saw the Blues play was when the Kings swept them.
Fast forward to today. We found out my uncle, my mom's older brother, has cancer all over his body, and it's just a matter of time — days maybe, but nobody knows — before he passes. He went to a lot of games with my mom. So hopefully he gets to see the Blues win it all.
E-mail No. 2, June 5, 2019: It's a weird feeling watching this unfold. During the game, I'm able to get really into it, but almost immediately after, I break down into tears, win or lose. And then between games, I'll be listening to the radio/podcast or hear people talk about it and it'll make me tear up.
I've never experienced feelings like this before.
E-mail No. 3, June 16, 2019. When I sent you my last e-mail, my uncle wasn't doing well and was going to pass soon. 
I just thought you'd like to know that he did get to see the Blues win the Cup. And he passed quietly yesterday during the rally. 
My uncle's name is Mark Schultz, and he was at Delmar Gardens in O'Fallon, Mo. He was lying in his bed during the parade when he passed. 
Marco Athie: Born (and raised) blue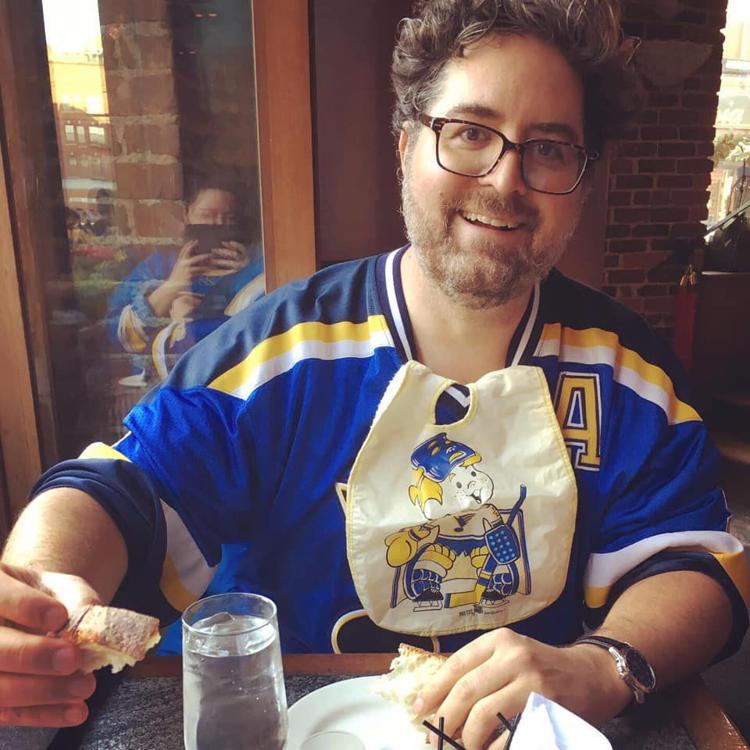 St. Louis is a generous city.
50-plus years. We've been waiting. 
My first jersey? My baby bib. I was a fan from the get-go.
I no doubt got some use out of that bib. Mom was an excellent cook.
In third grade, I wanted a tin lunchbox with Spiderman or Batman on it. Too pricey. Mom and dad got me a plain blue plastic lunchbox. I took pride in it. I put a Blues sticker on it. One day, an older kid kicked it and put a hole in it at recess. I gave him the Brian Sutter treatment the next day. No problems with him ever after that.
I remember my first game at the old barn, the St. Louis Arena. Then the Checkerdome. It was intimidating. Dark, loud, smoky. But it was electric. So may trips there to follow. ...
I'd watch games with my dad and Uncle Noel on the back porch in South St. Louis. In high school, a bunch of friends came over to watch games in the basement. Mom would make chili dogs, we would make a mess. In college, watching games on 1503 Bouchelle Avenue at old Mizzou. Sharing my Blues. So many games, so many beautiful moments, as well as painful losses. Mom used to call before and after big games.
And now, I live in Boston.
I recall the frigid night last January, arguing with a Bruin fan who questioned my sanity for supporting a team who had never won the cup. I wonder how he feels now?
And Game 5 of the Stanley Cup Final?
I brought the bib. I wore it while eating pasta in Boston's oldest neighborhood. And thought a lot about mom.
Alex Mackin: From Missouri to Munich
I'm 24 years old, lived in St. Louis my entire life ... and a month ago moved to Munich for a new position within my company. I tried to prolong the visa process for as long as I could, to wait the season out, but eventually had to make the move.
I was fortunate enough to attend playoff games against both Winnipeg and Dallas, but since Game 2 of the Western Conference Final, I've enjoyed sleepless nights watching the puck drop at 2 a.m. local time here in Munich. I've then rolled straight into work on most days, telling my German coworkers all about the "Eishockeymannschaft aus meiner Heimstadt" ("Ice hockey team from my hometown.").
I've made German friends at a local dive bar. Knowing the story behind our beloved victory song, they've looked up the results of each game and played "Gloria" once I arrive the next evening. I've gained some bandwagon fans here in Germany, but in this sense, it's certainly allowed and appreciated.
My coworkers are probably tired of hearing about the Blues, and my neighbors certainly haven't been thrilled with the amount of noise coming from my apartment in the middle of the night – but I obviously couldn't be happier about seeing us finally raise the Cup.
Linda Baltes: Dad passed down blue heirloom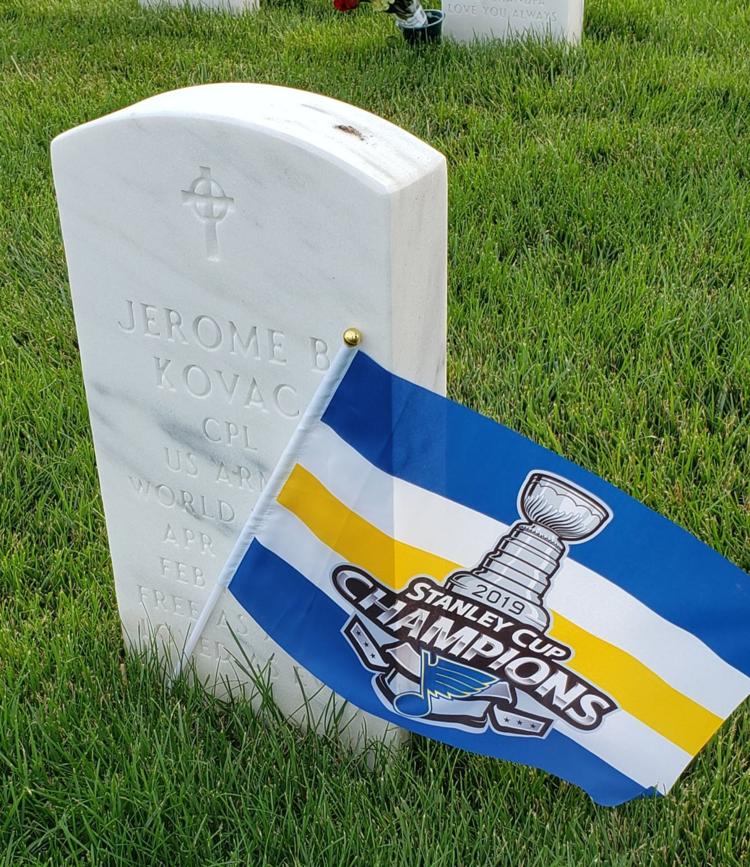 The reactions of so many Blues fans included one recurring theme — how they wished their father, brother, uncle, or friend could have been here to see the St. Louis Blues win hockey's ultimate prize, the Stanley Cup. 
My father was a life-long Blues fan, a season ticket holder from the very beginning.  He would often take me and my siblings to those games. We were hooked right along with him.  When I met my husband, my dad also introduced him to hockey, and he (and John Kelly on the radio) taught him the nuances of the game.
As a long-suffering St. Louis Blues fan, I was skeptical the Cup would ever be ours.  It was not until the beginning of the third period of Game 7 that I finally let myself believe. 
I cried that whole rest of the game. 
I cried for my Dad. For our friend Ed, who had long said he could die a happy man when the Blues finally won (but who did not live to see it). And for and for all the rest.  We visited my dad on Father's Day, and I cried again as I placed the championship flag on his grave.
Columnist Benjamin Hochman collected stories from near and far about fans following the Blues' Stanley Cup quest to its glorious conclusion.