"I told you! I told you!"
Alex Gilbert heard his brother's voice that day, and as Alex soaked it all up — the NCAA title game, Larry Bird, Magic Johnson, hype never before experienced for a basketball game — Leonard sure was right.
Leonard had inspired Alex to go to Indiana State. Darn near instructed him to.
The Gilberts were from East St. Louis — Leonard was eight years older than Alex — and after sky-walking all over the metro area's best post players, Alex headed to a junior college in Kansas.
"That was kind of like being out of America, especially back then, when the information didn't travel as quickly," said Alex, 61, who today resides in downtown St. Louis. "But my brother told me. He knew about Larry Bird. 'You go play with this guy, maybe something good may come from it.' He just thought Bird was the right guy for me to play with.
"To be quite honest, I wasn't very impressed with the school. Of all my recruiting trips, this was probably the worst one. I actually wanted to go to Missouri, but my brother talked me into going to Indiana State."
This weekend, Alex Gilbert will again go to Indiana State. They're honoring the 1978-79 Sycamores, who entered the national title game undefeated and then lost to Michigan State and Magic, 75-64. Bird is supposed to be there Saturday, too. All the guys.
Back then, "I had height, but I didn't have weight," Alex shared. Records concur. In the media guide for the 1978-79 Indiana State team, he was listed at 6-foot-7, 184 pounds. Some people who are 5-foot-7 wish they could get down to 184 pounds. But Alex sure could score. And soar. In fact, the media guide included this tidbit: Sycamore statisticians may need a new category — "Hang time" — for this junior college transfer, perhaps the best leaper ever to wear the blue and white.
"I played with guys like U.S. Reed and Sidney Moncrief in college, Dominique Wilkins in the NBA — Alex could maybe outjump them all," Scott Hastings, an 11-year NBA player, said Wednesday. "For an 18-year-old vertically challenged kid who dreamed of high altitude, he was my first 'how-does-he-do-that?' guy."
In Alex's first game for Indiana State, he scored 22 points. The next game was against Purdue, the eventual Big Ten Conference champions. Alex scored eight points with five rebounds, but more important, Indiana State won.
"What stands out from all of that, playing with Larry, was the life in a fishbowl nature of it," Alex said. "I can remember when we first started practicing, (the Celtics') Dave Cowens and Red Auerbach came to one of our first practices! I went, 'Oh (shoot)! I'm in the big time!' I'll never forget that. I said — 'Oh, maybe my brother was right!' …
"Every day it was like lights, camera, action. Always reporters around, always some interview to do. It was something else, it really was. And that was the coolest part of it all. You realize that this is a big deal — and it's kind of nice to be part of something like that."
Before the third game of the season, Alex's brother was killed.
Leonard hadn't been the same since he came back from Vietnam. He was still perpetually caring for his baby brother, but he'd gotten trapped in a life of drug use.
"He and a friend of his were buying drugs, and the friend thought he cheated him," Alex said. "The friend got upset and shot him. It was one of his best friends, he had known him his whole life."
Alex played the storied season without his brother. And for his brother. Alex used basketball as an escape. Forty-minute therapy sessions. He could be happy playing the game.
Alex averaged 9.6 points a game (third on the team) and 6.1 rebounds (second only to Bird's astounding 14.9 a game, to go along with 28.6 points and 5.5 assists).
Indiana State met up with Hastings' Arkansas Razorbacks in the Elite Eight. Won by two. Then played DePaul in the Final Four. Won by two.
So, on March 26, 1979, the undefeated Indiana State Sycamores faced the 25-6 Michigan State Spartans. Alex and Bird were about to play for the national title.
"I always felt that my brother was there," Alex said, "whispering in my ear: 'I told you! I told you!'
"That game, it's a seminal moment in American history, it really is. It changed the way basketball was going. Basketball was headed to the crapper around that time. I can remember the NBA championship being on tape delay at night. It had just lost its luster for some reason. And it brought the game back. It changed everything. I'm proud of being part of history — that's something no one can ever take away from me."
Alex played in Europe for a few years, came back home, got a job at a correctional facility. Later in life, Alex would work in the mental health field. It was then he put it together — he had been suffering from depression during all those years after Leonard died.
"Drugs played a big part of my life for a long time — I lived in a very dark hole ..." Alex said, describing a particular stretch during the 1990s. "Crack, cocaine, marijuana, the usual. It's not something I'm proud of, but I can talk about it. Sometimes, I think it's not bad to tell my story."
He recalled the time he passed out while going to the bathroom. When he woke up, he was sprawled on the cold, tile floor.
"I must have laid on the floor for a long time, because one side of my face was completely numb from the cold," he said. "I looked around, and I thought — what am I doing?"
He had been working at a correctional facility, though. He'd spend his days seeing what happens to some people who got caught up in hard drugs. Then he'd spend his nights doing hard drugs.
"You think you're stronger. You think you're smarter," he said when asked about this. "You think — nothing will happen to me. … I probably wouldn't be here today without my wife, Ann. …
"Even though those things caused my life not to go in the complete direction I would have liked it to go, I have no complaints, because I'm still here, I'm still in my right mind. And I can stand up and say proudly that I made it through all of that."
Forty years ago, Alex made it to the Final Four. Nearly won the whole thing. Of course it happened — Leonard told him it would.
---
CAN THIS BULLPEN ROSTER CUT IT?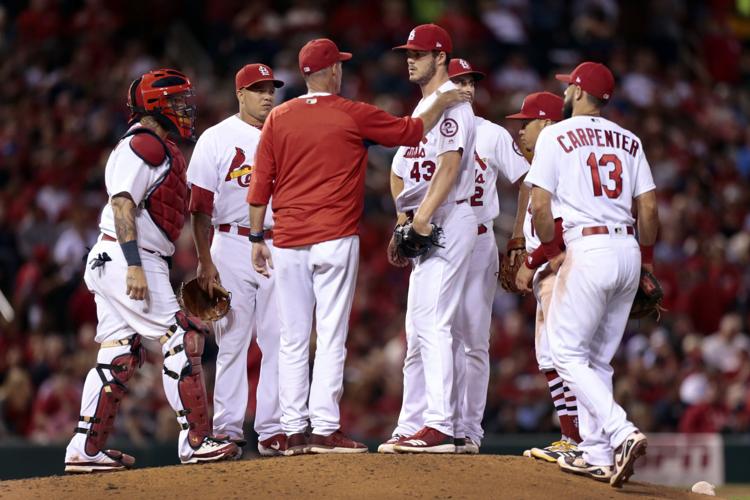 QUESTION: From the right side of the Cardinals' bullpen, it doesn't look much different than it did to start the 2018 season, when the results were shaky — and that was with a very good Norris. So why should fans feel comfortable with it right now?
BENFRED: I think it will look different, when you look closely. Here's the amount of MLB games the following righthanded bullpen options pitched in last season:
Ryan Helsley: Zero
Alex Reyes: 1
Daniel Poncedeleon: 11
Luke Gregerson: 17
Dakota Hudson: 26
John Gant: 26
Dominic Leone: 29
For context, John Brebbia, who spent a good chunk of last season riding the Memphis shuttle, made 45 MLB appearances.
So, the names above might not be new, but their impact on a season could wind up feeling like it.
That said, yes, the Cardinals could afford to add more proven bullpen security, either right or lefthanded. That's one area that could be ripe for bargains as free-agent relievers begin to feel anxious about finding a job before spring training starts.
These guys know what happened to the other late-arriving pitchers last season. Rough seasons followed, for the most part.
CARDINALS' REGULAR LINEUP FOR 2019?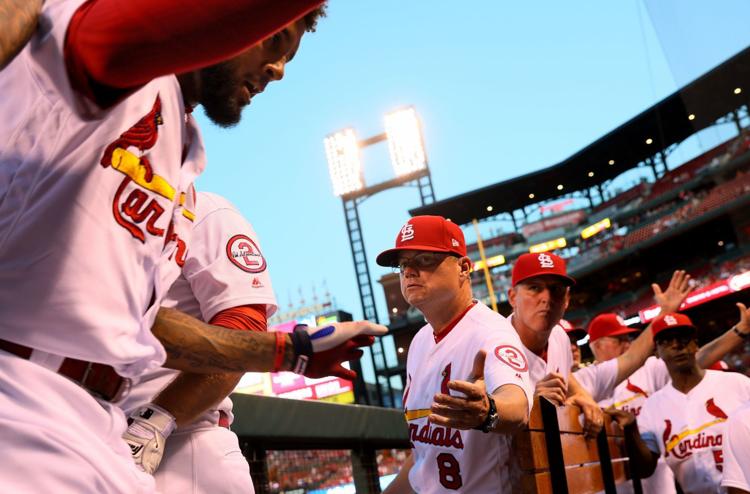 QUESTION: If there are no more additions to the offense, your 2019 Cardinals batting order is ...
BENFRED: If I had to win a game today, it would look like this . . .
1. Carpenter, 3B
2. DeJong, SS
3. Goldschmidt, 1B
4. Ozuna, LF
5. Martinez, RF
6. Molina, C
7. Wong, 2B
8. Bader, CF
Some notes: I would not hate to see the speedsters after the pitcher, if feeling zany. I would not hate seeing Martinez batting second.
The Cardinals seem interested in Goldschmidt batting second, and there is an analytical argument to hit your best all-around hitter there. I'm not opposed to it, necessarily. If Ozuna does not thump, he should be freed from the cleanup spot.
Most importantly, I don't think this is a realistic lineup, because I imagine Fowler will be in the opening day lineup. Big question is, where does he hit? I would be a bit surprised if he starts the season hitting ahead of Molina, without a rather impressive spring.
NO INTEREST IN EATON — NOT AFTER PLEDGE TO FOWLER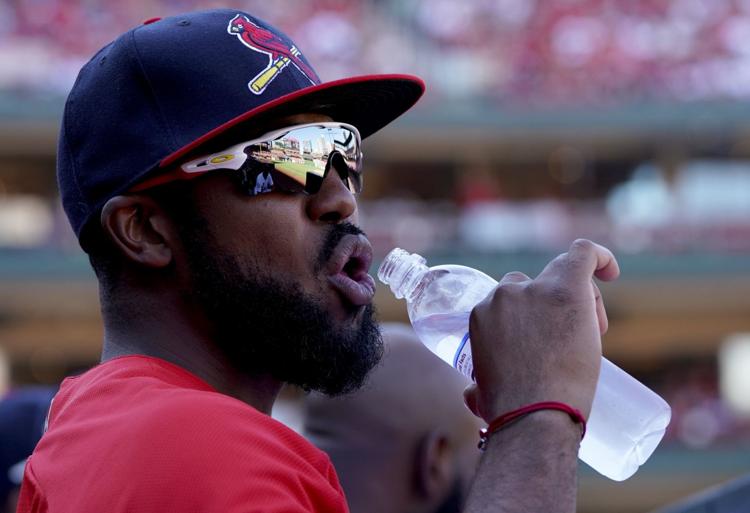 QUESTION: If Bryce Harper goes back to Washington, the Nats could flip Adam Eaton for starting pitching. The Cardinals have been linked to Eaton in the past. Any chance they could be again?
BENFRED: I wish the Nats were looking to move third baseman Anthony Rendon. Eaton is interesting because of the history you cite, but I interpreted the Cardinals' pledge to Dexter Fowler as genuine. I don't think they are interested in replacing him before he gets a shot. Would be surprised if they did. Not saying I agree with that strategy. I think he's the biggest potential weakness in the lineup. But, it would be unlike the Cardinals to go all-in on Fowler, then pull the rug out from beneath him.
And they have options to turn to in Jose Martinez (as long as he's on the team) and Tyler O'Neill. Harper seemed, to me, to be the only outfielder worth the trouble of clearing the space for.
HARPER OR MACHADO TO STL? DON'T BANK ON IT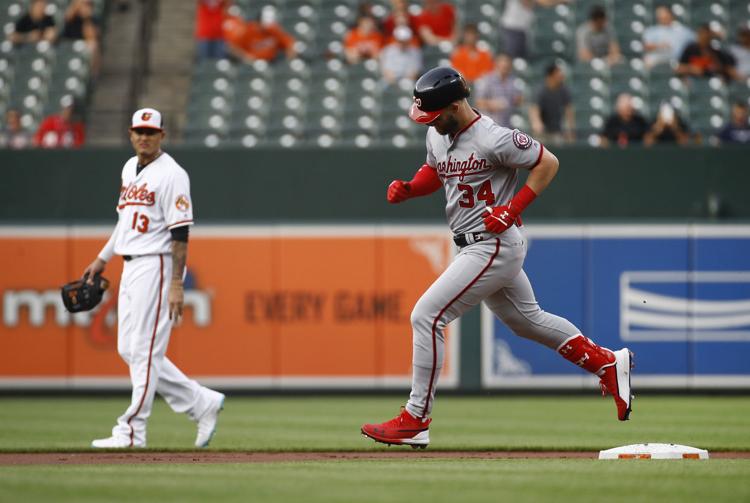 COMMENTS: The Cards have been trying to get that elusive right fielder since the untimely death of Oscar Taveras. After this year, and after Ozuna and Goldy seek free agency, this team will still be looking for that right fielder and then some. There's a right fielder available right now that would occupy that space for several years — and just might entice the other two to stay, or at least might attract future free agents.
BENFRED: You don't have to sell me on Bryce Harper. Check the clips. I beat that drum more than anyone. Would love it if the Cardinals made the splash. Just don't think they have it in them, or see it in Harper, to make it happen. I've wondered if Machado might be of more interest at this point. The Cardinals have indicated they like the idea of that long-term contract better, but they have also indicated they were rather turned off by his postseason antics. The market for Machado seems rather defined at the moment, and the Cardinals are not in it, unless they are the so-called mystery team. That's really not their nature.
I'll repeat what I said before. They said they wanted one premier bat. They got one in Goldschmidt, and plan to extend him if possible. When is the last time they said they needed one top-shelf item and then got two? Don't bank on it.
MOURNING OSCAR TAVERAS ... AND MOVING ON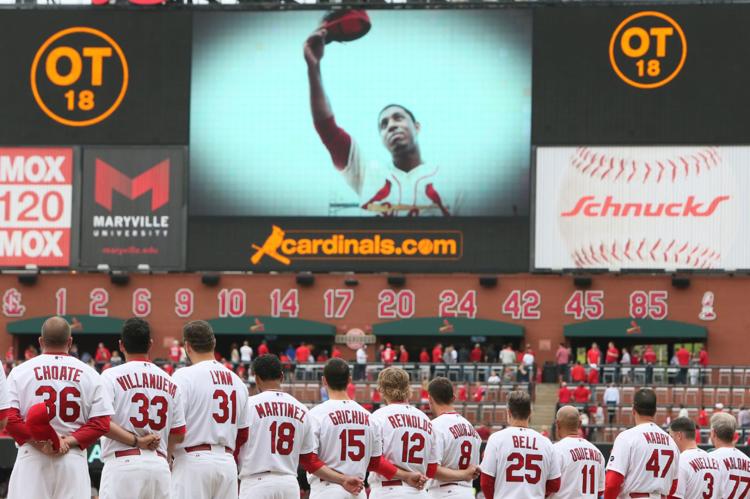 COMMENT: All of our lineup problems go back to the tragic day in October 2014.
BENFRED: I say this with respect and don't want it to be twisted the wrong way, but the loss of Oscar Taveras cannot be tied to the team's performance forever.
He might have been a star. He might not have been. He might have exceeded expectations, or never come close to meeting them. He might have been injured and out of the game. It's impossible to know, and it's 2019. Not suggesting, at all, that he should be forgotten or moved on from. At all. I hope you get my point.
X-FACTOR FOR THE CARDINALS?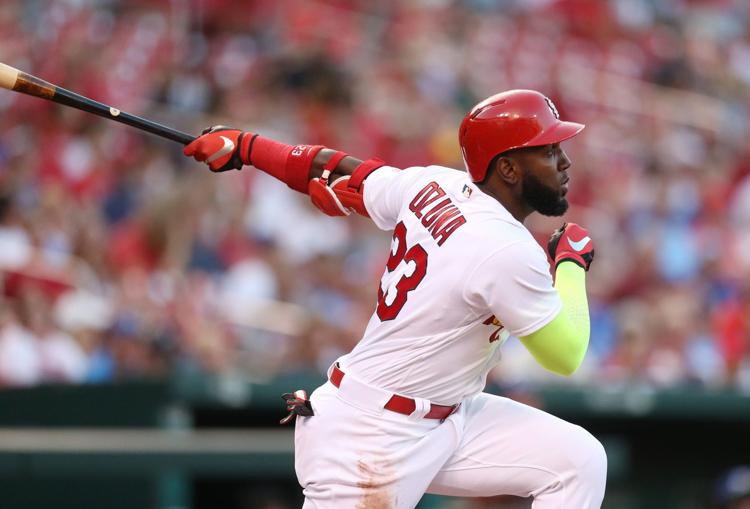 QUESTION: Is Marcell Ozuna THE key player for the Cardinals this year? If he can elevate his production back to where it was in 2017, that takes the lineup from good to great. Not sure anyone else on the team has quite that much potential.
BENFRED: It's impossible to pick one, but you can make that case, sure. The status of Ozuna's right shoulder and how it impacts his swing is one of the biggest question marks of spring training, without a doubt. I'd also list Fowler and Goldschmidt as big X-factors.
TIME TO JUMP ON THE BLUES' BANDWAGON?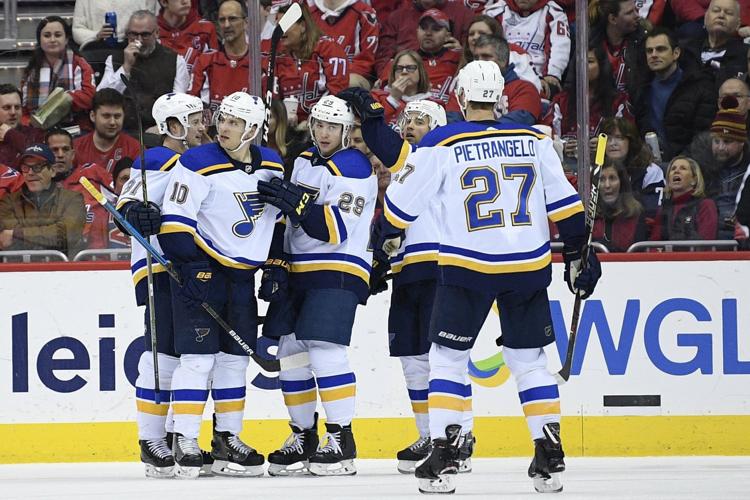 QUESTION: Last week you said CBS having the Blues playoff odds at 17.3 percent was too high. So, what are your thoughts on them now being at 36 percent?
BENFRED: Better. But using your trusty CBS analytics, five teams in front of the Blues in the division have a better than 67 percent chance. You just want to see more of the same positive signs. When you have not won more than three games in a row all season until January, you can't expect people to jump aboard the all-is-well wagon just yet.
They're playing better. They also entered Tuesday night's game, an overtime loss, sitting sixth in their division with an 8-6 record over the past month. Back flips come later.
JAKE OR JORDAN IN GOAL?
COMMENT: Blues can get back in the postseason mix if they give Binnington the majority of the starts. It's a small sample size, but he has looked steady and stays in position. They may have won with Allen on Monday, but he was still giving up way too many rebounds and often did not know where the puck was.
BENFRED: If recent history has taught us anything, it's to not complain about a Jake Allen win. Accept it. Celebrate it. But don't pick it apart.
We agree on Binnington. Play the hot hand. Nothing to lose. If he craps out, go back to Jake. It's not hard.
MIZZOU VS. SLU AT ENTERPRISE: WHY NOT?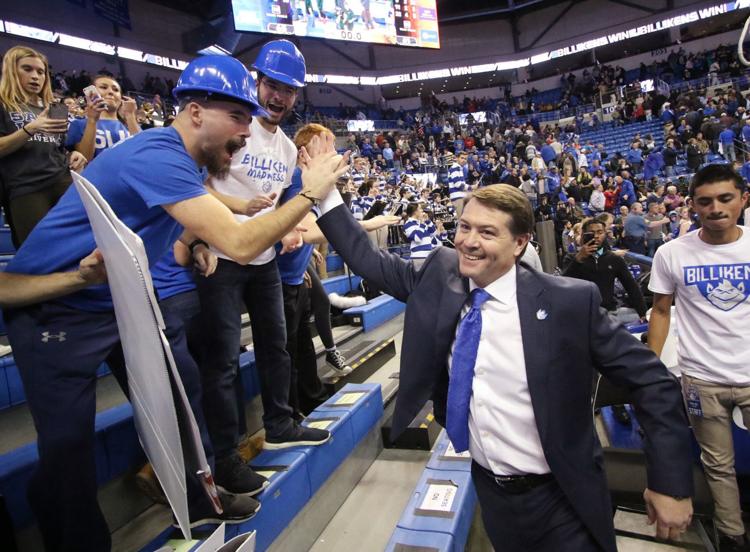 QUESTION: What is it going to take to get a game at Enterprise Center between SLU and Mizzou?
BENFRED: The coaches have to want to play the game. Simple as that. In college basketball, coaches have much more influence on the schedule than, say, football. Athletics directors control football scheduling. Coaches control basketball scheduling. It has turned into a science: how do I balance a good record and a tough enough schedule to make the NCAA Tournament? It's a shame, really, because the math does not seem to care much about common sense regional rivalry opportunities.
That said, Cuonzo Martin and Travis Ford seem to be working toward something, quietly. The notion has been squashed quickly in the past. That is no longer the case. Ford and Martin are friendly, and Ford's son is even a walk-on with the Tigers this season. I think it will happen eventually, though I'm not sure it would be a neutral site in St. Louis considering the Braggin' Rights rivalry. There would be nothing wrong with a home-and-home. Both fan bases could make the trip to both campuses.
IMPACT OF REACHING FREE AGENCY SOONER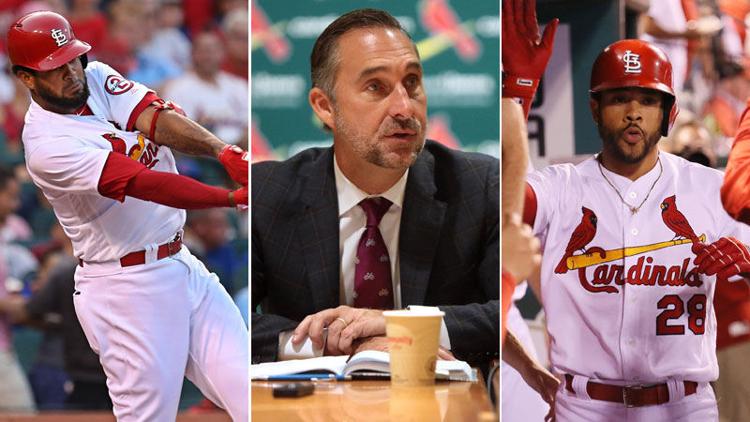 QUESTION: There currently seems to be a push to grant players free agency sooner, which would skew more dollars toward star players and away from the average player. Might that have an effect on those average players not wanting to see the stars eased out before they want to retire?
BENFRED: I'm not sure I agree with your opinion that reaching free agency sooner would help star players and hurt non-star players. I guess it depends on how you define a star. Bryce Harper is going to make a ton of money -- in part -- because he was so good, he got to free agency at 26 years old. Same as Manny Machado. They are clearly star players.
But what about guys like Jose Martinez and Tommy Pham? They are not star players. They are going to reach free agency well beyond what baseball considers their prime. If they had fewer arbitration years, they would get better contract offers when they reached free agency, because their age would not be working against them as much as it will be when they get to FA.
SIZING UP THE NL CENTRAL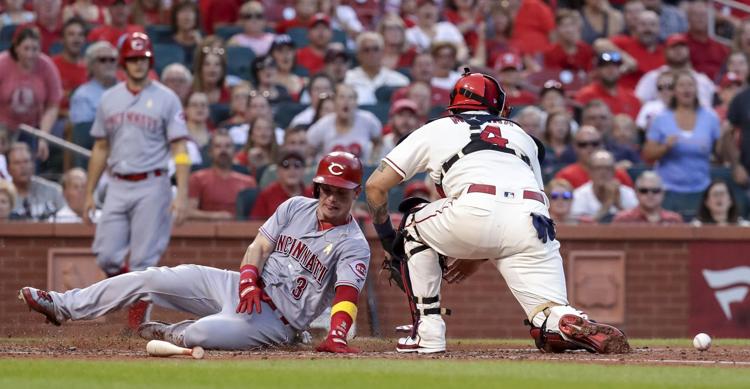 QUESTION: How would you rate the NL Central as it currently stands? I don't think the Reds will be higher than 4th, but that offense could cause major problems for the contenders, especially in Cincy's ballpark.
BENFRED: If the season started today, I guess I would go something along the lines of . . .
Brewers-Cubs-Cardinals
Reds-Pirates
I think we are probably underestimating the Brewers once again.
I think the Cubs, with an edge, are a scary team.
I think the Cardinals are better today than they have been the past three seasons.
They're all kind of jammed up there at the top.
But below them, there are no tankers. The second tier is competitive. The Reds' offense was loaded before Kemp and Puig, but pitching remains a concern. The Pirates could be sneaky good.
WAINO OR FOWLER: WHO HAS THE LONGER LEASH?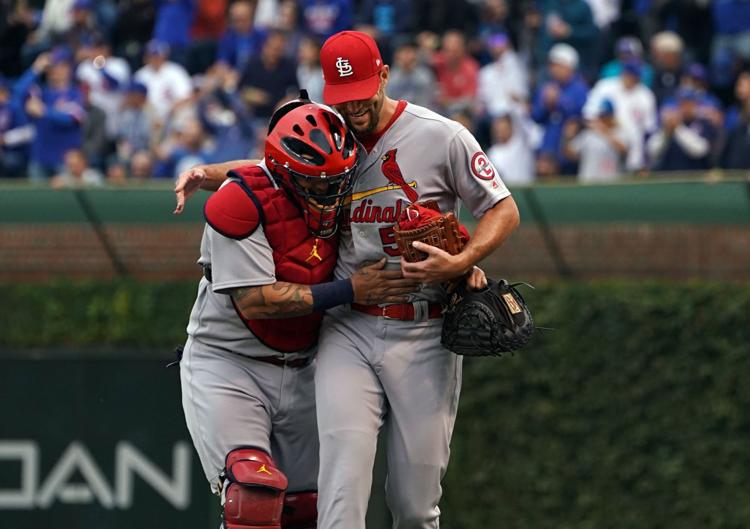 QUESTION: Waino vs Fowler: Who has the longer leash this season? Strictly talking about a starting pitcher and right fielder, respectively. I have real concerns that Shildt will have a difficult time displacing either if they struggle.
BENFRED: That is a very fair question, and to be honest, it was one we discussed today at our brainstorming session for the season preview that will be reported and written during spring training. Shildt had a clear plan when he took over last season. He worked to regain the trust of the veterans. It was a long-term play as much as it was a short-term, win-now move. And, looking back, it was probably the right call.
But if the veterans falter in a win-now season, it's a mistake to trust them for too long. Ideally, they don't fail and this question fades. But if Ozuna can't cut it at cleanup, and Fowler does not rebound to his usual form, then we are going to learn something about Shildt.
TO DH OR NOT TO DH?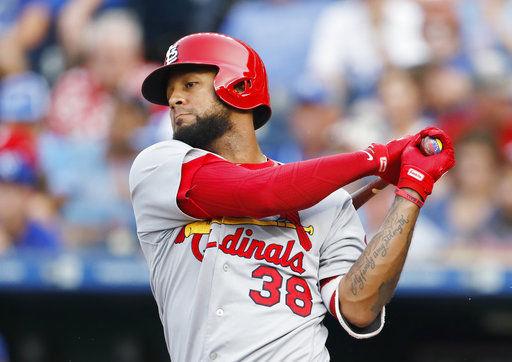 QUESTION: Did you realize you were kicking such a hornet's nest by suggesting the National League should adopt the designated hitter?
BENFRED: I've found the anti-DH crowd is passionate and loud, but I do not think it's as big as it likes to think it is. I received a few emails and tweets from folks saying they would stop watching Cardinals baseball if the NL adopted the DH. Respectfully, that seems bogus to me. I asked our web gurus to create a poll at STLToday.com. It's not scientific, but it's something. So far, it has more than 2,000 responses. 14 percent said they would no longer watch baseball. 48 percent said they would begrudgingly watch baseball. But get this: 38 percent say they would celebrate the change. See what I mean?
The blanket statement that "NL fans don't want the DH" is not always true. Some, sure. But maybe not as many as you might think. I truly do enjoy the debate. It's been fun to kick around on a cold January week with not much else to discuss. So, thanks to everyone who participated.
---
Follow-up: On the Great DH Debate, the part I don't understand is the assertion that the players' union prefers it because more money will be spent on player salaries with the DH. Why?
BENFRED: The argument is not that it leads to bigger payrolls. The argument is that it gives the type of players who are being pushed out of the game -- and pushed toward smaller contracts if they can remain in the game -- more chances to stick around. If that would come at anyone's expense, it probably comes at the expense of young pitching, but let's not pretend the union does not value older more established players more than young ones. If it cared about all ages/experiences of players equally, it would stand up for minor leaguers who make hardly nothing compared to their major league peers.
Players don't bark when a no-name, young player gets processed. They fume when established names are put to pasture before they decide to call it quits.
NFL GONE ... AND FORGOTTEN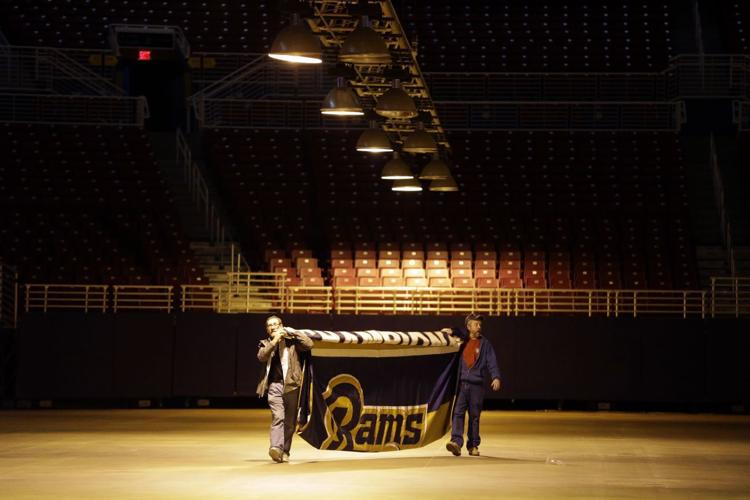 QUESTION: It's been three years since the NFL left this city. Do you feel more confident, less confident, or no different about the possibility of the league returning?
BENFRED: No different, really. I'm sure at some point the league will start to use STL as one of its prized stalking horses, the market it uses to attempt to leverage other teams. There has already been some of that, when that report came out about the Raiders maybe spending a season here while they transition to Vegas.
I can't imagine area leaders rallying around an NFL push, and I think the citizens would be lukewarm about it enough to not have a ton of momentum. Maybe I'm misreading the room? Let me know if that's the case.
MIZZOU'S LAGGING ATTENDANCE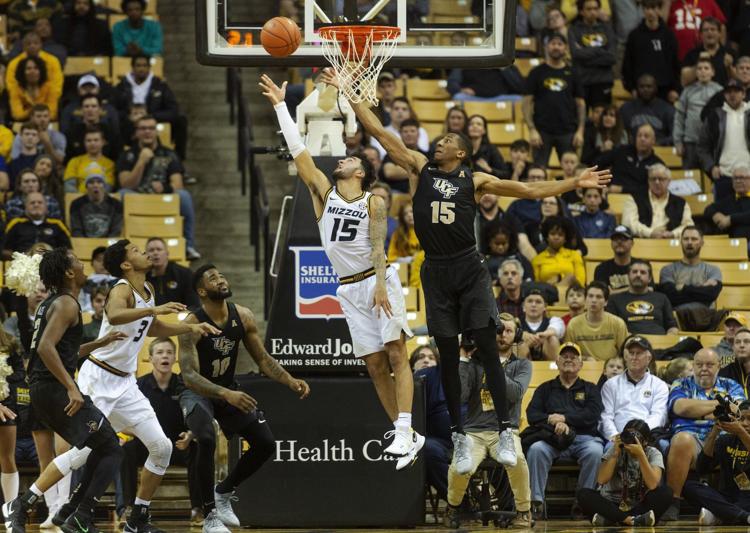 QUESTION: What's it going to take for Mizzou fans to get to the arena for men's basketball games? I know winning helps, but the attendance looks bad on TV.
BENFRED: I applaud the student section for showing up for the Tennessee game. Classes were not in session, and they were there early and loud throughout, even after the game turned on its head. Agree that the empty seats don't look good on screen. Just not sure the average Mizzou fan is going to show up to weeknight games to watch an NIT-ish team. And that's a shame, but it's kind of the way things are moving across the country.
It's not just a Mizzou problem, though it does stand out at Mizzou. The Tigers ranked very high in attendance last season. The hope was the MPJ bump would linger. We'll see where they finish this year. When Central Florida comes to town, and their employees are remarking about the lack of an atmosphere at an SEC road game, that's not great.
ODOM'S DWINDLING STAFF
QUESTION: Any rumors on a new LB coach for Mizzou ?
BENFRED: Only rumors I have heard are about the departure of the one who just left. Might be a little awkward at the next Odom family get-together. Tigers thought they had kept Brian Odom. Turns out they had not. The narrative about Odom having a hard time keeping his staff together gains some merit when his brother departs. And yes, I know it was to Oklahoma, a good job at his alma mater. Isn't blood supposed to be thicker than crimson red?