BOSTON • Jordan Binnington stood in a quiet TD Garden hallway plastered with posterboards, decorated with well-wishes for the Bruins by sweet schoolchildren whose souls this man had crushed.
He had just stopped 38 of 39 Boston shots, won Game 5 on the road and said live on ESPN, when asked what makes him nervous, that "when you find out, you let me know." And now, the Blues goalie was here, all alone, asked to put it all in perspective.
"I'm a loyal guy," Binnington said softy, talking about both St. Louis and the Blues. "The fan base is incredible. I love being part of a team. As a goalie, you just try to be there for when the team needs you, and trust them to do their job – and they've been incredible. I'm happy I could be of help for them. … We have each other's backs."
In the latest biggest game in franchise history, Binnngton had everyone's back. Blues 2, Bruins 1. The Blues will host Game 6 of the Stanley Cup Final, and if the Blues win they win the Stanley Cup. It's unbelievable. It's unfathomable. It's happening.
The fellows with the white gloves will bring Lord Stanley's Cup to the Enterprise Center on Sunday. Magical words in St. Louis.
The night before Game 5, on the quiet, narrow streets of Boston's old Italian area, noise spilled out of one of the North End restaurants. Just what was going on in there? As you walked closer, you began to make out the sound. Could it be? Yep, it was "Gloria." And inside, there was Blues legend Bernie Federko, the Hall of Famer, a great grin across his famous face. He was responsible for the request – talked the owner into it – and Federko and some other Blues folks soaked it all in.
A night later, so did all of St. Louis.
Now, closing out a series, so many in sports say, is always the hardest task. But the Blues have two shots at it now. Or they might not need them both.
"We've got a job to do here," captain Alex Pietrangelo said, when asked about the emotions building toward Game 6. "We still have to win our next game. We still have a lot of things that we can get better at. I know you're probably looking for some big emotion – and don't get me wrong, we're all happy we're in this spot – but we'll take tonight and regroup tomorrow and get ready for Sunday."
The Blues sure don't want to return back to Boston, where they got away with a trip and ran away with Game 5 in their sweaty hockey bags.
It's been a series defined by tough plays, starting all the way back to Game 1, when a helmet-less Torey Krug avoided a charging penalty and obliterated Blues rookie Robert Thomas, who hasn't played since. But a non-call in Game 5 will be remembered – Tyler Bozak's arguable trip on Noel Acciari. There wasn't a call, and the Blues scored in the following seconds. The TD Garden crowd booed, threw items onto the ice, and booed some more. The Bruins got the goal back with 6:28 left, but that only cut the lead to 2-1, ultimately the final score.
The Blues bruise. They're tough, unfazed, and they throw four lines at opponents – basically, they're out-Bostoning Boston.
"It wasn't our best game of the series, but sometimes your goalie is going to make some big saves, especially early on to change the momentum," Pietrangelo said. "He did that, and I thought we played a lot better in the second period there. We had some good looks."
The first period was exactly what the Blues didn't want – Boston creating offense, peppering Binnington and even getting a power play. But the Blues survived and kept it scoreless. Credit the coaches and players for the infusion of energy and strategy. Before the Olympia ice resurfacer could be parked following the first intermission, the Blues already had a breakaway chance, thanks to the intense speed of Vladimir Tarasenko. He didn't score, but the statement was made. The Blues were rejuvenated.
Forty second later … goal.
Ryan O'Reilly scored it, but we'll remember it because of the Zach Sanford pass. Backhand. Between his legs … and the defender's. O'Reilly did the rest.
David Perron, a hated Blue in Boston, scored the winning goal.
The Blues are coming home with a chance to win their first Cup.
Earlier this series, passionate Blues fan Jon Hamm was asked about his childhood St. Louis sports fandom. The Emmy-winning actor from "Mad Men" put the Blues winning the Cup in perspective by comparing it to his childhood as a Cardinals fan.
"In '82," he said, "my dad took me to Game 1 and Game 7. We lost Game 1 and won Game 7. I didn't know what to do. I was a Cardinal fan in the 1970s – I didn't think we were ever going to go to the World Series, much less win it. I was just kind of running around, I didn't know what to do, randomly screaming. No one did! I think if this happens, it's going to be that times infinity."
Stanley Cup Final Watch Party Game 5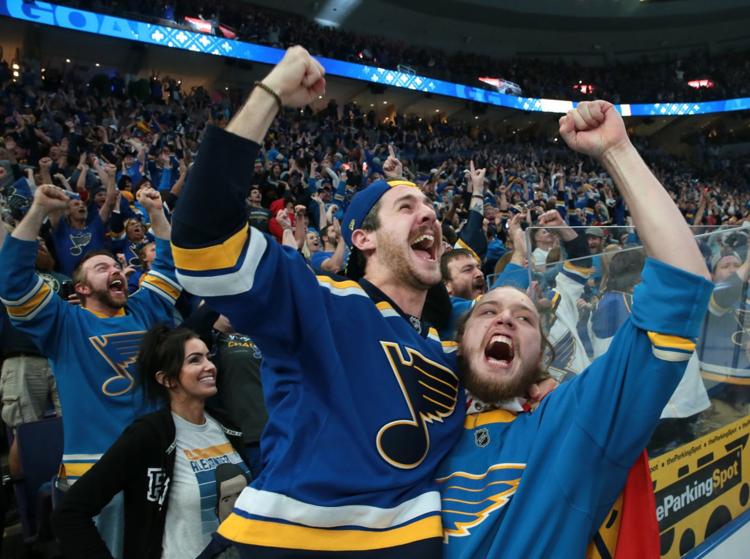 Stanley Cup Final Watch Party Game 5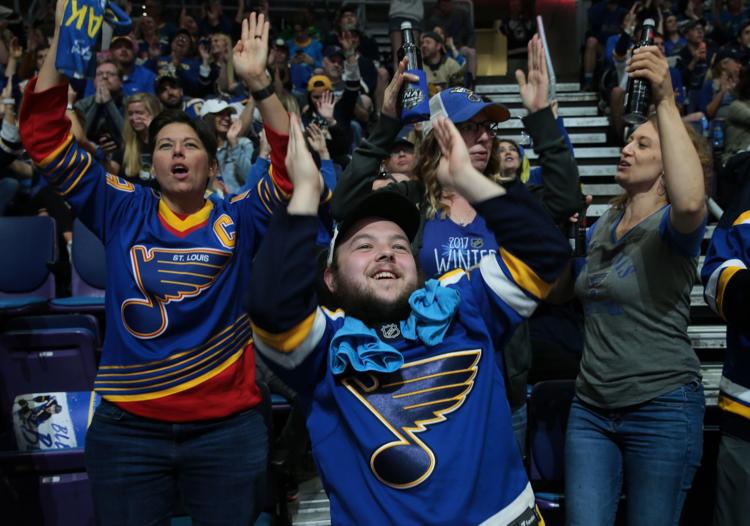 Stanley Cup Final Watch Party Game 5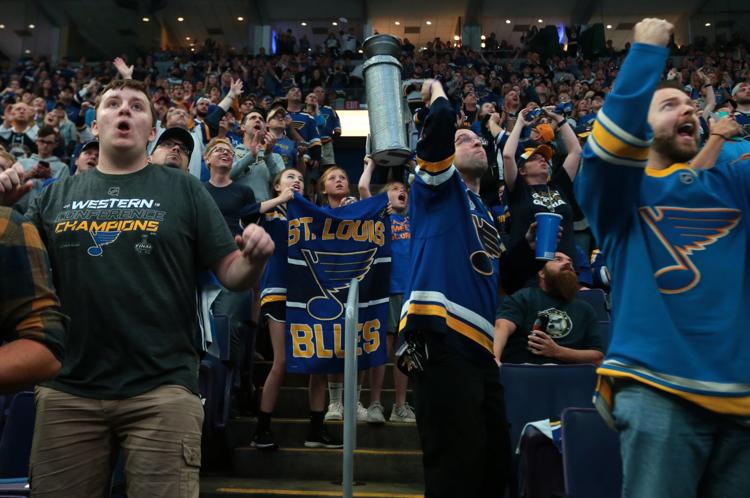 Blues fans watch Game 5 win at Duke's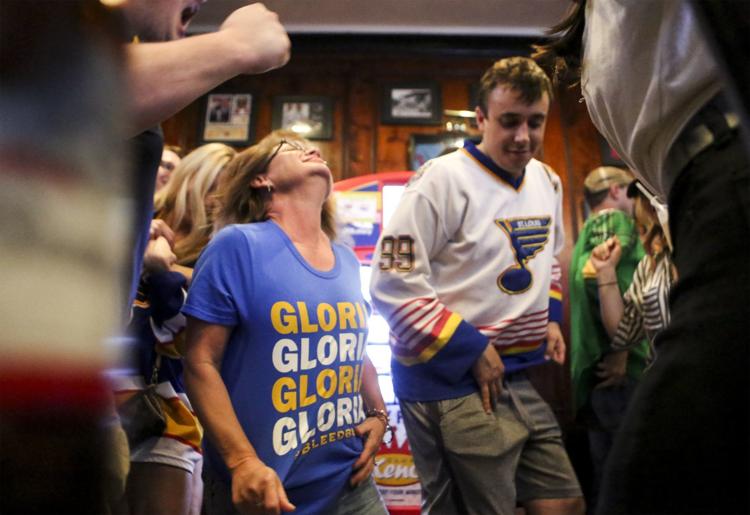 Blues fans watch Game 5 win at Duke's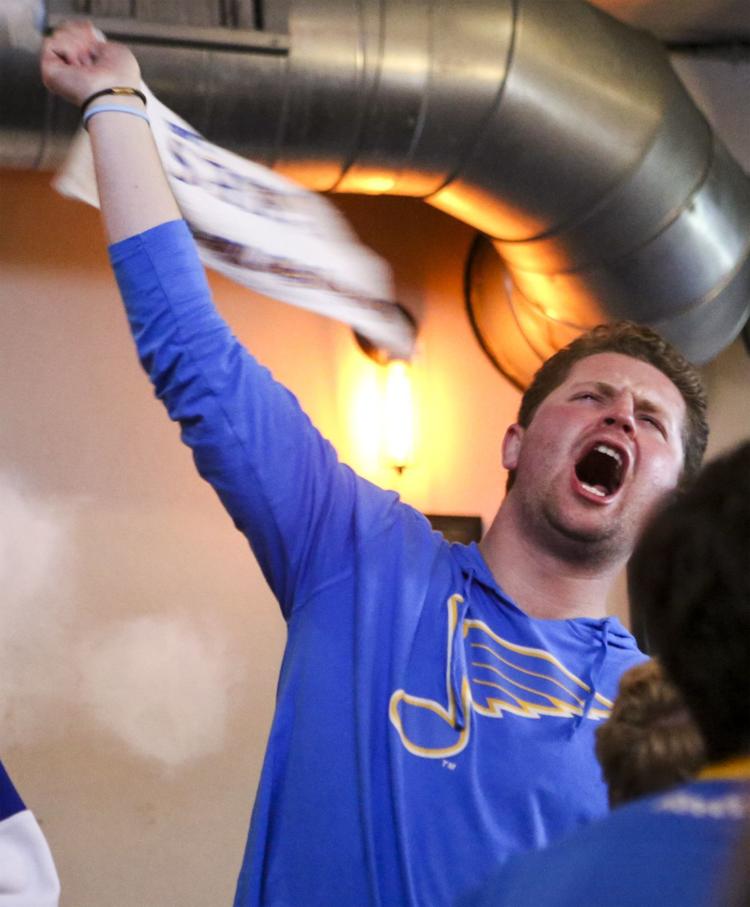 Stanley Cup Final Watch Party Game 5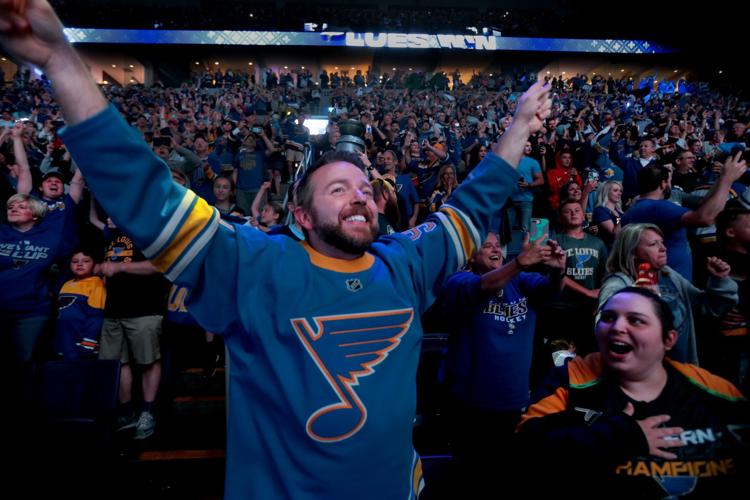 Stanley Cup Final Watch Party Game 5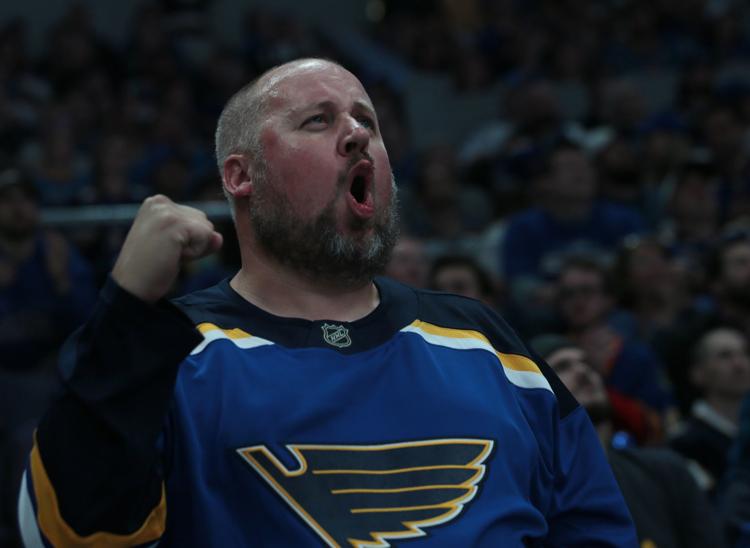 Stanley Cup Final Watch Party Game 5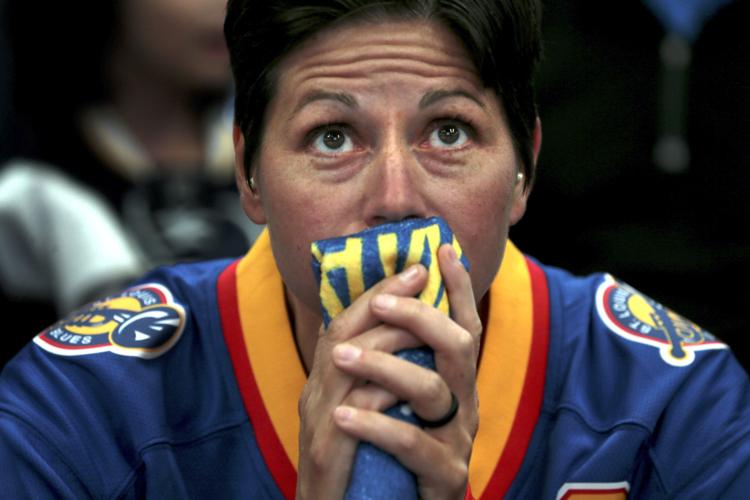 Stanley Cup Final Watch Party Game 5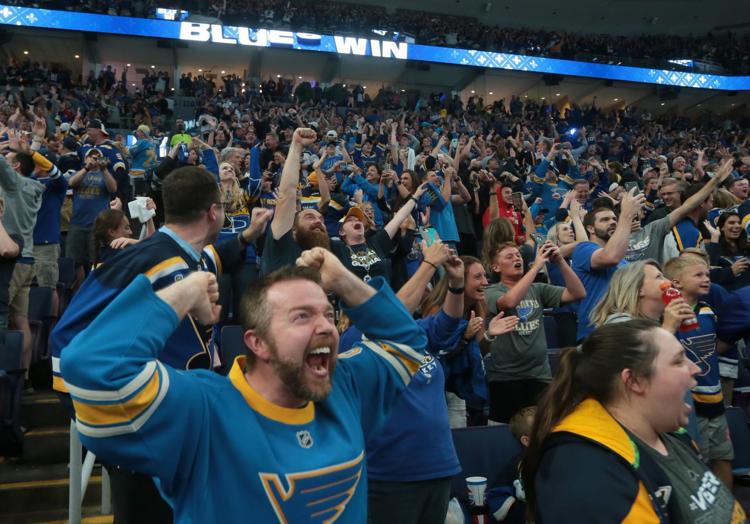 Stanley Cup Final Watch Party Game 5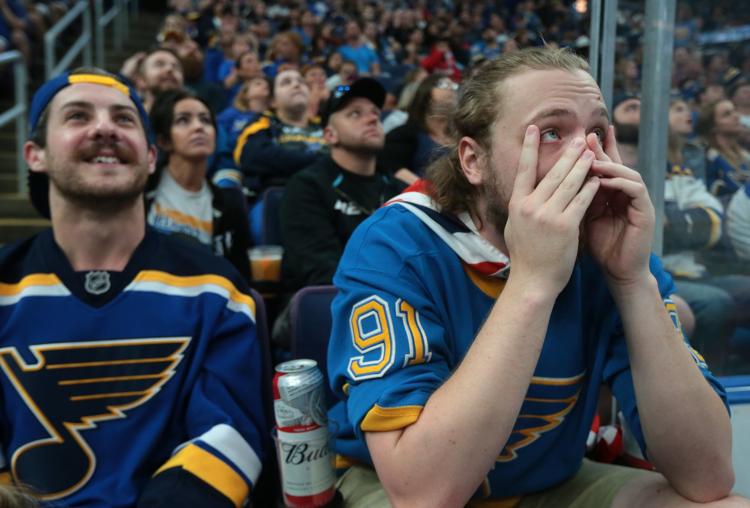 Stanley Cup Final Watch Party Game 5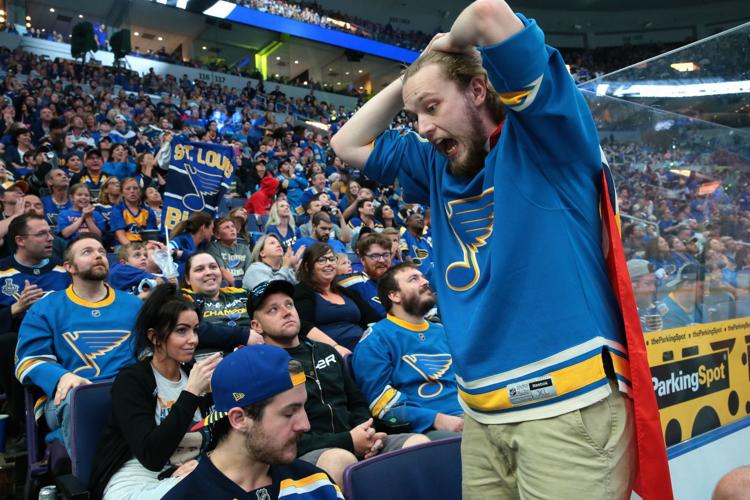 Stanley Cup Final Watch Party Game 5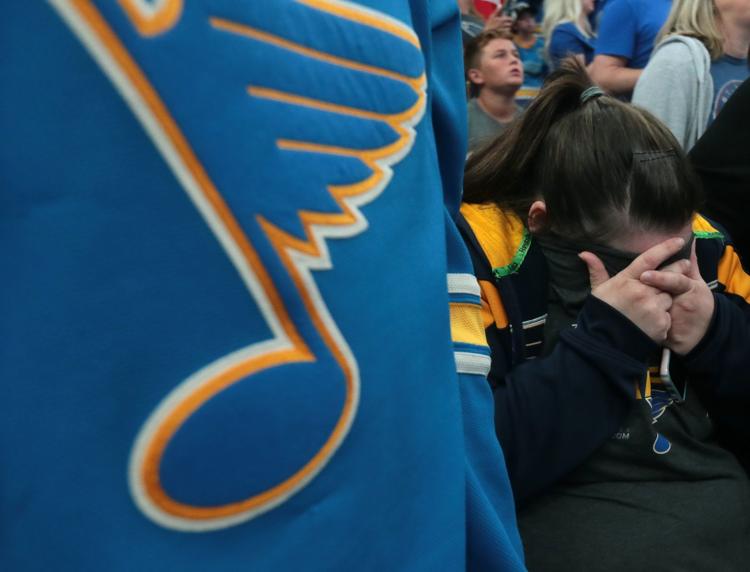 Stanley Cup Final Watch Party Game 5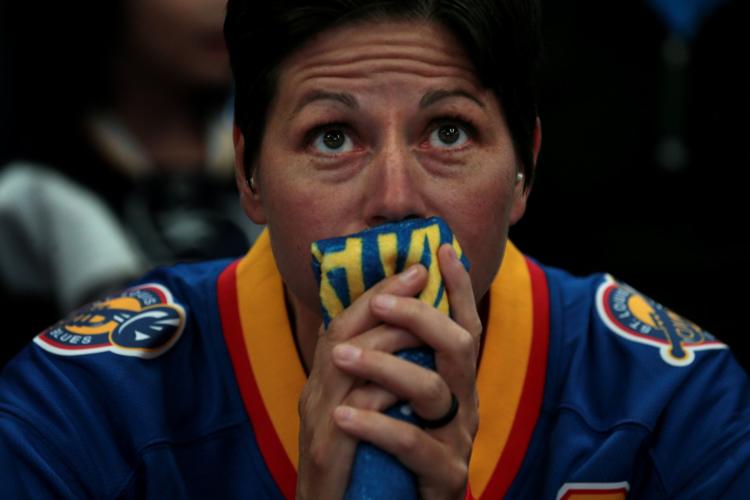 Stanley Cup Final Watch Party Game 5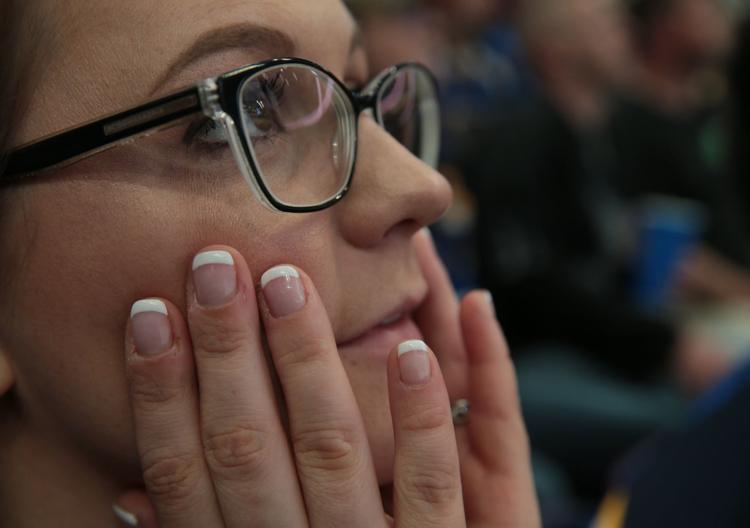 Blues fans watch Game 5 win at Duke's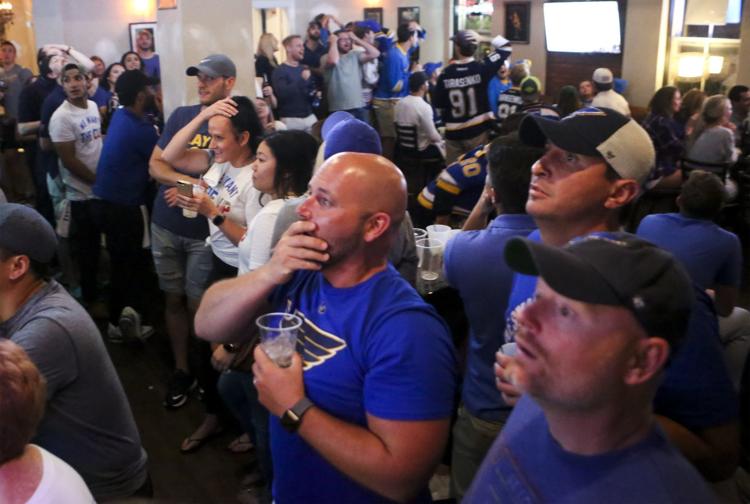 Stanley Cup Final Watch Party Game 5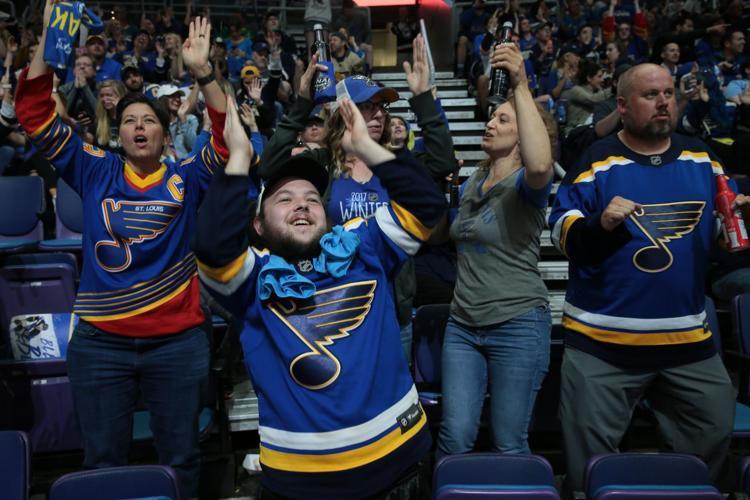 Stanley Cup Final Watch Party Game 5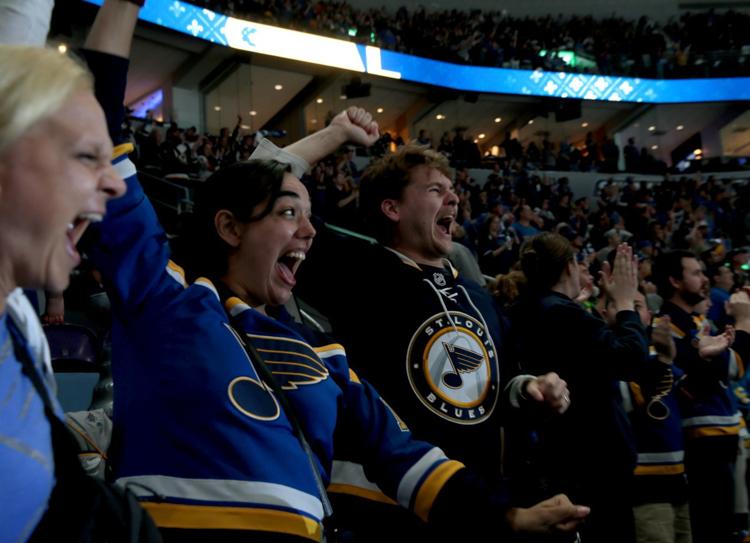 Blues fans watch Game 5 win at Duke's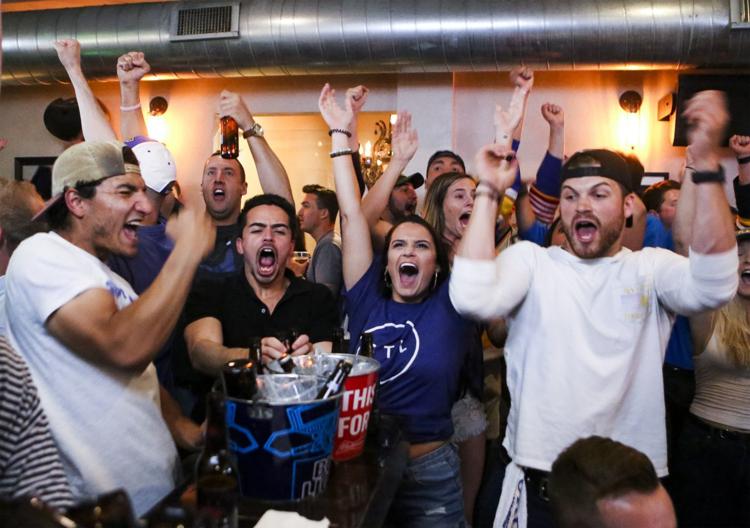 Stanley Cup Final Watch Party Game 5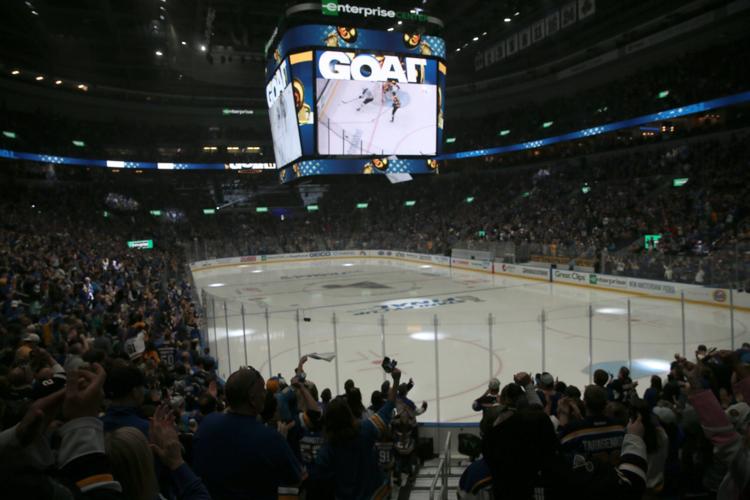 Blues fans watch Game 5 win at Duke's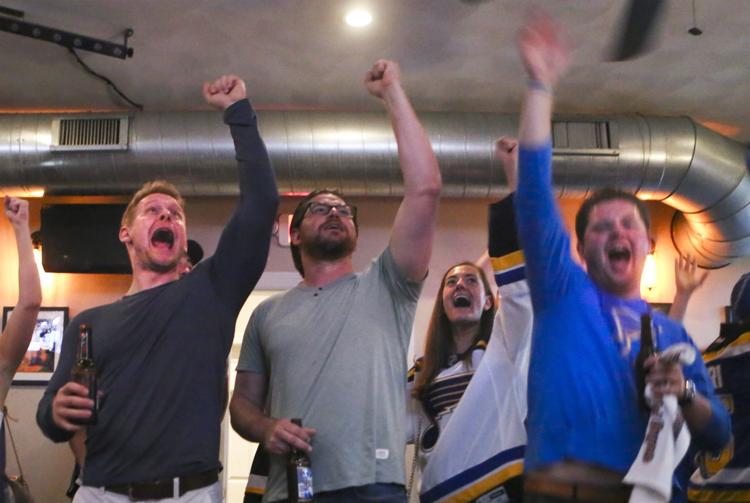 Blues fans watch Game 5 win at Duke's