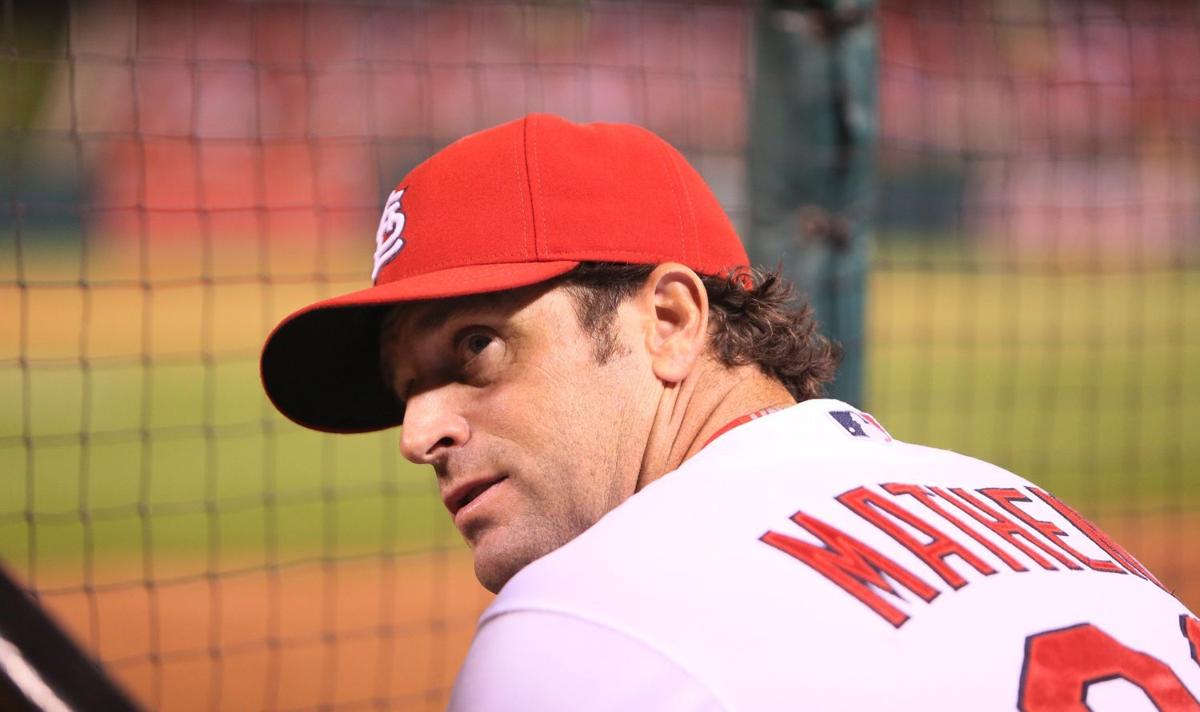 JUPITER, Fla. • Mike Matheny has a personality, Mike Matheny said without personality.
People around him even call him out on it.
"They say, 'You just look miserable!'" the Cardinals manager said. "And I'm like, 'You have no idea, I'm the most joyful person!'"
His voice is steady and soft, low-toned and serious, like Clint Eastwood's. Matheny brought up "the fact that people are constantly on me about my demeanor and my lack of personality. I just keep coming back to the fact that — listen, I just don't believe my job description is about me being charming."
On his first day at spring training, the manager volunteered some self-evaluation, a glimpse into his own self-awareness. In a division with two peppy skippers, the effervescent and effective Joe Maddon of Chicago and Clint Hurdle of Pittsburgh, Matheny of St. Louis is business-like and no-nonsense. He can be dismissive to outsiders or even media insiders. His quotations and explanations at times come off as calculated, because they are, more likely than not, calculated. Unabashedly, he just doesn't seem to care what others think, about his managing or how he manages himself.
"That's a trap I could easily fall into, to where I'm trying to please the masses," the 45-year-old Matheny said. "And then I think I put at risk what I have to do for these guys. And I think they see right through that stuff. Everybody else goes about it the way they want to go about it, and I think I'm the last guy to talk about who's doing what — I have to figure it out for myself. And what I figured out is — I want these guys, without a doubt, to know what my agenda is, and my agenda is them. And us winning.
"I know you guys (in the media) don't get to see it ... but I spend time around people in the real world, and it's different because I can be different there. Maybe someday I'll get better at combining the two, but I feel like I'm always on point when I'm doing this job, which is guarded, which is maybe combative, I don't know — you guys can throw the adjectives on there. I just feel like that's what I'm supposed to do."
The manager sometimes mismanages. Roasting his bullpen usage has become as synonymous with St. Louis as toasting ravioli. But every team's skipper is going to make mistakes, and Matheny's body of work shows that he presses the right buttons. A lot. Beyond the 100 wins a season ago, and beyond the playoff appearances in each of his first four seasons, is the astounding consistency that his Cardinals haven't had a losing month since June of 2012.
This all reminds me of a talk I had with the Chris Jaffe, the author of the book "Evaluating Baseball's Managers: A History and Analysis of Performance in the Major Leagues."
Jaffe is the cognoscenti of skippers, and he pointed out that we often over-analyze in-game tactics, because it's what we see. And in a Twitter world, every woman or man is a manager.
"But I've found over the years that managers are more managers of men than managers of the game," Jaffe said. "So while in-game strategies matters, the stuff behind closed doors is often more important. But the public has a tendency to evaluate them based on the part we see, even if it's just the tip of the iceberg."
I wonder if Matheny's reluctance to become a public persona affects the public perception of him? I truly wonder if Maddon's mad-scientist managing methods, and the fact that he's fun and funny, won him the manager of the year award over Matheny last fall?
Then again, as the late, great Joe Strauss once wrote in this newspaper: "Of all the awards bestowed by the Baseball Writers of America every November, manager of the year is the most capricious, the most narrative-driven, the downright clumsiest."
But in the most-relaxed of settings — under a trio of palm trees upon his arrival to Florida — I asked Matheny if it honestly bugs him that he won 100 games but not the award.
"I don't know the politically correct way to answer this question," he said, "but the honest answer is — I've never had that on my goal sheet. Would I have been humbled and honored? The answer would be yes. Was there radical disappointment? The answer is no. I just want to win, I want to watch these guys have incredible seasons. It's about us and them. I think it's a really bad trap for me to fall into, to start thinking about accolades."
In his fifth season, he said he hopes to continue to grow "in every way possible. In communication, in strategy, in application in doing my job. That's the whole idea. That's how I'm wired, and I'm very grateful for that. And that's something we need to keep as a common mentality and common theme."