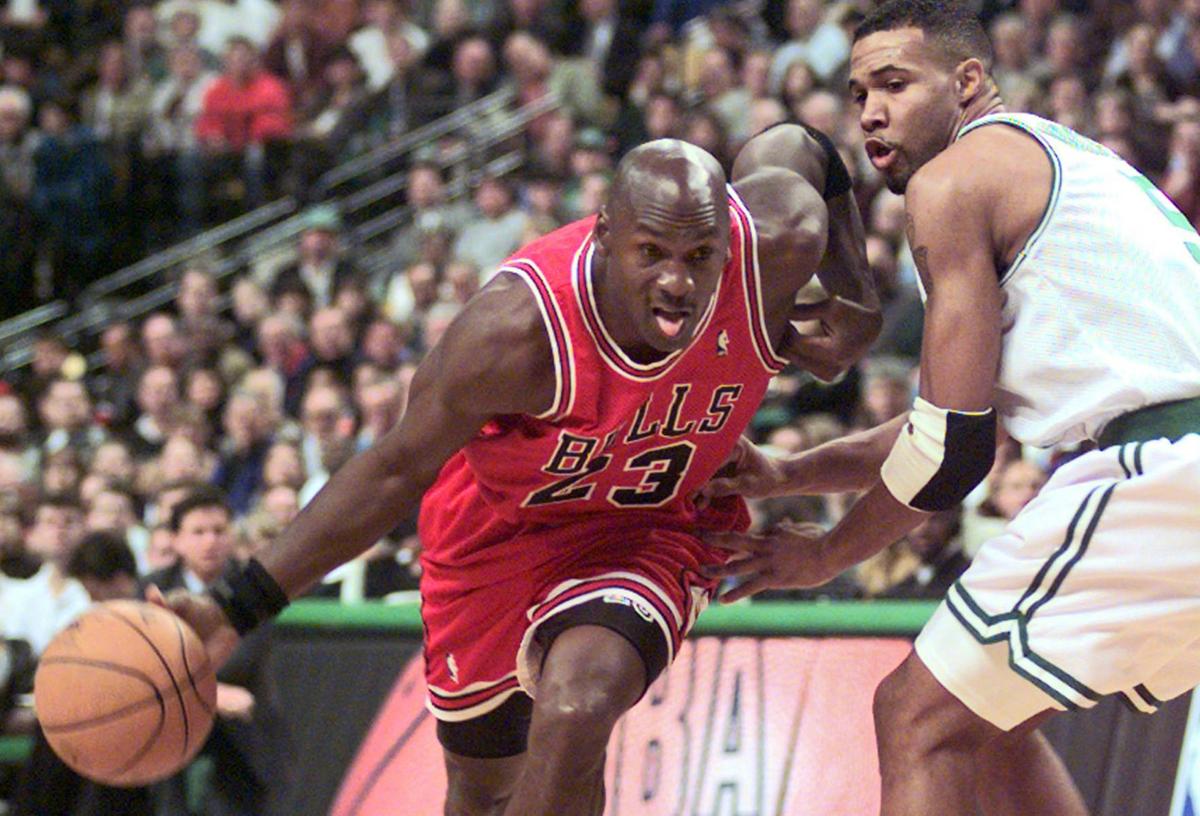 We've been mesmerized again.
Mesmerized. That's the feeling. That was the experience of watching Michael Jordan, Sunday after Sunday, as the biggest star to ever play team sports became the biggest star yet again, his rare "Air" on display in a rare era of no sports.
As ESPN takes a bow for its documentary series "The Last Dance," let's tie a bow on it. No, this wasn't the greatest documentary in ESPN history – that will forever be "O.J.: Made In America," which won an Academy Award. But "The Last Dance" was the perfect documentary for the perfect time – and it was watched in real time, like the miniseries of yesteryear, when seemingly the whole country watched "Lonesome Dove" or "Roots" or "Shogun" and then talked about it the whole next week.
After devouring the documentary, one quote stands out. It's not the one you think. Yes, many in media have made a big deal about Jordan's emotional quote at the end of Episode 7. Jordan's description of the price of winning and pushing his teammates made for enrapturing television. But this quote from Episode 5, from former Bulls teammate B.J. Armstrong, was extraordinarily revealing. Armstrong just captured it perfectly. This quote is currency, it's ammo in the debate over why Jordan is the greatest athlete, greatest competitor and greatest winner in sports history.
Armstrong describes Jordan's level of play when M.J. began combining MVP talent with winning championships: "Michael Jordan didn't even really play basketball anymore – he just figured out how to win the game. He knew how to steer momentum. He knew how to get guys going. Not only was he that good on the offensive end, but he was that good on the defensive end. He was just playing a different game than the rest of us. He let us play, but he was there to win the game."
This is the ultimate "chess vs. checkers" quote. The checkers players were, essentially, all the other NBA players. Like, really talented guys. Stars, whether on his team or other teams. Those "nine" guys would go out there and play the game, and then this 10th man would be the X-factor, because he just approached basketball differently than everyone else. What a quote.
Now, for all the praise of Jordan, he was also exposed as a bully. That part was hard to grapple with. He was a legend, but he was a jerk. He pushed and demanded and pushed and demanded. As he said in the famous Episode 7 quote, "Look, winning has a price. And leadership has a price. So I pulled people along when they didn't want to be pulled. I challenged people when they didn't want to be challenged. And I earned that right. … When people see this they are going say, 'Well he wasn't really a nice guy. He may have been a tyrant.' Well, that's you. Because you never won anything. I wanted to win, but I wanted them to win to be a part of that, as well. Look, I don't have to do this. I am only doing it because it is who I am. That's how I played the game. That was my mentality. If you don't want to play that way, don't play that way."
Overcome with emotion, Jordan then said to the director: "Break," to imply he needed a break from the interview.
So, a lesson taught in the documentary is – He's the best, and this is how he became the best, thus the way to win is the Jordan way. What's unfortunate is the glorification of this bullying makes it seem like other ways to be a leader are inferior or ineffective. But there are alternative ways to lead. Alternative ways to win. Yes, Jordan is Jordan, six rings, the whole thing. But plenty of other leaders of champions have had kinder dispositions. Stephen Curry is liked, but he can also bury you in the court. Peyton Manning and other quarterbacks of his ilk were the respected generals of the offense – they weren't feared by their own teammates, but they got the most out of their teammates.
So, yeah, to accept Jordan's success is to come to grips with the way he got there. It wasn't pretty, until it was.
As one thinks back over the 10 episodes, there were just so many amazing moments. The documentary features this confluence of never-before-seen footage of the 1997-98 Bulls, interviews with 100-plus people, creative storytelling and, of course, Michael unplugged. His raw emotions and descriptions and revelations were golden. And the footage! So many moments. Jordan jumping so high to block a shot in college, he hit his head on the bottom of the backboard; Jordan on the floor of the training room after winning the first title after his dad died – with audio of his howling; Jordan getting in the bus driver's seat and honking the horn like a kid would, in order to get his way; Jordan opening a bottle of champagne after the final title and saying the word "six"; Jordan losing in "pitching pennies" to the well-coiffed security guard, who shrugged his shoulders a la Jordan.
Every Sunday provided a new favorite moment. And now, like watching Michael Jordan, the experience of watching the Michael Jordan documentary is part of the past, too.
Be the first to know
Get local news delivered to your inbox!