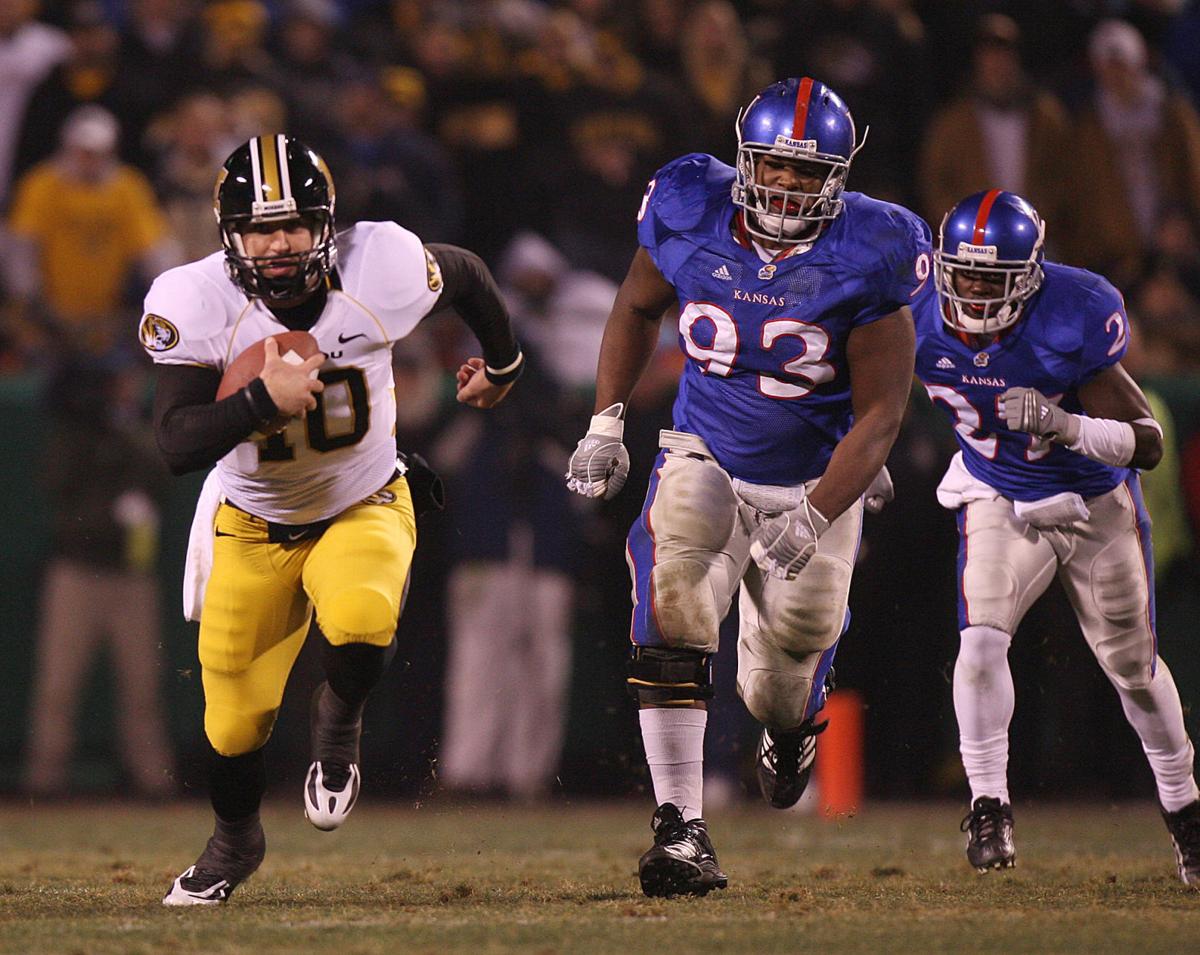 Missouri vs. Kansas in men's basketball is going to happen, again.
But what about Missouri vs. Kansas in football?
"We've actually started talking more football," Missouri athletics director Jim Sterk said by phone Wednesday. "So hopefully by the end of the year we'll have something to announce."
And what about Missouri vs. Kansas in other sports?
"This is kind of just the start," Sterk said. "We haven't gotten all the other pieces done yet, but it opens the door for Olympic sports to schedule. ... I've heard from our track coach, women's basketball coach. ... To have a high-quality opponent 2½ hours away is really great for us to be able to schedule and fill out those nonconference games. It's been really positive."
The reality is, passion is so strong, even Mizzou vs. Kansas in chess would matter to alumni.
"We do have a chess team on campus," Sterk pointed out, "so they might renew that rivalry as well."
In his tenure, Sterk has rejuvenated Mizzou and renovated Mizzou and now has recreated Mizzou the way it is best-remembered — as Kansas' rival. The school sports year has felt incomplete without Missouri vs. Kansas. And while it's adorable that Mizzou's football team plays its annual Thanksgiving-Friday game against Arkansas, the only thing Mizzou fans truly dislike about Arkansas is that it has "kansas" in it.
Mizzou will play Kansas in basketball beginning next season, for six seasons at least. Other Tigers teams will battle the border rival soon. This is the latest of impressive works by Sterk, whose refreshing personality and perspective have helped Mizzou accomplish new things ... or, in this case, an old thing. And his ability to negotiate with Kansas athletics director Jeff Long — even with the powerful Bill Self still coaching basketball in Lawrence — has resuscitated a rivalry that Self was happy to keep buried in the past (perhaps in an old gym bag made by Adidas).
The last Mizzou-Kansas basketball game that counted was in 2011-12. That means eight freshman classes have arrived at Mizzou — or gone through Mizzou — without having Kansas as a rival.
Time moves fast, doesn't it? You feel bad for those students. Part of what makes Mizzou Mizzou is having Kansas in its world, in its way, in its face, in its consciousness. Sure, that generation of Mizzou students got to experience Southeastern Conference sports. But part of the true Mizzou experience is having this nonsensical disdain for strangers at a nearby institution.
Sterk shared some imagery from the Mizzou athletics offices, the night they announced the rivalry was renewed.
"As (the news) was coming down, and I let more people know and tried to prepare and get information out," Sterk said, "alums on our staff, they were like hyperventilating. 'This is so great,' and they're shaking! And some of the alums I called to give a head's up to, they said, 'This is a big deal.' ...
"What's neat about it is that it's been so long, so we'll (have) a new generation of people to be able to appreciate the rivalry and enjoy it. So that'll be fun for a new generation to experience that."
There's something about Kansas. It started with the embarrassing burning and bleeding of a wartime past, but developed into a rivalry fit for an old gym and old grudges. Sure, some Duke-North Carolina folks or Alabama-Auburn fans might shoo aside Missouri-Kansas for whatever haughty or snotty reason. But here in Missouri, where baby boys seldom are named Lawrence, we know how bona fide and fiery this rivalry is.
See, when Mizzou plays other teams, Mizzou fans of course want Mizzou to win, but when Mizzou plays the Jayhawks, there's this equal desire to see Kansas lose. And many Mizzou people take pride in Kansas losing other games. To other teams. In other sports. In any sport.
This week, Mizzou football fans really, really want Mizzou to win against Kentucky, but it won't bother them much if Kentucky wins, or loses, its next game against Tennessee.
When Missouri plays Kansas, history isn't just made, but memories, too.
"I had heard it as I came here, 3½ years ago: 'If you can do anything about getting that rivalry back ..." Sterk said. "I just heard it continually over that time. And then two years ago, with the Showdown For Relief exhibition game (against KU) that we did for charity, which generated over $2 million, it was a positive atmosphere and result. So I thought that maybe there was an opportunity in the future. It's fun to see people engaged. For Jeff and me, it's important that this is kept on a great level of sportsmanship, and I think the coaches feel that way, too. It'll be fun to do."
And to think, the match-up could happen soon on the gridiron, too. Makes one wonder, what about the chessboard?
"We just started our program this year, and our biggest collegiate chess rivals are in St. Louis, as SLU and Webster have well-established programs," said the coach of Mizzou's chess team, grandmaster Cristian Chirila. "We'd love to battle Kansas. But the ball is in their court, as they need to first start a chess program there."
Mizzou athletics director Jim Sterk found a pretty successful way to direct attention from the football team's dreadful loss at Vanderbilt. He…