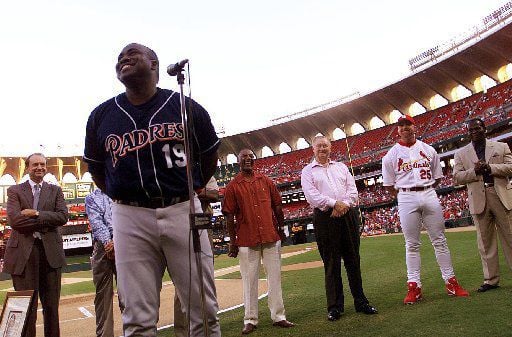 Sure, but it won't happen to me.
This phrase zips through athlete's minds like the 4-6 of a 4-6-3 double play.
They hear the cautionary tales of athletes who make millions and then actually go broke.
Sure, but it won't happen to me.
They hear sobering stories about drunk athletes killing people while driving.
Sure, but it won't happen to me.
And they see the images of Bill Tuttle, the old ballplayer whose right cheek and jaw looked like it was being sucked in and swallowed from the inside.
He said it was from chewing smokeless tobacco.
Sure, but it won't happen to me.
In Tuttle's New York Times obituary, in 1998, Tuttle's wife shared a note he wrote to his family. Tuttle was unable to speak his words, for he was dying of oral cancer.
"I know what I did to myself was wrong and I'm so sorry I hurt everybody," he wrote. "But maybe I can show them how sorry I am by teaching other people."
Bill Tuttle came to mind this week, when news broke that Major League Baseball and the players' union agreed to ban smokeless tobacco for all new major leaguers. An important measure indeed. A resounding statement — but one worries if it'll resonate?
Smokeless tobacco has been banned in the minors for years, but it's rather visible that numerous big leaguers still chew (and they probably didn't just start chewing when they got the call to the bigs). If a player wants to chew, he'll find a way to chew. Tuttle, along with St. Louisan Joe Garagiola, spoke to numerous teams in the mid-1990s about the dangers of smokeless tobacco. The image of Tuttle's disfigured face surely affected some players, who said as much at the time, but others felt it wouldn't happen to them.
Here's the problem with "it won't happen to me" — it's going to happen to someone. Why won't it be you? Why are you the handpicked human who's impervious? Just because an athlete feels super-human or larger-than-life doesn't mean he or she can dodge reality. Shoot, perhaps the best hitter of his generation died because of tobacco.
And now, part of Tony Gwynn's legacy will be in ballplayers who live longer than Tony Gwynn.
The San Diego legend — the American legend — won the batting title eight times. He hit .338 for his career. Since 1982, Gwynn's rookie year, only two Cardinals have hit higher than .338 in a season (Albert Pujols in 2003 and 2008 and Gregg Jefferies, who hit .342 in 1993).
But when Gwynn died in 2014, he was only 54. He had salivary gland cancer, due to decades of dipping. Gwynn's family filed a wrongful death lawsuit this summer against the tobacco industry.
"The whole time, the tobacco companies were using his addiction to turn him into a walking billboard," his daughter, Anisha, said at a news conference. "They were using him to promote their dip to the next generation of kids and fans who idolized him."
Is baseball doing enough to eradicate tobacco from the game? Of course not. But baseball is at least doing something. Just like smoking has slowly become taboo, perhaps smokeless tobacco will, too. The shame is that a handful of ballplayers will die from it during the process.
On a lighter note, St. Louis University's basketball team has a chance to redeem itself Saturday. The Billikens lost one this week that stung. Samford beat them in St. Louis. Not Stanford — Samford (for those wondering, Samford is located in Homewood, Ala.). On Saturday, the Bills (2-4) host Kansas State (6-1). Hard to see SLU winning this one, though senior forward Reggie Agbeko has been causing a ruckus in the low post. He's averaging a double-double with 11.7 points per game and 10.3 rebounds, the latter stat leading the Atlantic 10 Conference.
One of the best players on SLU's campus doesn't play. Adonys Henriquez is one of three transfers who are redshirting this season for Travis Ford's team. Henriquez came from Central Florida, where he averaged 10.8 points as a sophomore. I asked Ford about the kid. The coach said Adonys is one of the best shooters he's ever coached.
"I don't like to talk a whole lot about him, but I do get excited about him," Ford said. "Adonys is a gifted player, a very gifted player. He has one of the better feels for the game that I've coached in a long time. That's something I did not know he had. I knew he could score and shoot — he probably shoots it a little better than I thought he did, and he ranks up there as one of the top three or four shooters I've coached — but his feel for the game, passing and making others around him better, is really, really good. We've got to get him better at defense. But he's doing well."
Hard not to like the Jaime Garcia trade. Dealing a guy who wouldn't have been in your rotation — and getting three of a franchise's top-30 prospects in return? Not bad. Now, to be fair, it's not like the Birds got the Braves' Nos. 1-3, but there is (naturally) promise in the kids — John Gant, Chris Ellis and Luke Dykstra.
The 21-year-old Luke is Lenny Dykstra's son. They say the kid plays a lot like dad did — but he sure doesn't walk like him. Lenny Dykstra once led the National League in walks, and three times overall, he finished in the top four. Luke? He had 364 plate appearances last season for the Braves' Class A affiliate. Luke walked six times. Then again, he only struck out 31 times (and the second baseman hit .304).
On our radio show "The Writers' Block," we were joined by MLB minor league expert Jonathan Mayo, and Mayo said Luke Dykstra reminds him of the Mets' T.J. Rivera. This past season, Rivera made his big-league debut, hitting .333 in 113 plate appearances, but walking just three times. In six seasons in the minors, Rivera walked once every 17.5 plate appearances.
There are mixed memories of the Jaime Garcia experience. He had some masterful starts, including one that statheads unofficially call a "Maddux" (a shutout in fewer than 100 pitches, which Jaime threw on Aug. 22, 2010 against San Francisco). He had some forgettable starts, including his final one for St. Louis, a September bumbling against Cincinnati. He pitched great in his Game 2 start of the 2011 World Series, but the Cards lost. He pitched poorly in his Game 6 start, but the Cards, of course, won.
And personally, one recalls the buzz in "Busch Stadium West" on May 28, 2011. Entering this game, Garcia had a 1.93 ERA and a 5-0 record. I was living in Colorado at the time, and I (along with thousands of other St. Louisans) was fascinated to see this guy in person. Could he keep this up and start the All-Star Game? Would they someday rename the Cy Young the Jaime Garcia? Well, the pinball machine of Coors Field overwhelmed the hurler, who — wait for it — allowed 11 hits and 11 earned runs (12 total).
His ERA jumped to 3.28. It never got below 3.00 again, and he finished the 2011 season with a 3.56 ERA.
The man who traded Garcia is taking questions. "An Evening with John Mozeliak" will feature the Cards' general manager on Jan. 11 in Jacksonville, Ill. Jay Eckhouse, the baseball coach at Illinois College, is spearheading the event, which will be held at the Jacksonville High School Auditorium. The 7 p.m. event will feature a speech from Mozeliak and a question-and-answer session. A ticket ($45) includes ballpark-style food. For tickets or information, call Eckhouse at 217-883-0179.