The concept of perfect isn't perfect.
Sure, something can be mathematically irrefutably perfect, be it a score in bowling or on the SAT, and something can be categorized as perfect, be it a storm or a game.
But to identify a person or a creative work as perfect is imperfect, because perfection is subjective. Or perhaps unattainable — as the artist Salvador Dali once said, "Have no fear of perfection — you'll never reach it."
But the late Stan Musial, who was born 100 years ago this weekend, was called "baseball's perfect warrior … baseball's perfect knight" by then-commissioner Ford Frick, and that's a frickin' perfect description. And it's the inscription on the Musial statue outside Busch Stadium — which itself, when it comes to statue stature, is far from perfect.
But as a Hall of Famer and winner of the Presidential Medal of Freedom, who was called "The Man" and embodied what it meant to be one, was Stan Musial perfect?
"I will say nearly perfect — because as a Catholic, God is perfect, and dad was very religious," said one of his daughters, Janet Schwarze. "He was nearly perfect, yeah. Just his love of people and love of family. He just showed a love of family, all the time."
So, how about this — Stan Musial was as perfect as his 1948 season, which was, to use his daughter's line, nearly perfect.
You ask: How can a hitter have a perfect (or nearly perfect) season? What does that even mean?
Well, in 1948, the 27-year-old Cardinal led the National League in runs (135), hits (230), doubles (46), triples (18), RBIs (131), batting average (.376), on-base percentage (.450), slugging percentage (.702), OPS (1.152) and WAR (11.3).
The only major stat category Musial didn't lead the league in was home runs. He finished second, with 39. Two guys had 40. And according to the memoirs of St. Louis sportswriter Bob Broeg, a Hall of Famer himself, Broeg wrote of "one rained out home run" in 1948. So, 40 homers would've tied Musial for first, and thus he would've won the Triple Crown. Even still, he finished second in homers and led in all the other premiere stat categories.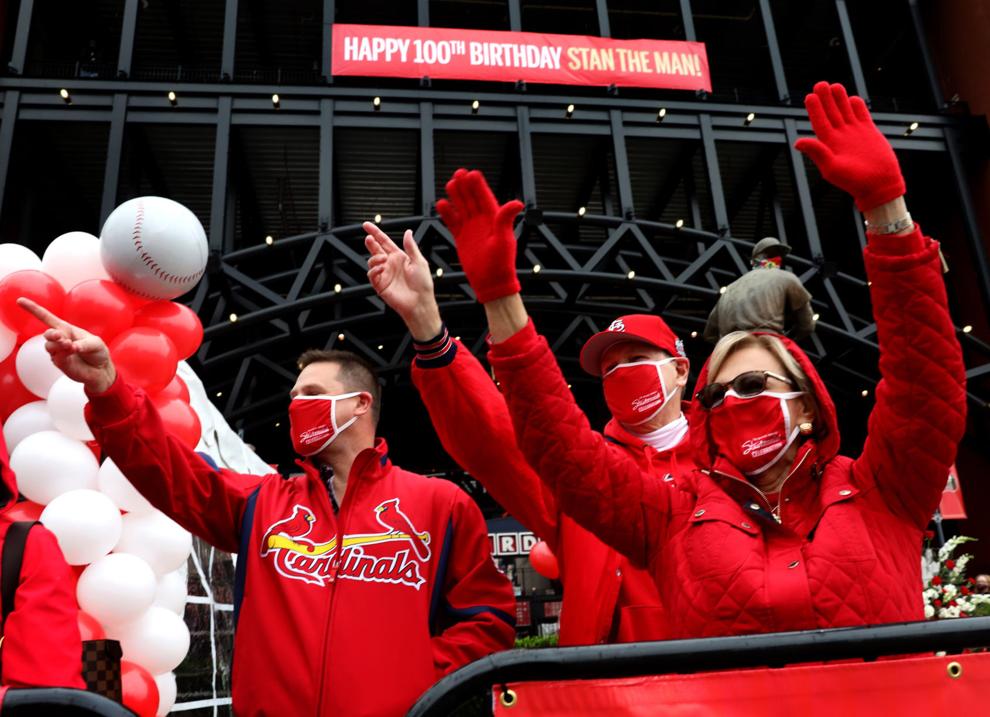 On Saturday, Musial's birthday, his family and friends were treated to a celebration from the St. Louis Sports Commission, which spearheads the Musial Awards — given to those who achieve greatness in sportsmanship (come to think of it, is that the perfect awards show?).
Members of the Musial family (in masks) were stationed under red and white balloons in front of the Musial statue. And along with Fredbird and a cardboard cutout of Stan, they greeted cars that passed by in a parade of fans. There were a couple dozen socially distanced harmonica players. And cake! They called it the Stantennial.
"He always said he was blessed," Schwarze said.
And he blessed us. He came to St. Louis and touched this city. Musial was an All-Star who became a superstar who became a living legend who became an immortal. He was revered for his amazing 22-year career (.976 OPS), but also all the years after, when he was just the nicest guy in town. And he adored being around town, part of the town, eating his way through the town. Musial loved experiencing St. Louis spots, and St. Louis loved spotting Musial.
"It was always so fun being with mom (Lillian) and dad when we'd be out to dinner," said Jean Edmonds, another of the Musial daughters. "Fans would stop by the table, and my parents were always so incredibly generous with their time. They really loved talking to everyone that came up. So I think we all saw that as a family. And I think we try to be like them."
As I wrote of Musial in my first column for the Post-Dispatch: In 2015 and in 3015, we'll want our St. Louis Cardinals to emulate him, and we'll want St. Louis to emulate him. A lot of towns have heroes — we have a role model.
"He was a gentle man and a gentleman, that's how I think of him," Schwarze said. "Even at home. Mom was the disciplinarian, not dad. He was just a kind person. And you know what? We were going through all the things in the house, and it even says in his high school yearbook that he was just a nice person. Always smiling. And happy. …
"It was nice to hear people talk about dad so lovingly. It was always with admiration and love that they talked. And not even in just St. Louis — I mean, around the world. We went to Australia and New Zealand and they knew him there. We had a friend in Sydney, and her office got wind that dad was coming. The cricket club asked if they can throw a party for dad. They put it in the paper. And it was sold out within hours. It was pretty amazing. We traveled to Tahiti, same thing. And in Europe too, whenever he went. He knew the Pope. He started baseball fields in Poland. Japan! He wasn't only an ambassador here."
Musial's nearly perfect season of 1948, naturally, earned him the MVP honors. His OPS+ (adjusted OPS) was 200. It should be a season they teach St. Louis schoolchildren. And it gave us one of the great lines in baseball history. Asked the best strategy for getting Musial out, Brooklyn pitcher Preacher Roe said: "Walk him on four pitches and pick him off first."
When they make it to Busch for Cardinals games, Musial's daughters always look for fans wearing No. 6 jerseys. They'll quietly go up to the fan and give him or her a card. It features a photo of Musial, some info and an autograph by The Man himself, signed before he passed.
Said Schwarze: "We want to keep the legend alive."
Stan was "the Man" for his grace, style, wit, relatability and, yes, the fact that he hit .331 in his Hall of Fame career.