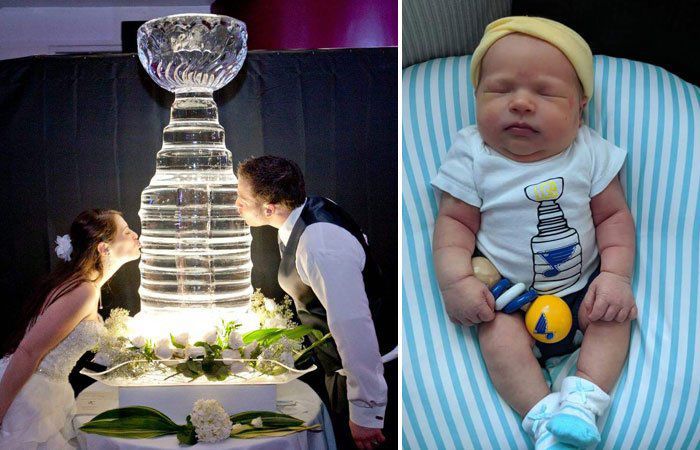 For the first time as Jenna and Matt Kovarik, the newlyweds entered their wedding reception to the sounds of "The St. Louis Blues March." Shortly after, Matt spotted his surprise gift — Jenna had ordered an ice sculpture of the Stanley Cup.
"Probably a 300-pound ice sculpture, all lit up!" Matt said.
Matt isn't a sports fan — he's a sport fan. Hockey. That's it. That's his thing.
"And I live and breathe Blues hockey," he said.
He grew up in Fenton, taping every Blues game on VHS. He idolized Al MacInnis.
"And Dougie Weight," Matt said. "I used to carry a picture of him in my wallet, which is probably an embarrassing fact about me. Between like me and a couple friends, it was kind of like a silly obsession. I never had a picture of my wife of anything in there, but I'd pull out this picture of Dougie Weight and just pass it around and get a few laughs."
Jenna was from North County. Friend of a friend. They met around a dozen years ago, sometime during the Andy Murray years.
"One of her first gifts to me was Blues tickets vs. Chicago," Matt said. "So she took me to the game. She was amazed at at how nervous I was just at a regular-season game against Chicago, and I explained to her that we had this big rivalry, and I just couldn't stand to lose to them. I was on edge the whole game. I was nervous because we were newly dating, and I just wanted things to go cool. I didn't want to embarrass myself or anything."
Yet, she took him to the environment he was most prone to embarrass himself.
"I'm capable of embarrassing myself anywhere," Matt deadpanned. "She kind of became a fan through me. I always had a partial ticket plan, so she'd go to a bunch of games with me, most of the games. Up until we started having kids. I went to every playoff game from 2003 to 2016. And then we had our first kid, so that kind of put the kibosh on that. But I try to get down there as often as I can."
They have a 2-year-old daughter named Avery Rose. She's adorable, runs around the house singing the song "Gloria." Then again, these days even grown adults have been running around St. Louis homes singing "Gloria." The song has become the soundtrack of St. Louis, ever since Blues players were at that bar in Philadelphia. A DJ played Laura Branigan's "Gloria," and later an inspired, inebriated bargoer made his song request to the DJ by bellowing: "Play Gloria!" The next night, Jordan Binnington earned a shutout in his first NHL start, and the song suddenly belonged to the Blues.
"They rallied around that," Matt said. "I thought that was cool."
Jenna was pregnant again this year – a C-Section was scheduled at St. Luke's for May 24. Three days prior, the Blues beat the Sharks in Game 6 to advance to the Stanley Cup Final.
"We didn't have one name that we really agreed on," said Matt, who works on elevators for a living; Jenna is a special education teacher. "So we just kept throwing stuff out there. Neither of us have any loyalty to the name Gloria, we wouldn't even ever had considered it, outside of the Blues connection to the song.
"I was like – 'Oh, that would be cool as a middle name!' A couple weeks back, I kind of broached the subject delicately, kind of approached her when she's in a good mood, and was like, 'Hey, how about Gloria for the middle name?' And she's like, 'No.' Flat-out, no the first time. So I'm like, 'OK, yeah, I guess I'll have to work on it. I started bringing it up, here and there. And she's like, 'What if they don't win (the Stanley Cup)?' And I was like, 'It doesn't matter if they win or not – at this point, it's already the greatest season in Blues hockey history. They came out of last place.'
Later in the playoffs, Jenna went to a doctor appointment. She told him about the Gloria possibility. The doctor was impressed by Matt's fandom.
"Once we went in for the C-Section, and they're prepping her for surgery," Matt said, "the doctor came in and saw me and was like, 'You're going to name her Gloria, that's cool! I'm supposed to tell you not to do so.' And then we started talking hockey, and they're pulling this baby out of my wife, and I'm so nervous about this surgery, I didn't even want to talk about hockey at the time! But they're all talking about the Blues and how cool it is."
The baby girl needed a name. They gave her three. They loved MacKenzie. That's her first name. Then, yep, her middle name is Gloria. But in order to make it "flow better off the tongue," Matt said, they added a second middle name – Marie.
"It happened!" Matt said. "It's on the birth certificate."
MacKenzie Gloria Marie Kovarik.
Back in the room, Matt took some pictures of their newborn and texted immediate family members.
"But," he said, "I sent them the name 'Lord Stanley Kovarik,' but I spelled it 'Lorde Stanli.' But nobody bit on it. But then I told them the actual name and nobody believed me, until they got to the hospital – I had it written up on the board. And I even drew a little Bluenote next to Gloria. They're like, 'That's a joke, right?' And I'm like – 'No! That's her name!'
And on Wednesday night, while Jenna slept, "I was watching the game," Matt said of the Blues in the Stanley Cup Final, "while holding baby Mackenzie Gloria."
So what happened when Carl Gunnarsson scored the Game 2 overtime goal?
"She was in my arms during the goal – I had to jump up delicately," Matt said. "I didn't want to scream, but I was pumping my fist. … It's unbelievable. I've looked forward this all my life – I never thought I'd be able to hold a newborn baby during it. It's unreal, really."
The latest STL Blues hockey news, NHL headlines, scores, standings and rosters.