Calahoo, Alberta, is so small, it's a one-rink hamlet.
"It's very tiny – to drive through, it's going to take you 10 seconds," said Blues coach Craig Berube, who improbably ascended from Calahoo to play 17 seasons in the National Hockey League – and now is coaching in the Stanley Cup Final. "You got a general store on the right. Then you got a church, then you got some ball fields, then you got a hockey rink. Then you're out of the town."
Berube grew up on a farm – "Not only grain crops, but cattle," he said – and grew as a hockey player on frozen ponds. In later years, he'd play at the local rink, which is called Calahoo Arena.
"But it might have to get changed to the Craig Berube Rink if he wins the Cup," said Matt Berube, the rink manager, whose father is first cousins with the Blues' coach.
Outside of the rink is a large white sign with red lettering: "Welcome to CALAHOO." Above the words is a logo similar to old logo of the Cleveland Indians – a man wearing a headdress.
There isn't a local bar or coffee shop in Calahoo – "There's one little table in our general store where you can have coffee," Matt said – but when folks see each other lately, notably at the rink, they're talking about the St. Louis Blues.
"Everybody is so proud to know that he came from here," said Matt, who estimated that "between 75-100" Berubes live in Calahoo or within a 15-kilometer radius.
Craig's own parents – Ramona and Roger Berube – still live in Calahoo. So does Craig's sister. Even in his late 70s, Roger Berube played in a weekly hockey league at Calahoo Arena. Matt described it as an "old-timers league – all the elders in the town and community get together and play." But last fall, at 80, Roger Berube finally had to hang up his skates.
The rink is often busy. The 2016 Canadian Census tallied 85 people in Calahoo itself, but those from Rivière Qui Barre and other nearby hamlets routinely come to play. Many on the ice, just like the coach of the Blues, have native ancestry.
The Canadian counterparts to Native Americans are called First Nations. Craig Berube is Cree. Well, part-Cree. He left Calahoo at 16 and soon picked up the nickname "Chief." A lot of First Nations hockey players picked up the nickname "Chief." Berube said his grandmother "was native," and he grew up playing hockey and baseball with many Cree children.
"What you had to have back then was a Métis card," Berube said of a certified ID card. "It's a half-white, half-native type card Because, you know, I look white, and I'd go play in these hockey tournaments. They'd want to know if I had native in me. They'd check you out and stuff. Métis is what you call a person that is white and native."
On November 21, 2013, then as the coach of Philadelphia, coach Berube and his Flyers played the Sabres, coached by Ted Nolan, who is Ojibwe. And so, it was a historic night – the first NHL game in which both coaches were of First Nations descent.
It's believed that if Berube coaches the Blues to a Stanley Cup championship, that will be another first for First Nations.
Sure enough, Nolan's son, Jordan, played 14 games for the Blues this season. While Jordan doesn't dress for the playoff games, he's with the team.
"I am definitely a proud of who I am and where I come from," Jordan said. "My dad always instilled that in us growing up. … Ojibwe is Northern Ontario, and there are lots of Cree all over the place. Everyone has their own tribe, depending on where you're from, and some of the remote communities, they still speak their language. But there are not many who speak the language anymore – Ojibwe is rarely spoken on our reserve. And the kids were sent to residential schools and told not to speak their language anymore, so that's how we lost a lot of our language. It's important to keep it."
As for the First Nations communities, Berube succinctly said: "The reserves, some do well, and some don't. Basically the same (as in the United States)."
During summers, Jordan and Ted Nolan have a hockey school. They go to small First Nations communities. They teach some hockey. But really, they're there to share their stories and experiences.
"I think our youth need good role models," Jordan said. "A lot of kids are struggling in these communities, and a lot of them kind of get lost, because lots of them live in the middle of nowhere, and they don't have a way to get out. They really don't have too much guidance. So we try go in there and tell our story.
"Everybody has been through hard times, I've been through hard times. I've been sober now for five years. So it's good for our kids to hear that story. I really just think they need someone they can look up to and say – 'Wow, he was in a place that I was in, so if he can do it, I can do it.' … We're trying to raise good people and good leaders in our community."
Hard to find a better example of a leader than the coach of a team playing for the Stanley Cup.
Craig Berube, a Cree from tiny Calahoo.
---
10. TWITTER-GATE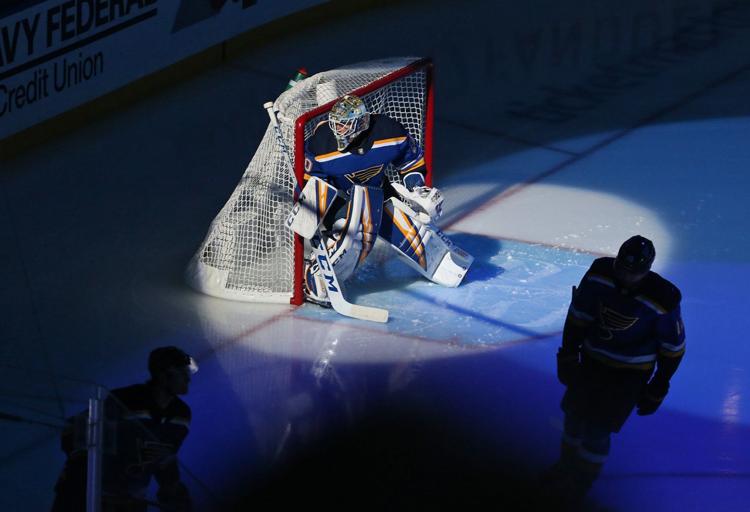 Before Game 1 against Winnipeg, a report came out about Twitter comments insensitive to Muslims made years ago by Blues goalie Jordan Binnington. Not to condone the Tweets, but both the source and the timing of this report seemed peculiar.
Or maybe not. The report surfaced on the eve of the rookie's first playoff start on the road, meaning he'd face questions about it after the morning skate on game day. The author, although now working in San Jose, grew up in Winnipeg and once had work published in the Winnipeg Sun newspaper.
9. WELCOME TO THE WHITE-OUT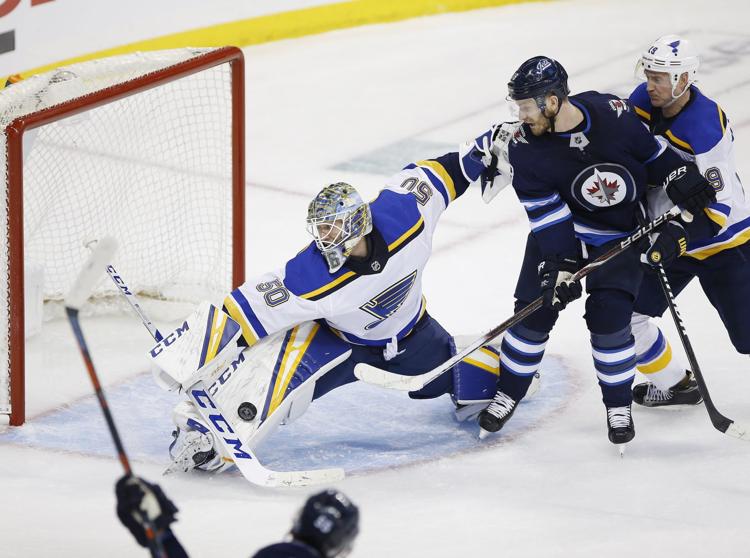 It seemed like the entire city of Winnipeg was on a mission to make Binnington as uncomfortable as possible. Before Game 1 and before even the Twitter remarks surfaced, Jets star Patrik Laine said his team wanted to make Binnington nervous. Thirty seconds into Game 1, Binnington was clearing the puck from behind his net when Jets star Mark Scheifele interrupted Binnington's housekeeping by running him over. 
Every time Binnington touched the puck, the towel-waving, white-clad crazies booed, and later in the series would chant: "You look nervous!"
8. YEAH, DROP THE INTERIM
On the day before Game 1 of the San Jose series, general manager Doug Armstrong and interim coach Craig Berube took to the podium to answer questions. Armstrong doesn't speak all that often during the season, so his presence provided the perfect opportunity to ask about the job status of Berube.
Given the worst-to-playoff berth run during the regular season, followed by series wins over Winnipeg and Dallas, wasn't it time to remove the "interim" tag? Armstrong couldn't agree more, saying he had a "candidate list of one" and that the "one" was, of course, Berube.
7. BORTUZZO, REALLY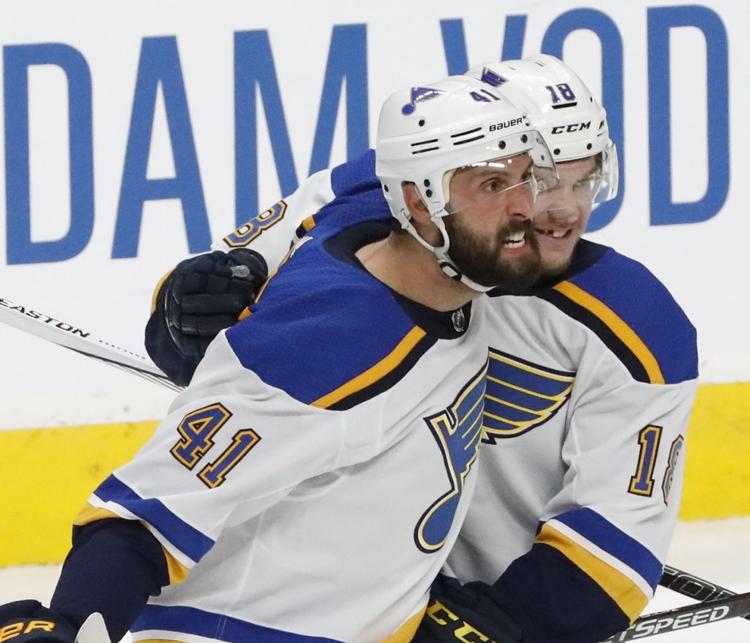 This season has been one of unforeseen heroes and unexpected contributions. Somewhere on that crowded list has to be Robert Bortuzzo's game-winning goal late in the second period in Game 2 against San Jose. The Blues were clearly outclassed in a 6-3 Game 1 loss. Things looked bleak in Game 2 when Logan Couture scored twice in the blink of an eye to wipe out a 2-0 Blues lead.
Then along came Bortuzzo, a veteran "defensive" defenseman. He had scored only 14 goals in 365 regular-season and postseason games, until he went backhand, top shelf on Martin Jones.
6. WAKE UP, VLADI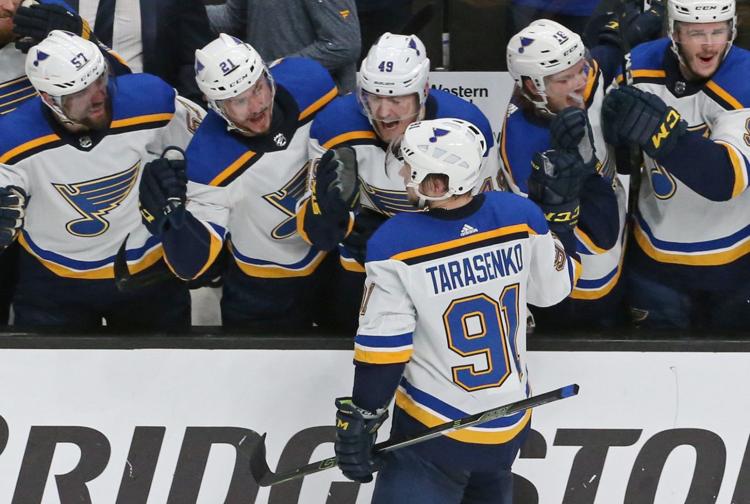 The spotlight always shines brightest on Vladimir Tarasenko. If 10 minutes go by without a Tarasenko goal, the hot-take artists sprout up like those weeds currently in your yard. After a particularly quiet Game 1 against the Sharks, it was Bash Vladi season.
But what's this? The next day, Berube told reporters that yes, the Blues needed offense from Tarasenko, but added that Vladi also needed to WORK HARDER without the puck. Tarasenko responded with points in the remaining five games (3 goals, 4 assists) including the first successful penalty shot in Blues playoff history. 
5. WHO'S MONTGOMERY?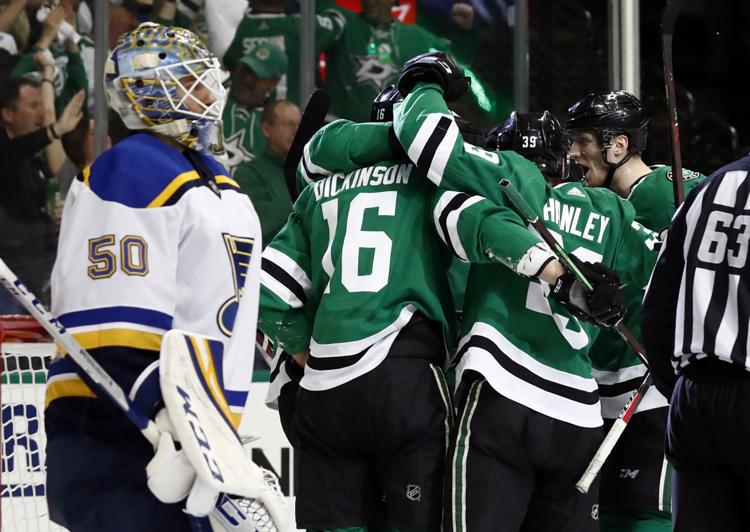 Binnington will be the first to tell you he doesn't get nervous. But he does occasionally lose his mind, as was the case during a late-game meltdown in Game 4 of the Dallas series at American Airlines Center. As a frustrating 4-2 Blues defeat was winding down, David Perron whacked Stars goalie Ben Bishop in the back with his stick. Next, Binnington got into a shoving match with Jamie Benn, and then slashed Bishop as he was leaving the ice.
Stars coach Jim Montgomery later said Binnington may have lost his cool, to which Binnington replied: "Who's Montgomery?"
4. PARAYKO KO
Colton Parayko's slapshot has been timed in the 105 mph range, you know, in the Jordan Hicks fastball neighborhood. Bishop felt the full measure of triple digits when he took a Parayko blast to the collarbone in the third period of Game 6 in Dallas. Bishop fell to the ice, momentarily dazed. Alexander Steen shot the loose puck toward the net and Jaden Schwartz deflected it in for a 3-1 Blues lead in what became a 4-1 win.
There were some complaints by the Stars that the play should have been stopped, but not many. Only four seconds passed between Parayko's shot and Schwartz's goal.
3. MANITOBA MIRACLE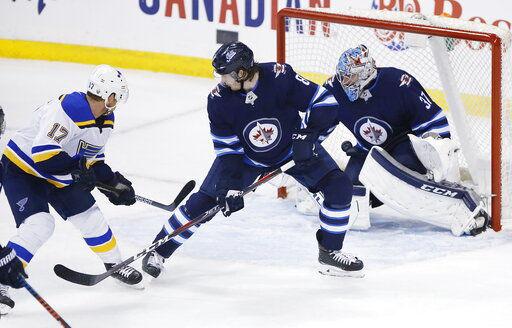 After winning twice in St. Louis to tie the series 2-2, Winnipeg was at home in Game 5, up 2-0 and had a four-minute power play after a Robert Thomas high-sticking penalty. It looked like the Blues were toast — for the game, and possibly the series.
But the Blues killed off the power play, tied the game with two third-period goals and then Schwartz scored with 15 seconds left, batting a Tyler Bozak pass from a foot or two above the ice past Jets goalie Connor Hellebuyck for a 3-2 Blues win. Hellebuyck called it a "lucky pinball." It was the first of 12 postseason goals for Schwartz.
2. PRIDE OF OAKVILLE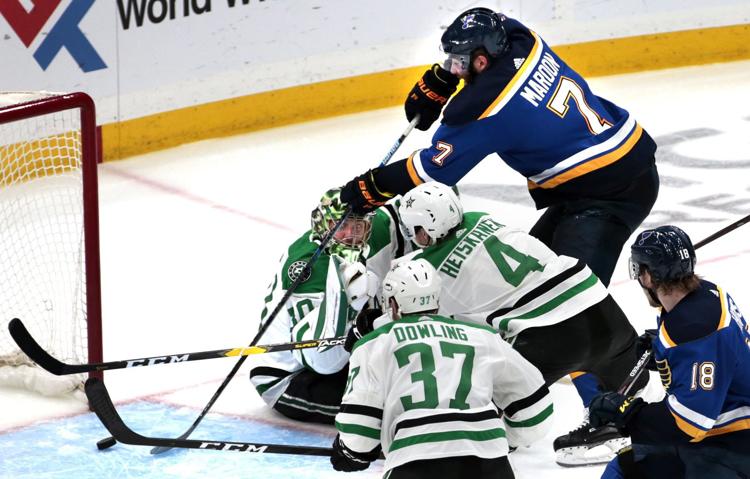 If Bishop was hurt in Game 6 of the Dallas series, it didn't show in Game 7. The Chaminade College Prep product was spectacular in a 52-save performance. With average goaltending, the Blues probably win 4-1 or 5-1. Instead it was 1-1 in double-overtime, tense as could be, and with Dallas showing life offensively.
Just when it seemed appropriate to yell "The Blues are Cursed!", Pat Maroon poked in the rebound of a Thomas shot that plopped off the back of Bishop's head to the ice . . . right in front of Maroon. The hockey gods had smiled on the Pride of Oakville.
1. THE HAND-PASS GAME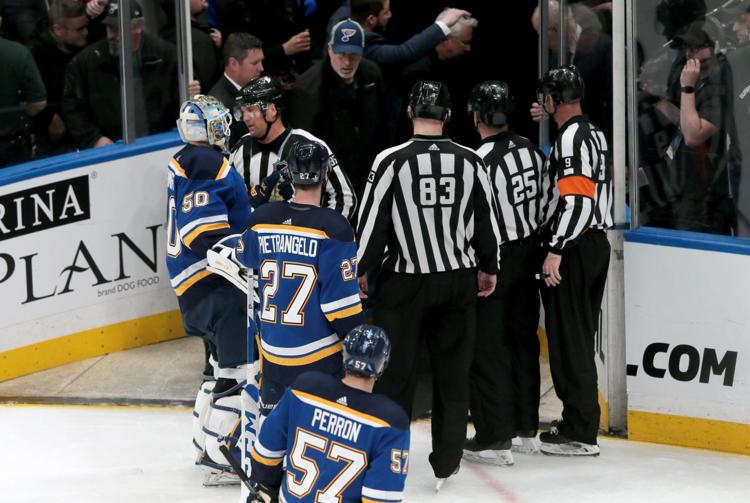 Not that we've taken a survey, but every hockey fan in North America watching Game 3 against San Jose saw Timo Meier's hand pass propel the puck in the direction of Erik Karlsson. Everyone except the two referees and two linesmen working the game. Binnington thought someone would blow a whistle, signaling the play dead and waving off Karlsson's game-winning overtime goal.
No one blew a whistle, but the officiating crew blew the call which the NHL later admitted. The Blues responded by winning the next three games to take the series, outscoring San Jose 12-2.