Philip Pritchard's first trip with the Stanley Cup was in 1988 — "And it was in Newmarket, Ontario — which coincidentally is near where Jordan Binnington is from," Pritchard said. "But he wasn't born yet."
Since then, Pritchard said, the Stanley Cup has been "mountain climbing in the Bavarian mountains in Germany. We've had caviar out of it in Moscow. Been lobster fishing in Eastern Canada. Been to sauna parties in Northern Finland."
Pritchard took flight Saturday to St. Louis. As the "Keeper of the Cup," he travels with Lord Stanley's most-famous chalice.
"It's basically looking after everything the Stanley Cup does and goes," Pritchard said, "from a travel point of view, a promotional point of view, a historian point of view, you name it. It's my traveling companion."
Pritchard agreed to an interview with The St. Louis Post-Dispatch, as the Blues — hosting Game 6 on Sunday and up 3-2 — are on the cusp of the Cup.
How does the travel work, from Toronto to St. Louis?
We're flying (Saturday) with the Stanley Cup and the Conn Smythe, and it's pretty special going through the airports. If we back up, prior to 9/11, there were times we could bring it on the plane. Now, after it goes through TSA, it goes in special services. The airline rep will take it from TSA, they will check it on to the plane, and then they'll come and find either (Hockey Hall of Fame's) Craig Campbell or myself and say, 'Hey, it's on the plane. Enjoy the flight.' And then when we get to the other end, someone will get it there and bring it out to us.
Checking in at the airport, it's really special at this time of the year. And in Canada, when they ask you what you're checking in, and you say, 'I have three bags, and one is the Stanley Cup,' it's pretty neat to see the reaction.
So for our purposes, we usually get to the airport a lot earlier than the average passenger, because there's going be photo ops and all that kind of stuff. And I think that's what makes hockey great. It adds to the whole excitement. And obviously, social media plays a big part of that. Because people will see us as it's pushed to the airport, and they'll be taking photos and you know, that kind of stuff.
Where does the 'Keeper of the Cup' keep the Cup before the game?
When (Craig Campbell and myself) arrive to St. Louis, we have a car rented, a hotel in town and we'll kind of hang around and stay close by the room, by the trophies, because we're looking after them. And we have a conference call all set up for (Saturday) afternoon with NHL security and everybody, to how we're going to get in Sunday afternoon and get it all squared away.
We have separate hotel rooms that are adjoining. And we lock one from the inside, so there's really only one way to get in and out. I mean, basically, we stay with the trophy. We never leave it in the vehicle or anything.
Probably take-out. I hear Pappy's is supposed to be good.
Sunday morning, we'll get 'em all cleaned up, ready to go. And then, depending on Sunday, if it's going to be presented post-game, will clean it up again. I mean, it's silver. It looks beautiful all the time. But when it's shiny and you walk out on the red carpet with it, it's amazing. …
We will get to the building on Sunday prior to both teams arriving. The great thing about hockey is there's a lot of superstition. Even though the players know (the Cup is in the building), they don't want to know.
We have it locked away. Downstairs, ice level, waiting to go. So as the game goes on, if St. Louis is winning, we're getting prepared to do the red carpet walk in front of the hometown fans. If Boston is winning, we're prepared to be the first people out of the rink.
The Cup has the mystique aura about it. I'm biased here, but it's the greatest trophy in all of sport. It's 127 years old, 36 inches high and it's almost 37 pounds. Pure silver. And it's got a lifetime of history behind it.
If it could talk, it would be a best-seller.
So what's the story about the white gloves you're always wearing in photos with the Cup?
It's amazing, the whole white-glove aura, because working in a museum, all curators wear white gloves. It doesn't matter if you're the hockey museum, rock museum, art museum, whatever — everyone wears white gloves. Years ago, the National Hockey League made the whole Stanley Cup presentation part of the television ceremony with the red carpet, which started in '94. That was New York and Vancouver. Before that, we used to push the cup out on a table during a TV timeout, and then the TV would come back — and then they do the presentation. Commissioner (Gary) Bettman and everybody wanted to make it part of the whole event, which it should be.
So in '94, the TV stations were told to not go to a commercial after the game. They didn't know why. They didn't know what was going to happen. But we did this red carpet and we had matching Hall of Fame suits on. And I remember during the (planning) conference call, we were talking about having matching ties and walking it out. And we said we could wear the white gloves, and Commissioner Bettman said, 'What do you mean white gloves?' We said that we wear white gloves with all of our artifacts. And he said, 'That would look amazing!'
They're cotton gloves, designed to keep your fingerprints off the artifacts. They have our Hall of Fame logo on them. For fans, when they see me without my white gloves, they sometimes freak out — 'Where are your gloves?' Apparently I'm supposed to wear them all the time.
Once a team wins the Stanley Cup, what happens to the Stanley Cup?
The team gets up to 100 days with it as part of their championship tour. And in doing that, they have their parade and their team photo and the partner obligations and season ticket holder obligations and all of that. And then, each member of the team, the players, coaching staff, training staff and all that, get to spend the day with it.
And it's pretty amazing, because they understand that the team is much more than the guys on the ice. It's mom and dad that used to drive hockey practice in the morning, then the school teacher that help them get their education so they play hockey. When the guys take it home, their day is so special and so powerful because they do a lot of thank yous and remembering and giving back to the community.
It's around the world. It's wherever the guys are from. Canada, US, Sweden, Russia, Finland — we've been to 28 or 29 countries. So there's Craig, myself, Howie (Barrow of the HHOF). And a couple of other guys who spend the next hundred days traveling around not only the winning city, but around the globe, promoting this great game of hockey — and celebrating with the players.
We will sit down with the team and kind of go through the summer months, then calendars, geographically start trying to figure out how it can all work. A lot of teams go by seniority or the captain gets to decide first, or the coach or the owner. So geography plays a big role, airline travel schedules and whether we're driving or taking a boat, or a train or car, or you know, whatever it might be to get to some guy's house, will do all that.
What is the experience like when you are with the Cup and the Cup winners?
We stay with it the whole day, the whole time, basically for the summer we become kind of part of their team. We're at all their events, team parties, player parties, player fundraisers, whatever they might have, there's always one extra guy (myself, Campbell, Borrow or someone else from the HHOF).
It's pretty unique. You arrive in the morning, and then by midday, you're kind of almost part of the family. And by night time, as excited as they were to see it arrive in the morning, they're just as excited to see us go — because they know we're going to another teammate (to get the same experience). It's really special. And, really, I think satisfying for them — they say goodbye to it at night, and they often clean it for the next guy and let them know it's on its way. It's really neat. That's what makes team atmosphere really shine.
For you, what are the coolest experiences?
It's every time we go to a new city that it hasn't gone to before, or a new culture or something.
A lot of guys are small-town guys in small countries, and they have barn parties or stuff like that. So you really get to know the family, the community. And to me, every Stanley Cup party is unique — every one — because it means so much to that winner, regardless whether he's a backup goalie or the captain, or the assistant trainer — they're bringing it home to thank everybody to express their gratitude.
When we show up, there's always a smile on their face. To have a job that brings a smile to everyone's face, it's pretty satisfying. And there's some emotional days out there when guys take it the cemeteries for passed loved ones, which is pretty powerful stuff, when they're sitting there and it's all quiet.
And there are times they take it to City Hall in their community, because they want to raise money for a new hockey rink, or whatever it might be. Trying to give back as well.
And for Game 6, you'll be at Enterprise Center — a pretty amazing turn-of-events.
For St. Louis fans, it's been a long time coming. Let's see what happens.
No word yet whether the baby will be named Stanislav. 
Youngest baby ever in the Stanley Cup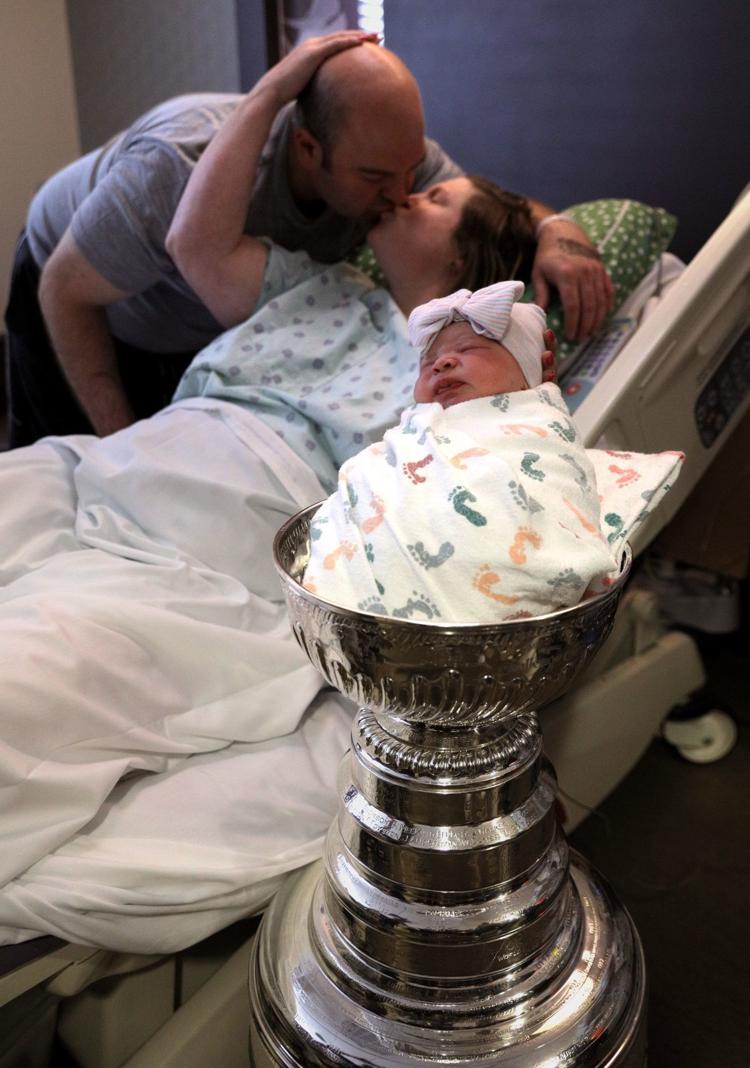 Stanley Cup tours media outlets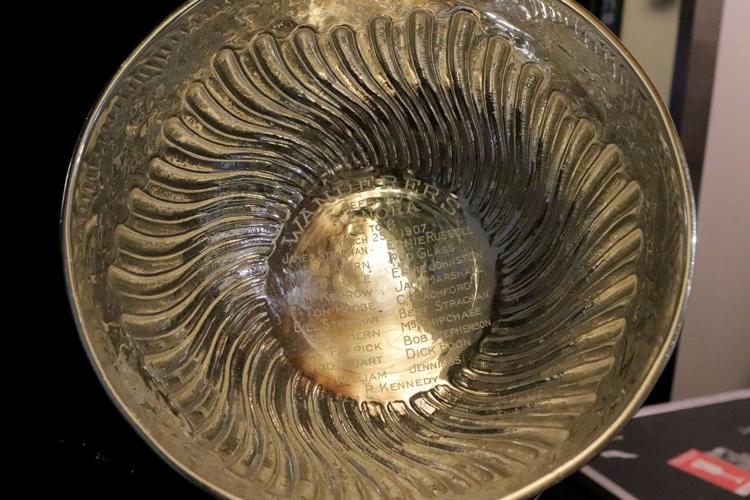 Stanley Cup tours media outlets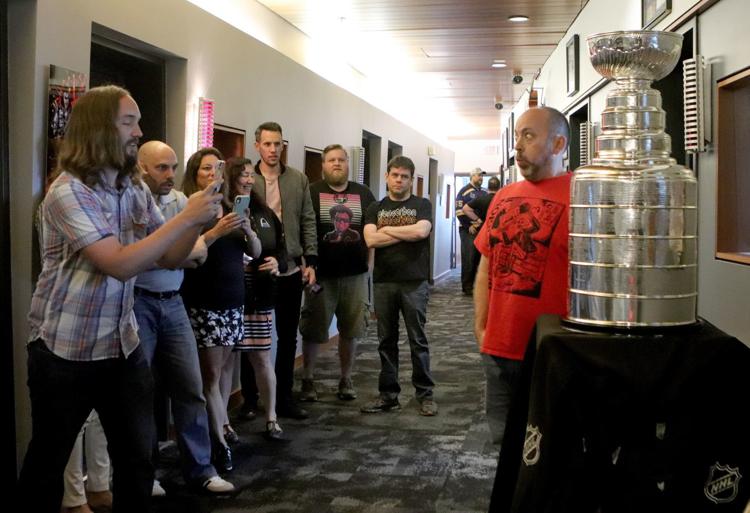 Stanley Cup tours media outlets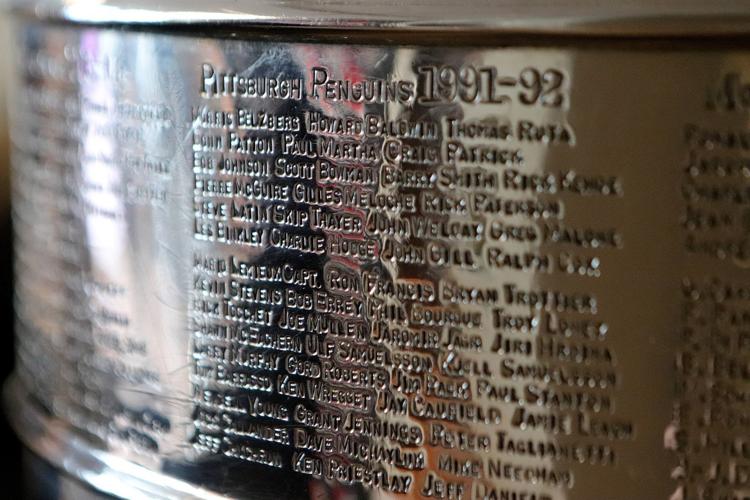 Stanley Cup tours media outlets
Stanley Cup tours media outlets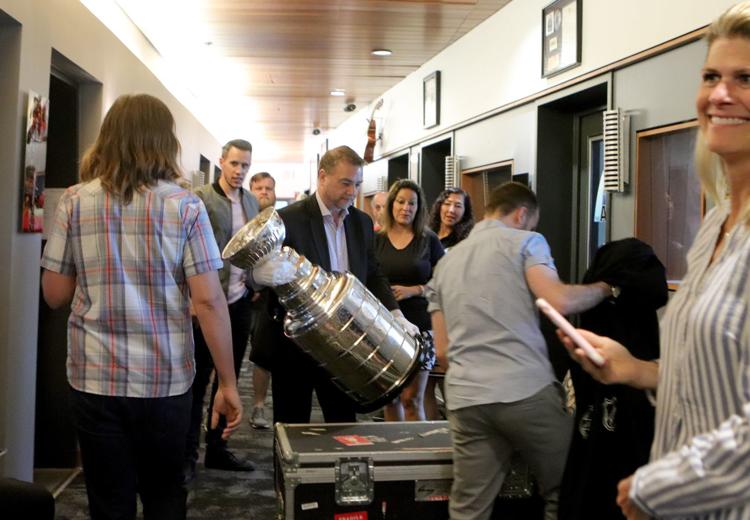 Stanley Cup tours media outlets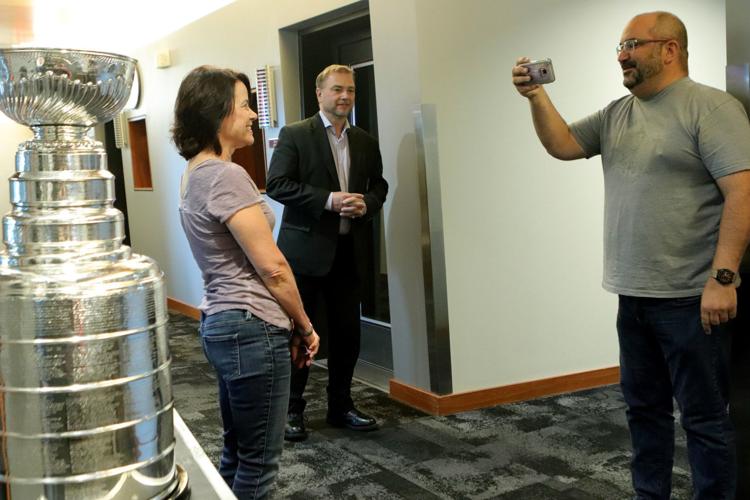 Stanley Cup tours media outlets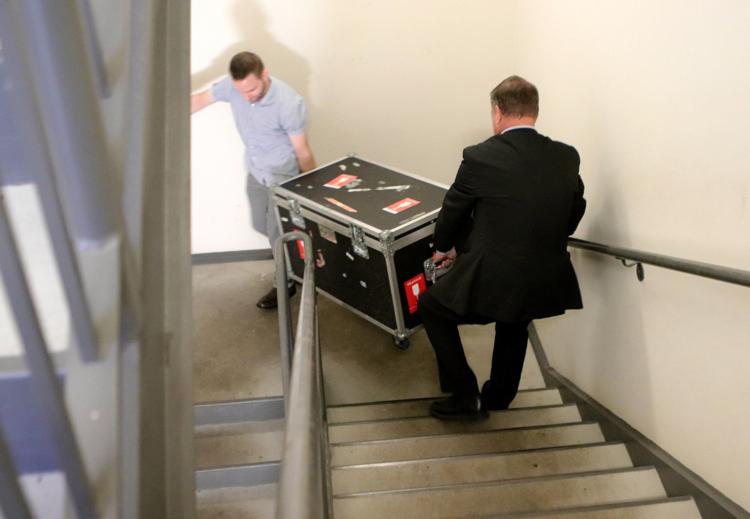 St. Louis Blues fans rally before game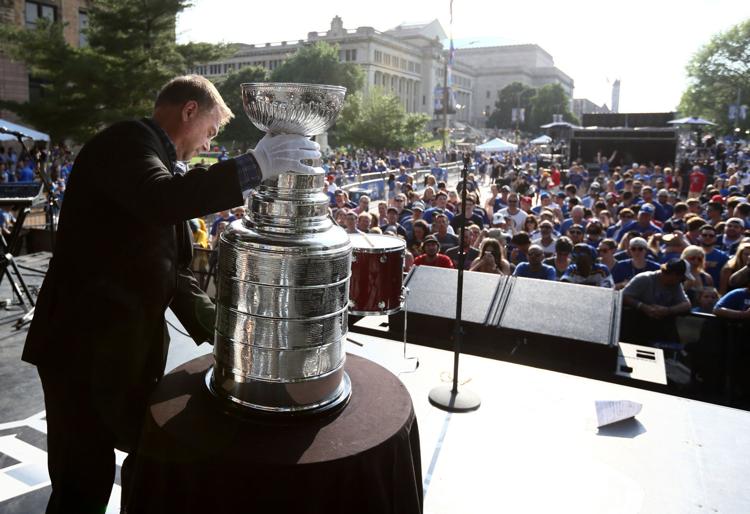 St. Louis Blues fans rally before game