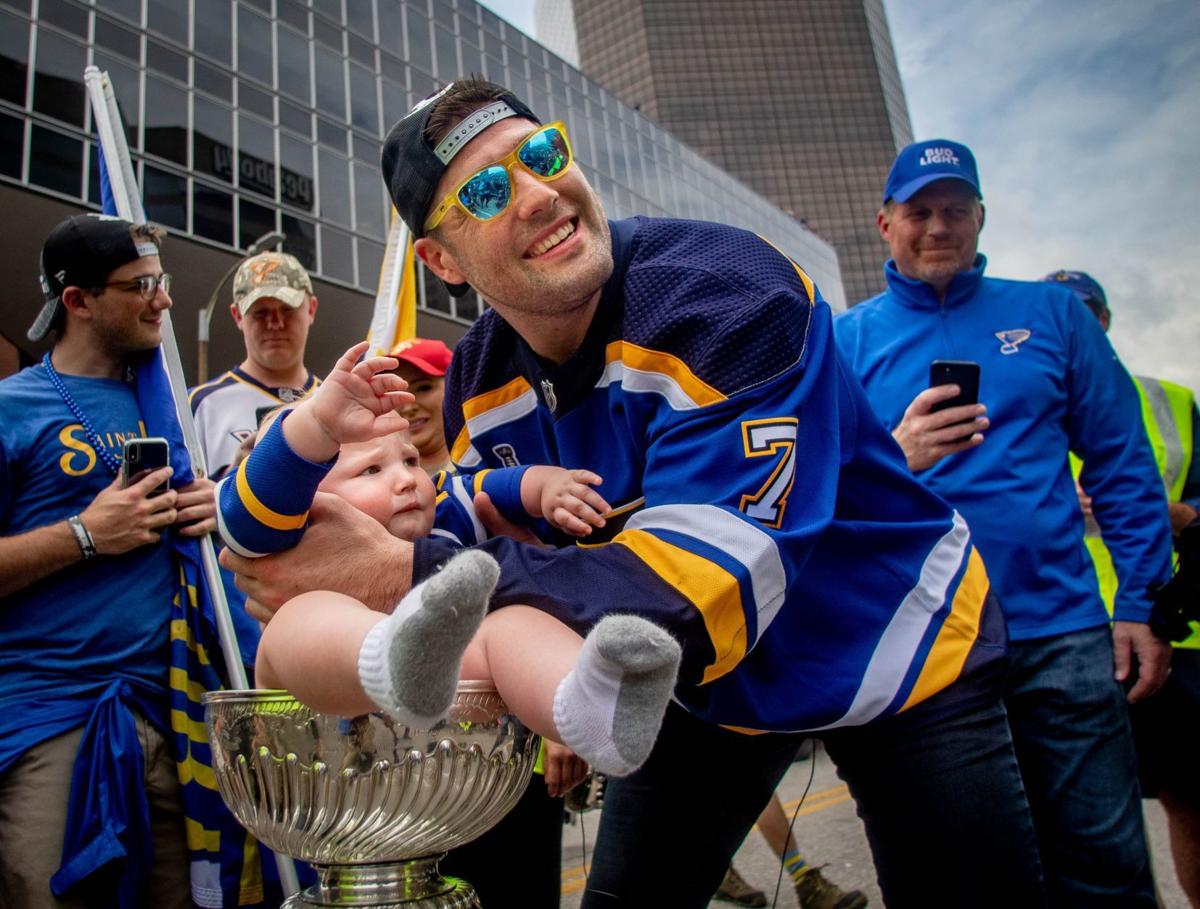 I took the cannoli. After lunch in Boston's famed Italian neighborhood — and dessert-to-go from its famous bakery — another writer and I snaked through the narrow streets of the North End. It was a sunny afternoon on June 12, 2019, and as we turned a corner, there were Patricia and Phil Maroon.
Perhaps it was serendipitous — in a city of millions, on the day of Game 7 of the Stanley Cup Final, I ran into the St. Louis natives whose son played for the St. Louis Blues. Or, maybe it was just — when in Boston, eat as the Romans do. Either way, as I chatted with Patrick Maroon's parents, and I remember thinking: Can you believe what these people might have in store for themselves tonight?
This was the before. In a matter of hours, they were about to experience their favorite hockey team — the team for which they had season tickets for years — play for its first-ever championship … and their son was ON THE TEAM. I'll always remember that encounter.
And I'll always remember the after. Talking to them on the ice that night, after their crying son hoisted the Stanley Cup.
"Never in a million years," Phil Maroon said, trying to comprehend what just happened. "I remember all those days in the basement (in his home in Oakville). They had the trophy down there, they'd be playing for the Stanley Cup, and now – this is real. And it's something that I can't believe."
Patrick Maroon wasn't the best player, which in a way made it better. He wasn't this phenom. He was this everyman who played the game like he had to earn his next shift, yet his was simultaneously the golden-ticket winner, the St. Louisan who got to actually play for the Blues. He scored a couple of gargantuan goals — we'll get to them in a minute — but his legacy is in his teammate-ness.
He infused the locker room with his infectious personality.
He was the guy in the hall before games who said he gets to go play with "all my friends, all my friends!" And he was the guy who screamed to the Boston Bruins during Game 2: "You guys are (bleep)ed." He was the guy who looked down at the Blue Note on his sweater and thought about The Yzerman Game and the other letdowns he endured before as a St. Louisan. Entering the playoffs, he said of the Note: "It's one thing to wear it in the season. But to wear it in the playoffs is going to be way more fun."
OK, so the big goal against Dallas:
Do you remember, though – there were two. Of course, there was his Game 7, double-overtime second-round series-winner. The biggest goal in Blues history, though on the "Mount Rushmore" with Doug Wickenheiser, Troy Brouwer and Carl Gunnarsson. But they had to get to that point, first.
Game 3 at Dallas. Less than two minutes left – Patrick Maroon lifts a shot up and under the crossbar, past his childhood buddy, of all people, Ben Bishop.
That third line. The relentlessness. Maroon, Tyler Bozak and the kid Robert Thomas, cycling the puck, round and round, checking bodies during a perfectly executed forecheck.
And there were so many layers to Maroon's story. Taking less money to play for his hometown team. His son. His late grandfather. His genuine friendship with Laila Anderson. His thick beard and wicked smile. The aforementioned basement games played for a "Stanley Cup." The actual Stanley Cup. The parade, in which Maroon did everything from put a baby inside the Cup, stomp on a St. Louis Rams rug, and guzzle beer out of the Cup on the parade route, while his brother poured it in his mouth.
Patty Maroon is back for a night. Soak it up.