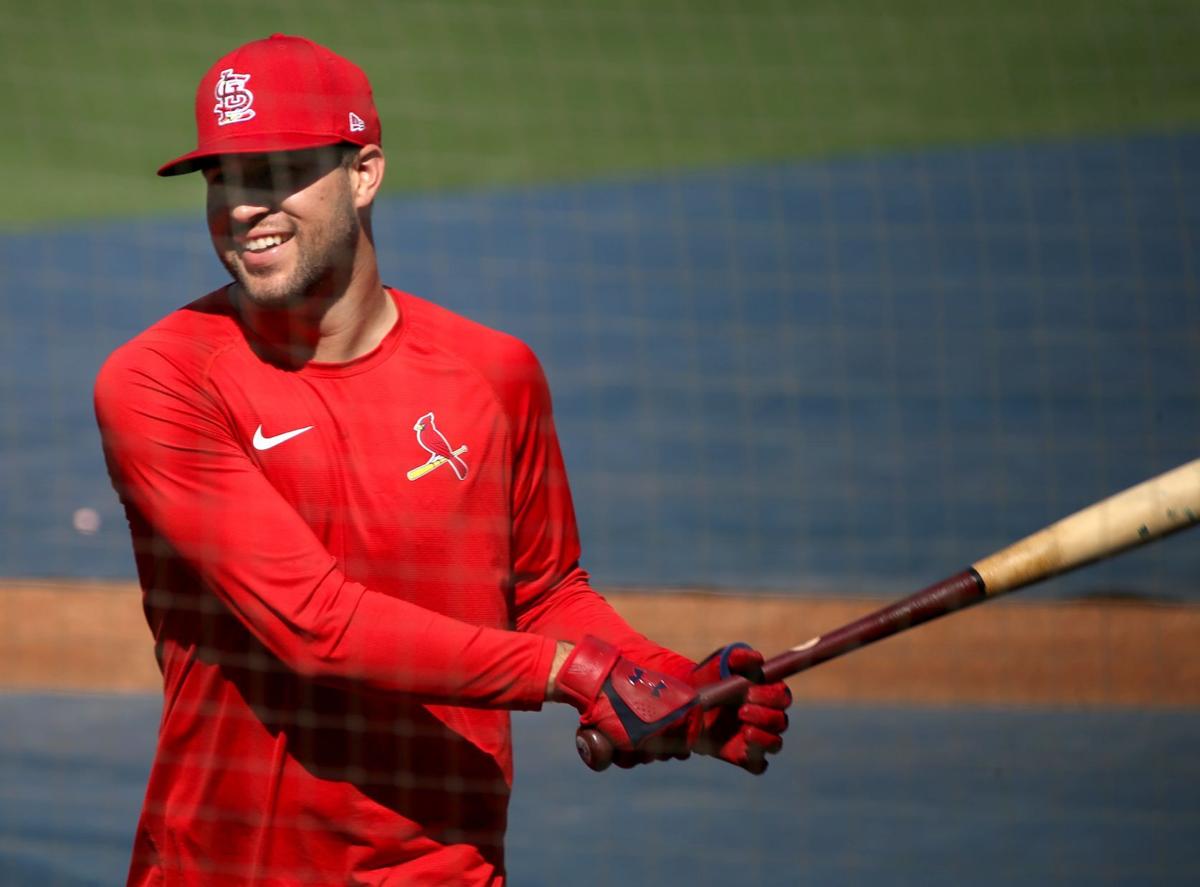 Sept. 8 is a date forever woven in Cardinal red-lace lore for what happened in 1998.
But in time, when we look back in time, what happened in 2020 might be even more substantial in franchise history.
It was the day they sent the kid back down.
And when the organization's top hitting prospect returned to the Cardinals, nine days later, he looked like an organization's top hitting prospect. Counting the three playoff games, Dylan Carlson compiled a .389 on-base percentage and a .489 slugging percentage in his 15 games back.
Maybe one day Carlson will wear a red jacket like Mark McGwire, who hit his 62nd homer on Sept. 8, 1998. In the short-term, Carlson's 2020 finish provides optimism for a 2021 offense that has little. The Cards will likely have to add a bat this offseason. And that bat will bat by Carlson and Paul Goldschmidt, in the middle of the Cardinals' order.
So when the 21-year-old Carlson and his .162 batting average returned to the club's alternate training site, it changed everything — even if he didn't change anything. See, there weren't any dramatic alterations to his swooping swing. Heck, because of the circumstances, he didn't even routinely face live pitching.
But it was almost more of a spiritual retreat.
"It was much more mental break than it was physical break," Cardinals president of baseball operations John Mozeliak said Saturday. "Breathe, breathe, breathe."
One of Carlson's best traits is he has his head on straight, even if he needed to clear it in Springfield, Missouri. And Carlson is forever confident, however resists being cocky — and there's a fine line. John Nogowski, another Cardinals hitting prospect, had a locker right by Carlson in Springfield. The two became close during the 2020 season, in which they both made their big league debuts.
"I think the big thing that I remember from talking to him, and the thing that I thought was super-impressive was — his confidence never wavered," Nogowski said Saturday. "It was never like, 'Man, I'm kind of worried about how I'm doing,' or 'I'm worried if I can hit up here.' It was never that it was like, 'Dude, I've smoked seven or eight balls.' And I remember when I was up in Chicago (with the Cardinals), he hit five or six balls to the track.
"I just remember talking to him and there was never any sort of doubt. And, you know, me at 26-27, I feel like if I was in that situation (at 21) — sure, with as much hype as there was and him coming up, I don't think you ever anticipate having to come back down. But I feel like the way that he handled it, there was never any shred of doubt. … And that doesn't happen for a kid his age, to have that sort of confidence. Like, it's very rare."
Most mornings at Springfield's University Plaza Hotel, the two would talk in the team's sectioned-off area in the lobby. Like some of the Missouri travelers staying at the hotel, "we were just like fans," Nogowski said. "We talked about the team, we talked about what happened last night. …
"We talked about our swings, we talked about all that. And we hit together every day. And I learned just as much from him as I tried to give him a little bit of knowledge — but he's just different. He's mature way beyond his years. And he's smart, baseball-wise. And just a good dude, man. I really enjoyed getting to know him."
Mozeliak acknowledged that upon Carlson's first call-up to the Cardinals, there was "enormous" pressure. And it wasn't even in the sense of Carlson being a stud prospect. It was more because Carlson stood alone in a different capacity — he was fresh and one of the few Cardinals who wasn't worn down by the 17-day quarantine. So, he played and played and played. And he hit balls hard, some right to gloves. But over time, as pitchers fed him off-speed stuff, the overwhelmed kid needed to step out of the whirlwind.
That was when they sent him to Springfield on Sept. 8.
During the playoffs — and Carlson was key in the Cards' push to the playoffs — veteran Matt Carpenter was asked if he saw a difference in Carlson after Carlson returned to the Cardinals on Sept. 17.
"I have," he said assuredly. "I think the biggest thing for me that I've seen with him the second time through is that probably Dylan's biggest strength became almost a weakness his first time up here. His biggest strength is that he's a very mature, smart player who thinks really well about the game. He's constantly processing it, and trying to dig deeper into the way a pitcher is pitching him or attacking him. For a young player, just popping into the big leagues, trying to do all that while having success and getting pitch tough — the pressures of coming up here and trying to be a good player right from the start — I just think that maybe he kind of overthought it a little bit at the beginning. When you're thinking too much, your athletic ability to can tend to take a back seat. We've all been through that.
"So the second time through, what I saw was a guy who was a lot freer, and a lot less thinking, and just you know letting his ability play. … He's a complete hitter. You're seeing just a glimpse of what he can be. You've got to remember for his age, or for me, even his body type, I think he's got some growing to do, growing into that body. And we'll see that exit velocity go up as his career goes on."