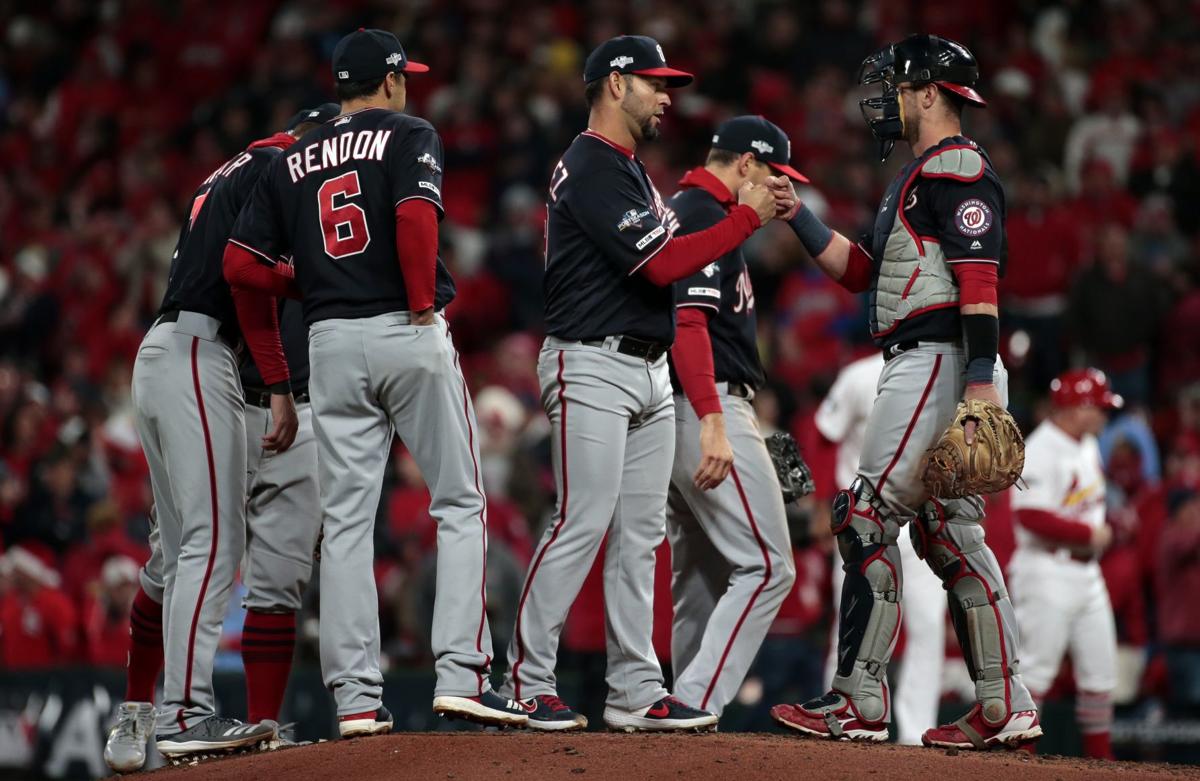 It was just terrible and embarrassing, and it happened at the worst time it possibly could have happened. We've seen the Cardinals' offense stink before, but this was utterly unimpressive and unacceptable. And you know what? The Birds will bounce back.
They were one-hit in Friday night's Game 1 loss, but in recent weeks — the most important weeks of the season — this team has shown a quirky, almost St. Louis Blues-like ability to brush off defeats and then rise up in meaningful games.
It's easy to be depressed after such an uninspiring performance in the 2-0 loss to Washington. To think, not one Cardinals starting position player got a hit. Just pinch-hitter Jose Martinez, mercifully, got a hit. It came with two outs in the eighth.
But think about just earlier this week. The Cardinals entered Game 5 of their National League Division Series against a guy who, in Game 2, threw seven shutout innings against them. And what happened? Essentially the same lineup scored 10 runs in the first inning, winning 13-1.
So many other times, we've seen wacky roller-coaster rides with this offense. After winning the four amazing games at Wrigley Field, the next week the Cardinals' offense was infamously absent in a 19-inning loss and in the next three games — before scoring nine runs in Game 162 to clinch the division title.
Even before that, there were these crazy ups and downs with the offense. The Cardinals, don't get me wrong here, are a poor offensive team. They finished 23rd in baseball in OPS. But they have the ability to bounce back, especially with the scrappy and talented Kolten Wong, the unflappable Tommy Edman and the big swingers Paul Goldschmidt and Marcell Ozuna — who, incidentally, almost made Friday's loss a whole different ballgame with a near-homer in the second inning.
It was on Aug. 19 that you read in this column space: "If anything — and they've been called a lot of things — the 2019 St. Louis Cardinals are peculiar. You can watch one night and think they're going to get no-hit sometime this year. And then the next night you think they're going to win the division this year. Or, maybe, both will happen?"
To be fair, I didn't think the no-hitter would happen IN THE PLAYOFFS!
But again, we're dealing with a team that can bounce back from these embarrassments. The question is — can they bounce back in four of the next six games? The odds are against these guys. But the series isn't over just yet. Let's talk after Game 3.
"There is complete hope — this is a good offensive club," manager Mike Shildt said after Friday's loss. "(Anibal) Sanchez was really good tonight, not a lot out there that we saw was in the middle (of the plate). He really changed speeds. Did a terrific job.
"It's interesting, it's baseball — it's one of the reasons we love it. We scored 13 in the elimination game, came right back and the guy threw a great game. There's nothing but optimism about our offense, for sure. We'll be ready to go tomorrow."
And in Game 1 against Washington, the Nationals' starting pitcher was Sanchez, who was masterful while pitching a rare arsenal of off-speed stuff — even a few pitches that Nationals star Max Scherzer, also his teammate in Detroit, referred to as a "butterfly." The Cardinals, as we've seen, don't do well against these rare types of pitchers. Kyle Hendricks, for instance, often seems to drive them bonkers.
Yes, yes, the starter in Game 2 is the great Scherzer. But even if he wins, the Cardinals recently won a game against Stephen Strasburg, and Ozuna took him deep.
Let's not take the Cards off the hook for Game 1. It was really bad. The innings and innings of hit-less baseball were frustrating, and a lot of it was because of Sanchez's precision. The Cardinals only twice came close to even getting a hit. There was the deep fly ball by Ozuna in the second inning and then, not until the eighth inning, the Tommy Edman line drive to first baseman Ryan Zimmerman. In between was just a bunch of poor pop-ups and silly swings. Bad at-bats. Sanchez deserves credit for his dominance, but the Cardinals sure made it easier for him.
Paul DeJong has now struck out twice in four of the six playoff games. He's got 10 strikeouts overall, and both of his walks were intentional. He's four for 21 in the postseason. Meanwhile, Yairo Munoz, in a small sample size, is two for four against Scherzer, and one was a home run. You've got to consider giving Munoz the start at shortstop in Game 2. DeJong is a brilliant defender, but it's not like Munoz is terrible.
Lastly, here is some good news. They've been here before and came out OK. In the 1967 World Series, the Cards won Game 1, but in Game 2 at Fenway Park, Boston's Jim Lonborg had a no-hitter, just like Sanchez, with two outs in the eighth inning. But that's when Julian Javier doubled down the left-field line, toward the Green Monster. The Cards lost that game 5-0. But ... (for those who don't already know where this story is going) the Cards won Game 3, Game 4 and, yep, Game 7, with Bob Gibson defeating Lonborg.
No, these Cardinals don't have Bob Gibson. But, hey, they do have Jack Flaherty.