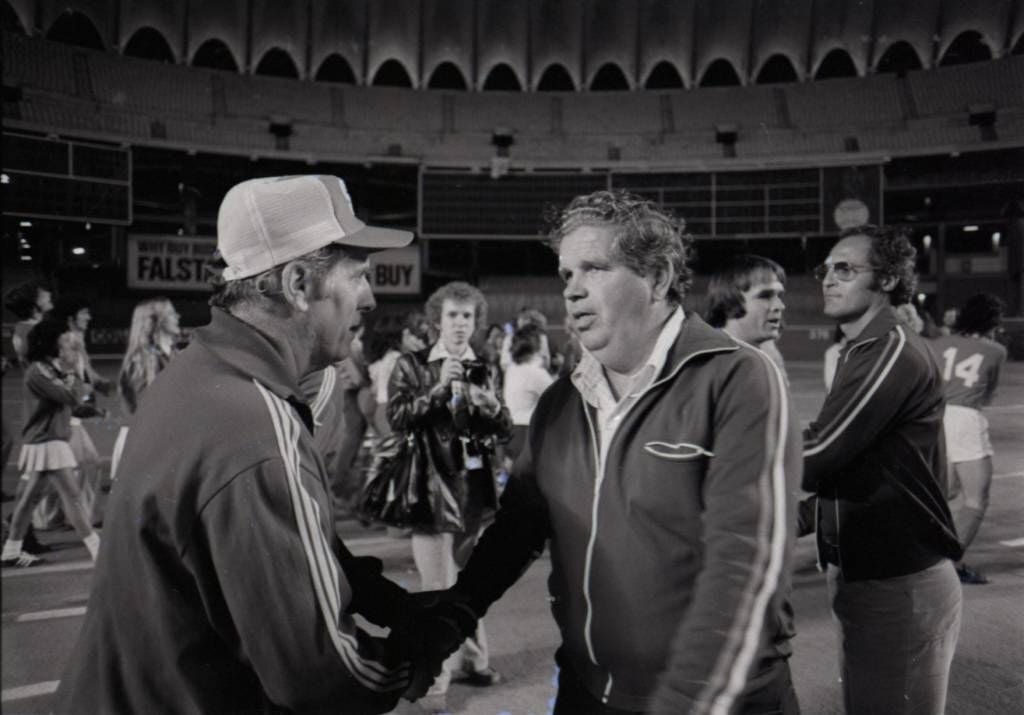 The soccer boot atop the trophy is coated with bronze, but really it's lathered with memories of Guelker and Keough and Umbros and Diadoras and bushy-haired St. Louis boys scampering about the Astroturf at old Busch.
The Bronze Boot was a glistening symbol of our area's soccer culture — and soccer excess, with both St. Louis University and Southern Illinois University-Edwardsville winning national titles from both sides of the Mississippi.
The two schools met 27 times during 1971-1998, including some classic matches and NCAA soccer attendance records, including 20,112 fans in 1973 and 22,512 in 1980, during the heyday of local college soccer.
And now, many boys born around the time of the last game will play in the next game. On Friday at SLU's Robert R. Hermann Stadium, the Billikens will host SIUE at 7 p.m. Some team is going back to campus to drink some Vess out of the Bronze Boot.
"Being from the area, I've always heard about this game," SIUE midfielder Keegan McHugh said. "Throughout the years, that's all everyone would talk about — and now that it's scheduled and going to happen on Friday? It's something special, you know? Everybody knows there's going to be a big crowd and the winner gets the trophy, so a lot on the line and some braggin' rights in the St. Louis area."
St. Louis soccer culture is special because it's homegrown. Many other cities — these modern metropolises like a Denver or Las Vegas — have affluent and thriving soccer cultures, too. But there's so much newness to it. Dad didn't play soccer in Denver. In St. Louis, not only did dad, but grandpa, too.
So having the SLU-SIUE game return to our community is a rejuvenation, as well as a reminder to the nation: These two programs are relevant again. The legendary coach Bob Guelker built SLU soccer … and then SIUE, too. There have been other greats to prowl the sidelines, including former SLU coach Harry Keough. Today, SLU coach Kevin Kalish and SIUE coach Mario Sanchez are reminding us all that once was good – and can be again.
People will come to the Bronze Boot game.
"It just exudes history," said Kalish, who played at SLU, then coached at SIUE, helped bring it back to Division I, and will now face SIUE with his alma mater Friday. "It's a unique game that even resonates with people from the community. It's a special match. … I'm leading a program that's a titan in college soccer, a brand that transcends programs in the sport. I feel like I'm the caretaker, that's the way I look at it. It's building a healthy culture, getting the right people involved. And building healthy relationships.
"We have a tremendous amount of respect for the history and the heritage of what's gone before us — we want to make sure we live up to those expectations."
SLU is 3-1-2 this year and unbeaten in its past four matches. Earlier this year, they tied a road game at Notre Dame. And they won at Tulsa, a team ranked in a national poll, 3-0, with two goals scored by an old CBC star, Devin Boyce.
There are so many fun family stories involving these two programs, sometimes intertwining both teams, and that's the way it is in this local soccer ecosystem. Boyce actually played for Kalish when Boyce was a boy, 8 or 9 and playing for Scott Gallagher.
He remembered Kalish, this "totally old-school coach, a clean-cut guy — no socks over the knees, only black boots, we're going to do all the dirty work, we're going to be the team that emphasizes blue-collar hard work. From an early age you get this idea of Kevin."
Kalish coached Boyce in later years in the renowned local club, and Boyce finally played college soccer at New Mexico. Sure enough, when he was looking to transfer, SLU hired a new coach — his old coach. This week, Boyce was named the Atlantic 10 Conference's offensive player of the week.
Over at SIUE, the Cougars are 4-1-1, including a win against Wisconsin. McHugh, who went to Francis Howell High, originally committed to SIUE to play for Kalish. The coach left, while McHugh suffered a season-ending injury. McHugh considered his future, but Kalish himself told McHugh about the talents of coach Sanchez.
"Luckily I stayed — Mario is nothing short of phenomenal," McHugh said. "It's something that he ingrains in us – being good people. That's on and off the field. I've never seen a guy so involved with the community. He made a name for himself. Everybody talks about it. And on the field, everyone talks about our success."
The Bronze Boot — a left-footed soccer shoe on the Joseph Carenza Sr. Perpetual Trophy — has been in SLU's possession for a couple of decades now. When Kalish returned to campus, he went back to the Hall of Fame area with the trophy cases and old photos. He wanted to reflect. And he recalls the Bronze Boot "sitting there and staring at you."
The trophy has seen some good soccer. There was the 1972 tie, though SIUE had two goals disallowed, and some Cougars still call that game 'the 3-1 tie.' And in 1980 at Busch, the clubs set a college soccer attendance record with 22,512.
In a way, the Bronze Boot game was a microcosm for the soccer community — it was grown by Carenza and others inviting CYC players and families to the early games. They made the game part of the annual cycle of St. Louis events, along with Mardi Gras in Soulard or the VP Fair or the holiday lights at Tilles Park.
And so, here's to some new memories shining the old shoe.
---