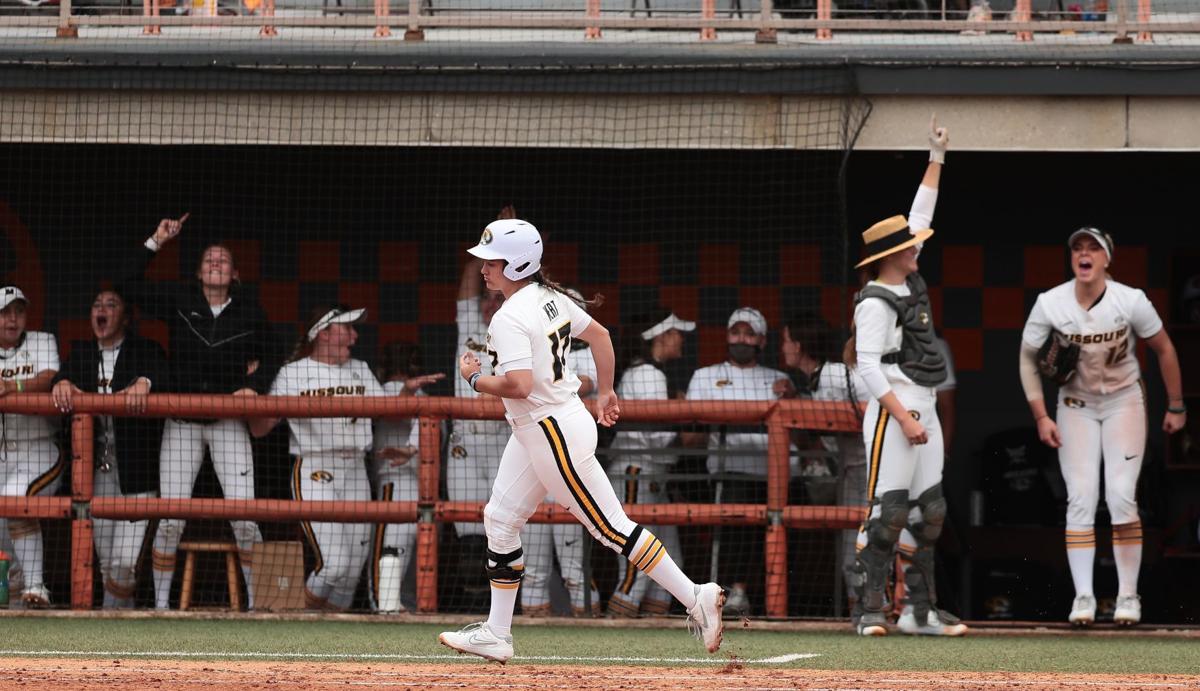 Hatti gets the hat when she goes batty at the bat.
Same for Cayla, Kim, Kendyll and the rest of the Mizzou softball players.
Hit a homer, wear the hat. And this straw golf hat has replaced the helmet of numerous celebrating sluggers in the dugout — after all, Mizzou hit 86 homers so far this season, good for 11th in the nation and second in the Southeastern Conference.
Asked to describe the Tigers' approach to hitting, coach Larissa Anderson said: "I mean, the No. 1 philosophy is just: smoke it."
Hatti Moore and Kim Wert have 17 homers each, tops on the Tigers, who are two wins from the Women's College World Series. No. 8 overall seed Mizzou hosts James Madison this weekend in the best-of-three super regional. The Tigers' ascension has brought pride to Missouri, be it the school or the state, including sports fans suddenly intrigued by the postseason run. Before this season, the casual sports fan might've associated the Mizzou softball team with turmoil. The previous coach left under scrutiny for his coaching style, and the team was given a 2020 postseason ban for a player's role in an academic cheating scandal.
So why are things now clicking in Columbia?
"The players all bought into our own-it philosophy — they bought into our work ethic," said Anderson, hired after the 2018 season, on a Zoom with the Post-Dispatch. "They've had such a bad rap on the last few years and had to overcome tons of adversity with NCAA sanctions and investigations. And, finally, the black cloud has been lifted over their head — and now they can just go play and showcase what they can do to everybody. … They've completely bought into everything from hitting with (hitting coach) Chris Malveaux to practice and the accountability and, really, the culture in the locker room. It's just really fun to be around them."
They sure hit a bunch of bombs. The Tigers set out to break the school record, set 16 years ago, of 82 homers. They had 82 entering last weekend's regional — and the first Tiger batter homered. That batter was Brooke Wilmes, who actually homered in all three games of the regional.
"Our number one goal going into the season was — let's lead the country in runs scored," said Anderson, whose club finished ninth nationally (6.64), but did, at least, lead the SEC. "We're just trying to elevate the ball and hit it as hard as you possibly can. We go in looking for the ball up in the zone — (Malveaux) wants people to swing the ball up here. He doesn't say like, 'Lay off the rise ball.' It's: 'Get on plane with a rise ball and if you do, you're going to hit it a long way.' …
"A lot of work obviously goes into it and they spend a lot of time on their mechanics and, and really work. The mechanical part of the swing is very biomechanical. So Chris understands how the body functions and especially females and how to be able to maximize their power — and where they get their power from. It's obviously very different than a male, so we got to really generate a lot from our glutes and our back and our lower body. It's understanding the mechanics going into it — and just applying it to the philosophical of, you know, just try to hit it as hard as you possibly can."
Hatti Moore is their Yadi. The passionate, well-liked senior catcher is "fiercely competitive," Anderson said. "If she's not successful or we lose, stay away from her."
As a freshman, Moore actually led the country in strikeouts, Anderson said. But when Anderson, Malveaux and the new regime took over, Moore soaked up the new knowledge for a new approach. This season, Moore led all Mizzou regulars with a whopping 1.133 OPS (on-base plus slugging percentage).
"When she steps in the batter's box," Anderson said, "she is just, like, trying to overcome every fault she's ever had in her entire life. She puts everything she has in every swing."
On Saturday, Mizzou had a no-hitter going into the seventh. When a hit was allowed, Anderson said her catcher "collapsed to the ground in devastation, because she just wanted it so bad for the team and for her pitchers. She's just so competitive and understands you know what was just at stake. … Every single strikeout we had Sunday we saw her celebration of the fist pump."
The Tigers haven't been to the super regional since 2016. They haven't been to the Women's College World Series since 2011. This weekend could be historic. But even if they fall to James Madison, the season was a success and the program is in an impressive place.
But they're pretty confident that Hatti or others will wear the home run hat this weekend.
"I think it's a confidence, it's how well we're playing right now," Anderson said. "We've been playing some of the best softball I've ever coached the best ball we've ever played for the last three weeks. Probably since our Arkansas series. They are just working on all cylinders, and they know it."