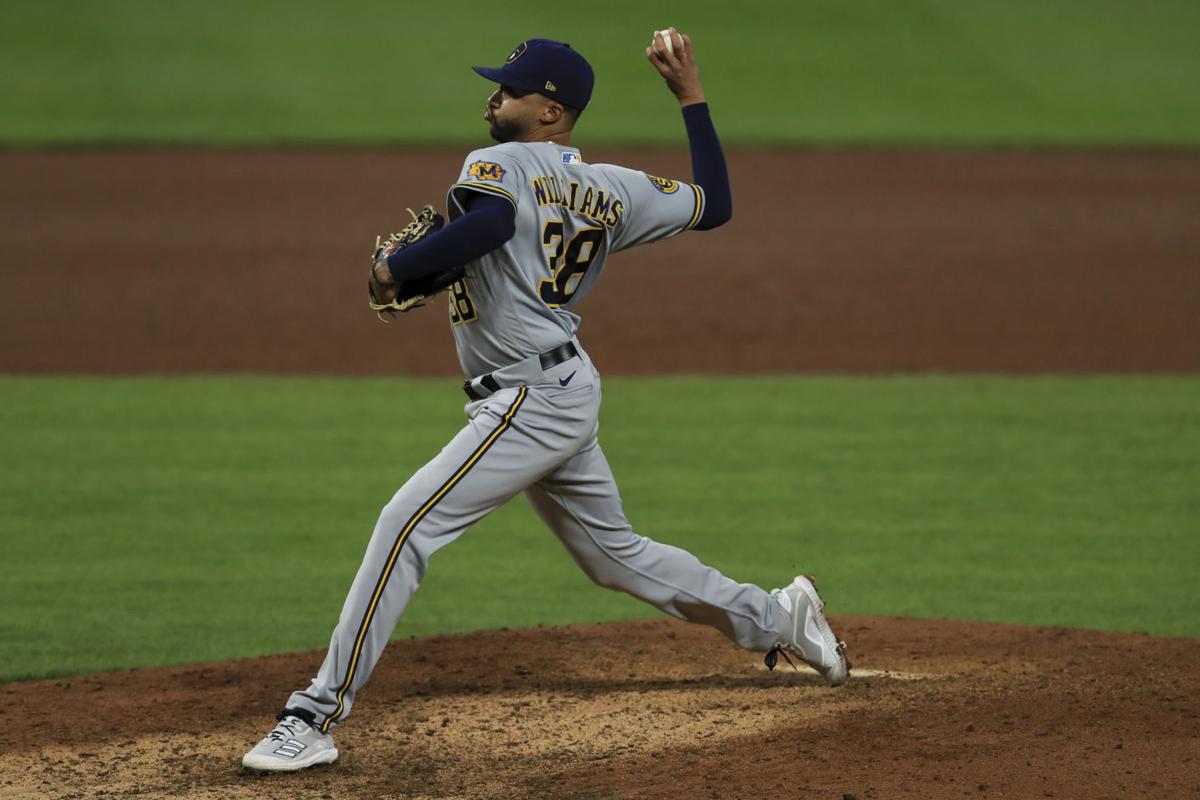 A young boy in St. Louis loved the Cardinals and Yadi.
He even wore a Yadier Molina jersey — No. 41, from the revered prospect's first full season.
Sure enough, the young boy became a Major Leaguer himself.
And in his first full season, this revered prospect could very well be the guy who ruins the playoff chances for the Cardinals and Yadi.
Devin Williams is coming home.
The Brewers reliever and Hazelwood West product will likely pitch some innings at Busch Stadium, where his grandmother used to take him 10-15 times a season.
The Cardinals and Brewers (and Reds) are scrapping for the division's second playoff spot, and the Cards' final five games are Thursday-Sunday against Milwaukee.
And Williams, whose ERA looks like a typo and whose changeup looks like a typhoon, is earmarked for high-leverage situations … such as, say, a late-game at-bat that could determine the fate of two teams.
"There was a little bit of nostalgia and all that last year," Williams said by phone, in reference to two Busch appearances from 2019, "but now it's just looking at them as any other team, and I get paid to beat those guys just like everyone else."
In recent years, Josh Hader has been the benchmark for National League relievers. This year, the righty Williams is doing so from Hader's own bullpen. Williams' ERA is 0.36. Even if the decimal was on the other side of the three, his ERA would've been noteworthy, let alone his actual, minuscule ERA. Williams allowed an earned run on July 27 — and none in the 19 appearances since (in what could become a trivia answer, the only player to drive in an earned run off Williams in 2020 was Pittsburgh's Colin Moran).
In fact, Williams is in first place in a sextet of stat categories for National League relievers, each number more preposterously eye-popping than the next: ERA (0.36), strikeouts (52), opponents' batting average (.072), WHIP (0.60), hits per nine innings (2.16) and strikeouts per nine innings (18.72).
"I mean, he has the best changeup in baseball," said Brewers catcher Jacob Nottingham via Zoom, "He has a blessed arm and a blessed pitch. It's fun. It buckles people. It's almost like a lefty's curveball. It's crazy. And it's exciting seeing what it does to people and just how confused they get."
Devin's devilish changeup developed in recent years, thanks in part to his visits to the Rapsodo offices in St. Louis, where pitchers study spin and mechanics using modern technology. Williams described how he has more control of his changeup than ever before and "can put a few different shapes on it," depending on the count or what pitches he's already revealed. It comes out of his hand, as changeups do, looking like a fastball — but the difference is the absurd movement on Williams' ball. It's cartoonish. The whiff rate on this pitch is 62.7 percent. In an important win Tuesday, Williams struck out all three Reds in the eighth inning on his signature pitch. One wonders if even Billy Williams or Ted Williams could hit Williams' changeup.
"It's a trick pitch," Cardinals pitching coach Mike Maddux said via Zoom. "It's a very, very plus, plus changeup. And paired with the (96 mph) velocity fastball he has? That's one kid that I think every team would like to have. He's got a couple pitches that he could tell you they're coming and it's tough to hit. It's got a lot of depth and a lot of dance to it. I know our guys were shaking their heads coming back to the dugout. They said they tried to wait back on it, but then here comes good ol' No. 1, and you've got to honor that too. A pretty good hard-soft tandem."
In two innings against his hometown team this season, Williams has struck out four batters — Paul Goldschmidt, Harrison Bader and Brad Miller twice.
And, yes, Williams has faced Molina twice in his career, both times last year. He allowed a double and got Molina to ground out.
And perhaps you recognize Williams' name from a minor moment in infamy — he was the guy who allowed the Paul DeJong homer that knocked out the "M" light at Busch Stadium's "BIG MAC LAND."
"I saw the replay quite a few times last night," he said to reporters the next day. "I told everyone — you're welcome for the free Big Mac."
And this year, just like so many other Brewers, Cardinals and other major leaguers, Williams has tried to make a social justice impact. The day after Jacob Blake was shot seven times by police in Kenosha, Wisconsin, Williams pitched in Milwaukee. He used his finger to write "BLM" in the dirt on the mound — and then proceeded to strike out the side.
Asked by phone why he wanted to do that from a baseball player standpoint, Williams said, "I think it needs to be done from not just a baseball player standpoint, but everyone's. I alone can only have so much effect on changing this world. And I think it's going take everybody. It's going take everybody to sit there and look at what's going on and say that it's not right. The change comes from everybody."
As for the No. 41 Molina jersey, Williams found it this winter in St. Louis, when he cleaned out his closet. He kept it.
"I was thinking about seeing if I could send it over (to the Cardinals clubhouse) and have him sign it," Williams said.
But with the way his changeup could change the complexion of the Cardinals' season, perhaps he should wait until 2021.