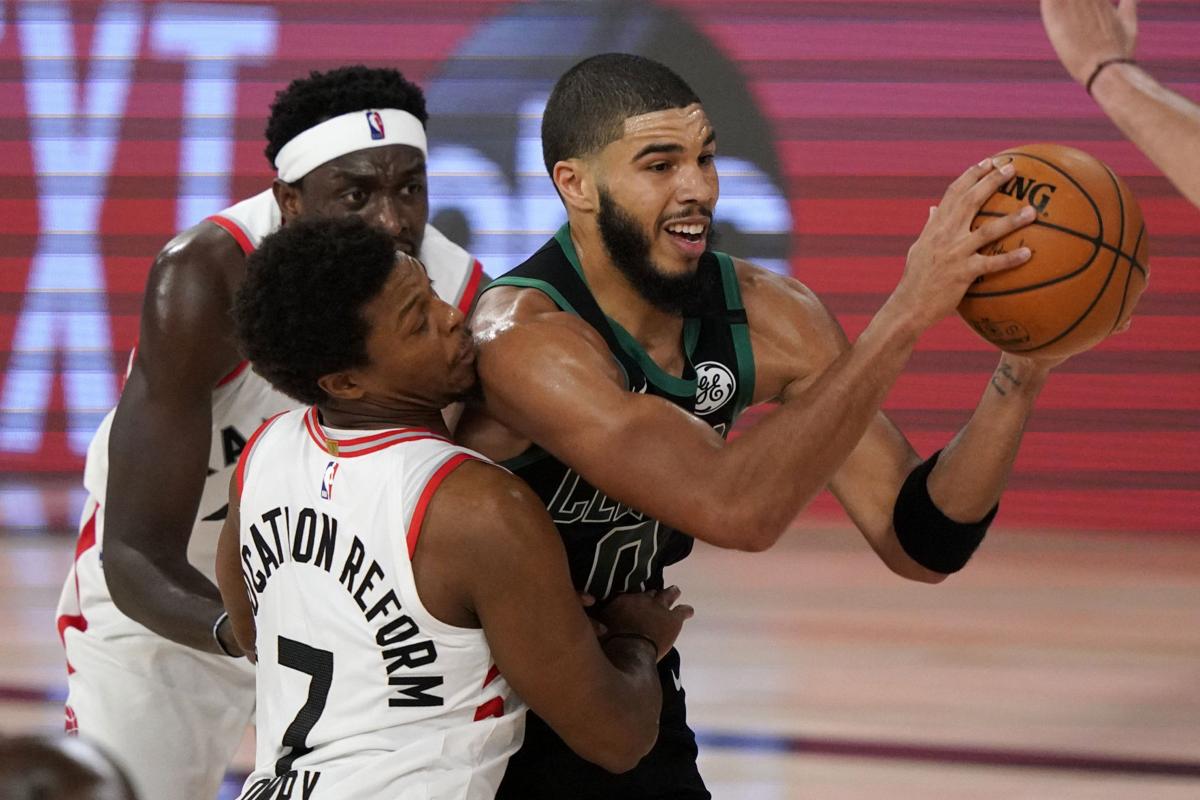 Jayson Tatum's offensive repertoire is avant-garde, these innovative twisty-dribbles and step-backs and defender-separators that you can't guard.
Yet Tatum's game is also an homage. For however modern this maestro is, you can't help but see some of Kobe Bryant in his shot or swagger.
And no, this is not to put any cart in front of any horse (or, in this case, G.O.A.T.). But just like we see some Kobe in his game, there's some Kobe in his progression. The late, great Bryant was 21 and in his fourth NBA season when he cracked his first NBA Finals.
The St. Louis native Tatum, 22, is in his third NBA season. The Chaminade grad was an All-Star this year. And against Toronto, his Celtics are up 2-1 in the Eastern Conference semifinals. Meanwhile, No. 1-seeded Milwaukee trails 3-0 in its series. It's quite possible that a fortnight from now, Tatum could be in the NBA Finals.
And while this might seem unbelievable or too good to be true, the reality is that our local legend has galactically ascended due to his steadfast dedication to the game, growing his game since he was a growing teenager.
"I think in 2-3 years, we're probably going to consider him maybe the best player in the league," said Travis Ford, the St. Louis University coach and Celtics devotee, since his former Oklahoma State star Marcus Smart also plays for Boston. "I really believe that, I do. I really believe that. …
"I know how hard he works at it. I've seen him in our gym in the summertime. I've seen him working out, so to see somebody who works at their craft and who has already made it to the NBA, but wants to continue to get better every day? And work on his skills? It's very exciting. So really, none of this shocks me. He's obviously turned into a franchise player. He's the type of player you can build NBA teams around. I still think he's got so much growth (in him) to even continue to get better."
It's hard to remember a time — and maybe it's because it has never happened — when so many young players thrived in the playoffs at the same time. Denver is in the second round thanks to Jamal Murray (age 23), who averages 29.1 points per game this postseason. The Nuggets won their seven-game series over the Jazz and Donovan Mitchell (23), who averaged 36.3 points per game. The Bucks' Giannis Antetokounmpo (25) is the NBA's reigning MVP. Dallas' Luka Doncic (21) totaled 43 points, 17 rebounds and 13 assists in a playoff game — and nearly averaged a triple-double in the playoff series to the Clippers. Miami's Bam Adebayo (23) entered Friday averaging a double-double in these playoffs.
And, of course, there's Tatum, who averaged 23.4 points per game in the regular season — and has produced playoff nights of 32, 33 and 34 points so far.
"He's just so smooth, man," said St. Louis high school hoops legend Chris Carrawell, a former Cardinal Ritter star and current Duke assistant coach, by phone Friday. "So smooth. His offensive package is so advanced. He can score at all three levels. Coming into the pros, you thought maybe he'd have to learn to become a deep shooter, but he's in his third year, and he's consistent from that range.
"He can score from the mid-range; he's creative with his scoring. I mean, he's a pro scorer. He's a gifted scorer. You know what? He's a gifted player, because I saw (in Game 3), he didn't even shoot the ball that well, but his passing has improved. And he can rebound. But his passing? He was making some plays where I was like — dang! That part of his game has expanded, which makes him even more of a threat. I just love his game. He's one of those guys you'd pay to watch play."
Late in Game 3, a missed Celtics shot became a bobbled ball, which was volleyballed by an outstretched arm. The ball popped toward the left wing, where Tatum lurked. He caught the ball in the air with two hands and — without bringing his hands down — fired the ball like a soccer throw-in to a teammate for a dunk. Tatum has tallied six assists in each of the past two games — and all six in Game 2 were to Marcus Smart for 3-pointers.
Tatum's smooth, modern game has been crafted by Drew Hanlen, a former Webster Groves high school standout who is now Tatum's personal skills coach. Tatum creates offense in such small spaces. And just when he looks locked down, he'll unleash this footwork that escapes and gives him space for a quick release. In a text conversation on Friday, Hanlen said he was extremely proud of Tatum's growth as a 3-point shooter.
Consider this. Last season, Tatum attempted 3.9 3-pointers a game, making 37.3 percent. This season, Tatum attempted 7.1 3-pointers a game, making 40.1 percent. That percentage increase is vast in the NBA world.
And while it might sound sacrilegious in St. Louis to root for anything Boston, the Celtics are worth following if only for the bedazzling Tatum, a new St. Louis wizard.