Well, if there was ever a game in which a Most Valuable Player needed to demonstrate his designation, it's Saturday's game for Paul Edward Goldschmidt.
In the Game 1 loss Friday to Philadelphia, Goldschmidt went 0 for 3 (and was hit by a pitch). In a vacuum, it's not the end of the world, but consider it's been a frighteningly frigid stretch here for the Cardinals' first baseman. He hit two homers on August 25 at Wrigley Field — and has hit two homers since. He finished with a league-best OPS of .981 ... and that includes his .689 OPS since August 25.
On Friday afternoon, after 5 1/2 innings, that vacuum was airtight. The game was scoreless, though the Cards got a runner to third with two outs. The MVP was up. And he weakly grounded out.
"I had a couple pitches to hit — fouled two off and had that last one and hit a groundball," Goldschmidt said after the 6-3 loss. "Obviously just trying to get on base there any way I can — and I wasn't able to do that."
Over the course of a season, even the best players will have a bad game or even a bad three-game series. So, if it's this particular three-game series — that being the playoffs — does it change the expectations? Fairly or unfairly, the answer is yes. These are the games in which the big names are expected to ascend.
"'Goldy' is one to tell you exactly how he's feeling — he's very literal and he's very honest," Cardinals manager Oliver Marmol said on the morning of Game 1. "So when he says 'I'm not feeling good,' he means that. Right now, he's saying, 'I feel really good.' So, I'm looking forward to this next three days."
Now they have two more days — or, perhaps, one.
The Phillies' Game 2 starter is Aaron Nola. Bad matchup. Then again, the MVP should be a bad matchup for any pitcher, even a stud such as Nola. But that hasn't really seemed like the MVP in the batter's box in recent weeks. This season, Goldschmidt went 0 for 3 against Nola with two strikeouts (to be fair, Nola had 235 strikeouts in 2022, third-most in the entire league). Goldschmidt went 0 for 7 the year prior. And 1 for 5 in 2019.
As for the Cards' offense in general, these basic Game 1 facts seem discouraging — they lost the game and had only five hits. But they did piece together some hits in the ninth, instead of laying down, so that's something. And during the game, there were a few outs hit right on the nose. Albert Pujols' first batted ball went 108 mph to the outfield but was snagged. And Nolan Arenado ripped a pitch to center that had an expected batting average of .840, per Baseball Savant. Alas, the ball was caught.
"I felt pretty darn good about our offense," Marmol said after the game. "You look at the first nine hitters. You had about four or five balls in play over 95. I thought we took good swings off (Zack) Wheeler. He did a nice job, competed well, made pitches. But for as hard as we hit balls, for him to throw up zeros was impressive. We had a good approach."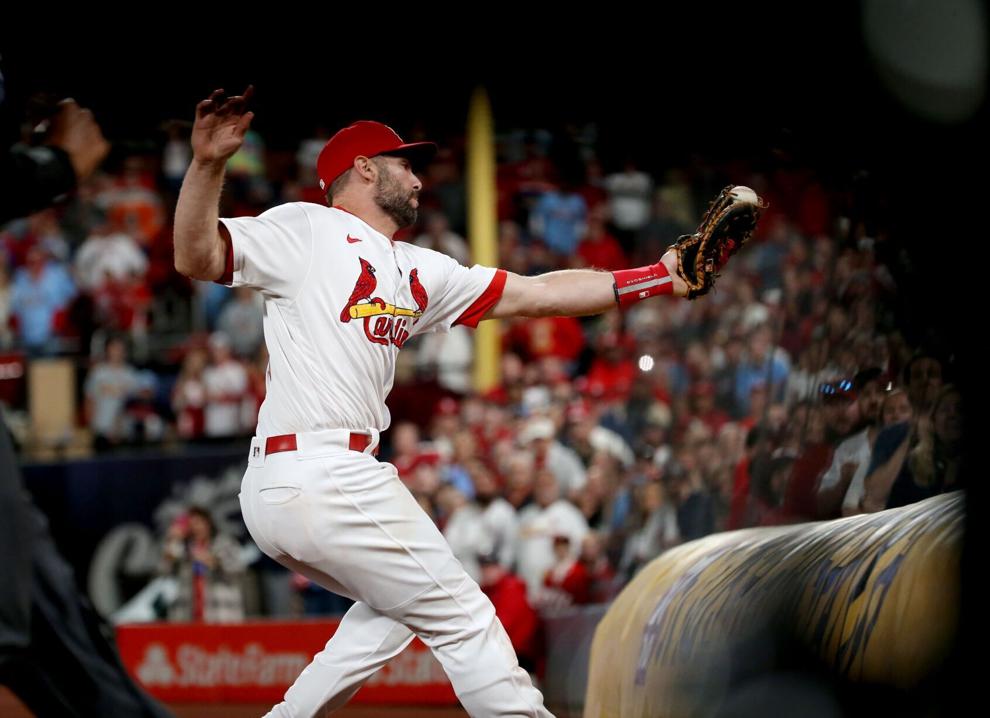 A cold Goldschmidt has been a surprising turn of events, one that's hard to explain. Sure, perhaps a guy will cool off a little over a long season. But this was an autumn fall. He was in the Triple Crown hunt in late August. Triple Crown! And after August 25, he hit .235 with the two homers and 10 RBIs.
When asked about his confidence in Goldschmidt, Arenado laughed at the reporter's question, as if it was preposterous to even possibly have some doubt in the dude.
Goldschmidt is, after all, the Most Valuable Player of the National League.
And it's quite simple now — for St. Louis to somehow pull off this best-of-three series, they need him to prove valuable, once again.