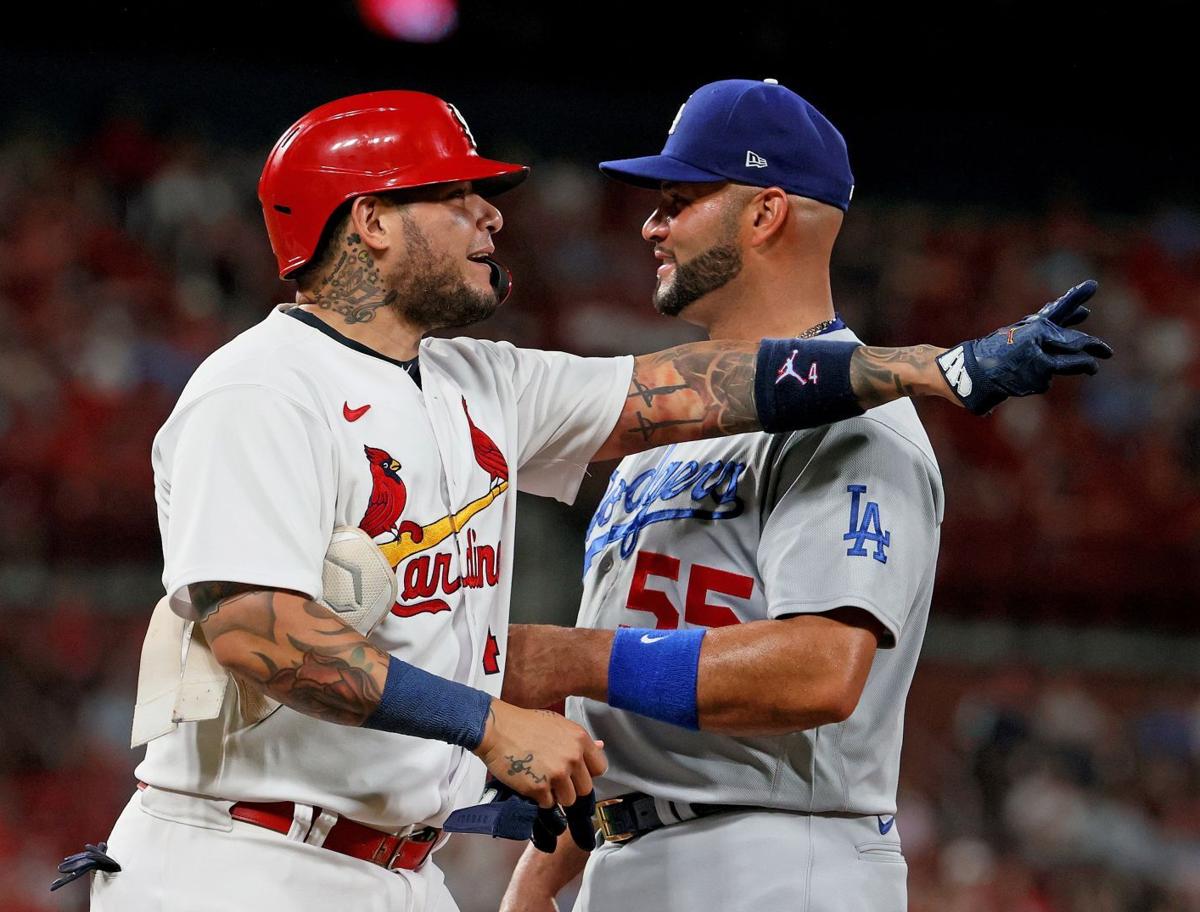 Late afternoon Wednesday at Busch Stadium, a fortunate St. Louis native got to pose for a quick photo with the Dodgers' Albert Pujols.
"That'll be on my wall someday," Max Scherzer told Pujols.
Scherzer's genuine joy for the moment captured the bigness of Pujols, considering most other humans would be humbled to be photographed with, you know, the planet's best pitcher. But Scherzer gets it. It's Albert.
"It's still surreal for me," said the 37-year-old Scherzer, who joined the defending champion Dodgers during this season, as did the 41-year-old Pujols. "This one's weird for me, because after Ozzie Smith, kids my age that grew up here in St. Louis, we became big-time Pujols fans. In the beginning part of his career, I came to games to watch him play. So it's weird to now be at this point with him as my teammate.
"Fifty years from now, the way we talked about Hank Aaron and Willie Mays and who's better, I really think we're going to be talking about who's better with Albert Pujols and Miguel Cabrera — and I get to say I played with both. I've been so fortunate in my big league career. I'll be telling that to my grandkids."
Wednesday's pic of Pujols and Scherzer in Dodger blue, standing on the field with the Arch in the background, led one to wonder — could either of them be on that field next year in Cardinal red. Both of them? It's hard to think Scherzer could end up in St. Louis, knowing surely some good team will pay gobs of money and — and extra contractual years — to have him. Plus, with St. Louis starters (or possible starters) Jack Flaherty, Dakota Hudson, Alex Reyes, Matthew Liberatore, Miles Mikolas and, yes, Adam Wainwright, that makes for many innings to account for already.
OK, but what about Pujols?
Earlier this year, I was against bringing the recently released Angel Albert to St. Louis. It just didn't seem to make much sense at the time. The Cardinals were division-contenders and Pujols' OPS (.622) resembled one of his heyday slugging percentages.
But the Dodgers, a savvy squad with some room for error, took a risk and proved a lot of people wrong. There was, it seems, still some Pujols in Pujols. And Albert didn't even need to play for an American League team to provide productivity. You know the story by now — he's devouring lefty pitching and has a .793 OPS against all pitching (in 182 L.A. plate appearances).
"Albert's having a sneaky really good season," Wainwright said after Wednesday's 5-4 win.
For some perspective, Edmundo Sosa is at .763, Lars Nootbaar is at .743 and the other part-time Cardinals are even lower (and yes, the way Sosa is playing lately, he's probably no longer a part-time player … until the Cards, one could hope, sign another current Dodger for next year in Corey Seager).
So, yeah, the 2021 Dodgers front office and coaching staff has maximized Pujols. It makes me think the Cardinals could and should bring back Pujols for 2022. There is, after all, confident talk that the National League will adopt the designated hitter. And even if Albert primarily batted against southpaws in pinch-hit spots or as DH, that should be worth the roster spot. Consider that this year, in 134 plate appearances against lefties, Pujols is hitting .302 with 13 homers and a .971 OPS. Nine-seventy-one! If it drops a bunch next year — say, 100 points — that's still .871. Even if you take age and fielding ability out of it, that'll play (well, that'll part-time play).
Another aspect to being against Angels Albert joining the Cardinals was the fear of him tainting his legacy. Clearly this isn't apples-to-apples, but Matt Carpenter has gone from beloved All-Star and salsa salesman to a punchline or virtual punching bag on Twitter. Yes, Carpenter's hefty salary plays a role in all of this. But image being a Cardinals fan and getting repeatedly angry with Albert Pujols? Imagine having to let yourself go there?
But that's the point of all this — it looks like it could actually be a good fit next season. A safe bet. And during their visit this week, the Dodgers have gushed about Pujols' presence with that club ("He's mentored everyone," skipper Dave Roberts said, "and that's myself, coaches, players, veterans, young players."). And that's the defending champs. To think the impact that Albert could make in helping guide the Cardinals back to glory. What a cool addition to a legacy already cemented.
A lot has to happen. The Cardinals would have to figure out the money. Pujols would have to decide not to retire … and decide not to return to the Dodgers. And having Albert on the bench would mean keeping a roster spot from a younger player in the system. But in September of 2021, in a series that Pujols homered, Yadier Molina homered and "Waino" won a big ballgame, it makes one think the ageless trio could contribute to the Cards in 2022.
"That's a pretty significant trio …" Cardinals manager Mike Shildt said. "They're legacy players not only for the Cardinals, but for Major League Baseball. The other part of that, which isn't lost on me and hopefully people who pay attention and the young people who have the opportunity to be the next future of our game — not only as players, but fans and reporters — is they're great stewards of our game. They're wonderful in the community of St. Louis."