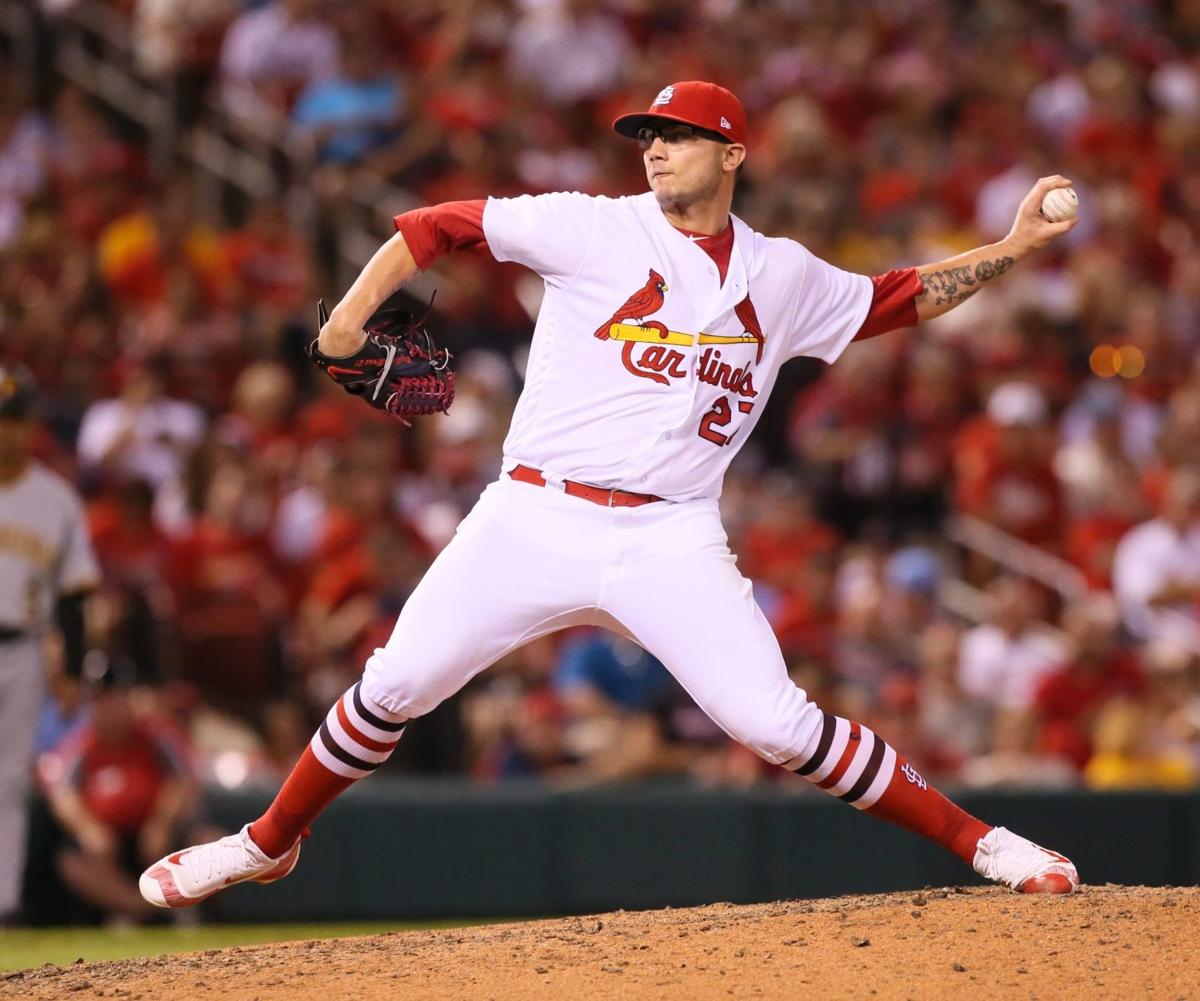 Quick — what number is Brett Cecil?
I couldn't remember either.
Turns out, he's No. 27. In time, he'll be remembered as "30.5."
Due to a litany of injuries — shoulder, foot and then carpal tunnel syndrome — the Cardinals' $30.5-million reliever hasn't pitched since the 2018 season, in which his ERA was 6.89 (in 32 2/3 innings). The 2020 season is his last on his contract, and he will make around $7.2 million (currently ninth-highest salary on the Cardinals, but could be 10th if the Cards sign Marcell Ozuna).
Cecil's existence, to a degree, keeps the Cardinals from possible offseason spending. Then again, Cecil's existence might've prevented some regrettable offseason spending, both in the past and in the future. Yes, of course, the Cardinals signed reliever Andrew Miller last winter, but Cecil (and Luke Gregerson and Greg Holland, too) are cautionary tales about purchasing relief help to gobble innings.
I wouldn't expect the Cards to pay for a free agent reliever this offseason. I wouldn't recommend it, either.
Cecil, the 33-year-old lefty, is currently in Jupiter, Fla., working out at the Cardinals' facility. At Tuesday's meeting with the media, president of baseball operations John Mozeliak was asked what's in store for Cecil in 2020.
"We don't know," Mozeliak said, bluntly. "Obviously missed a lot of time. He's going to be working with our rehab team down there. And hopefully he's someone that could contribute for us. But I think that's a big question mark on what we're going to get. And I think from a physical standpoint, he's got to prepare himself for the year."
Last season, the Cardinals used 20 different relief pitchers, from Giovanny Gallegos (74 innings pitched) to Adalberto Mejia (three innings), Chasen Shreve (two innings) and Jedd Gyorko (1/3 innings). It is possible that Brett Cecil does pitch for the Cardinals at some point. But it'll be hard to make up for the money spent.
Miller, 34, was a rare case of an elite reliever available on the free agent market, but even he didn't live up to expectations last year. He wasn't terrible – and he was resplendent in the postseason – and overall he logged a 4.45 ERA in 54 2/3 innings.
Standing at his locker at Nationals Park, following the final loss of the postseason, the southpaw said of his season: "It was a little bit of a roller-coaster for me. I was able to stay on the field all year, which was big after the last couple years of dealing with some injury stuff. But I felt like I could be a lot better than I was. You come into a new place and you want to succeed right away, and you put pressure on yourself, and I've been in that situation before. There (have been) times I've aced it, and there (have been) times it's been a grind. I know that I've got some more time here, so it's a really special place to play with a special team."
Miller allowed 11 homers in 2019. He had never allowed more than eight homers in a season (and that included seasons that he started double-digit number of games, including 20 in 2008). His 2.59 strikeouts to walks ratio was the lowest it had been since the 2012 season. To his credit, he came up big in many shutdown situations. But, yeah, roller-coaster is a good description for his experience.
It was the second-consecutive "average" season, following his era of dominance (he was a rarity -- a famous non-closer reliever). But the 2018 season was marred with injuries, while 2019 was not. As for 2020, "We'll bust our tails this offseason," he said from his locker that night. "Everyone in here also believes (the playoffs) were a steppingstone, something we can build off, be better from. … I don't know how much longer I'll be able to play this game, and I want to be on a team that can hold up the trophy. … It's hard because I feel like this is a team that could've done it. … We ran into a freight train."
Overall, the Cardinals bullpen was a force in 2019, and the boys are back. The Cards relievers posted a 3.88 ERA, third-best in the National League behind the Giants and Dodgers. One stat the Cards coaches particular respect is WHIP – walks and hits per innings pitched. The Cards' bullpen WHIP was fourth-best in baseball (1.22), trailing only three fellow playoff teams: the Astros (1.20), Rays (1.20) and Dodgers (1.16). Gallegos was the best in the Cards' bullpen, with his 0.811 WHIP and 2.31 innings pitched.
Carlos Martinez will try to be a starter next season, and Jordan Hicks won't return from injury until midseason. Perhaps the righthander Gallegos will be the closer, though there's a lot to like with the triple-digit fireballs thrown by Ryan Helsley. Others such as Miller, John Brebbia and Tyler Webb and even Alex Reyes will be back … and maybe Cecil too, for better or worse.
Check out these and other hot topics from columnist Ben Frederickson's weekly chat with St. Louis sports fans, including: Let's get real about…
Be the first to know
Get local news delivered to your inbox!