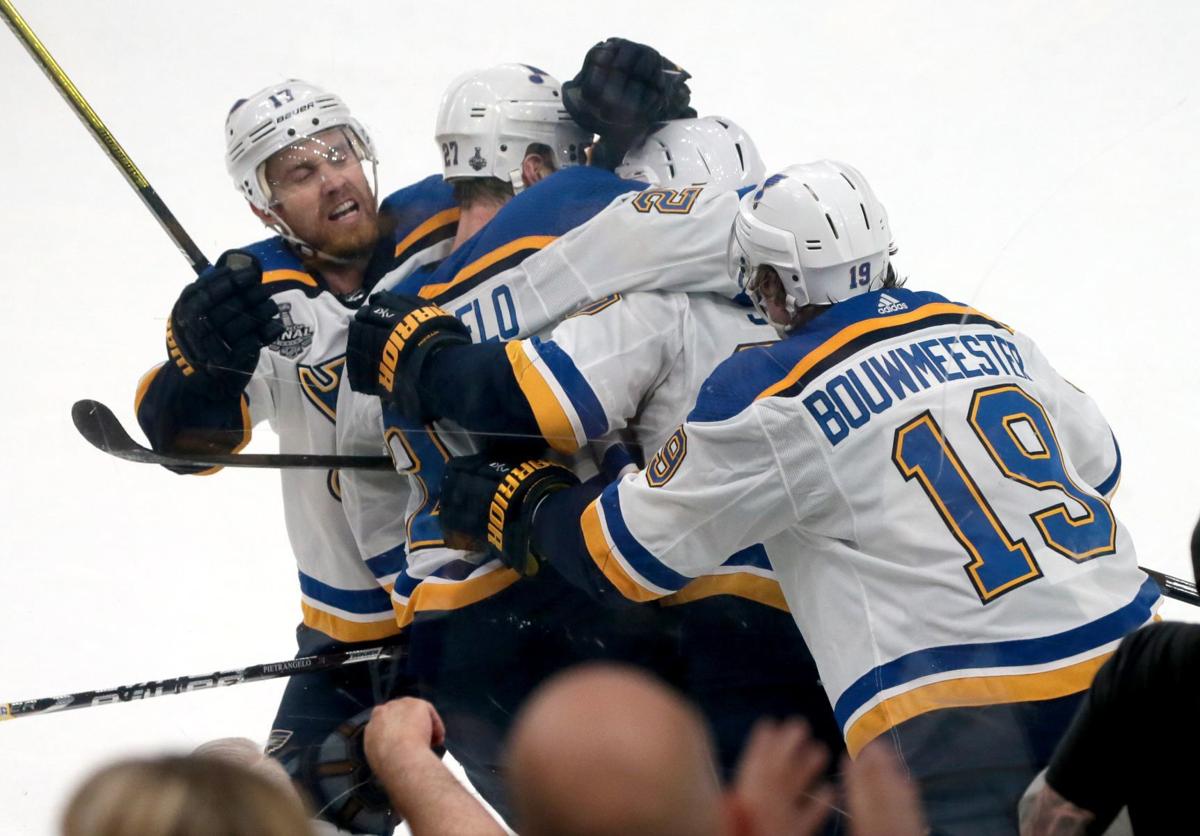 During these uncertain times, columnist Benjamin Hochman shares what he misses about sports. Here is his latest:
Andy Bernard, a former paper salesman at a Pennsylvania office, was interviewed for a documentary. He told the cameras: "I wish there was a way to know you're in 'the good old days,' before you've actually left them."
Even when we were experiencing the 2019 Stanley Cup Final, knowing it was history-in-the-making, you couldn't fully appreciate what those days meant to you. Or, would mean to you. Well, now, a year later, with a global pandemic that has shut down sports, you definitely do.
The 2019 Stanley Cup Final were the best of days. You cheered and screamed and danced and prayed and cussed and cried . . . during the wins and the losses.
With hockey (and the world) paused, I think back to the Stanley Cup Final, and I miss it — miss the experiences of 2019 and miss the 2020 experience that could've occurred this week. Of course, it's quite possible the National Hockey League will salvage the season, resuscitate the season. But right now, there isn't hockey. And it's fair to think that your Blues — first in the Western Conference when the season stopped, and star player Vladimir Tarasenko set to return — would still be playing hockey right now.
The Stanley Cup Final provided St. Louis with a new sports adventure, pretty special for a fan base that had already experienced so much that sports had to offer, notably multiple World Series and Super Bowls.
The Blues-Bruins games of the Cup Final were chapters, each with their own storylines, protagonists and, yes, antagonists (and while this column space will make reference to Brad Marchand and helmet-less Torey Krug, it's fair to point out that a mirrored column in Boston could reference a few Blues as villains, too).
Watching those games, that level of hockey, it was as if every collision or transition could be game-changing. Is this the moment that'll lead to a goal? The intensity of each play was palpable.
And in any sporting event, someone is going to make a big play. But when the big plays happened on hockey's grandest stage, they became instantly iconic. Carl Gunnarsson. Jordan Binnington. Alex Pietrangelo. Jordan Binnington, again. Alex Pietrangelo, again.
I miss what the Stanley Cup Final did to routines. It took regular routines, shook them up in a shot maker, which poured out a whole new routine. Days were planned around the Blues and Blues games. And the seven games were watched in memorable — and personal — places, from a best friend's living room to a boisterous sports bar to your parents' home to Enterprise Center to even Busch Stadium. 
Figured here's a chance to share some of my favorite Cup images (and images described in the St. Louis Post-Dispatch):
• The night before Game 5, on the quiet, narrow streets of Boston's old Italian area, noise spilled out of one of the North End restaurants. Just what was going on in there? As you walked closer, you began to make out the sound. Could it be? Yep, it was "Gloria." And inside, there was Blues legend Bernie Federko, the Hall of Famer, a great grin across his famous face. He was responsible for the request – talked the owner into it – and Federko and some other Blues folks soaked it all in.
• From Tom Timmermann: Gunnarsson had almost scored in the third period, putting a shot off the post. In the break between the third period and overtime, Gunnarsson ran into coach Craig Berube in the locker room bathroom and told him he just needed one more chance.
"(Berube) just came in and said, 'Good job,' and told the story," captain Alex Pietrangelo said. "You don't hear that story very often. That's not a place to have a conversation, but I guess it works. It's a good story. I don't know if he's making it up because that's a great story.
"Just needed one more chance and he got it and he scored."
First came 20-year-old Harrison Schmidt. He had tried to play hockey in the Special Olympics last season, but skating was hard for him. Still, he loves Pietrangelo so much he came to the parade wearing the captain's jersey backward, as if he wanted to be able to look down and see the name. Pietrangelo saw Harrison and came over to ask a question. "Want to walk with me?" Harrison's family could not believe it, but there went Harrison, through the gate and up Market Street, with Pietrangelo, to lift the Cup.
The second was Bobby Reidelberger. Pietrangelo invited him onto the route from the crowd and pushed his wheelchair toward 8th and Market, where Maroon was displaying Stanley. Reidelberger touched it and began to weep. Pietrangelo hugged him, then handed him a Busch Light.
The third was David Mellitz. He has Spina bifida and uses a wheelchair. Pietrangelo didn't know this part, but the reason Mellitz became a Blues fan in the first place was because the team visited him in the children's hospital in the late 1970's. They left him a poster. Pietrangelo helped him lift the Cup.
One of the highlights came when Stan Arcand Jr. of the Alexander Reserve performed an honor song for Berube, keeping rhythm on a ceremonial drum. Chief Kurt Burnstick, of the Alexander First Nation, was there as well — in full headdress.
Arcand Jr. wrote the song himself, and said he had performed it only a few times.
"This song was meant to bring emotion out in people," he said. "Our song is a form of prayer. You pray to a higher power. We do it through various mediums, through our ceremonies, through daily prayer.
"We use it to honor accomplishments and people who have done great things for themselves and for their families."
Later in the evening, it was time to drink from Lord Stanley's Cup. With some help from his friends, Berube poured can after can of Bud Light into the Cup. The crowd gathered around in gleeful anticipation. If the morning was like a visit to Santa Claus, this was communion from the Holy Grail, with Berube doing the pouring.
His uncle Wilfred Berube, who everyone calls "Greasegun," gave up drinking when he was 24. But this was the Stanley Cup, after all, won with his nephew as coach. So at age 77, he drank from the Cup — his first taste of alcohol since before the Blues existed.
• One more from Boston, Game 5: Jordan Binnington stood in a quiet TD Garden hallway plastered with posterboards, decorated with well-wishes for the Bruins by sweet schoolchildren whose souls this man had crushed.
He had just stopped 38 of 39 Boston shots, won Game 5 on the road and said live on ESPN, when asked what makes him nervous, that "when you find out, you let me know." And now, the Blues goalie was here, all alone, asked to put it all in perspective.
"I'm a loyal guy," Binnington said softy, talking about both St. Louis and the Blues. "The fan base is incredible. I love being part of a team. As a goalie, you just try to be there for when the team needs you, and trust them to do their job – and they've been incredible. I'm happy I could be of help for them. … We have each other's backs."
Hochman's previous "What I miss today about sports" columns:
The latest STL Blues hockey news, NHL headlines, scores, standings and rosters.