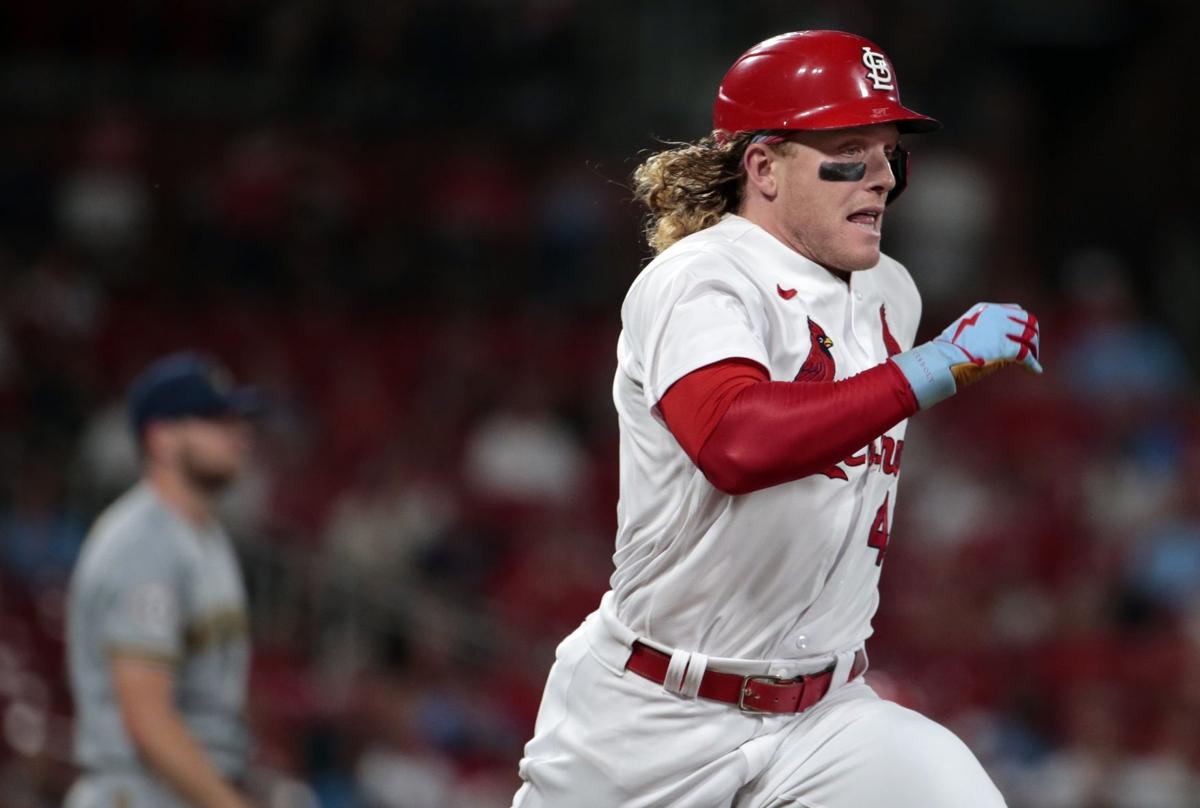 With Harrison Bader, everything is a thing. His hair isn't just there; it's a whole look — these curly golden locks that flap under his cap when chasing down a fly. His batting gloves aren't just for comfort; they're a fashion statement — a pop of color, the victory blue to go with the white and red. His batting stance isn't just a precursor; it's a production — and it even includes a little bat toss, occasionally a prelude to a bat flip, following a Bader tater over the wall.
It's all part of the aura of our town's latest sports phenomenon, this fan favorite who's the talk of St. Louis. In this magical month of September — and these will read like typos, but they're not typos — Bader entered Wednesday batting .354 with a 1.032 OPS. In 21 games, he's hit six homers with 18 RBIs. He's the reigning National League player of the week. He began this month with a .701 OPS — now, for the season, it's at .790. And he'll play at least one more game next month.
"There is an aura, isn't there?" teammate Adam Wainwright asked. "He's got a presence about him all the time, even when he's, like, just kind of walking down the hallways. It's almost like there should be a soundtrack behind him or something.
"He's got lots of flash, lots of style, lots of mojo, but he tells you, that's what you're going to get when he's out there on the field. And that's the way we want him, because when he's playing comfortable like that, and playing loose, he can be a really special baseball player."
Bader plays defense offensively, aggressively tracking down balls. He flies for flies. And on the base paths, he's a stealer, not necessarily of bases (just eight this year) but of opportunities to wreak havoc. In Milwaukee last week, he tagged up from second on a deep fly out — and just kept going, sliding gracefully and safety home.
It wasn't the most-important play of the year, but it was the play of the year. It was everything that makes this team this team — and the play was made by the Cardinals' latest catalyst.
His enthusiasm is flashy and infectious, be it when he celebrates a hit or a teammates' hit or, really, anything. In Chicago last weekend, he was especially fired up on the dugout steps after something. The cameras caught three kids in the front row behind him, all in Cards' jerseys, cheering along. It was wonderful.
At St. Louis coffeeshops and social gatherings, his name often comes up between sips. I've met numerous people who say their kids' favorite player is now Bader. A sign at Tuesday's clincher simply read: I heart #48.
On the field, after Tuesday's big win, I asked Bader about his role in the St. Louis ecosystem.
"That's very cool — I mean, it means the world to me," said the 27-year-old from the New York City area. "I live in a neighborhood in St. Louis, and where I go and get a coffee and everyone's saying, 'Good game last night,' and that's just such a special thing. And it's really particular to St. Louis, there's no doubt about it. I'm from a big city and you know that city doesn't really do that. So to just be a part of something so special here for a large part of the year means the world to me, means the world to my family — and I want to do it for as long as I possibly can."
Again, though, it must not go overlooked just how much he salvaged his season.
On August 30, Bader was hitting .238. His slugging percentage was .395 and the OPS, as mentioned, was .701.
If the season had ended that day — and it sure seemed, for all intents and purposes, as if the season already was over — we might've headed into winter wondering about Bader's 2022 role. Even with the winning streak and the playoff berth, the Cards still will need to add a bat. The biggest offensive holes, after August, were shortstop and center field. Maybe they'd move Dylan Carlson to center, bring Bader off the bench and bolster right field with some OPS?
But now, as September comes to an end, Bader is the center fielder of the present and the future. And this should be the year he wins his first Gold Glove. Bader leads NL center fielders with 15 defensive runs saved, per Fangraphs.
And it's fitting because St. Louis sure takes its center fielders seriously. It's where the beloved Willie McGee played. And Jim Edmonds. And it's the previous position of Terry Moore, Curt Flood and Ray Lankford. Now, the current guy is flowing. The city loves the guy. It's been a month for the ages — lore in real time.
"First, it has been fun," said Bader, whose team set a franchise record for its longest winning streak. "And secondly, it's just been professional. I mean, there were games where we were behind to start, but it was just — head down. We don't know who's going do it, but someone's going do it. And that mentality is contagious. It's dangerous. It's intentional. And being around a group of guys like that, man, it's just an absolute blast. And we're bearing down on the finish line. …