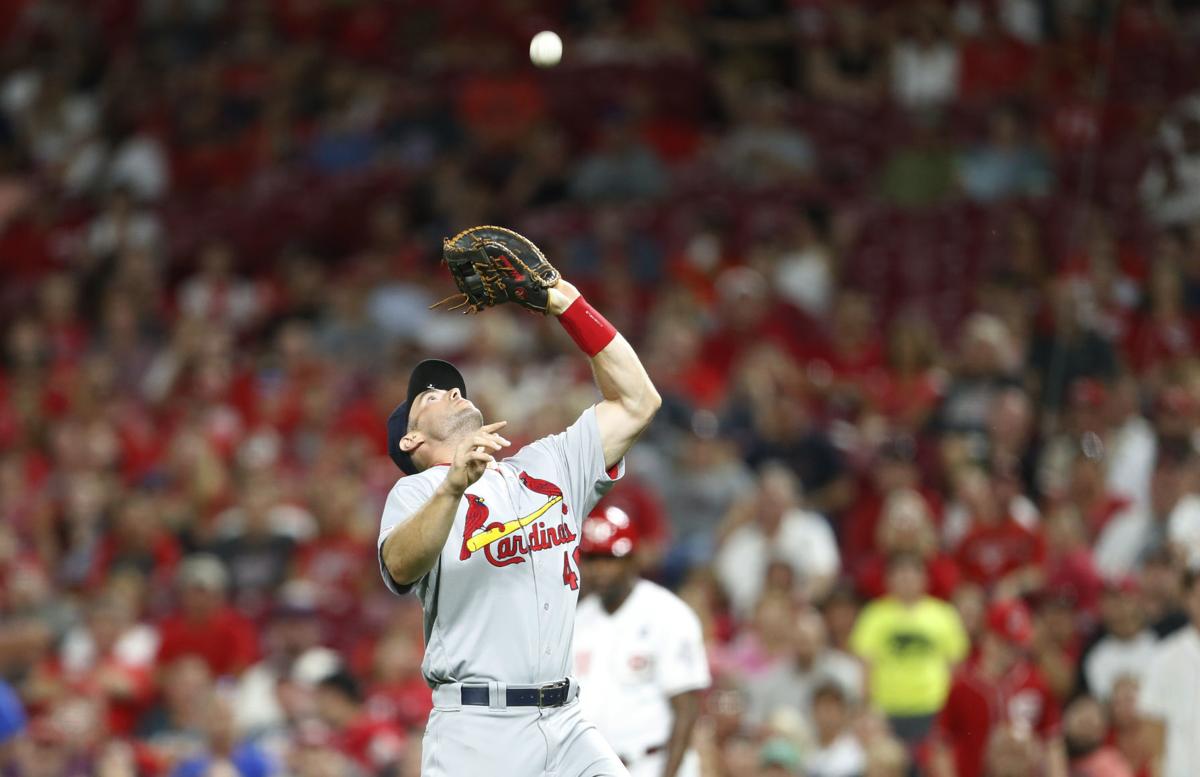 If anything — and they've been called a lot of things — the 2019 St. Louis Cardinals are peculiar. You can watch one night and think — they're going to get no-hit sometime this year. And then the next night you think — they're going to win the division this year.
Or, maybe, both will happen?
The Cardinals' offense is generally a question mark, occasionally twisted into an exclamation point — which then morphs back into its regular state.
The seldom-flexing, often-vexing offense returns home to Busch Stadium on Monday, for the biggest series of the year, because they're all now the biggest series of the year, when every game could be the difference between the postseason and postmortem.
The good news is, the Brewers are pitching so poorly, maybe even Matt Carpenter could get a hit against them. If that's to happen, here's hoping it's not from the No. 2 spot in the lineup, where Carpenter was slotted Sunday. Even though Carp has incredible career numbers against Monday's starter Zach Davies, it would be incredulous to say he should hit in the top of the order in this series.
There is so much opportunity here the next three days for the Cardinals, but it's hard to be optimistic that they won't miss it. It's reminiscent of a recent clash with a division foe, because the Brewers come to town much like the Pirates did last month — as believers. But in a pair of July series, Pittsburgh went 1-6 against the Cards and fell apart. Milwaukee is currently two games behind first-place St. Louis — but the Brewers play six of nine games against St. Louis. The Cards could shoo the Brewers aside, too. And Milwaukee might already be falling apart — in the past two games, the Brewers allowed 30 runs. But what could be more enticing to an unsure pitcher than facing the 2019 St. Louis Cardinals? Especially when some of the most-dangerous young hitters are benched.
Fittingly, Lane Thomas started and sparked in Sunday's win at Cincinnati. Sunday's win was the one of the bigger wins of the season, if only for psychological reasons. Division-winning baseball teams don't lose three of four to Cincinnati. It would've been a rough precedent to set. Instead, the Cards went 2-2 in that other river town, thanks to Sunday's uncoiling of Paul Goldschmidt. In another fitting turn-of-events, Paul Goldschmidt hit like Paul Goldschmidt, and the Cardinals won a game. His homer was the game's big blow, and he also painted an opposite-field brushstroke of a double. And walked! It was just his third walk of August.
The Cardinals have the seventh-best walk rate in the National League (8.5 percent), which isn't terrible. But since July 1, the Cards walk-rate in the NL has been 12th, ahead of only the Pirates, Reds and Marlins.
Much has been said about Goldschmidt's underwhelming season — or, more politely, his uneven season. But here's a stat that sure sums up the power his power has on this offense. The first basemen has 28 homers, three from one game against these Brewers, back in the first week of the season. Remember that game? It made a team dream. A fan base, too. Anyway, back to reality, the .260-hitting Goldschmidt has an .813 OPS this year (his career OPS is .918) — and has homered in 26 games.
The Cards are 19-7 in games when Goldschmidt goes deep.
Conversely, there have been 36 games in which Goldschmidt has struck out two or more times.
The Cards are 15-21 in those games.
Perhaps the strikeout that lingers the most involving Goldschmidt was last Thursday in Cincinnati. The Cards are bad at hitting with runners in scoring position — due to the fact that the Cards are simply bad at hitting — but here was a bases-loaded chance for the big-bucks slugger. He took strike three.
Unlocking the Cards' offense could be as simple as unlocking just one Card.
As for St. Louis' starting pitching, this Brewers series will shine a spotlight on two of the biggest storylines going forward. Dakota Hudson's groundball-getting has been gushingly documented in this column space, only to see his groundball rate decrease amid some rough innings. Hudson bounced back in his last start, albeit against Kansas City, so Monday's start against Milwaukee will be a true test for the rookie.
And the following start goes to Michael Wacha, who is forever part of local history for his 2013 season, but could very well be part of local infamy for his part of in the 2019 season. The Cardinals could not stomach a trade for a reliable starting pitcher at the deadline. Instead, they said they'd see what Michael Wacha could do — even though he hadn't done much already. And then he didn't do much in his first start after the deadline, allowing six runs before the sun set at Dodger Stadium. His second start, post-deadline, was actually OK. He allowed only two runs in five innings at Cincinnati. It was one of those typical 2019 Cardinals games, the ones that support local business by influencing Tums sales — the pitchers allowed only two runs all night, but the offense only scored one. Wacha goes Tuesday, and the optimism is thin as his ERA is fat — only once since April has he allowed three or fewer earned runs in back-to-back starts.
Such is life with these Cardinals, inconsistent and maddening and, yes, peculiar.