VALMEYER — Oh man, Vern is going to hate the dateline on this story. Of all the words that could've begun this piece about him, and it's his rival town? In capital letters, too? Sorry, Vern. But that's how we do datelines, and that's where this story starts, in enemy territory, on the Fourth of July.
Vern Moehrs is 84. And for the 59th consecutive summer, he's the manager of the Waterloo baseball team in the Mon-Clair League, which has five teams from Illinois, five over in Missouruh. It's a fiercely competitive and proud summer league, featuring dozens of current college ballplayers and adults who can still hit the curve.
And so, here's Vern in the third base dugout, on a sweltering Illinois morning, "wearing a suit." That's Vern vernacular for uniform. The great baseball man has got on a navy ball cap, a navy pullover jacket and gleaming white baseball pants, which bunch just below the knees. This thus gives way to authentic red stirrup socks, tucked under his feet in his weathered black shoes.
"For all the young people," a man says over the public address system, "foul balls are 50 cents a ball."
A waft of charred hot dogs floats by — if summer could ever be a fragrance, this would be it. An American flag flaps behind the left-field fence. Sweat starts showing up in weird places. It's the 48th Annual Valmeyer Midsummer Classic, but Waterloo's opponent isn't Valmeyer, as if they didn't want to take away from the evening's fireworks.
Instead, the Waterloo Millers play the Millstadt Green Machine.
And as the Waterloo Millers take the field for the first game of the tournament, the combined age of their four infielders is 88, just four years older than their manager.
"Tell him to look for the red truck!" Vern shouted from the background.
And just when you realized all the charming houses looked the same, yep, there was the red Ford pickup in a driveway — Illinois license plate 2 A LGND (Later, you'll find out that Lucy's Kia in the garage has the plate MRS MGR 2).
Vern's uniform number is 2. And he is a legend. A manager of the same team for nearly six decades, Vern Moehrs won his 2,000th game in June. Give yourself a moment to let that number sink in.
Now, Whitey Herzog is from around these parts, over in New Athens. Red Schoendienst was from an hour away in Germantown. Those are your personal managerial legends, World Series skippers for St. Louis. But just across the river here in Monroe County — where baseball fuels these small towns, and the boys don't stop playing once they're men — Vern Moehrs is a legend. He's a fixture in this community and the godfather of the time-honored Mon-Clair League. Over the decades, the league has had everything from retired big leaguers to local "could've-beens." Some fellows played for Waterloo not just for years, but decades.
Ol' Vern? He started playing for Waterloo as a 17-year-old in 1952, and in 1961, he became a player-manager the same year he won the batting title; "Four-eleven," said Lucy, proudly proclaiming his average.
"I think that's what has kept dad young, just being around the young players," said his daughter, Gina Moehrs Pfund. "Dad is a very young-minded 84-year-old. Very sharp, too, with the whole strategy of the game and everything. He's so relatable to young men of all generations. I think it's a testament to him that they just stop by his house. They'll just pop in.
"Being in the area, I'd always say, 'I'm Gina Moehrs,' and they'd say, 'Vernie's daughter?' There is a pride with that. He's a good man."
Of all Vern's accomplishments, his favorite is that he got to manage his son, Clay, for 18 years. Clay is the all-time Waterloo leader in stolen bases (230) — Vern has all the stats handwritten in a ledger.
"Here's a story!" Vern said that day at the house, after riding down his motorized stair chair lift to the carpeted basement, which is really an unofficial local baseball museum with trophies and framed faded photos, as well as an old pair of leather Kangaroo spikes, given to him by an old Cincinnati Red, and an old shotgun shell, given to him by Red.
"Now," Vern said, "you have to understand my personality when I was younger."
"I was hell on wheels," Vern continued. "I loved winnin'. So Clay is playing short. We weren't having a good game out there in the middle of the diamond. So here I come, trotting out there. I was going to chew someone out. Who comes running across the diamond? My son. He looked at me and said: 'Dad, if you say one more word to me — I'm going to Valmeyer.'
"So I did a 180 and went back to the dugout and never talked to him about it again! He knew I just despised Valmeyer."
The dugout cacophony feature cleats clacking, and yakking and hacking and hocking of loose loogies — it's not always pretty, this national pastime of ours. Before the Fourth of July game, the home-plate umpire comes over to greet Vern in his blue folding chair, Vern's throne that he got at Rural King. There's another folding chair next to it, and a player or his assistant coach will plop down, talk ball or keep him company. Before first pitch, Vern calls over a southpaw. He wants to talk about his curveball grip.
"When you come back to throw, I can (see it coming) from the dugout," Vern says.
"Now, he's pitched pretty damn good for us," Vern says later, when the player isn't around. "I scouted him, and I know the coach at Rolla. So consequently, I told him: 'I don't want to change you, but just think about it.' If you're really going to make yourself better — everybody can read your curveball. The higher you get playing ball, these things will come up to bite you. And word travels fast in baseball."
Vern is originally from Renault.
"It's not much," Lucy said. "It's between here and Prairie du Rocher, if you've ever heard of Prairie du Rocher."
The farming community had 150 people, but Vern said that when he was a teenager, "every town back there had a team. We went out and cut some posts, cut some chicken wire for a backstop and the bases were sacks. Dirt sacks. There was no money at that time. Nobody had a suit. You were lucky to have a pair of spikes. But guys played all the time."
The manager of their local team, the Renault Ramblers, also managed the town's grocery store.
"During the week, he'd go to St. Louis haulin' cattle, haulin' pigs, groceries, all that stuff," Vern said. "So on Saturday, all of us got together and we scrubbed the bed of the farm truck and put benches in there. And on Sunday, he'd haul us to games."
As for Lucy and Vern, their love story sprouted at the Old Shamrock off State Highway 13.
"The dances were big then," says Lucy, 83, who met Vern in 1956. "You'd have the big band sound. Back then, guys asked the girls to dance. He asked me to dance. Swing, jitterbug. Oh yeah. We were good dancers, really good dancers. Every weekend. He played ball, but in the evenings, dances, too. They were like five-, six-piece orchestras. Back then there was Tommy Ryan …"
"Collinsville Park Ballroom had Walt Schlemer," Lucy said.
"Whitey was coming out there at Shamrock, too!"
Lucy and Vern were married in 1958. She was Catholic, he wasn't. Her hometown church wouldn't marry them. By that time, Vern was playing summer ball for Waterloo.
"And the priest that played with him, Father Edwin Hustedde, said we could get married at the church here in Waterloo," Lucy said.
Later in life, when Vern converted, "Father Ed" baptized him. Their children, too.
"Great left-handed pitcher," Lucy said.
Just beyond the ball field, a train roars by during the Fourth of July game, no holiday for rail freight. Fans sit under fans in the grandstand. A couple of kids throw firecrackers on the sidewalk.
"HEY, BURNS," Vern yells from the dugout. It's the fifth inning, the loudest he's been all game. Kade Burns scurries out to become the courtesy runner for the catcher. It eats at Vern that his body won't let him coach from the third base box anymore. Or hit fungo grounders before the games. So he screams for Burns as if he's making up for all the managing he can no longer manage to do.
On the phone, Jimmy Wahlig said he might get emotional — and then got choked up just even suggesting that he might.
Wahlig loved Vern; he still does. Played for Vern for 24 seasons. Won MVPs, set records.
Asked to describe Vern's role in his life, Wahlig began by talking about his own father.
"I love my dad very much," said Wahlig, 60. "My dad worked hard. He had six kids. … I'd have to say that, especially in the summertime, early on, Vern was probably my second dad. We've been pretty tight. … He taught me how to win, I know that. And that's not easily taught.
"He cares about winnin'."
Especially Vern winnin' vs. Valmeyer.
"Valmeyer and Waterloo, it's pretty heavy," Wahlig said. "I've met people on both sides, and it's really a feud! You know, they're only eight miles apart."
It was Wahlig who came to bat in the famous 1986 game. Both Valmeyer and Waterloo were 22-3 at the time. Bottom of the last inning, tie game, two on, no outs.
Vern called over Wahlig, told him to bunt. Wahlig, a former Blue Jays farmhand, asked for just one swing. Vern looked at his confident hitter and said, "You get all three."
Wahlig knocked the first one out of the park. And as he rounded third, Vern was screaming: "Goodnight, Irene!"
From his Fourth of July folding chair, Vern pulls out a tin of Longhorn dip, and slowly, almost mischievously, stuffs some in his mouth. He then holds the tin almost like it's a curveball — unlike the kid from Rolla, his grip won't reveal what's in his hand.
"I've chewed since I was 14 years old," Vern says later. "I was born and raised on a farm. My grandpa had two sons, but they weren't interested in horses and things like that. Grandpa was going down the road, and he had tobacco and cut a piece off. He couldn't say Vernell — he called me Viby. He said, 'Viby, try this.' It was goooooood."
For a living, Vern worked in a quarry. He was an underground superintendent.
"If I had to do it over again, I'd want to do that," he says. "I loved it. … All miners chew, because it's not legal to smoke. They do slip a smoke in, but you're around explosives."
It's the sixth inning. Waterloo hurler Reid Hendrickson is stymieing Millstadt. He was the winning pitcher of Vern's 2000th game from last month. Vern loves to show off the scorecard. Hendrickson's daddy is Darin Hendrickson, head coach of the St. Louis University baseball team. He played for Vern, too. Shoot, everyone around here seems to have played for Vern. Even Denny Pieper did.
As Pieper said it earlier this month at a coffeeshop — "I played for Vernie" – it caused his grandson by his side to lightly laugh. It was just weird to hear.
"Because of the rivalry," said the grandson, 22-year-old Jacob Hill.
Coming out of high school, Pieper started for Waterloo, but Vern wasn't playing Pieper's brother. So they switched to the Valmeyer Lakers.
But Denny Pieper got in a frightening automobile accident — "I was lucky to be alive" — so his playing days were done. But he loved baseball. So at 21, he became manager of Valmeyer in 1968.
Which makes this the 52nd consecutive summer that Denny Pieper managed Valmeyer and Vern Moehrs managed Waterloo.
"We've gone to war," said Pieper, 72. "Oh yes. It's calmed down a lot in the last few years. But prior to that, I mean, it was like a hate-hate relationship. We got along off the field, but once you touch the diamond, it was 'I don't know you, buddy!'
"It was all because the ballplayers were so into this. Waterloo has won a lot of championships. And you wanted to knock them off their high horse."
But Waterloo often becomes "Waterloo" for opposing Napoleons.
Vern is known for recruiting players from even hours away to play. One opposing coach joked that while his team had one No. 1 starter, Vern's would have four. And some of Vern's former players became college coaches, which helped with connections. Twenty-three times, Waterloo has won the league championship.
At minimum, Waterloo and Valmeyer play two doubleheaders each summer, but they often meet in the Midsummer Classic or the postseason tournament. The games have become famous. Some even infamous.
"We've had three free-for-alls over the years," Pieper said. "Big time. Police were called and everything. They stood at the gates and made sure nobody could get on the field or off the field."
Fifty-two years of rivalry between these two proud men. They've mellowed as they've grayed.
"We hope to keep it going for a while," Pieper said of managing. "The big thing, Vernie and I, we're on about our last leg."
Even though you're Valmeyer and he's Waterloo, is there a mutual respect for Vern?
"Oh yes, no doubt," he said. "The big thing is — I know the time he puts in as far as organizing and getting things ready for a ballclub. And raising money to get this done."
Lucy has watched hundreds of games over the year — "Thousands," she interjects from the grandstand — but she still gets nervous.
"I'm his biggest fan," she says of Vern.
Waterloo pulls off the Fourth of July win. The clapping players clatter in the dugout and onto the field. Jeremy Rettig comes over to shake Vern's hand. He wants to be a coach someday, too.
Using a cane, Vern stands up and folds the chair. Lucy meets him at the red truck and kisses his cheek.
Vern carefully gets into the driver's seat. Win No. 2,005. The summer sun illuminates his face.
He's asked: Other people your age — what are they doing right now?
"I hope they're enjoying life at my age," Vern says and then coughs twice. "I sure in the hell am."
Longtime Waterloo Millers manager Vern Moehls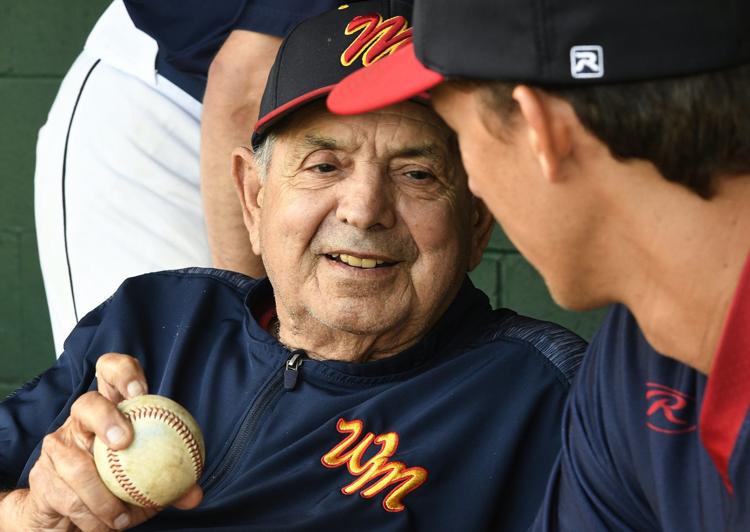 Longtime Waterloo Millers manager Vern Moehls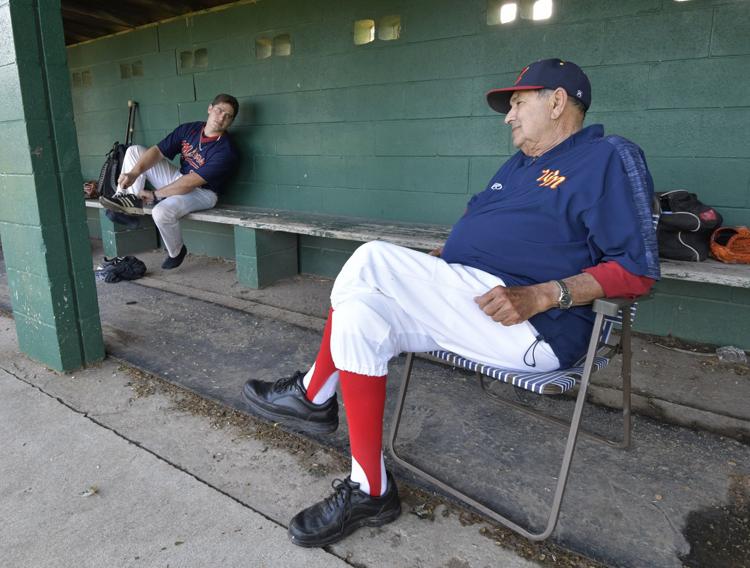 Longtime Waterloo Millers manager Vern Moehls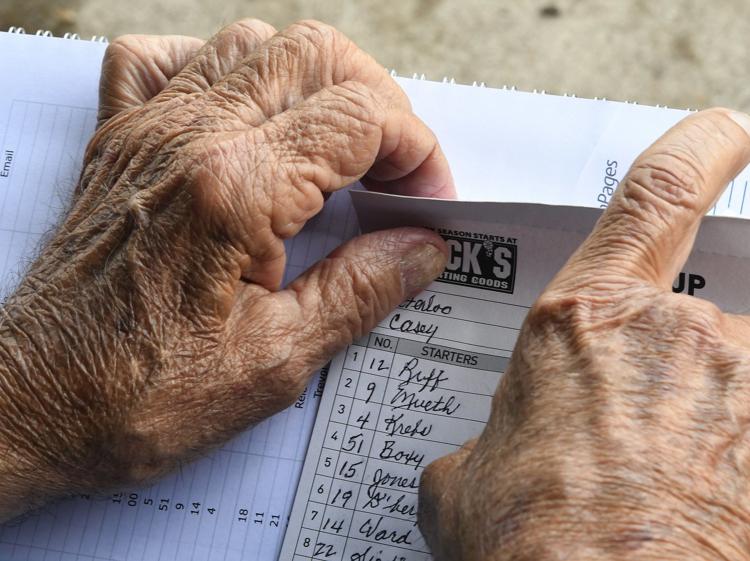 Longtime Waterloo Millers manager Vern Moehls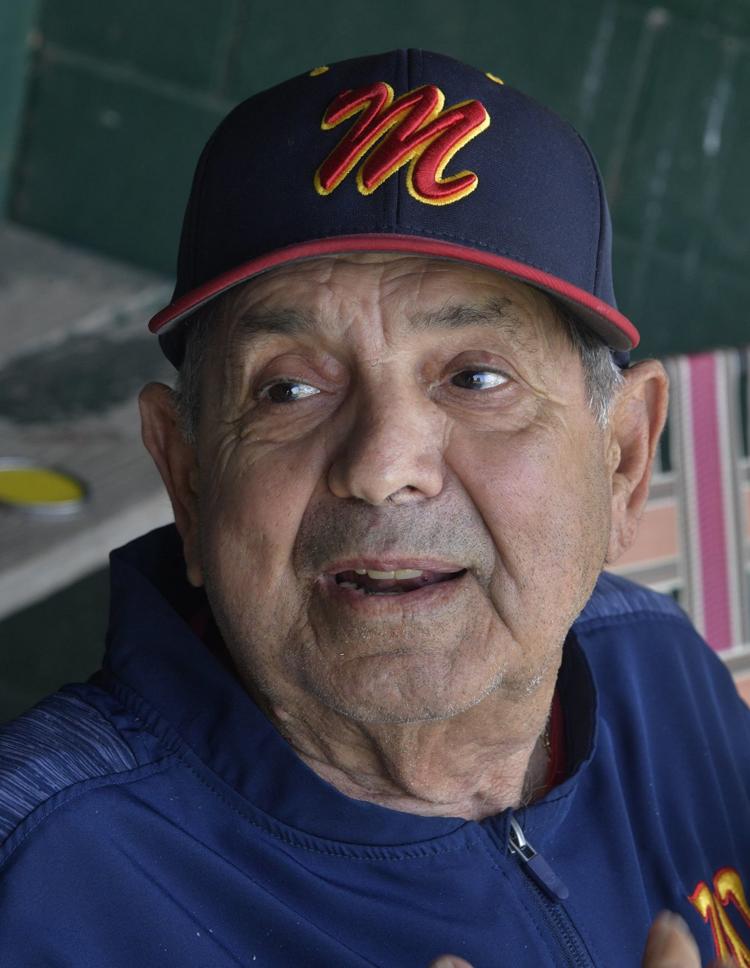 Vern Moehrs in 1961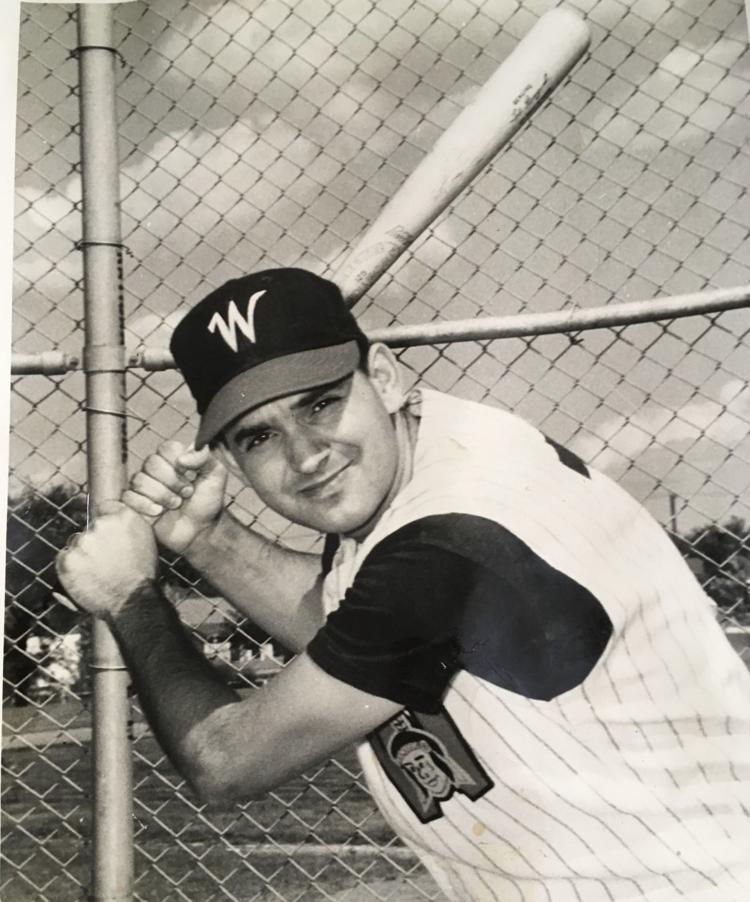 Longtime Waterloo Millers manager Vern Moehls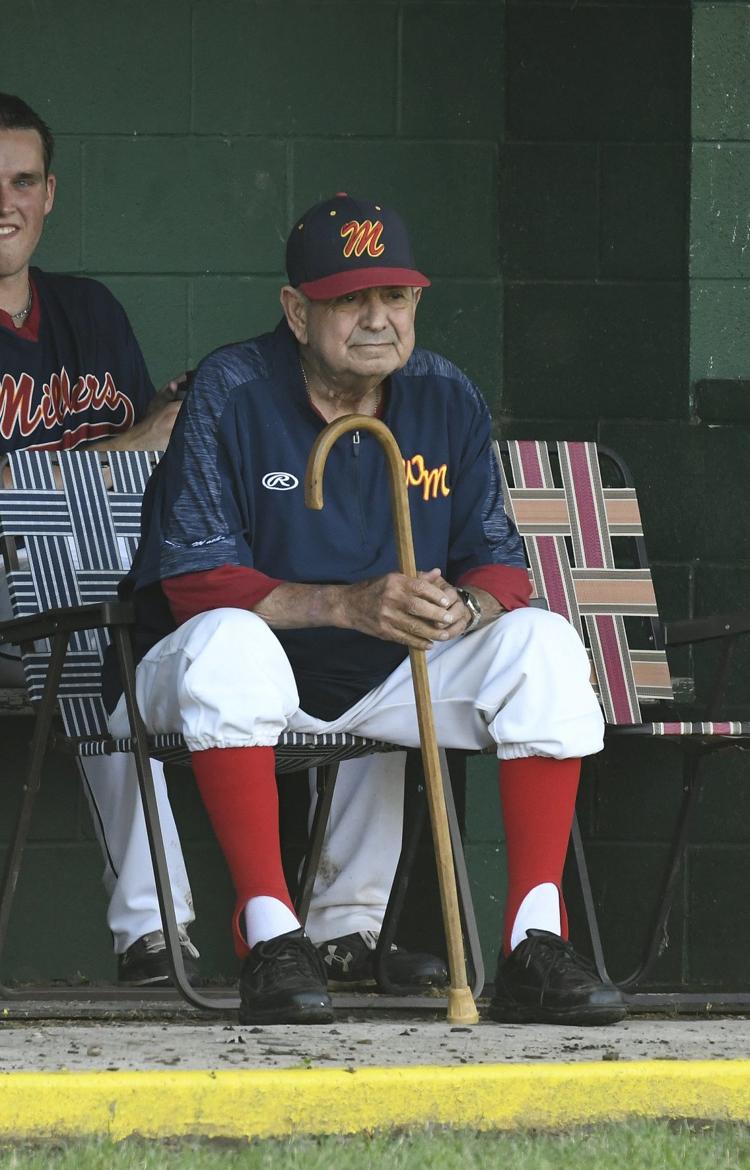 Longtime Waterloo Millers manager Vern Moehls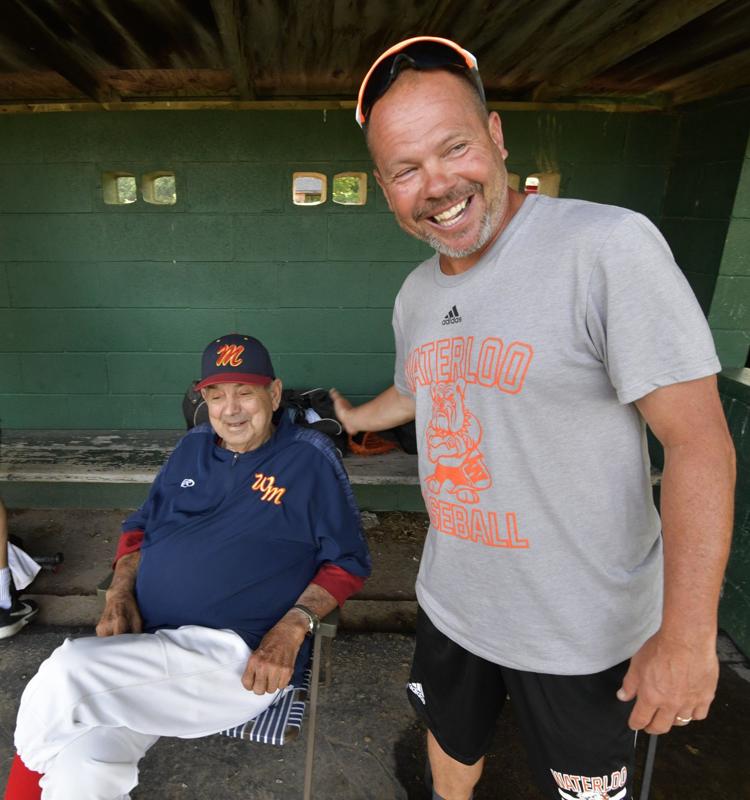 Longtime Waterloo Millers manager Vern Moehls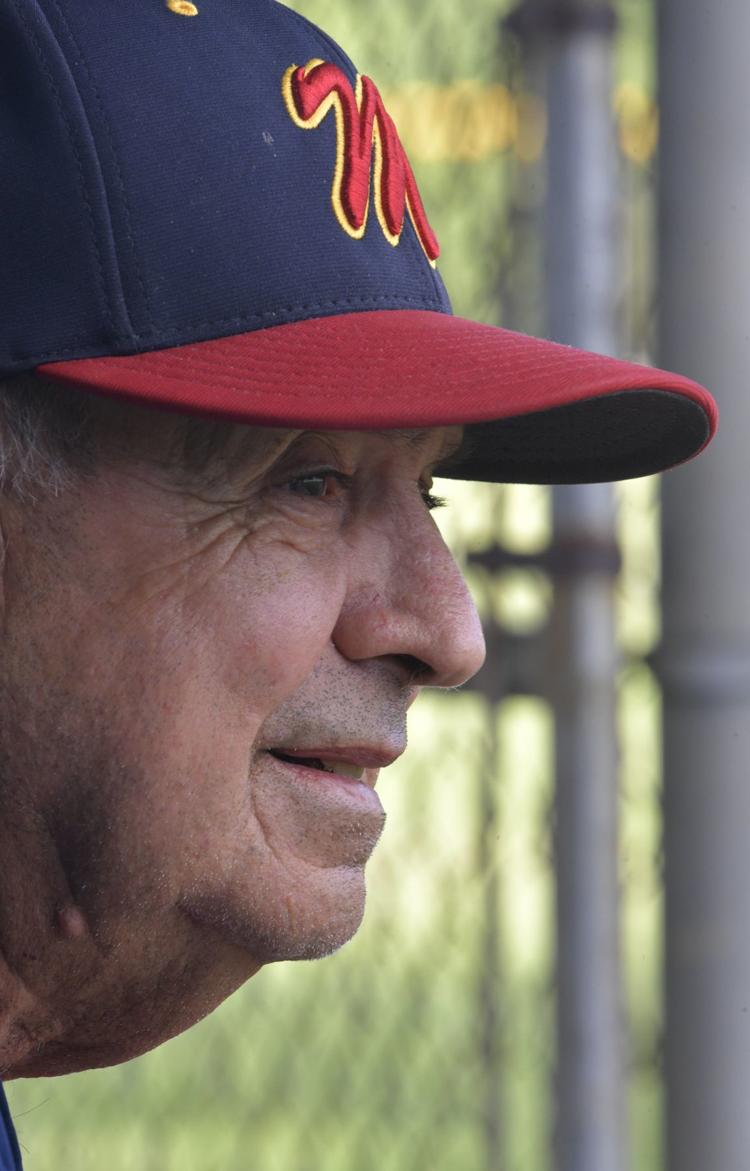 Longtime Waterloo Millers manager Vern Moehls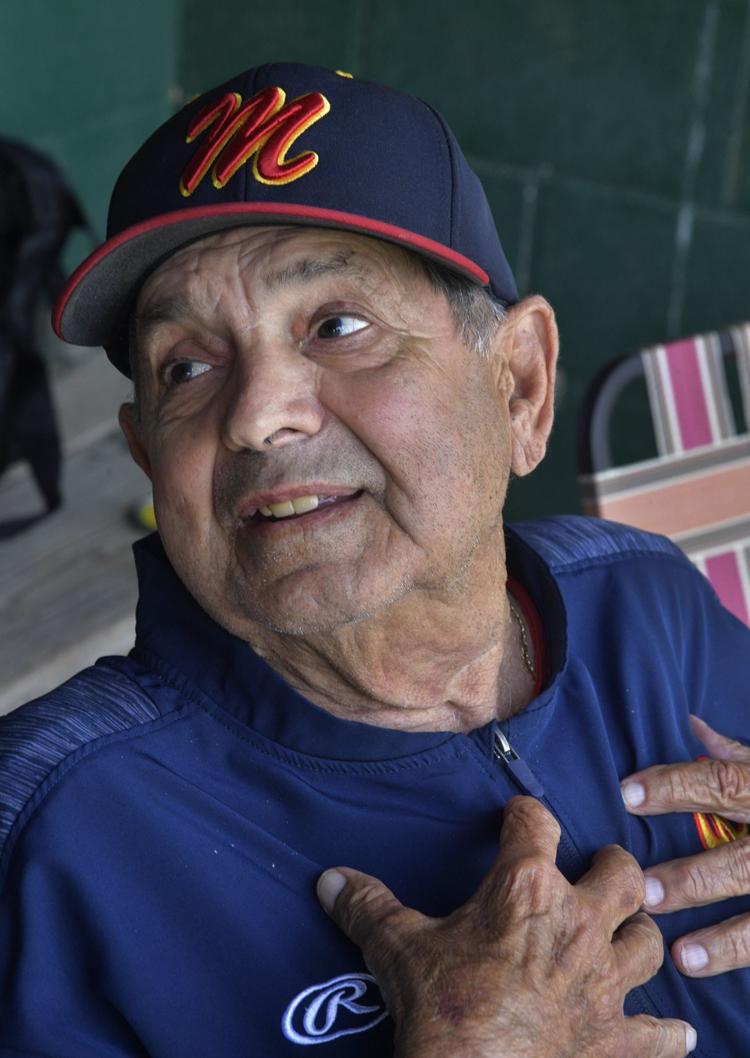 Longtime Waterloo Millers manager Vern Moehls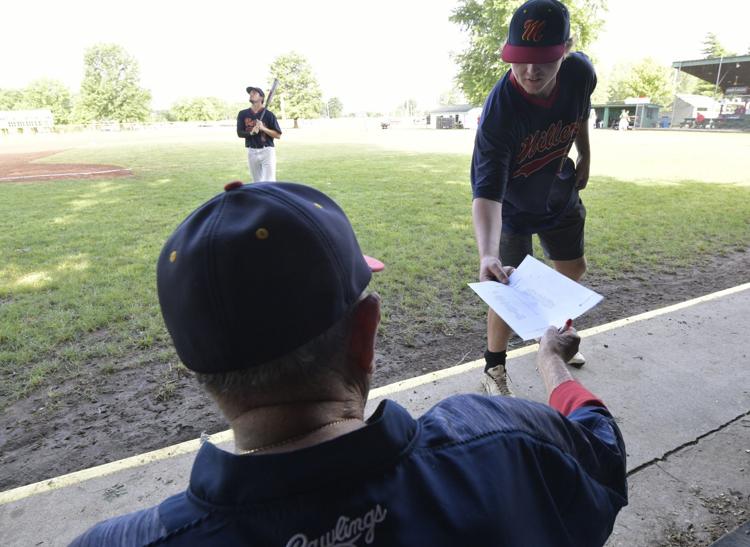 Longtime Waterloo Millers manager Vern Moehls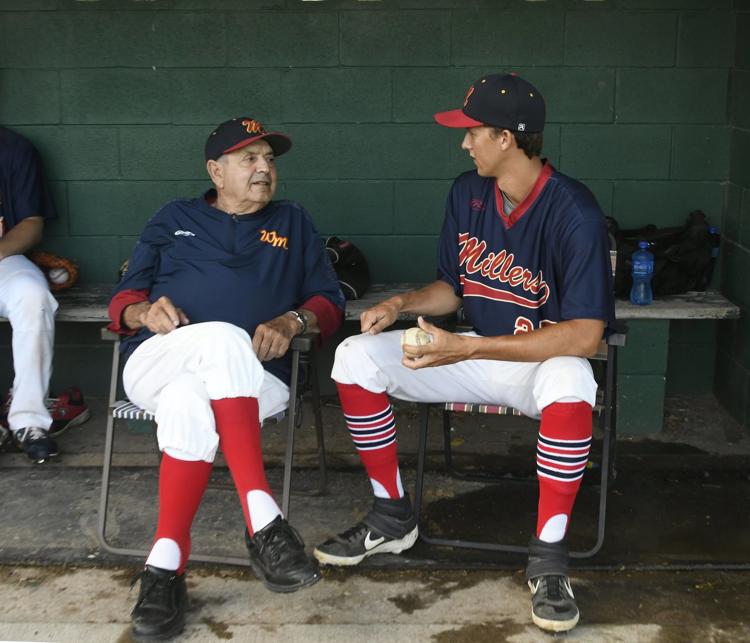 Longtime Waterloo Millers manager Vern Moehls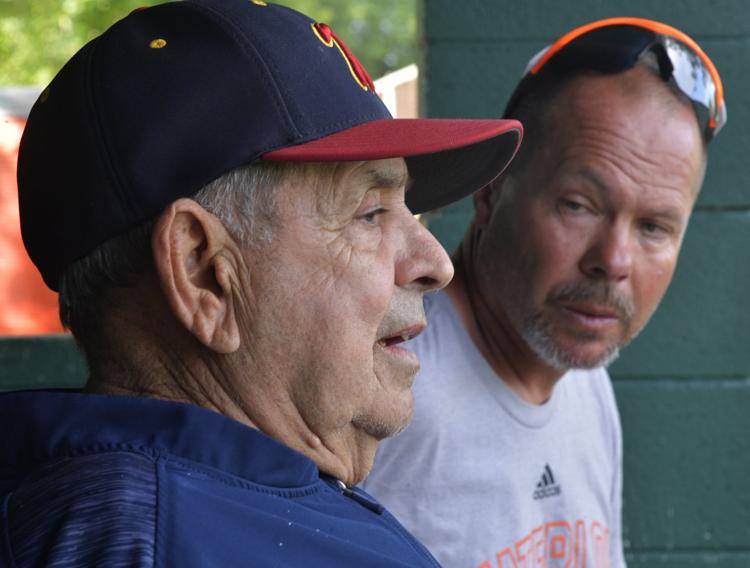 Longtime Waterloo Millers manager Vern Moehls
Longtime Waterloo Millers manager Vern Moehls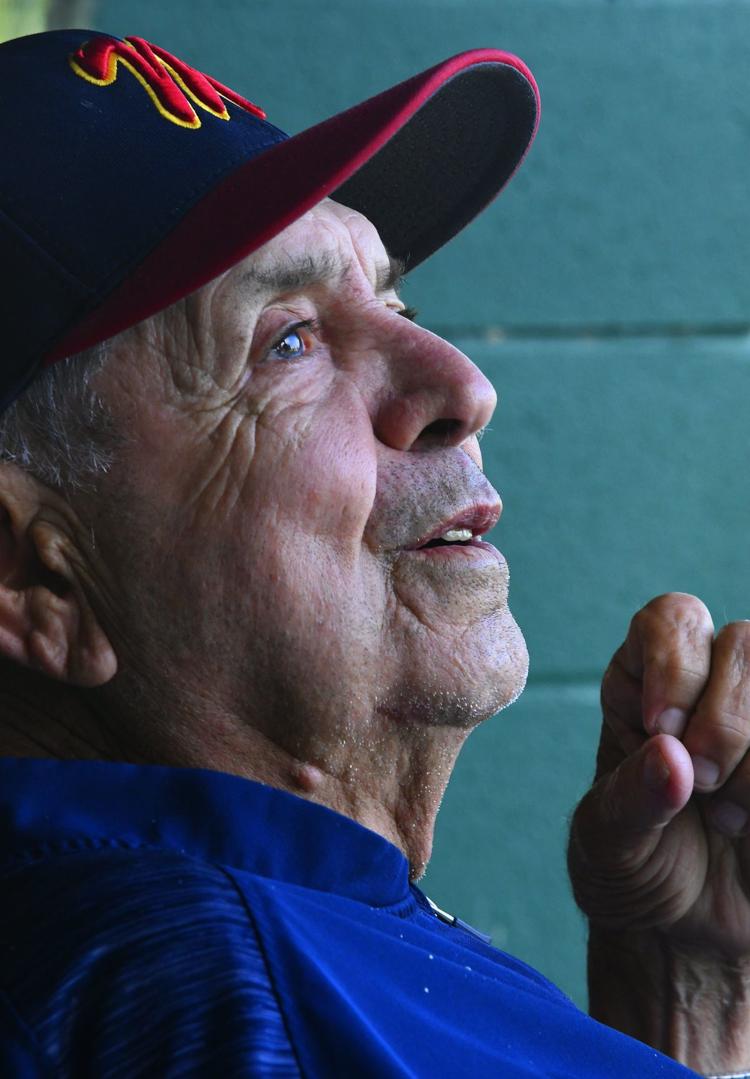 Longtime Waterloo Millers manager Vern Moehls