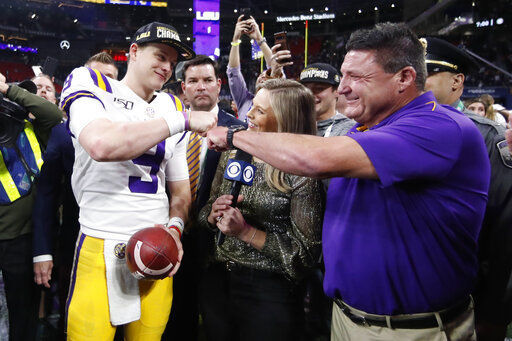 The stars on Alabama fell. And as confetti fell last January on Clemson, after knocking down the Tide to win the national title, imagine the reaction by coach Dabo Swinney if someone told him right then: "Entering next year's title game, you'll be undefeated . . . and have college's No. 1 defense . . . and you'll be the underdogs."
Sure enough, here we are. Heading into Monday's College Football Playoff national championship game, Clemson is the underdog, by 5½ points. Or undertiger. And it's for a good reason. The Tigers will win Monday, but it won't be Clemson's.
The Louisiana State University, hooboy, this isn't an offense, this is a battalion. This is the first team in Southeastern Conference history with a 4,000-yard passer, two 1,000-yard receivers and a 1,000-yard rusher. In these Tigers' last game — the CFP semifinal at the Peach Bowl — their Heisman quarterback threw for seven scores to tie the bowl record for touchdown passes. Not the Peach Bowl — any bowl. Ever. Oh — and the seven touchdown passes all were in the first half.
LSU is all about the O — the offense and the coach. And like they do with hot sauce, they'll put "eaux" on anything down in Louisiana, and so, the locals are quite hyped for Coach Eaux and quarterback Joe Burreaux to take on Clemson in the Louisiana Superdeauxme (OK, that last one's a stretch).
"We're proud to be from Louisiana, I just feel at home here," said Ed Orgeron — the famous "Coach O" and a native of Larose, La. — at a news conference. "I'm very proud of being Cajun. My grandparents didn't speak English. And my mother and father spoke Cajun French at the table when they wanted to talk about me — so I learned Cajun French. So I'm excited to be at LSU, where we're proud of our Cajun heritage."
Meanwhile, coach Swinney compared his team coming to Louisiana to play LSU to "Rocky IV," when Rocky Balboa went to Russia to train and fight Ivan Drago. It is pretty unbelievable when you think about these odds — since 2000, LSU will have played in the national title game four times, and all four at the Louisiana Superdome (LSU won twice).
But this is the first time the title-game Tigers have been coached by Orgeron, the effervescent coach with a checkered past who ultimately got his dream job. But for all he's done — they even beat Alabama at Alabama! — much credit goes to a man named Burrow. And come to think of it, a man named Brady — Joe Brady, the co-offensive coordinator who is the best chef in the state known for them.
Brady cooked up LSU's spicy spread offense, spearheaded by Joe Burrow, the three-star quarterback who transferred from Ohio State. With a win Monday, it would cap, arguably, the greatest season ever by a quarterback.
That's not just because he's three touchdowns from 58, tying the most-ever. It's also because he'd do it against Swinney's Tigers.
This really is an epic matchup. No team in the country allowed fewer points per game than Clemson did (10.6). And no team in the country averaged more points per game than LSU did (48.9). And LSU's defense is pretty good, 27th-best in points allowed (incidentally, the Missouri Tigers were 17th-best).
But Clemson arrives with the No. 3 offense. Burrow probably will be the No. 1 pick in this year's NFL draft, but Clemson quarterback Trevor Lawrence probably will be the No. 1 pick in the 2021 draft. And Lawrence never has lost a college football game (25-0). And Clemson's star running back, Travis Etienne? He's from Louisiana!
"It's something you couldn't think of, something you couldn't even script up in a movie," Etienne told reporters last week. "Jennings, Louisiana, it is a very small town. It takes a village to raise a kid. It kept me humble, made me who I am today, made me appreciate things a little more, be thankful for the opportunities in life."
Now, just because Clemson hasn't played many good teams (only one ranked opponent in the season) doesn't mean it can't be a great team. Shoot, Clemson is a great team. The Tigers are the defending national champs and will play for the national championship again.
But it's not about whether Clemson has been tested enough. It's about who it is facing. General Joe Burrow. He commands LSU's offense with his decisions and precision, decimating defenses. SEC defenses. His lowest completion percentage in SEC play was 71.9, against Texas A&M. Lowest. A 71.9 completion percentage for the season would've been third-best in college football. As it was, Burrow finished with a ludicrous 77.6 completion percentage, best in the land.
"As a coach, it makes you sick watching the tape because he just rarely ever makes a mistake," Swinney recently told reporters. "He's always a step ahead. He knows exactly where to go with the ball. You got him sacked and then you don't. He creates. He's just like this all the time."
Coming to New Orleans for the title game, Swinney wants his team to feel like Rocky Balboa going to Russia during the Cold War.
But in the end, it's Clemson's Tigers who will end up like Drageaux.