A mother fighting cancer, surprise tickets, a fan who died at a Blues game, crazy travel plans to see Thursday night's Game 5 in Boston ... and more. With the permission of these Blues fans, here are their stories.
JACK HUESEMAN: 'She was supposed to die'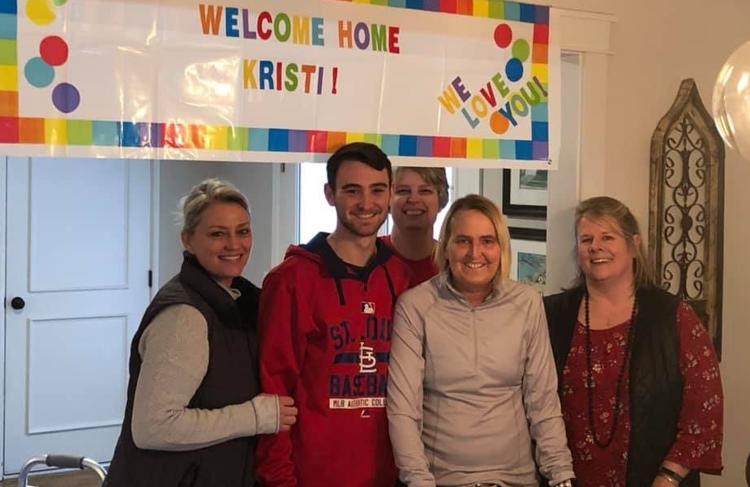 I want to tell you a story about my mother. On Jan. 2, 2019 — the same day that the Blues were in last place in the NHL — my mom went to the emergency room with sepsis.
We found out that night that she had stage IV cancer, and that it had metastasized to her brain, and that she had fluid in her heart.
She wasn't supposed to make it through the night, but somehow she did.
Over and over again, throughout the next couple of weeks, we had doctors tell my family that my mother would never walk out of the hospital, that her risk of mortality was sky high. She survived brain surgery, three different intensive care units, radiation, immunotherapy, and several other setbacks. She lived in Barnes Jewish Hospital for more than 60 days, often watching Blues games at night because she is a huge fan.
My mom was able to come home after a brief stay at a rehabilitation center, and has since learned to walk again. She just recently was able to return to work (ironically, she is a pharmacist at Siteman Cancer Center). Her survival and progress so far has been absolutely miraculous. There is no other word for it.
Her story reminds me a lot of the story of the Blues this season. My mom was in a life-threatening critical state on January 2. She was supposed to die. The Blues sat in last place in the NHL on January. Over the course of the next couple months, both the Blues and my mom made inspiring comebacks, simultaneously. Now, somehow, someway, my mom is at home and working, doing her best to continue to be a mom ... and cheering on the Blues as they are in the Stanley Cup Final. Both of these things would have been unthinkable four months ago.
My mom is a huge Blues fan. She was born 49 years ago, the year the Blues last made the Stanley Cup. Brett Hull says, "Hey buddy, we're still here." Well my mom says, "Hey doctors, I'm still here." So many times we were told that her story was over.
ROB BABEL: 'No need to worry about the Stanley Cup Final'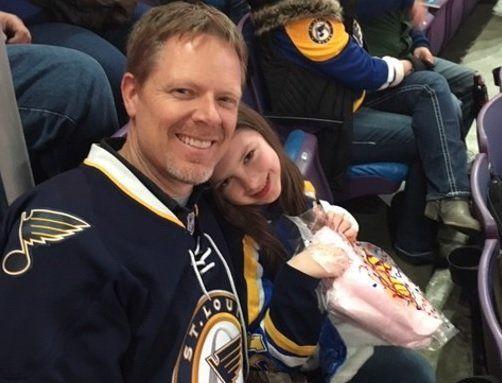 Every year, my wife and I plan our summer vacation around December or January, usually for a week in early June. As a Blues season ticket holder, I always tell her, half jokingly, that that first week in June will be the Stanley Cup Final, so maybe we should plan the vacation for later in June. Of course, this year I told her there was no need to worry about the Stanley Cup Final.
So we set the vacation for June 1-8. And of course, the Blues end up going to the Final. And also, Games 3 and 4 will be when we are out of town (and couldn't use our tickets).
Now the best part of the story — the vacation we planned way back in January is for Kennebunkport, Maine, followed by three days in Boston.
So we will be in Boston on June 6, the day of Game 5.
My hockey companion is my 7-year-old daughter, Chloe. She has been to about 20 games with me this year, including Game 7 of the Stars series and Game 6 of the Sharks series.
I ended up selling my tickets for Game 3 and 4 online. I made such a nice profit on those two games, I decided to buy two tickets for Chloe and me to go to Game 5 in Boston. So we will be there! 
MADELYN ROHMAN OLIVER: 'At 80, I can't wait too much longer'
My love affair with the Blues started in 1974, when we were finally able to get our own season tickets.  That love grew as our children grew, and they became involved in our hockey life.  We've had many peaks and valleys in life, just like this hockey team, but we kept coming to all the games. Each generation of hockey players brought new hope for that ever unattainable Cup.
My husband, Bob Rohman, wore a white golf hat covered with his collection of hockey pins, to every game. All fans sitting near us knew him by his hat.
On March 20, 2007, my husband died in his seat at the end of a game against Ottawa. The Blues organization came through for me and my family in a big way. They sent flowers for the funeral, and on March 24, they asked for a moment of silence before the hockey game in his honor.
Then they invited me and my family to the bench to watch warm-ups before the March 30 game. They took us to the locker room to meet the players. 
And later, the Blues had a plaque made and installed on his seat, which read, "In memory of Bob Rohman."
This Stanley Cup would be the reward for 45 years of yelling, cheering, crying and supporting our boys in blue. This Cup, for me, would be dedicated to the memory of Bob Rohman and his lifelong addiction to the Blues — and to the many other hockey fans who haven't lived to see this day.
At the age of 80, I can't wait too much longer for that Cup, but I will continue to support and cheer on my Blues, win or lose!
MARK DESCHLER: 'I'm getting the chills just typing this'
My entire family is well-aware of my passion for the Blues, and how I felt that I may never see the Cup. Many little kids and animals have been frightened by my screams at the TV (during games). I had honestly given up hope in December of this season. I freely admit that at that time the Blues needed to blow up the team, start a rebuild and increase our chances for the No. 1 overall pick.
But I never stopped watching.
After the Blues won Game 5 against the Sharks, I texted my wife to say how badly I wanted to go to Game 6, to see the Blues clinch the series. Little did I know that a plan was already in the works.
My plan for that day was to get the house cleaned up, because we were having family over to watch the game. Around 1 pm, my son returned home and said to me, "What time do you want to leave for the game?" I was confused to be honest. He then asked me again — and said that he had two tickets for the game (I'm getting the chills just typing this). I was speechless. In his head he was probably like, "Wow Dad, what a lame reaction." I just sat there with a blank stare on my face and said, "Are you joking?" He wasn't!
Three of my kids, who are ages 20, 20, and 17, pooled their money together to buy two tickets to the game. My son and I were the lucky ones who got to go.
From that point on I was a nervous wreck. You would have thought that I was playing in the game. Needless to say it's a night that I will never forget. The lady next to me was crying her eyes out. If they win the Cup, there will be tears, I guarantee it.
JIMMY O'BRIEN: 'Boy, I wish I was up there with you guys.'
My uncle Greg Jinkerson was a season ticket holder dating back to the old Arena, but he recently moved to Florida after retirement. He's a lifelong, die-hard St. Louis sports fan. 
The night before Game 6 of the Western Conference Final, he sent me a video text while he's sitting at batting practice of Lakeland Flying Tigers vs. the Palm Beach Cardinals (minor league game). At the end, he says something along the lines of, "Boy, I wish I was up there with you guys."
So, I just sent back a screenshot of tickets listed on StubHub ... which just happened to be the two next to the seats of me and my twin brother. I and typed: "Well ..."
Long story short, we looked up flights and it just so happened there was one from Orlando to St. Louis in two hours. He left the Palm Beach Cardinals game before batting practice ended, caught the flight from Orlando to St. Louis, bought the two tickets for himself and my cousin ... and the rest is history.
One of the most spontaneous/coolest moments I can remember.
TERRY ELL: 'I'm going to say two words'
It's known that some of the Blues players (the era of 1967-'71) liked to go duck or goose hunting, since most of them grew up in the rural parts of Canada. These players included the Plagers, Glenn Hall, Red Berenson and Frank St. Marseille.
One day, some of these players wanted to hunt, and they were given my father's name: "Red" Ell. My dad managed the grain elevator in old town St. Peters, and knew many of the farmers in St. Charles County who would occasionally allow folks to hunt on their property. 
So a few times, dad would take these players out to hunt. On the weekends, they would meet at our house and then head to the duck fields. Around this time, I was about 4 years old, so I don't recall much. However, my dad would tell me that Frank St. Marseille would play with me and would sometimes bring me a puck (although I never knew what happened to those!).
And — since my Dad was known as Red, Mr. St. Marseille, being a French-Canadian, called Dad "Rouge." Therefore, he called me "Petite Rouge" (Little Red).
Fast-forward to the mid '90s and I am a Blues' season ticket holder. The team had an alumni game. I noticed an older gentleman taking pictures and signing autographs with fans. It's Frank St. Marseille. I walked over and waited my turn to speak with him. When it happened, I took his hand and told him I'm going to say two words.
He looks at me kind of dumbfounded, and then I said, "Petite Rouge." His eyes widened. He took a couple seconds and said, "Oh my gawd! You are no longer petite!" 
He recognized me, and gave me a big hug. He asked how my Dad was. So I said, "Hold on," pulling out my phone. These two men hadn't talked in almost 30 years, but you'd have never known it. They had lunch the next day and talked about their families, work and hunting ... well, mostly hunting.
I know what the Blues mean to this community. And the Blues know it too. Unfortunately, my dad passed in 2010. Wish he was still around — he'd be going nuts right now.
AARON VICKAR: 'Crazy — yes. Worth it — yes.'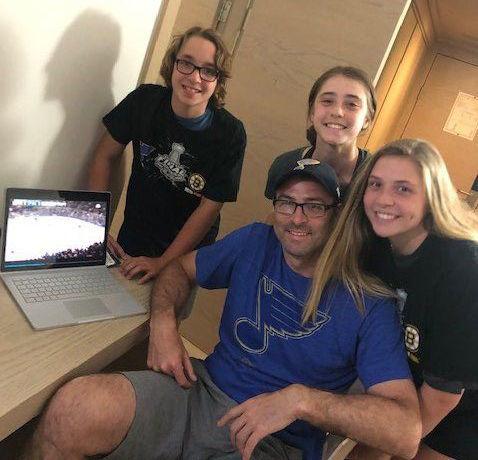 I'm born and raised in St Louis. Played hockey my entire life (juniors, college for Fighting Sioux — National Champs, too — and then some pro). My son plays for AAA Blues. Point is: Hockey has been my life. Met my wife through hockey. First job through hockey. You get it. 
Well, of all the years for the Blues to make the Stanley Cup Final, my family — along with eight family friends — are in Israel. Yup, about as far away as I could be. So, what does any good lifelong fan do?  Come up with a crazy scheme — and have the best wife in the world. And fly home. Just for Game 3. Home Game No. 1. 
I flew from Tel Aviv to Newark to St Louis. Landed at 1 p.m. to go to Game 3. At 9 a.m. Sunday, I left and was back in Tel Aviv Monday. 
About 40 hours of flying in a 55 hour time span. 
I'll attended my first Stanley Cup game with the guy who took me to games my entire life — my dad. It was worth every minute of this travel time and wouldn't want it any other way. It was an awesome experience. Something I'll cherish. Now when we win — that'll be another entirely new, exciting and unbelievable experience. 
And the group of people streamed the games from Israel — 3 a.m. puck drop is tough for sure!
Unfortunately I won't be back in the U.S. until Tuesday — so if there is a Game 7, I'm trying to think how I can get up to Boston for that.
But us winning in six works for me, too.
Season 3, Episode 40: Post-Dispatch beat reporter Jim Thomas joined columnist Jeff Gordon to set the stage for the Blues and Bruins Thursday night.
Danette Duckworth wasn't going to let death stand in the way of her long-standing love for the St. Louis Blues.
Video: Kennedy Holmes sings Gloria after Blues victory
Street watch party for St. Louis Blues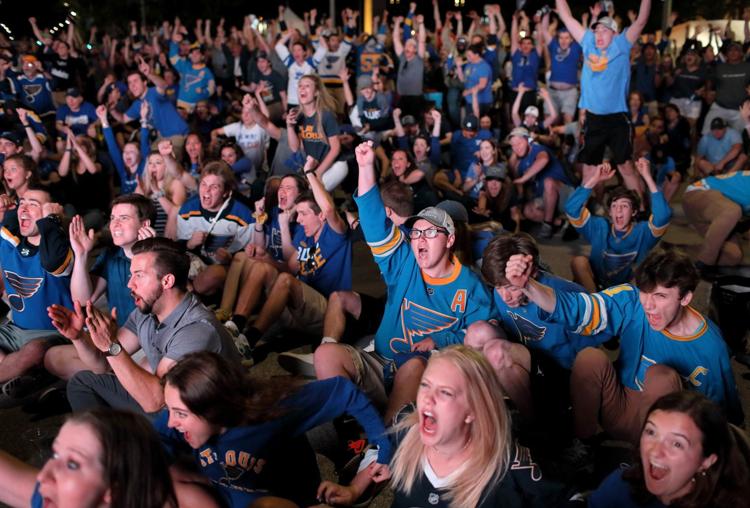 Street watch party for St. Louis Blues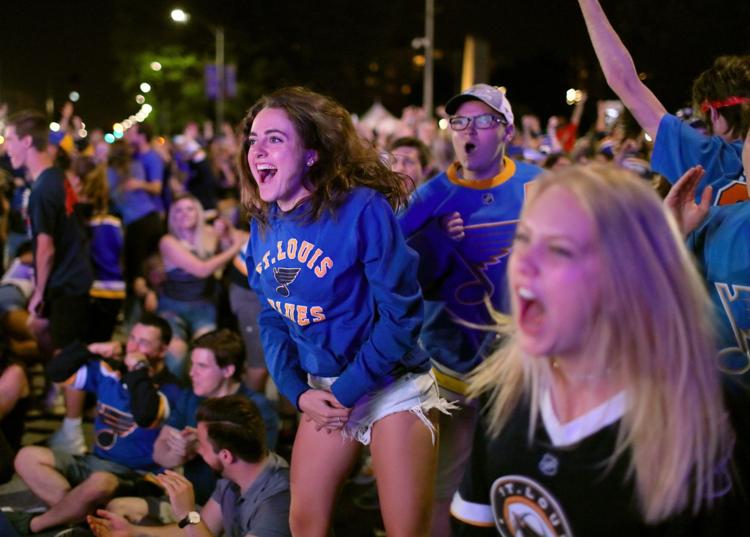 Game 4 Stanley Cup Final Party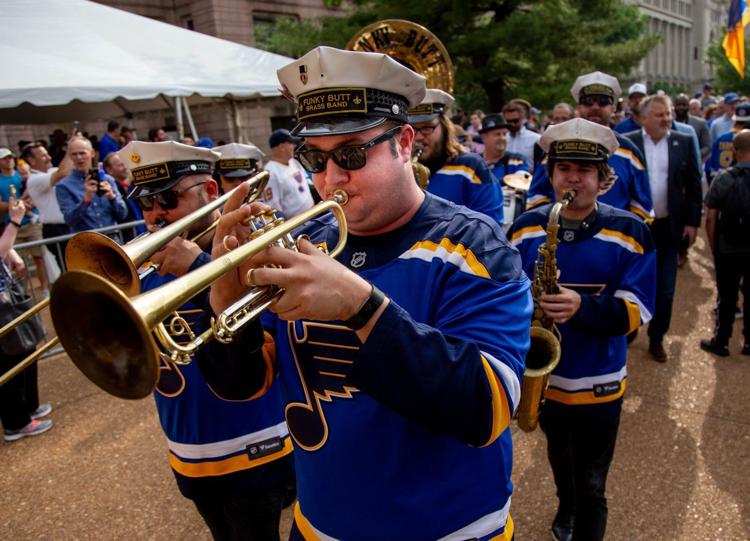 Game 4 Stanley Cup Final Party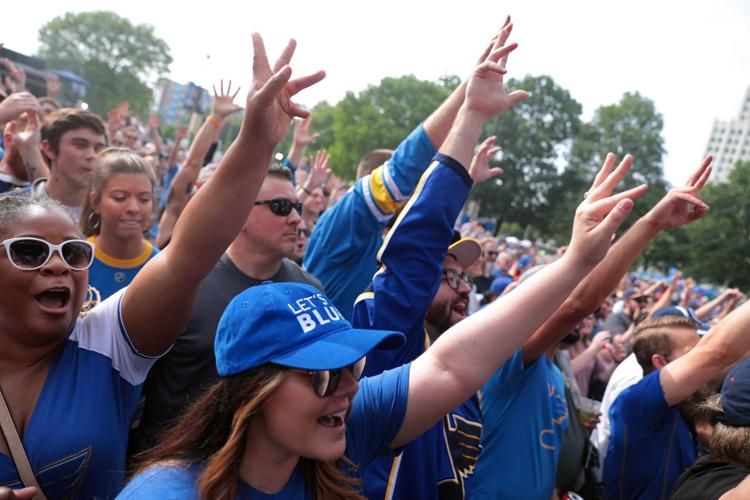 Game 4 Stanley Cup Final Party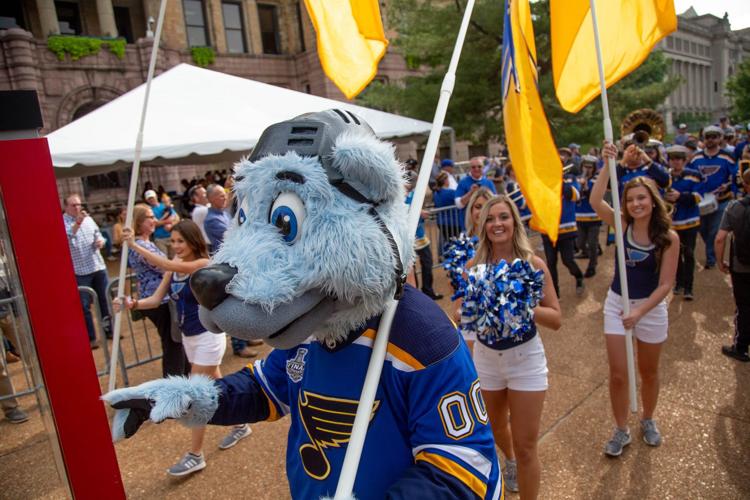 Game 4 Stanley Cup Final Party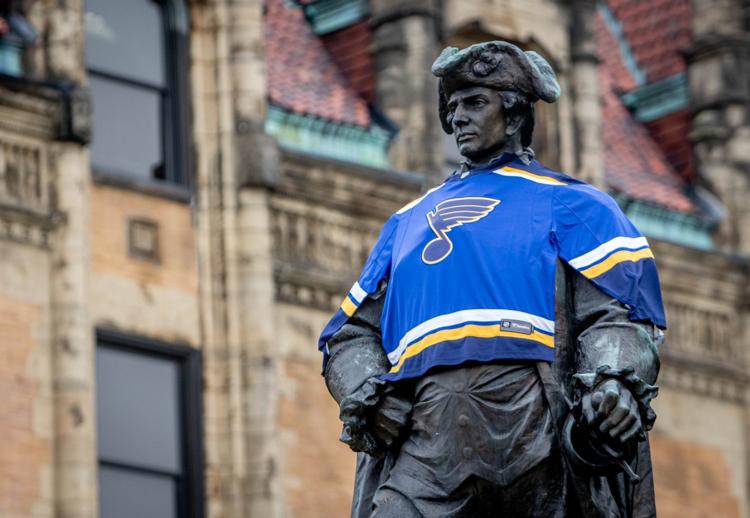 Game 4 Stanley Cup Final Party
Game 4 Stanley Cup Final Party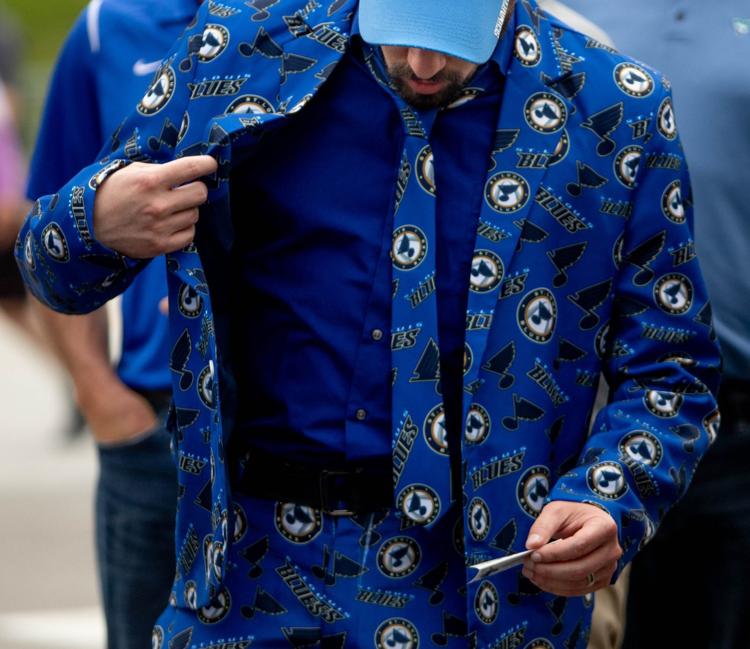 Game 4 Stanley Cup Final Party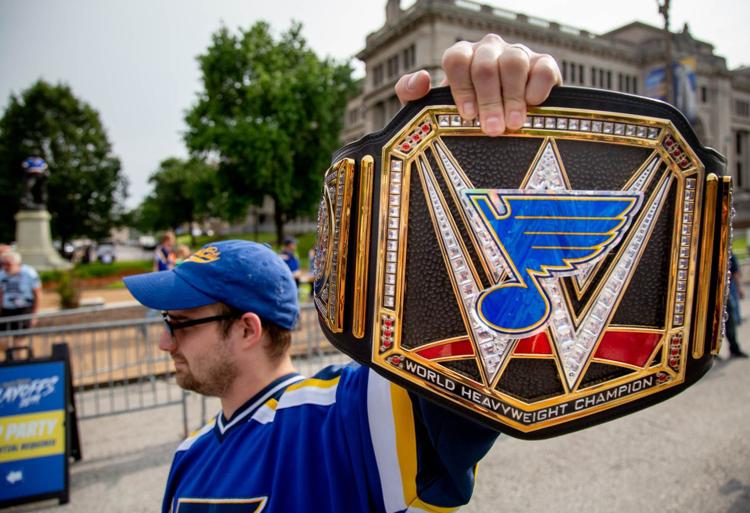 Game 4 Stanley Cup Final Party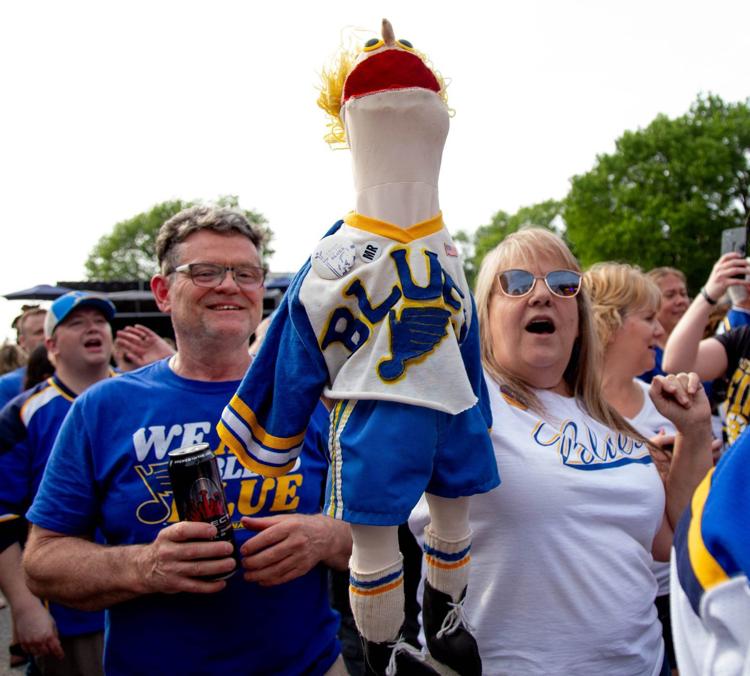 Game 4 Stanley Cup Final Party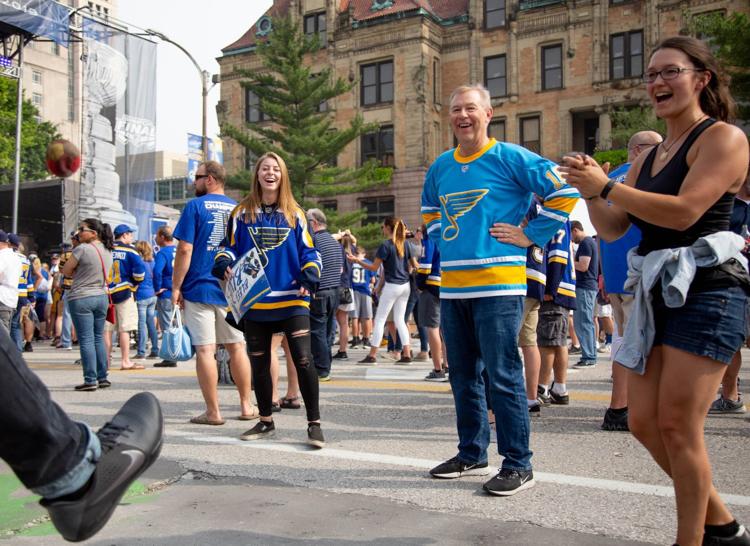 Game 4 Stanley Cup Final Party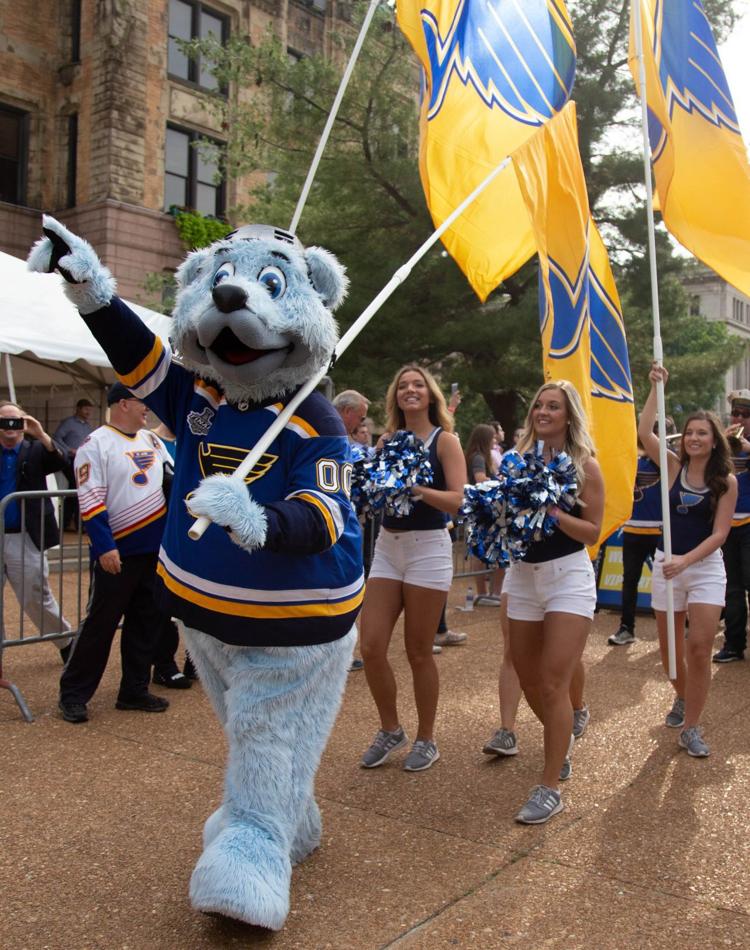 Game 4 Stanley Cup Final Party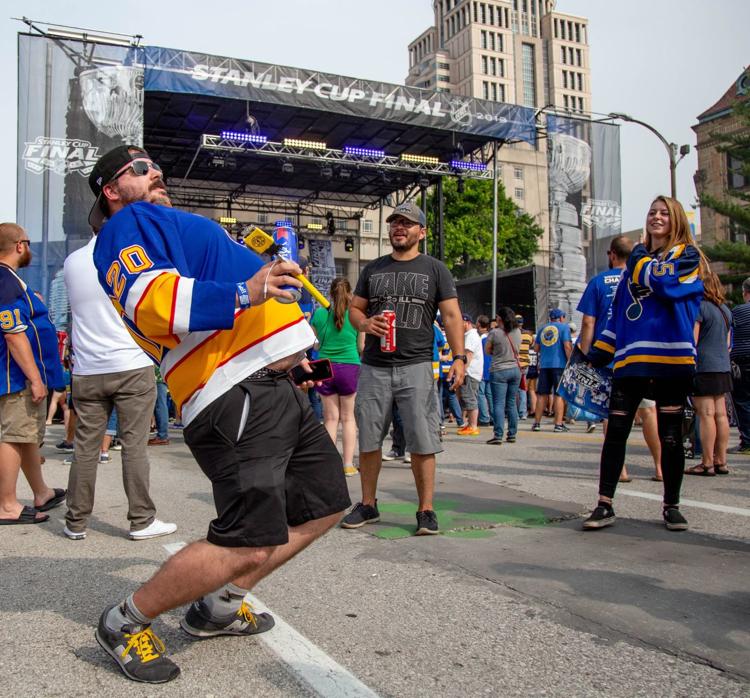 Game 4 Stanley Cup Final Party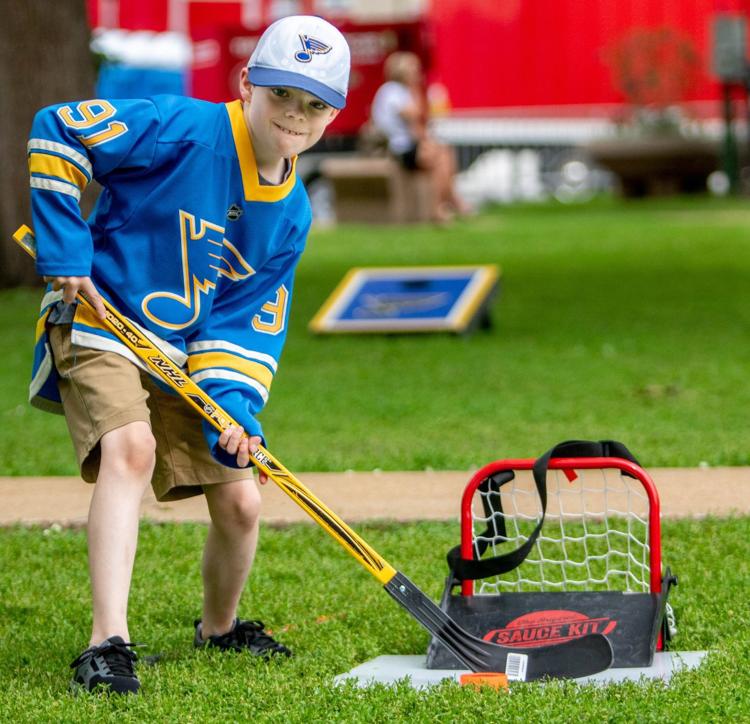 Game 4 Stanley Cup Final Party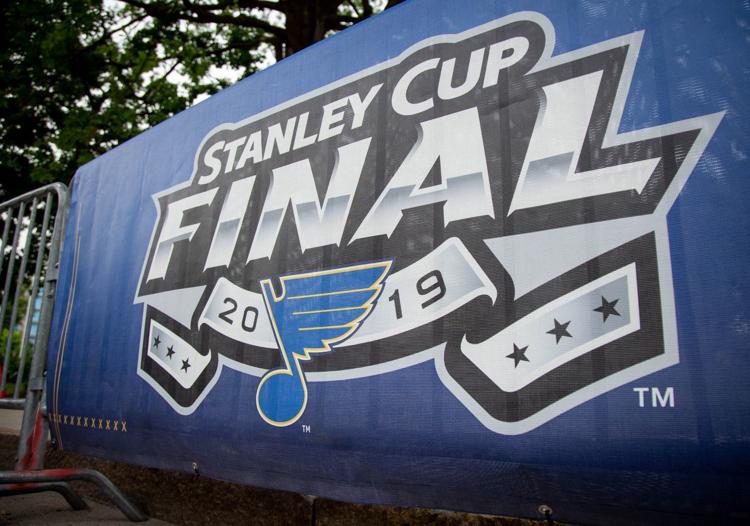 Game 4 Stanley Cup Final Party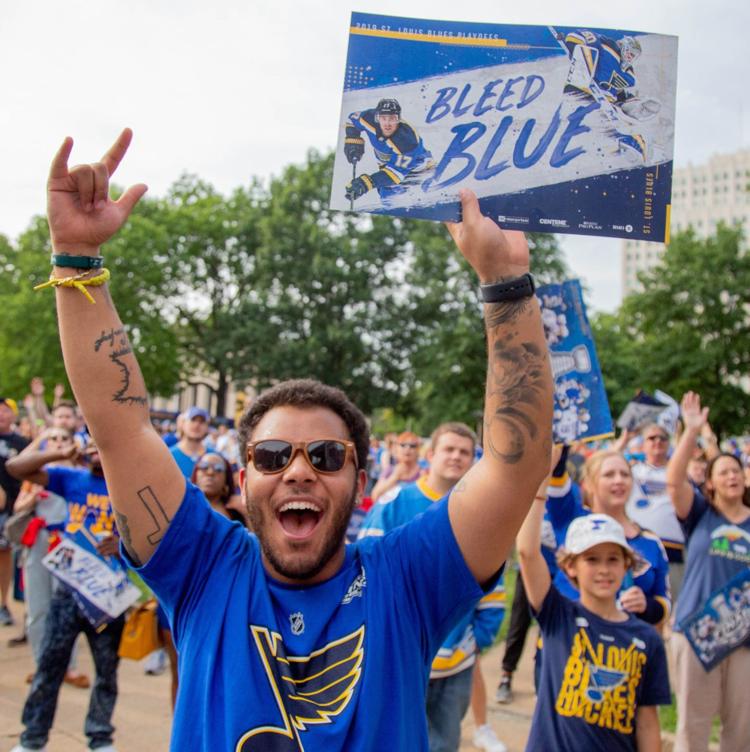 Game 4 Stanley Cup Final Party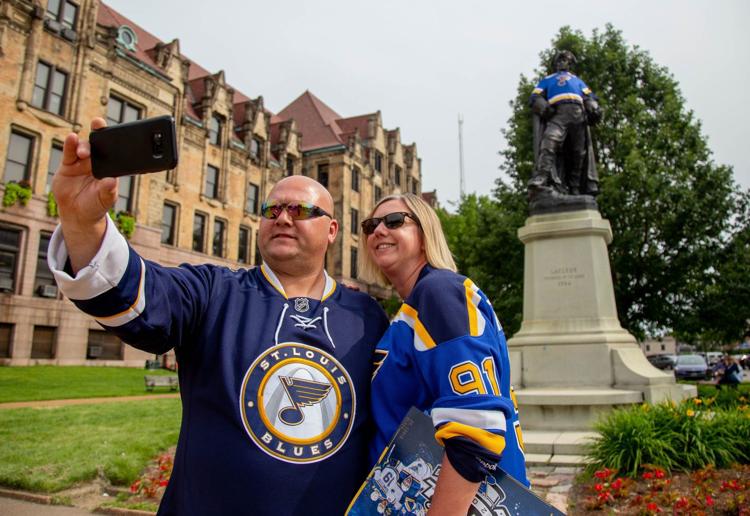 Game 4 Stanley Cup Final Party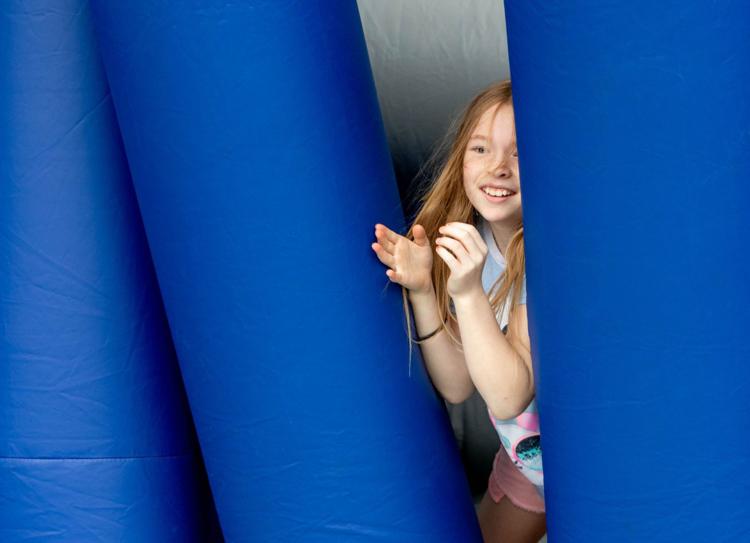 Game 4 Stanley Cup Final Party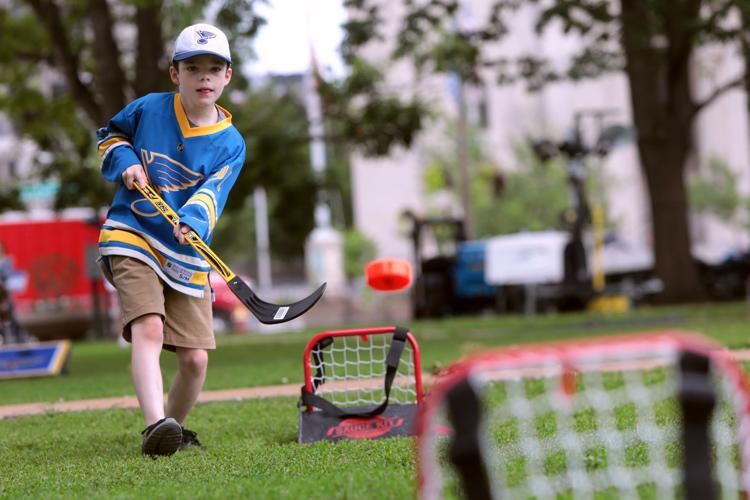 Game 4 Stanley Cup Final Party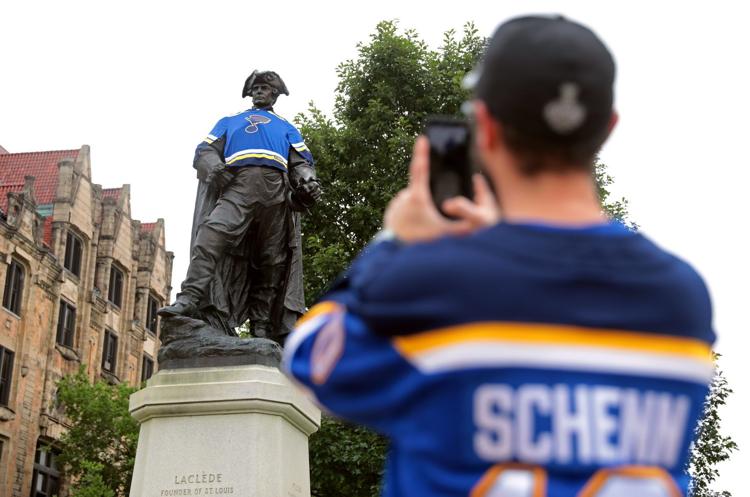 Game 4 Stanley Cup Final Party
Game 4 Stanley Cup Final Party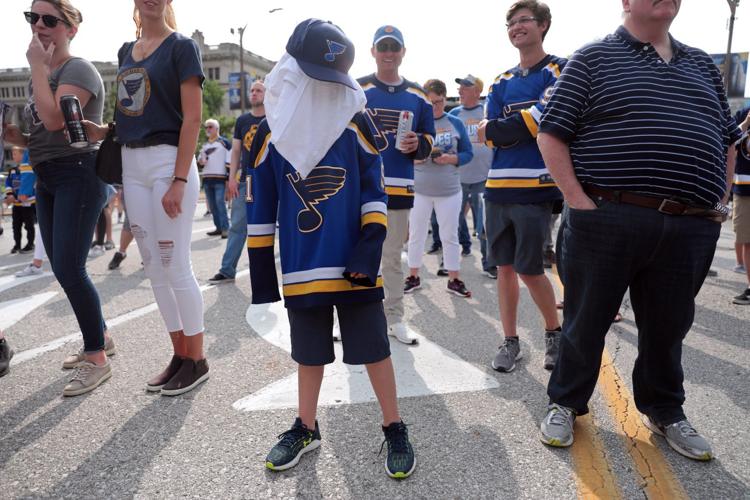 Game 4 Stanley Cup Final Party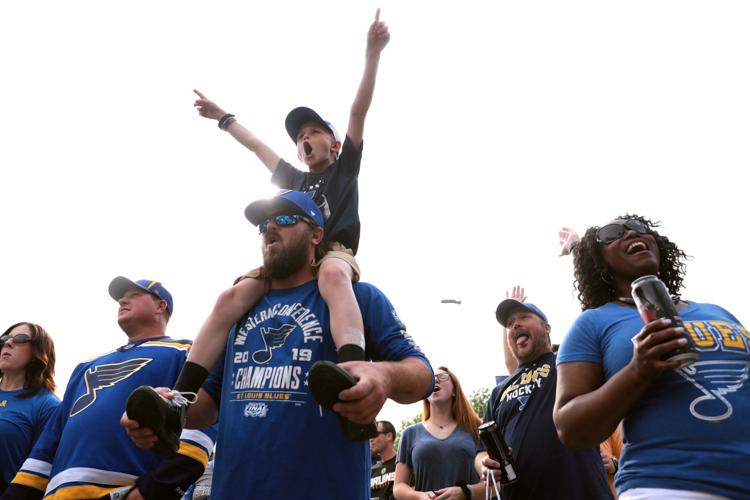 Game 4 Stanley Cup Final Party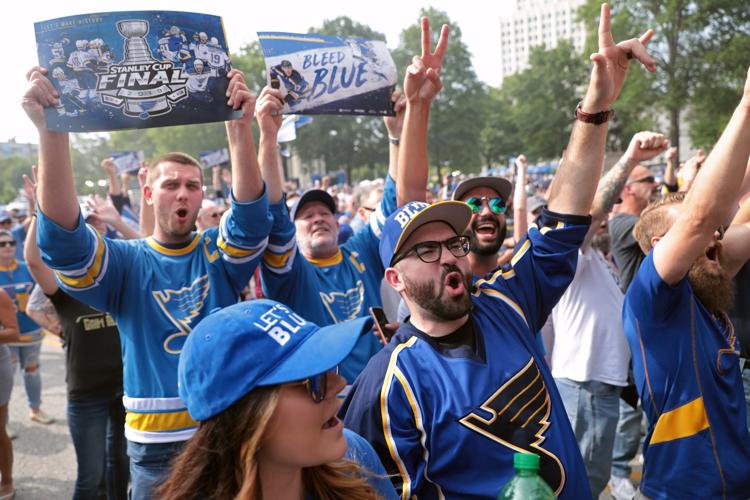 Game 4 Stanley Cup Final Party