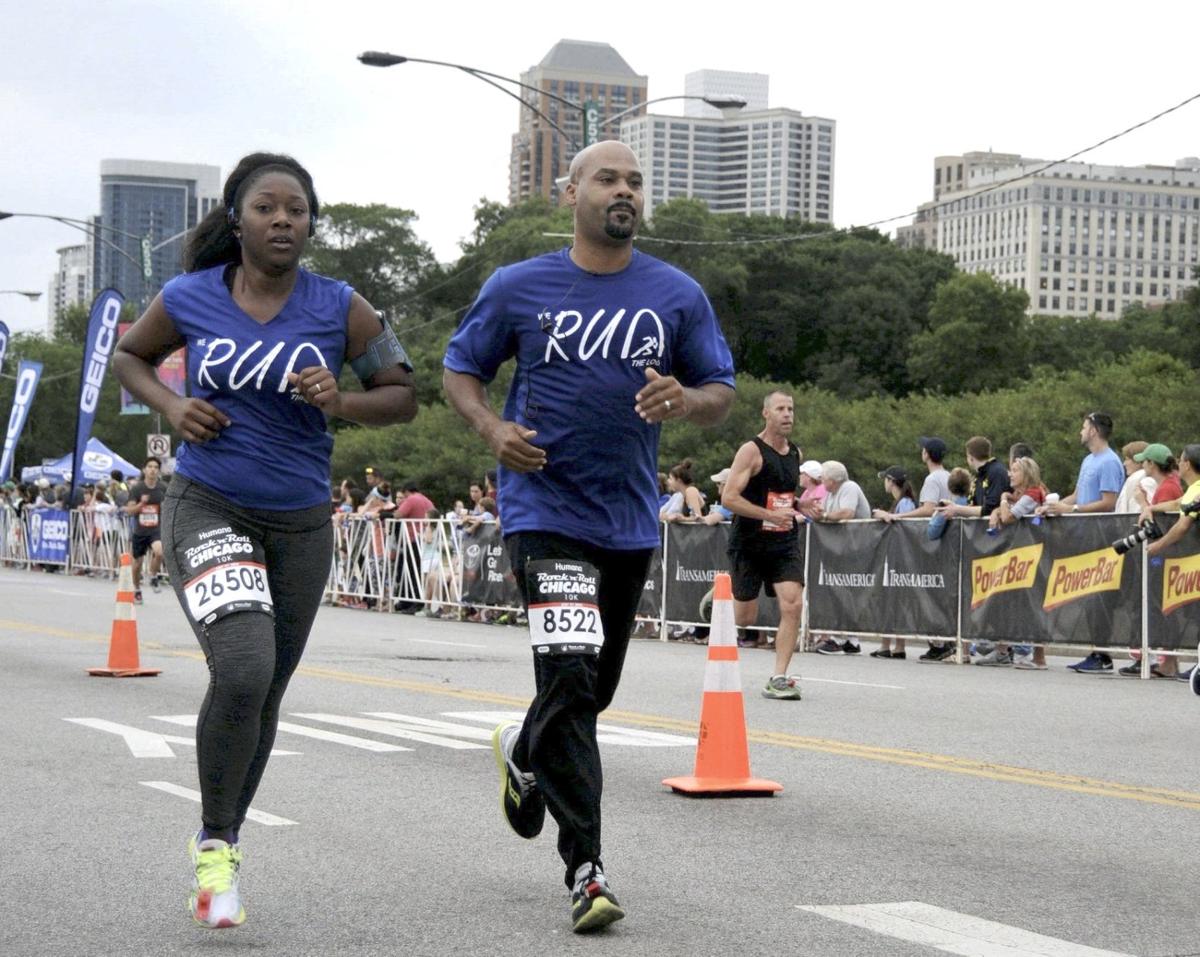 One day, during his lunch break, Benny Henderson decided to sneak in a run.
For his job in information technology, his company sends him to different work sites across the St. Louis area. He was based this day at an office building in Town and Country, so he changed into his running gear, ran around the parking lot and alongside an Interstate 64 service road. He was able to get in three miles, not a bad day's work during work.
Henderson entered the office building and spotted the security guard. He'd gotten to know her just a little during his time at the site.
"She stops me and tells me, 'Hey, just so you know, there's been a couple people that have come to me and said they saw an African American male running around the building,'" Henderson shared by phone on Wednesday. "Whatever it was about me as an individual, it was enough for them to go to the security guard and say that there was an individual that was running out in the parking lot, and they felt like I was out of place for some reason.
"In my mind, I was searching for reasons for me that stood out — did I accidentally do something wrong? I was really searching for reasons other than racism that this occurred. But I couldn't think of any other reason why."
What makes this story even more heartbreaking is that Henderson is a prominent member of a group that encourages African Americans to run in St. Louis.
"It's always been one of those things in the back of your mind — growing up as African American in the United States, you have some instances of occurrences that, you know, that happened," Henderson said. "They're racial and they're always unwelcoming and you're just aware of where you are, and it's always in the back of your mind. The funny thing about it, though, is that when I'm running that kind of puts me in a good space or a good mental space where I'm not thinking about those kinds of things. It's one of the reasons that I do run."
He loves running. When he met Ashley, right around his 40th birthday, it became their thing. Benny and Ashley got married, and in 2016, they helped grow the group called We Run The Lou.
Initially, it was a small group of African American friends who bonded over running. It became, as member Kendrick Henry called it, "a community . . . a family." Over the years, We Run The Lou has organized numerous runs in Forest Park, as well as a variety of neighborhoods in the city and the county, too. It's a welcoming group that motivates members to find their running souls and create goals. So many members have run their first "something" — be it a 5K or 10K, half marathon or marathon.
"The group is open to anyone who wants to run," Ashley Henderson said. "I think one of the things that we realized in forming the group is there weren't a lot of groups that specifically catered to more of the urban St. Louis area. We live in Benton Park and we have friends that live throughout the city. And in some of the communities like on the north side, you don't see a lot of people out there running. This group was really designed to show people that there are people that look like them, live in the same areas and may not be as affluent — and can get out there and run."
We Run The Lou has a Facebook page and an Instagram account, but most of the interaction is on the GroupMe app. Ashley said there are 241 runners on there. During March and April, the talk within the group was about how the pandemic affected their running plans. During May, the talk within the group was about how the group was affected by another tragic national news story.
"One of the things we really felt, just initially, was helpless and angry," Ashley said of the killing of Ahmaud Arbery, an African American, allegedly by two white men, while Arbery was on a run in Georgia. "Angry from the point that it could have been anyone in the group. That really brought up lots of feelings of what if and anger and how could this happen? So that was kind of the initial feeling. The next one was like — well, what do we do? How do we use our voices and our feet to stop this from happening or to get the awareness out?"
Henry is a 40-year-old African American man. He's married with five children — three boys, two girls. He served in the military. The day after the news of Arbery's death became national news, he went on a run.
"It just really resonated within," Henry said of all the emotions involved. "It's just very disconcerting. It lets us know, not just as a community, or as the state of Georgia, but as a country, we still have a lot of work to do in regards to being open, diverse and allowing ourselves to not draw conclusions."
Henry will continue to run. The Hendersons will continue to run. And so will the hundreds of members of We Run The Lou — and any members joining in the future. They'll run for Arbery. They'll run for each other. They'll run The Lou.
"Amidst the tragedy, it's good to talk about how we're feeling," Ashley said. "But also helping to show that running is diverse — lots of different people, whether you are fast, slow, black, white, runners come in all shapes, sizes and colors."
Concerned about COVID-19?
Sign up now to get the most recent coronavirus headlines and other important local and national news sent to your email inbox daily.