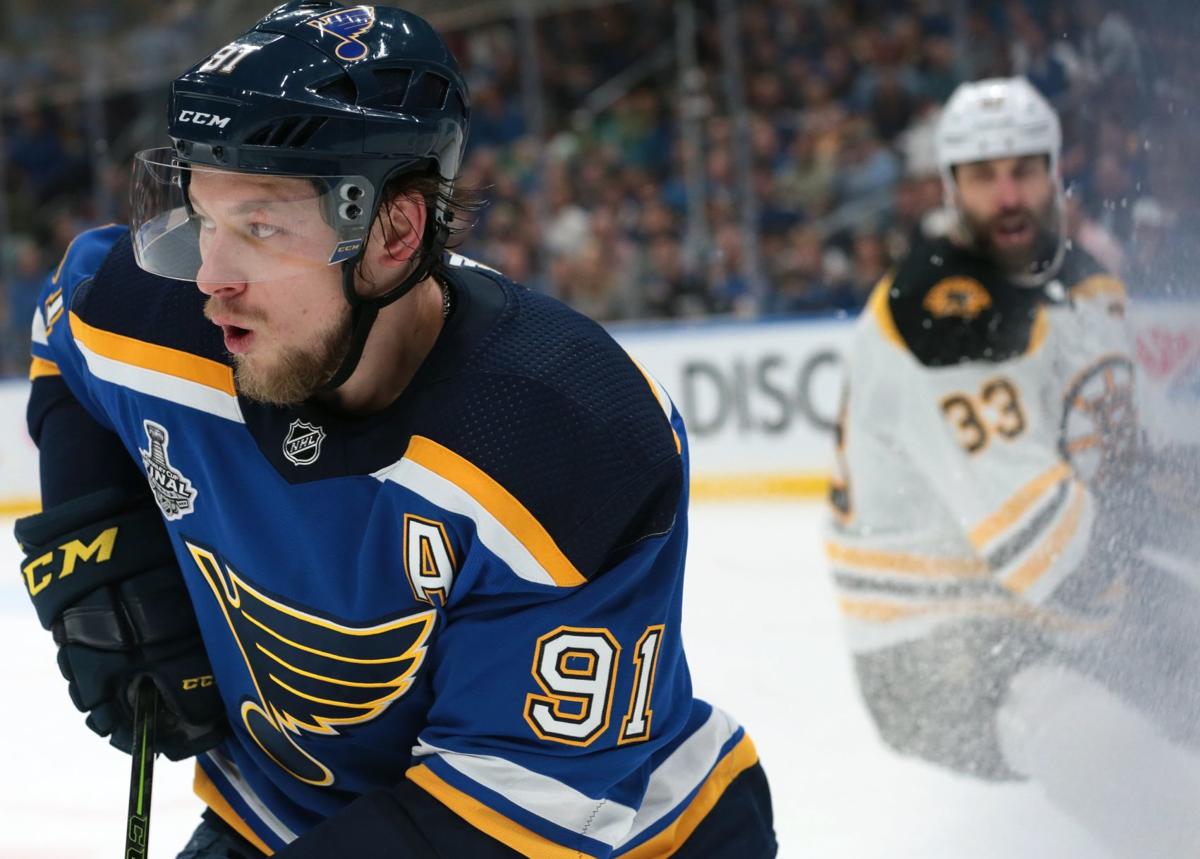 During these uncertain times, columnist Benjamin Hochman will share what he misses about sports. Here is his latest:
Who's the best player on the Blues?
Surely it's the guy who won the MVP of the Stanley Cup Playoffs in which the Blues won the Stanley Cup … while also leading the Blues in points during that regular season (oh, and he's leading the Blues in points this season, as well).
But, like, even still, is Ryan O'Reilly reeeeeeally the best player?
Of course, this is all just a fun debate. Both O'Reilly and Vladimir Tarasenko are elite hockey players. And when debating the best Blue, you've got to throw in Alex Pietrangelo, too. But it is interesting that O'Reilly could accomplish all the aforementioned things and not be, unwaveringly, the team's best player.
This shows how loaded the Blues are.
This shows that there are different ways to determine the "best."
And this shows the awesomeness of the "Tarasenk-show."
With the NHL "paused" by the pandemic, I sure miss the pyrotechnics of Vladimir Tarasenko's offense. He just does things other dudes don't do. There's not another player like him on the Blues, and very few like him on the planet. He is the epitome of the "human video-game player," because he scores these goals you didn't think a human could do, goals that could only be produced by a digitized, virtual hockey player, disproportionately enhanced with a little extra zip or zoom that no human hockey player would or could have.
On Wednesday morning, I lost myself in a YouTube tornado of Tarasenko goals. You forget just how quickly he releases his puck. He tallies so many goals from these snap shots of his. Snipes? He's got more than a Blockbuster Video in 1995.
And he's got these shoulders that are just a little wider – Mike Martz would've made him a fullback – and Tarasenko uses them to create space and ward off defenders and, on occasion, crunch some guy into the Plexiglas. One of his playoff goals wasn't even "against" the goalie. It was "against" Miro Heiskanen. This Dallas defenseman couldn't catch up with 91 as he steamrolled down the right side, then shielded off Heiskanen, cut in front of the goal and used his lefty forehand to score.
Perhaps his greatest goal was in Game 2 of the Stanley Cup Final. For perspective, the Blues had lost Game 1. And in Game 2, Boston led at home, 2-1 in the first period, and kept getting grand chances. It really felt like Boston was just going to blow this thing out – and thus take a 2-0 lead in the Cup Final. But with five minutes left in the first, Tarasenko suddenly tied the game at 2-2. The Blues, of course, ended up winning the game, 3-2, on Carl Gunnarsson's overtime goal.
But if Tarasenko didn't score, we might not even have gotten to a Game 5. And it was just a majestic goal. I went into the archives to find how I described it:
The Blues forward took a shot that challenged Tuukka Rask and the laws of physics. The game-tying goal was the biggest of Tarasenko's career, and perhaps a symmetrical statement, too, considering what happened one year ago. Fellow Russian star Alexander Ovechkin also lost Game 1 of the Cup Final on the road. "Ovi" then scored a big goal in Game 2, evening the series as the Capitals headed home. Eight days later, the Caps won the Cup. …

Tarasenko hesitated, just for an extra glide, put the puck on his backhand, feeding Schwartz. Boston's TD Garden was at a fever pitch. Schwartz's shot was saved, as was Vladi's first attempt at a put-back in front of the net.

Tarasenko was skating both backward and away from the crease — but the resilient body-contortionist reached out his stick and backhanded the puck up and past Rask. A replay of this goal should be on loop at the Moscow Museum of Modern Art.
I missed watching Tarasenko even before he pandemic – he was out for this season, recovering from an injury, eyeing March comeback. In 2019-2020, the Blues were the best team in the Western Conference without their best player (or best talent, how's that?).
If the season does resume this summer, you'd have to think that a healthy Tarasenko could get the Blues back to Boston for a Cup Final repeat. 
Hochman's previous "What I miss today about sports" columns:
The latest STL Blues hockey news, NHL headlines, scores, standings and rosters.