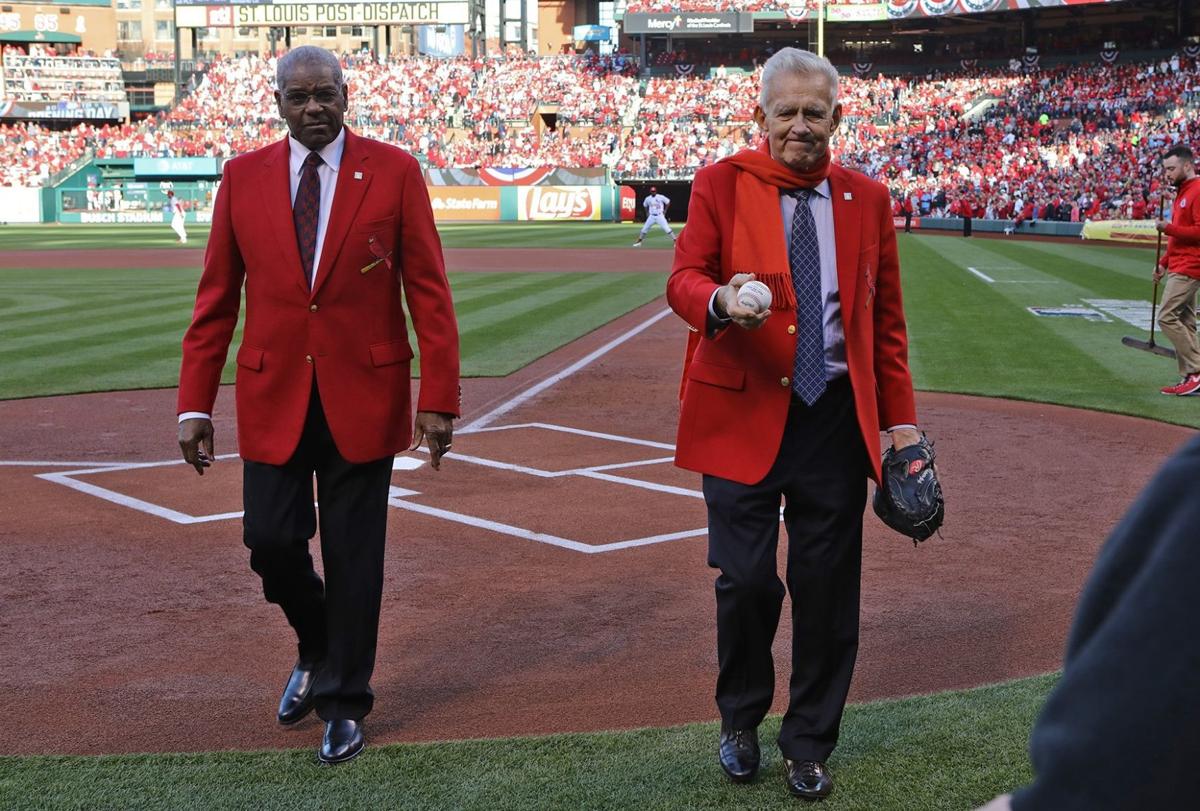 I've been thinking about Tim McCarver during the quarantine. There's this thing he says. I've heard it a couple times, once in a conversation with the former Cardinals All-Star catcher, another time when the Hall of Fame broadcaster was doing a Cardinals game.
From his famous voice, with a drop of the delicate Memphis dialect, McCarver will declare: "Being a grandparent is the greatest racket there is."
And so, this is all particularly poignant, because during the pandemic, McCarver can't be around his grandkids.
"I know it's been tough on him because he is always talking about his grandkids and how much he adores and treasures the time he gets to spend with them," said Dan McLaughlin, the lead broadcaster of Cards games on Fox Sports Midwest, who sometimes has McCarver alongside as the analyst. "He's a very active man and much of that activity is time spent being with his grandkids — and them being with us, at times, in the booth and on a road trip. He adores that. Like many, he is away from them. And that's an often-overlooked issue as we get through this pandemic."
For so many grandparents, whether they played for the Cardinals or cheer for the Cardinals, it's heartbreaking to be away from family during the coronavirus pandemic. It's hard for many of us to truly comprehend this level of loneliness. Sure, we're all lonely in our own ways during the quarantine. But for grandparents, imagine being stuck at home, besieged by uncertainty and fear that there's a virus out there that's wiping out other grandparents.
And for so many of these men and women, spending time with grandchildren can be like medicine. But their prescription temporarily is out. They can't get that dosage of nourishment that comes from a hug or a kiss on the cheek. To think they've lived such amazing lives so far, and the reward is getting to do the grand part of parenting — the spoiling, the playing, etc. — without the parenting part of parenting — the disciplining, the feeding, etc. And now, they're isolated and alone at home.
"It's torturing," McCarver, 78, said by phone from his home in Florida. "It's torture. ... Family means so much to me — I don't know how to put that into words."
It's been about three months since McCarver last hung out with his grandson and granddaughter. They didn't know it would be at the time. So many of us didn't know that a casual hangout or trip to see grandpa or grandma would be the last for a while. And so, it has to last for a while.
McCarver still talks to them on the phone and via text. They live in the Northeast.
"My grandson was ready for his schedule to start — he was on the baseball team," McCarver said. "Nobody was hurt more than he was when the season was called. ... He hates it that he can't play. Hates it. It's tough on him, like it is tough on every grandchild, every child in the country. It's crushing. This was just not in the offing. ...
"And my granddaughter is a tennis player, and a good one, and she was obviously crushed, too — as all children were throughout the country. Sports, we depend on it, we rely on it as part of our happiness. It's part of everything. To have that happen to me along with everybody else in America, it's just horrible. ... There are so many sad aspects of this thing. That's why people are more or less starved for sports and the circumstances surrounding what that means. If you don't have sports, it means something is not connected properly. And the family is the first thing that's affected."
I texted McCarver's "racket" line about being a grandparent to my best friend, Geoff. He texted back about his own parents, the grandparents to his young daughters. They all live in Cincinnati. Geoff's dad had non-Hodgkin lymphoma a few years ago. That puts him in the "at risk" group for coronavirus. Geoff's dad had been extremely cautious about being around anyone, including his granddaughters. Finally, he had enough. Geoff's dad went to the doctor. He asked the doctor when he could actually hug his grandkids again, because this wasn't working for him.
The doctor, of course, couldn't give him a certain date. So much of the future is unknown. The doctor could only tell Geoff's dad to weigh the risks and rewards.
This is all so unfathomably unfair.
Down in Florida, McCarver had just watched a documentary about the Russian Revolution. Sobering examples of how tough life has been for some people, over the generations.
"Are there worse things that have happened on earth? Of course," McCarver said. "At least we have our health and we have our children, and we have their health. ... But it's real. There are parents and grandparents, particularly the grandparents, that go through long, long absences of seeing their grandchildren now. They don't like it. And I don't blame them. I don't like it, and I can guarantee you I can relate to that."
Concerned about COVID-19?
Sign up now to get the most recent coronavirus headlines and other important local and national news sent to your email inbox daily.