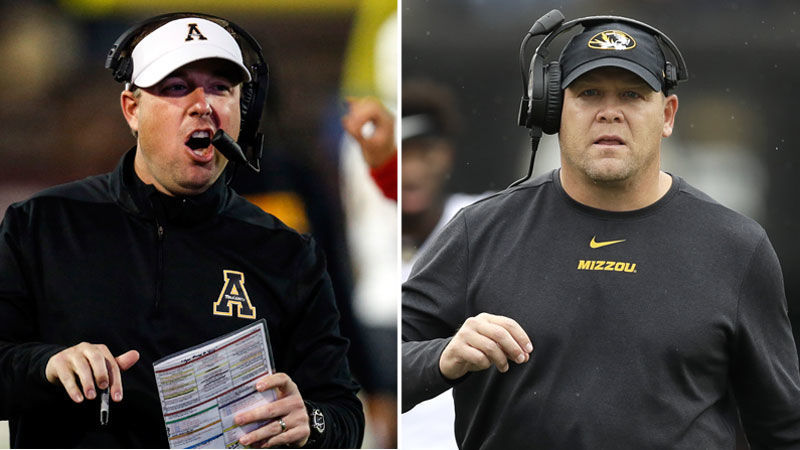 Before asking his question, the reporter prefaced to Eli Drinkwitz that the coach might dance around the topic. Drinkwitz is new on the job and might not want to stir up anything. The Mizzou coach was asked about the rivalry with Arkansas, which now employs his predecessor, the fired Barry Odom, as defensive coordinator.
"Did you see signing day?" Drinkwitz asked. "Yeah, it's gonna be a rivalry."
Indeed, two recruits who verbally committed to Mizzou signed with Arkansas last week. One even wore a Mizzou hat at his ceremony . . . then tossed it off, unzipped his jacket and revealed an Arkansas shirt.
"Yeah," Drinkwitz continued, "we got coaches down there that came from here, I'm from there. It's gonna be a rivalry. We're excited to play."
And then the coach pointed out: "I didn't dance around that question. It's a rivalry, man."
It was refreshing and invigorating to hear that from the new coach. His unwavering passion and confidence has stood out since his hiring this month. Drinkwitz has a lot he hopes to accomplish at Mizzou, but perhaps no task is more daunting than making the Missouri-Arkansas rivalry actually relevant.
Oklahoma-Oklahoma State is Bedlam; Missouri-Arkansas is Boredom.
The Arranged-Marriage Rivalry began when Missouri, which is not in the south, joined the Southeastern Conference, and someone soon realized that another SEC school that's not totally in the south is right under Missouri. Yet after playing six times as SEC members, the only thing Missouri hates about Arkansas is that it has "kansas" in it.
But perhaps the events of 2019 will spark Arkansas and Mizzou fans. After Odom's last game of this underachieving season — ironically a victory and one in Arkansas — Odom was fired and replaced by the 36-year-old Drinkwitz, who was raised in Arkansas. But Arkansas didn't try to lock down the native son for its coaching vacancy, instead hiring 58-year-old Sam Pittman, who was legally allowed to drink when Drinkwitz was born.
Then Pittman made a hire himself — Odom.
"I am ecstatic," Pittman said on the Paul Finebaum Show. "I felt like I needed a guy on my staff that had been a head coach. One that I could lean on and talk to. There's really not a better person out there and finer coach, finer man than Barry Odom. I'm just blessed he's in his car coming down here."
So now, Odom will coach against his alma mater — and the school that fired him. And he'll recruit against that school, too. Already started. It was fitting that Drinkwitz spoke about the Arkansas recruiting rivalry Saturday while at the Mizzou-Illinois Braggin' Rights basketball game, at which opposing fans booed multiple Mizzou players who once committed to Illinois, but now wear black and gold.
That kind of stuff gets fans going. And there could be some more recruiting battles in the coming years. For instance, perhaps the top local football recruit in the Class of 2021, DeSmet's Jakailin Johnson, tweeted he's been offered scholarships from both Mizzou and Arkansas (and plenty of other schools, too).
Of course, the best way to grow a rivalry is to grow the programs within it. Since Mizzou started playing Arkansas in 2014, only twice have the Tigers finished with more than seven wins, and only once have the Razorbacks finished with more than seven wins. In their six matchups, the only time either team was ranked was the first time, in 2014, when coach Gary Pinkel's Tigers were No. 17.
Also, a rivalry functions best when one team doesn't win all the time. Alas, that's how bad Arkansas has been lately — Mizzou is on a four-game win streak against their day-after-Thanksgiving opponent.
And even with Odom crossing the border, that doesn't guarantee that the rivalry will intensify. Remember when basketball coach Mike Anderson left Mizzou for Arkansas?
There were a couple differences, notably that Mizzou didn't join the SEC until a couple seasons later, so the fan animosity had defused. And again, seldom were both programs firing at the same time. And only once in the 14 Mizzou-Arkansas SEC hoops games has a team been ranked. That was in Feb. 18, 2015, when No. 18 Arkansas hosted the Tigers, who arrived to Fayetteville with 18 losses (and left with 19).
But when it comes to football, here's thinking that both programs will improve immediately. And that means that the 2020 game could determine bowl eligibility for a new coach — or bowl destinations. And that day, Odom will return to the state of Missouri to coach a football game.
It'll be Eli Drinkwitz's offense against Barry Odom's defense.
Life moves pretty fast. It seems like just the other day that Odom was Mizzou's coach, fielding media questions about playing Arkansas.