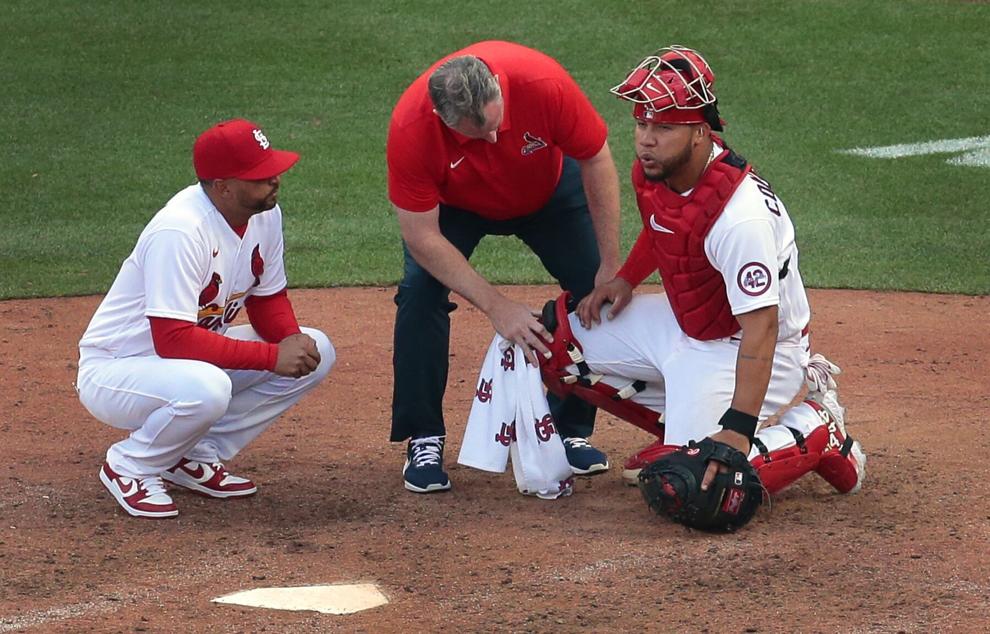 On a day with 34 hits, the most-damaging hit of them all might've been a pitch that hit a catcher's knee.
St. Louis and its Cardinals must anxiously wait for news about Willson Contreras' right knee contusion.
But in just a matter of hours in the very first game, we witnessed the importance of Contreras in the Cardinals' lineup … and the dire situation it would be without him.
In the eighth inning of the 10-9 loss to Toronto, a 102.7-mph Jordan Hicks pitch nailed Contreras' knee. The former All-Star catcher walked gingerly off the field — and into the unknown.
The X-rays were negative. Contreras left to get an MRI and didn't speak to the media postgame.
"That's a bad spot to get hit," backup catcher Andrew Knizner said. "Especially at 103. So hopefully, it's nothing too serious and just a bad bruise."
Knizner is a nice fellow, a hard worker, a liked teammate and an admirable backup. But he's just not an offensive threat. Or not yet, anyways. With Contreras' track record, one can surmise the former Cubs catcher would start probably 110-120 games behind the plate (and other games at designated hitter). So that's 42-52 games already with Knizner's bat in your lineup (he has a .579 career OPS). An injury to Contreras could sure mean more.
Yes, we know that the 2022 Cardinals still succeeded offensively without much consistent prowess from the catcher spot. But the whole point of this 2023 campaign is to enhance production from numerous spots in the lineup (since the Cardinals need to be a stronger club in October). That's why they signed Contreras to begin with.
"We lost a Hall of Famer and signed potentially another one," Cardinals first baseman and reigning MVP Paul Goldschmidt said after the loss. "But it's going to take everyone on this team. 'Kiz' is going to get some big hits for us, too. Our hitters and pitchers, I think the strength of this team is having 26-plus guys that are going to play here. And as you saw today, there were a lot of guys had some hits and made some good pitches and made some good plays on 'D.' That's the type of baseball we're going to play."
Before the injury, Contreras made Busch Stadium his stage with the dominance and dead-seriousness that made Yadi a one-word celebrity in this town of ours. Of course, Contreras had shoes made that paid homage to Yadier Molina, who retired at the end of last season. And he looked like prime Yadi in the vacuum of one game. He went 2 for 4 with two runs scored. One of his hits came with two outs. Both of them came with two strikes. One of the hits was perfectly placed to the opposite field — a nice piece of hitting, as they say. Another was a single to center, which allowed Tyler O'Neill an at-bat (he promptly homered).
Toronto's Matt Chapman tried to swipe second in the seventh inning of a tied game. Per Statcast, Contreras had a 1.91 second pop time (the Major League Baseball average last year was 2.00 seconds).
"He's a great competitor, you saw the fiery attitude he brought," Cardinals pitcher Adam Wainwright said after the game. "That's who he is and that's how he needs to play. So, excited to see that. …
"We're obviously hoping for the best there (with his injury). He's a great addition to our team, he's a great spot in our lineup — he's just does a lot of things for us."
It was a shame that Contreras' day had to end that way. He received rousing ovations both during the initial player introductions and then a standing "O" in his first plate appearance.
Before the game, president of baseball operations John Mozeliak spoke of Contreras' genuineness about taking on all that comes with being the St. Louis Cardinals catcher in 2023.
"It wasn't false advertising — he really wanted to embrace it," Mozeliak said. "He showed up to camp and he did that. He felt it was important to not participate in the WBC, because he wanted to get to know our staff as well as possible in spring training. More importantly when you actually see him take the field today, this is why he chose to be here. There will be that moment when you watch him play, where I will probably smile, because he has been someone who really appreciates being here in St. Louis, and he wants to make the most of it."
So, now we can only wait and wonder. Will Willson be out a couple days? Or a couple weeks (or worse)? Or with the day off Friday, the optimist wonders if Contreras could be ready to go Saturday behind the plate. We'll have to wait.
But we now have proof of his importance.
As for Knizner waiting for his name to be called, "that's pretty much been my role for the last four seasons, so there's really no difference. So it's pretty much what I'm used to. And that's be ready whenever they need me. My preparation is good. And if you're prepared, usually, most of the time you can take it out on the field and it'll work. So that's my No. 1 goal and has been since I started playing baseball — be prepared and stick to the process."